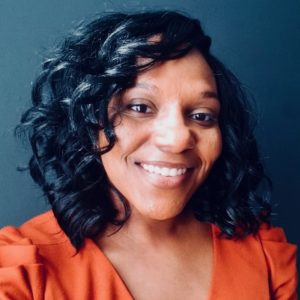 Kiersten Walker is a believer. She "jumped two levels up." An experiential event strategist for an association for the past five years, she's just become associate vice president overseeing events at Women in Cable Telecommunications, in Washington, D.C. In her job interviews, she had to sell her worth directly to the organization's C-suite—in fact, every single one of her employment interviews was with top brass.
It was not long ago, Walker admits, when she would not have attempted that. What changed?
Kiersten Walker: SDSU Event Management Program and the Future of Meetings
She upped her game by attending L. Robert Payne School of Hospitality & Tourism at San Diego State University, earning an M.S. in meeting and event management. She compares it to an MBA for the hospitality industry. "I would not have had the confidence to go after that job without that program," Walker says.
Walker knows planners who are asking, "Am I wasting my time pursuing a degree in an industry that's kind of in tatters?" Her answer is emphatic. "It's an optimal time during the pandemic. You have the time. It's a perfect time to decide what in your career to sunset, and what to try that's brand new."
Continuing planner education, like the industry itself, has almost entirely pivoted to virtual, at least for now. Planners can, well, plan their course time, study time and, in many cases, exam time. There are an amazing number of options for course curriculums, certificates and degrees to be earned.
Let's do Planner Education 101.
Don't forget to check out Smart U for accredited classes and virtual learning online, anytime.
Becoming a CMP
Most meeting professionals are familiar with Certified Meeting Planner certification, which was launched in 1985 by Washington, D.C.-based Events Industry Council (EIC). Globally, there are more than 11,000 CMPs in 55 countries. Out of the entire universe of planners, that's still an elite group.
The rigorous CMP exam was "developed and is maintained by meeting professionals from all over the world who volunteer their time to ensure that the program reflects the best practices in the meeting management field," as it states on EIC's website.
Quiz: Are You Ready to Add CMP to Your Name?
Two of those stalwart CMP volunteers are Barbara Connell and Alisa Peters, who both serve in leadership roles on the CMP Governance Commission.
Connell, who is now CEO of American Society for Gastrointestinal Endoscopy, was one of the earliest to earn her CMP. "I was in one of the very first classes," she says. "I was relatively new to the industry at that time, so I thought one way to demonstrate my commitment was to get this credential. It meant a lot to me, and I think throughout my career it has made a big difference. It has given me a little bit more credence, a little more credibility, in different negotiations with facilities and dealings with suppliers. It has also opened doors for me."
Peters, senior global event strategist for Maritz Global Events, earned her certification in 2005. She stresses that this achievement was only the beginning of the journey because recertification must follow every five years. "Doctors don't stop at medical school," she says. "They continue to sharpen their skill set. The CMP, with reaccrediting, essentially shows you're keeping up with your profession. It is one of the accreditations in our industry that has an expiration date, and I think that sets it apart from some of the others."
"Having enough time to complete the curriculum is key," Peters says. "Someone might be tempted to say, 'I'm going to study over the Christmas break,' but then that times comes, and you don't want to read the 200 pages it takes to get through it. I took six weeks, then a refresher just before the exam."
Amy Calvert has led EIC as CEO since 2019, and while a recent industry survey by Professional Convention Management Association (PCMA) indicated CMPs earn on average $10,000 more annually than those without certification, she also stresses another reward—community. "I think the beautiful thing about the CMP community is that it's committed to excellence, but its members are also committed to each other. That's been very inspiring to see."
The value of such peer-to-peer networking has never been greater, she says. "People are really wanting to come together and have discussions about, hey, what do we know to be true right now?"
EIC recommends that planners think about getting a CMP after three to five years in the industry—36 months of full-time employment in the meetings industry are required, unless the planner has a degree in event management or hospitality (when 24 months of employment are needed). Classes are now online, and an online proctoring option for the exam has recently been added. "There's availability and accessibility like we've never had before," Peters says.
Virtual Smarts
One aspect of the industry you won't learn much about yet in the CMP curriculum is the virtual meeting. When the next iteration of CMP instruction debuts, probably in late 2021, this now-de facto choice for meetings will certainly be highlighted.
What about in the meantime?
Howard Givner is among those with an answer. He is founder and CEO of Event Leadership Institute (ELI), which has been offering training and education for the events industry since 2011. ELI partnered with Smart Meetings earlier this year to deliver online classes for continuing education units (CEUs) via Smart U, accessible on SmartMeetings.com. Twenty-five CEUs, or continuing education clock hours, are required to submit an application for a CMP.
More: 80 Questions That Set Certified Incentive Professionals Apart
"I'm a big believer in continuing planner education as a vehicle to improve the value proposition of their events and their careers," he says. "In many organizations, the meeting planning function is viewed as administrative. It's up to the planner to demonstrate you know things the vice president's secretary doesn't."
ELI has many offerings, including certificates in Fundraising Event Management, Event Entrepreneurship: Growth Strategies, and Pandemic Meeting & Event Design. One of its most popular new courses is Virtual Event & Meeting Management.
For that last one, live classes are conducted weekly via Zoom, with a proctored at-home exam at the end. More than 1,200 planners have enrolled so far. "I think this demonstrates the importance of why planner education matters now more than ever, as so many people are scrambling to ramp up their skills in virtual event management, practically overnight," Givner says.
PCMA offers a similar option—a Digital Event Strategist certification that's an online, seven-week, interactive program or can be a self-paced course. It promises to teach you how to strategically plan, produce and measure digital and hybrid events. Passing a 100-question, multiple-choice exam is the end goal, with recertification required every two years. Recertification entails 20 clock hours of "new" virtual/digital-related continuing education programs through Digital Experience Institute or other approved event management organizations.
Up, Up and Away with MPI
Meeting Professionals International, through its MPI Academy, boasts a score of meeting and event planning certificate programs, plus webinars, virtual livestreams and more ways to enhance job skills on topics essential to meeting and event professionals. Choices range from Contract and Negotiation Specialist to Health Care Meeting Compliance, to Inclusive Meetings Strategist and Emergency Preparedness for Meetings and Events. These certificates are delivered online and in-person (in nonpandemic times) throughout the year. Most are offered more than once a year.
MPI also has a CMP Master Class, an eight-hour course to help meeting professionals prepare to pass the CMP exam for the first time, or for recertification. The catalog promises: "You will learn key concepts behind the CMP-IS [International Standards] and how to apply them at work, discuss best practices for preparing for and taking the exam and develop a personal study path based on where you are in the process. Laughter will be included at no additional cost."
More: A Higher Meetings Education: Future-Proof Your Career
There's even a certificate course for suppliers in Venue Sales, six hours that teaches sales directors and their teams to "position your venues, properties, facilities and destinations for significant increases in contracts, conversions and business opportunities."
Partnered with Indiana University Kelley School of Business, MPI has also been awarding a Certificate in Meeting Management (CMM) since 2018. MPI says the instruction "packs the highlights of a world-class graduate degree program into an immersive four-day training course, followed by 14 weeks of advanced-level coursework and a final project focused on solving a real-world, work-based problem."
A spring cohort of 21 meeting and travel professionals—including international candidates from Canada and Dubai—was graduated in July, in the first fully digital version of the program. Nancy Snowden, manager of curriculum and instructional design at MPI, says the pivot was successful and an "impactful experience" for this class of students.
A total of 1,406 graduates have earned this certification to date.
Master of the Meetings Universe
You might call getting an advanced academic degree the holy grail of continuing planner education. It's more rigorous, more expensive, yet graduates like Kiersten Walker (who you can learn more about in "Meet the 2020 Planners of the Year," page 44) says it's even more valuable. And she is not alone in crediting her recent success in ascending the career ladder to this course of study, which earned her a master's degree in Meeting and Event Management. San Diego State is partnered with MPI for this program, which has been offered since 2012.
Currently, it is given twice a year, with the next offering in January. An 18-month program that normally begins and ends with a week on campus, it went totally online when COVID-19 came. Working professionals can organize their week as they see fit, viewing freshly prerecorded sessions. Some material is tracked separately for the hospitality and meeting professions.
"We're targeted to someone who's struggling with knowing how to talk to the C-suite," says Carl Winston, director of L. Robert Payne School of Hospitality & Tourism at San Diego State. "So, there's very little event planning in our program. It's about how to behave like a businessperson."
Although Winston says the typical student is 35 years old and in midcareer, attendees have ranged in age from 25 to 58 and have come from diverse ethnicities and industry segments.
In addition to classes, each student gets a mentor who has achieved the goal the student is pursuing. "It's a structured mentoring program," Winston says. "That's been a real secret sauce for us."
Unlike the certification programs, which cost in the hundreds of dollars, tuition for this course of instruction is $30,000—but, according to Winston, graduates will likely soon earn $10,000-$12,000 more per year.
Future earnings aside, being better prepared to face whatever the future brings cannot be underestimated. "What's been so fascinating," Givner says. "Is that because of coronavirus, you had entire states essentially banning gatherings. It's been like a blood bath, in terms of venues and providers, and it happened instantly. This is exactly when you should be investing in your skills."
CAEs: The Association Pros
If you're a meeting professional who works at an association, you can certainly pursue CMP certification, but American Society of Association Executives (ASAE), in Washington, D.C., maintains that becoming a Certified Association Executive (CAE) will serve your career best.
More: ASAE Launches Online Learning Tool
Lori Fortado, senior director of credentialing for ASAE, says, as of late June, there are 4,424 CAEs. To begin down this path, you must be employed at a trade association nonprofit at the C-suite level, or have five years' experience on staff. In addition, a bachelor's degree or eight years of professional work history is required.
"I think one of the biggest misconceptions about the CAE credential is that it only holds value for those who are in the CEO role or are aspiring to it, and that is absolutely not true," says DJ Johnson, a CAE who is vice president of membership and volunteer engagement for Association of Women's Health, Obstetric & Neonatal Nurses. "It's for people at all levels to understand what people in other functions are doing, what factors are driving the decision-making in the organization, and what the best practices are in other departments. So they can, in turn, learn to work together better.
"When I'm looking at job applications, someone with a CAE rises to the top. They will have an understanding of how to work with all departments, rather than a specialist who did, say, communications for their entire career."
Johnson believes even preparing for the CAE exam totally changed how she related to her association's board of directors and CEO. "Here's how I need to structure the information I'm giving them, I realized. It totally changed my perspective to a more strategic level," she says.
Those sentiments are echoed by another CAE, Joyce Paschall, director of education and engagement for American Orthopaedic Society for Sports Medicine. "The intent of the CAE is to help someone have a better understanding of what it takes to be the chief staff executive in an organization. Sometimes when we get focused on the minutiae, we're not considering the big picture. Especially now with COVID, where we're having to make quick decisions and need perspective, that's invaluable."
Need Tuition Money?
PCMA Foundation wants to help 1,000 event professionals hurt by the collapse of the industry due to the coronavirus to build new skills for a better future. If $250,000 can be raised by December, its Accelerating Reskilling initiative will pay for planners, suppliers and others to enroll in classes to earn certifications such as Digital Event Strategist or take a CMP online prep course. A panel of PCMA members will review applications and select recipients.
"Together as a community, we can bring these educational opportunities to our industry," says PCMA Foundation Chair Valerie Sumner, who owns Virginia-based VRS Meetings & Events. "The events industry has always been generous when a need has arisen. This time is no exception. We cannot do this alone; it will take all of us working together, towards one goal, for our industry to recover."