The Brazilian Court Hotel
Meeting business surges thanks to rich history and improved infrastructure
The 16-mile-long barrier island of Palm Beach in South Florida offers a wide array of meeting options, both in size and experience, but the mood and style remain the same: tranquil and luxurious. What other way is there to be on the tropical coastline? In Palm Beach, vegetation and local taste is best summed up in one word: rich.
"A cloistered world unto itself, with lush gardens and a tropical ambience" is how The Brazilian Court Hotel describes itself. That's exactly the case for its courtyard, enclosed by a thick wall of vegetation; its pool, hidden away within the hotel's maze; and its guests, who can relax, indulge and unwind in peaceful privacy indoors and out.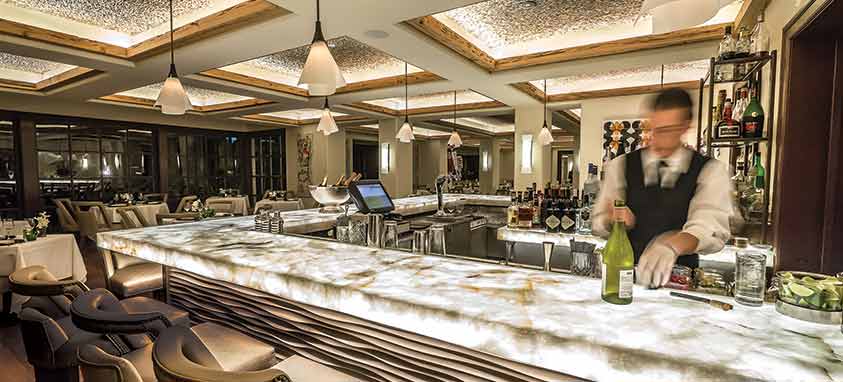 Cafe Boulud at The Brazilian Court Hotel
A destination for the rich and famous, The Brazilian Court has hosted celebrities including Greta Garbo, Amelia Hearst and Gary Cooper, and even served as a guest house for the Kennedys. Now into its 90th year, the hotel continues to host some of the most affluent guests (actress Sophia Vergara held her rehearsal dinner in the courtyard in front of Cafe Boulud in the fall) and offers a one-of-a-kind, European Old World luxury experience.
The 80-suite resort features the award-winning Cafe Boulud, Frederic Fekkai Salon & Spa and the Paul Fisher Art Gallery. Cafe Boulud, from world-renowned chef Daniel Boulud, recently underwent renovations to expand bar seating and create a sleek design, and now offers a revamped French-American menu.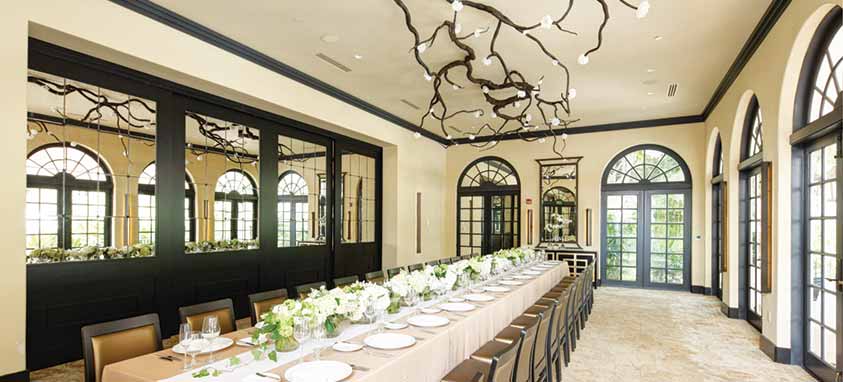 Conservatory at The Brazilian Court Hotel
The hotel offers 3,000 sq. ft. of executive meeting space, perfect for small, incentive groups and board meetings with onsite dining from Cafe Boulud. The ballroom and conservatory were renovated in 2015 to allow lots of natural light into the beautiful meeting space. The 1,150-square-foot ballroom boasts a dramatic glass skylight. The 720-square-foot conservatory seats up to 150 for intimate, glamorous receptions. Across the street is The Pavilion, a state-of-the-art small meeting facility with plush, oversized executive chairs, international teleconferencing and a wide-screen plasma monitor.
Located in what is known as America's Riviera, the Palm Beach hotel is steps away from some of the finest shopping, dining and art galleries.
The town itself is full of rich history. Self-proclaimed as America's first resort destination, it was founded in 1911 by Standard Oil co-founder Henry Flagler and is the birthplace of Mediterranean-revival architecture.
Worth Avenue offers premium shopping—of both luxury brands and local boutiques, and is where fashion guru Gucci truly got his start, hosting fashion shows in front of his store.
Gilded Age Meetings
One mile from The Brazilian Court is the stunning Gilded Age mansion built by Flagler for his third wife; the gargantuan property now serves as the Flagler Museum, hosting tours, weddings and events in its expansive ballrooms and pavilion. The 4,800-square-foot Grand Hall hosts elegant receptions and dinners. Much of the museum's decor is original to the 1902 home, such as wall coverings, carpets, china and enormous crystal chandeliers.
Behind the home, the Flagler Kenan Pavilion, built in 2005, houses his private railcar from 1886. The airy pavilion boasts floor-to-ceiling windows looking out onto the water and can host large events.
Booming Business in the West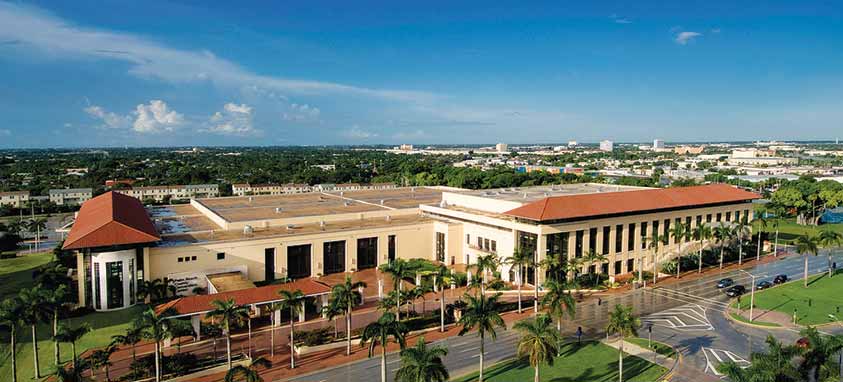 Just 1 1/2 miles away in West Palm Beach, Palm Beach County Convention Center is experiencing a huge influx of meetings and events thanks to the newly opened and adjoining Hilton West Palm Beach, a convention hotel. National and international meetings of varying sizes and budgets are flocking to the expanded meeting destination.
Located across the street from Raymond F. Kravis Center for the Performing Arts, West Palm Beach Marriott and CityPlace shopping plaza (offering 90 restaurants and shops), the convention center area is very walkable. A complimentary trolley runs through downtown.
Kelly Cavers, senior vice president of group sales for Discover the Palm Beaches, calls downtown West Palm Beach a "community-activated experience"—one in which attendees can eat, shop and commute like locals.
The convention center has 19 breakout meeting rooms totaling 21,000 sq. ft., a 22,000-square-foot contemporary ballroom, a 100,000-square-foot exhibit hall that can be divided evenly into two spaces and an airy boardroom with an outdoor patio and incredible view overlooking the exhibit hall floor.
Designed to resemble a ship, the 13-year-old convention center features Brazilian mahogany wooden plank ceilings, more than 10,000 sq. ft. of prefunction space and sea-blue carpets throughout. The expansive 7,800-square-foot kitchen is home to award-winning chef Mark Aleks, whose cuisine is much more inventive than you'd expect from convention center catering and it's one of many reasons Cavers calls it a true unconvention center.
In July, renovations will start on what will be an energy-efficient seating area outside the convention center, featuring a solar brick patio and solar seating. The center also is currently undergoing renovations that will nearly double the parking and provide ample room for marshaling trade show equipment.
"We don't want it to be a hidden gem anymore," Cavers says. And with the growing conversion rates for groups booking the hotel and convention center, it's safe to say the secret's out. Groups looking for a new place to meet have found one.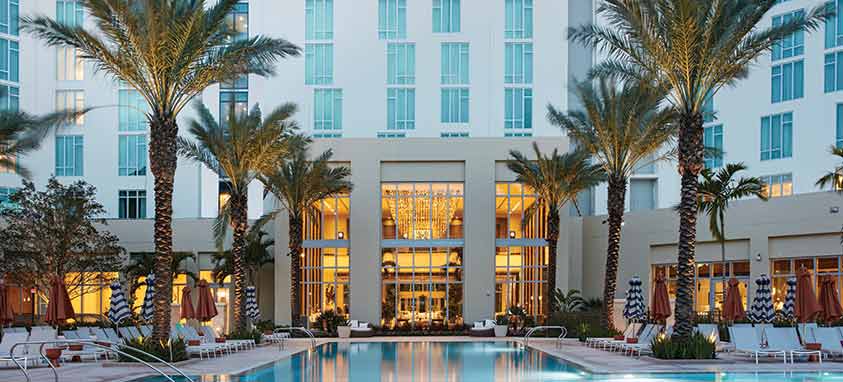 Photo (c) 2016 Hilton Hotels & Resorts
A covered walkway leads directly to meeting spaces in the 400-room Hilton West Palm Beach, which opened in January. The hotel is only 23 steps from the convention center, according to Hilton West Palm Beach General Manager John Parkinson. It offers 24,000 sq. ft. of meeting space among two ballrooms and six meeting rooms, plus two additional 2,400-square-foot lawn spaces for outdoor events.
Two restaurants overlook a vast resort-style infinity pool, where guests can lounge under brightly colored canopies and cabanas, and sip cocktails near the fire pit. From the moment guests walk into the hotel, they can see straight through the glimmering lobby to the pool and adjoining convention center.
So whether glam means old Hollywood or shiny and new, The Palm Beaches have it all.