Hyper-local experiences at golf and spa resorts
To recharge means different things to different people. While some revel in the chance to spend several hours guiding a dimpled white orb across fairway and green, others prefer to retreat to the sensory sanctuary of a spa. No matter the preferred method of decompression, the crucial point is that companies and employees allot the time and space for it to happen, as a true reset can only occur during an escape from the routine.
Fortunately, a transportive experience at a thoughtfully designed, expertly equipped golf and spa resort is within reach—not only for groups willing to cross time zones, but also for those looking for destinations within their region. Offerings eschew the rote in favor of highly customized, hyper-local options featuring standout scenery, regional traditions and locally produced goods. Attendees, fully immersed in and attuned to their surroundings, emerge reawakened to the potential for discovery and inspiration.
For planners seeking a venue where their group can both meet and mellow out, let this article serve as their passport to the Land of Ahhhhs.
Historic Havens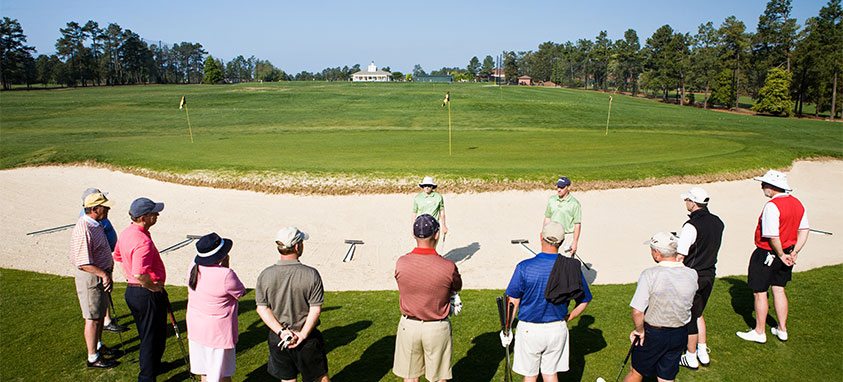 Few places are as intrinsically tied to the history of American golf as North Carolina's Pinehurst Resort (pictured above), which opened its first golf course in 1898. Eight more courses have since joined that first one, and in the intervening years Pinehurst has hosted more championships than any other golf club in the United States.
At Pinehurst, golf reigns supreme, but it's not the only offering of note. Three historic hotels located in the Village of Pinehurst offer luxury accommodations, and an astounding array of meeting and event spaces stretch across the hotels, as well as the individual courses. One standout space is the Fair Barn, a century-old, Mission-style structure that exemplifies rustic elegance.
Orlando's Rosen Shingle Creek (pictured right) whisks groups back to Spanish Colonial Florida, when the property's namesake waterway functioned as a highway for cypress trees harvested as roofing material. As the northernmost headwaters of the Florida Everglades, the 255-acre resort also claims a connection to the country's most significant wetland wilderness. To complement its singular surroundings, Rosen Shingle Creek conjures a casual elegance rooted in Spanish Revival-style architecture.
Complete with 1,501 guest rooms, 490,000 sq. ft. of flexible meeting and event space, an 18-hole championship golf course and a 13,000-square-foot spa, the resort is a world unto itself. A complete redesign of the golf course by Arnold Palmer Design Company focused on elevating the hotel golf course experience in a way that is fun for average players and challenging for advanced golfers. The award-winning Brad Brewer Golf Academy, located on site, can help players bridge the gap between skill levels.
Revel in a respite from the city without sacrificing urban access at Hyatt Regency Hill Country Resort and Spa, which encompasses 300 acres of 19th-century Texas ranchland set just 20 minutes from the San Antonio River Walk. True to the Lone Star State's signature scale, the sprawling complex includes more than 100,000 sq. ft. of indoor and outdoor meeting space, a lazy river, a 5-acre water park, and a 27-hole golf course punctuated by the serene lakes, wildflower-carpeted hillsides, verdant meadows and shaded plateaus that comprise the regional tableau.
Windflower-The Hill Country Spa makes its home in the barn, where treatments rejuvenate the body by borrowing cues from seasonal cycles and the natural landscape. Exfoliating scrubs feature ingredients such as citrus greens, brown sugar and whiskey, while ranchland matriarch Aunt Mary, known for her homemade concoctions, inspired a Ranch Remedy treatment that smooths, moisturizes and cools skin.
Arizona's arid, sun-soaked acreage may seem an unlikely site for a cotton ranch, but that's exactly what occupied the present-day location of The Wigwam nearly a century ago. The ranch's original building evolved from lodging for suppliers to a guest ranch with room for 24. The 331-room property located outside Phoenix encompasses three championship golf courses, a luxury Red Door Spa, three pools and more than 100,000 sq. ft. of indoor and outdoor meeting and event space—plus plenty of southwestern history.
Tucked away in the Allegheny Mountain town of White Sulphur Springs, West Virginia, The Greenbrier has drawn wellness travelers to its door for nearly 240 years. The sulfur-rich native waters, which are believed to possess healing properties, powered the resort's rise as one of the nation's original wellness destinations. Today, the 40,000-square-foot Greenbrier Spa continues that legacy. Groups gathering at the historic hideaway can also make use of five championship golf courses, 100,000 sq. ft. of meeting space, as well as dozens of activity options such as treetop canopy tours, falconry lessons and much more.
Southern Standouts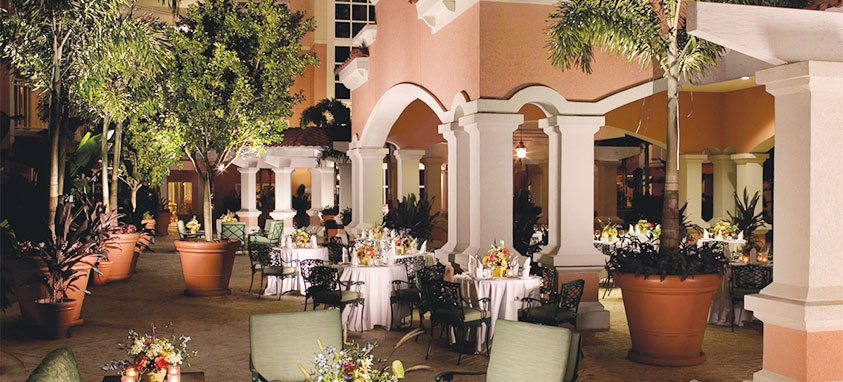 With the promise of sun, surf and sand, Florida has long lured groups keen on finding time for play after the heavy lifting of the boardroom. The Naples Beach Hotel & Golf Club provides an idyllic escape, as well as 34,000 sq. ft. of flexible function space, along southwest Florida's Paradise Coast. "We are the only hotel in Southwest Florida directly on the beach with a full-service spa and 18-hole championship golf course on site," says Charles Mullins, director of sales and marketing. "With dedicated meeting space overlooking our 18-hole golf course and our full-service spa connected to the event space, meeting planners with a tight schedule will find it is easy to incorporate each."
Groups with more spare time can take a tour to see how the hotel grows its own orchids for use throughout the property. Including local seafood on catering menus delivers a succulent taste of the Gulf of Mexico, while a toes-in-the-sand reception allows attendees to mingle while watching a vivid sunset play out against a watery backdrop.
"Many meeting planners are just discovering this part of Florida and are thrilled to find a unique and inspiring resort that offers an experience unlike any other," Mullins says.
Each of the two championship golf courses at Hammock Beach, a Salamander Golf & Spa Resort (pictured above) in Palm Coast, Florida, boasts its own legendary pedigree. Golfing great Jack Nicklaus designed Ocean Course, which just emerged from a comprehensive restoration in mid-October. Tom Watson, himself the winner of eight major championship tournaments, applied his esteemed golf course architecture skills to the resort's Conservatory Course.
The 10,000-square-foot Spa at Hammock Beach provides a full range of services to soothe body and spirit. For example, the Papaya Pineapple Scrub incorporates papaya, pineapple and grape seed to transforms skin from tired to beach-ready in 50 tropically scented minutes.
Although indulgent recreation is a fixture at Hammock Beach, the property provides ample space for meetings, too. Its 50,000 sq. ft. of event space includes a 5,200-square-foot ballroom and grand event lawn.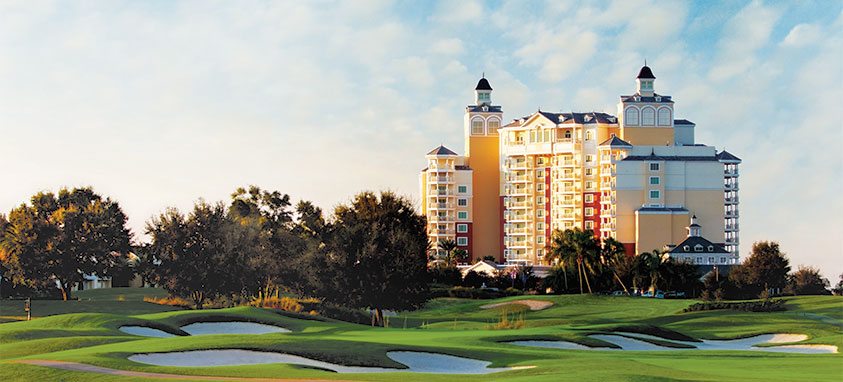 Reunion, a Salamander Golf & Spa Resort (pictured above) outside Orlando, matches Hammock Beach's golf courses designed by Nicklaus and Watson, and ups the ante with a third by Arnold Palmer. Creativity and innovation are on display in the spa, as well, where autumn's seasonal offerings include a Spiced Rum Body Polish inspired by the region's role in the Colonial rum trade. These luxury amenities—combined with 25,000 sq. ft. of meeting space—amply equip Reunion Resort to welcome meeting groups.
King among the four golf links at Innisbrook, a Salamander Resort is Copperhead Course, annual host of the PGA Tour's Valspar Championship. The campus-style resort, perched in Palm Harbor, outside Tampa, Florida, also offers more than 100,000 sq. ft. of indoor and outdoor meeting and event space.
At Trump National Doral Miami, attendees can enjoy a level of opulence befitting South Florida's splashy metropolitan hub. By using ingredients from across Asia and the tropics, spa services showcase wide-ranging global influences that reflect the vibrant melting pot that is the local culture. Its 800-acre complex featuring four golf courses, numerous gourmet dining outlets and more than 100,000 sq. ft. of meeting space, bespeaks luxury.
Further south and a good deal west, Hilton Los Cabos Beach & Golf Club boasts two holes on its Jack Nicklaus and Tom Weiskopf-designed course that are ranked among the 500 Best Holes in the World by Golf magazine. At its Eforea Spa, natural herbs from its living wall are combined with native Mexican rituals. Meeting space totals 11,349 sq. ft., including a ballroom and breakout rooms.
Western Wonders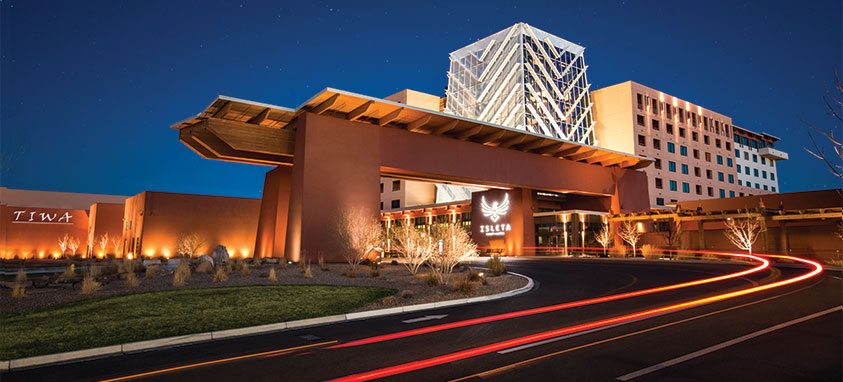 Silverado Resort and Spa, host of the PGA Tour's 2017 Safeway Open, survived the fires that hit California's Napa Valley with all of its permanent structures intact. Its two championship golf courses were designed by Johnny Miller, a member of the PGA Hall of Fame and part-owner of the resort.
Meeting attendees will be impressed by the multi-million-dollar, 15,000-square-foot Silverado Mansion Conference Center. Stylishly appointed meeting rooms are fully tech-enabled, and outdoor venues provide the ideal setting for meeting and mingling among Napa Valley-style gardens. The resort also offers an olive oil and wine tasting experience that affords meeting groups direct access to producers who set up on site to samples their wares.
Perched on the banks of the Rio Grande, just minutes from Albuquerque International Sunport (ABQ), Isleta Resort & Casino (pictured above) boasts the adaptability of an all-in-one destination and the connection to the landscape that characterizes the Southwest. Its 60,000 sq. ft. of indoor and outdoor meeting space provide state-of-the-art lighting and audiovisual support, as well as award-winning catering services.
Isleta Golf Club's 27 holes traverse verdant rolling terrain, including three natural lakes. The Spa at Isleta provides massages, facials and salon services, in addition to body treatments such as the Smooth Skin Rain Shower. The hydrotherapy experience involves lying on a padded bed while a technician adjusts seven jets to massage and soothe your skin.
Sense of Place: Locally Inspired Spa Services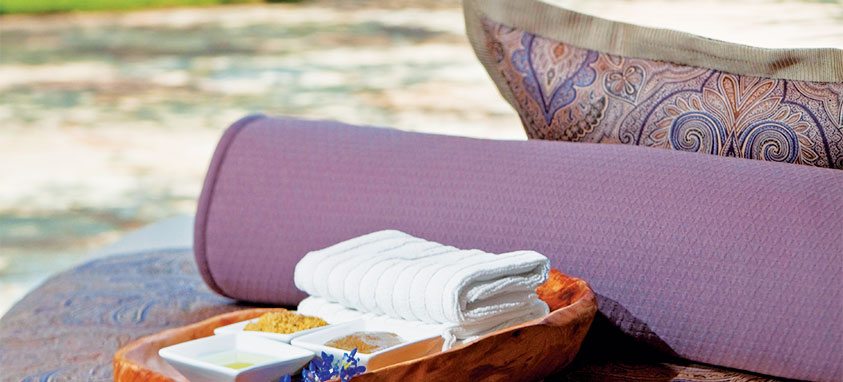 Forego the predictable pleasures of a Swedish massage. The driving force behind inventive treatment options nationwide is to customize, not copy. Attendees will leave their soothing spa sessions with an added appreciation of locally sourced ingredients and the unique environment that supplied them.
The Calusa Cocoon treatment at The Spa at Shingle Creek, part of Rosen Shingle Creek resort in Orlando, draws on two quintessentially Floridian icons to bring balance to body, mind and spirit. First, a concoction of natural oceanic clay infused with invigorating grapefruit, eucalyptus, peppermint and spearmint gently exfoliates skin. Freshly buffed spa-goers are then enveloped in a moisture-rich wrap containing Vitamin E and the essences of orange, tangerine and mandarin.
Combat the wilting effects of the area's notoriously harsh rays with the Texas Heat Retreat experience at Wildflower-The Hill Country Spa, part of Hyatt Regency Hill Country Resort and Spa (pictured above) in San Antonio. Cactus gel firms and tones without locking in heat, and layers of linen enrobe the body in crisp, breathable comfort. A head-to-toe agave nectar massage, customized facial and Cowgirl Pedicure complete the experience.
The Resort at Paws Up in Greenough, Montana, offers an entirely different spa experience at its Spa Town, a line of white tents, each with private shower and bathroom, at the edge of a meadow. Birdsong provides the sound track, pines the scent. Increase your net worth with the massage called Montana Gold Rush, using Gold Flake Oil.
Napa Valley's Silverado Resort and Spa in California thinks beyond wine by infusing the fruits of the region's legendary harvest to use in numerous spa services. Lavender mint clay, applied as a wrap, firms and tightens skin by stimulating circulation. The Chardonnay Sugar Scrub, blended with shea butter, can quench even the driest skin, while the Meyer Lemon Salt Glow treatment excels at exfoliation, leaving nothing behind but a soothing citrus scent.