Great Wolf creates website for planners, links with industry leaders
Standard guest room at Great Wolf Lodge
During the past year, Great Wolf Resorts, Inc. has been busy on several fronts trying to better serve planners and the meetings industry, in general.
The company recently linked with industry leaders such as Meeting Professionals International, Cvent and HelmsBriscoe to better understand industry trends and take advantage of educational opportunities. Great Wolf also has created a new industry-specific website, greatwolf.com/meetings,to provide meeting planners with specific information about its 13 lodges, as well as tools such as space calculators, budget, guidance and checklists.
"We've also made a significant investment in our sales professionals," says Rhonda Khabir, the company's corporate director of sales. "From recruitment to continuing training, Great Wolf is committed to these people, who really make a difference."
Brothers Jack and Andrew "Turk" Waterman, the original owners of Noah's Ark water park, founded Great Wolf Lodge. The first Great Wolf Lodge opened in 1997 in Wisconsin Dells, Wisconsin. Several properties have been added, and Great Wolf Resorts, Inc., headquartered in Madison, Wisconsin, is now the world's largest chain of indoor water parks. Besides a water park, each resort features specialty restaurants, spas, fitness rooms, arcades, children's activity areas, and meeting and event spaces.
"While each Great Wolf lodge offers a variety of flexible meeting and conference spaces, state-of-the-art technology, exceptional catering menus, restaurants, bars and even a high-end spa, what sets us apart is our service and our people," Khabir says. "Whether you're hosting a meeting for a small team or for your entire company or association, you'll find a team of experts right there, ready to help make your event a complete success."
Great Wolf Resorts, Inc. now has properties in the following places: Pocono Mountains, Pennsylvania; New England Fitchburg, Massachusetts; Charlotte/Concord, North Carolina; Williamsburg, Virginia; Cincinnati/Mason, Ohio; Grapevine, Texas; Kansas City, Kansas; Sandusky, Ohio; Traverse City, Michigan; Wisconsin Dells, Wisconsin; Grand Mound, Washington; and Niagara Falls, Ontario, Canada.
The lodges in Cincinnati/Mason, Grapevine and New England are particularly popular among meeting groups, and a new lodge being built in Anaheim, California, is expected to follow suit.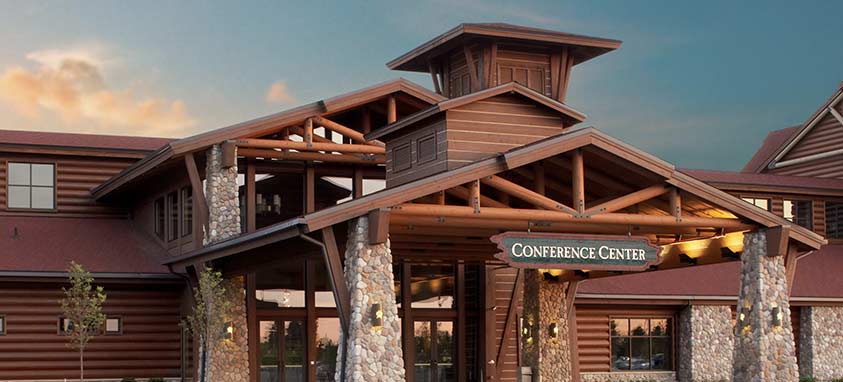 Great Wolf Lodge, Cincinnati/Mason
During the past two years, this property completely renovated all 410 guest rooms by providing new beds, carpeting and televisions. It also added new carpeting to public spaces and a high-end steak house to supplement its seven F&B options.
"But the piece de resistance is our spectacular new pavilion," Khabir says. "It's a completely covered outdoor space with a double-sided fireplace and handsome landscaping. It's perfect for receptions, dinners and team-building activities."
The property, which opened in December 2006, provides 25,000 sq. ft. of meeting and exhibit space and an abundance of amenities, such as Elements Spa Salon, Iron Horse Fitness Room and a massive, 84-degree indoor water park that includes jaw-dropping slides.
Great Wolf Lodge Cincinnati/Mason, which is located in Mason, 22 miles northeast of downtown Cincinnati, can be entirely bought out by meeting groups. Its registration desk offers satellite check-in, popular among corporations and associations because it offers fast, personalized service that is unique to each group.
Great Wolf Lodge, Grapevine
Perhaps the most exciting recent development at this 605-room lodge was the implementation of Howlers Peak Ropes Course. Attendees balance on ropes, cross bridges and climb through obstacles—while 50 feet above the resort.
"It's a great way to incorporate team building into your event," Khabir says.
All participants are required to wear a safety harness and closed-toe shoes with rubber soles such as athletic shoes.
Great Wolf Lodge, Grapevine also enhanced its high-speed Internet service by installing new equipment and a robust wireless overlay. "Groups have benefited greatly from much faster access and more importantly, consistent and easy connections," Khabir says.
The property, which is a 30-minute drive from Dallas/Fort Worth International Airport (DFW), opened in January 2008 with 400 suites, slightly more than 5,000 sq. ft. of meeting space, a water park and other attractions, and food and beverage outlets (the lodge has an award-winning culinary team). One year later, Great Wolf Lodge, Grapevine added 205 suites, along with a conference center featuring 15,000 sq. ft. of meeting and event space.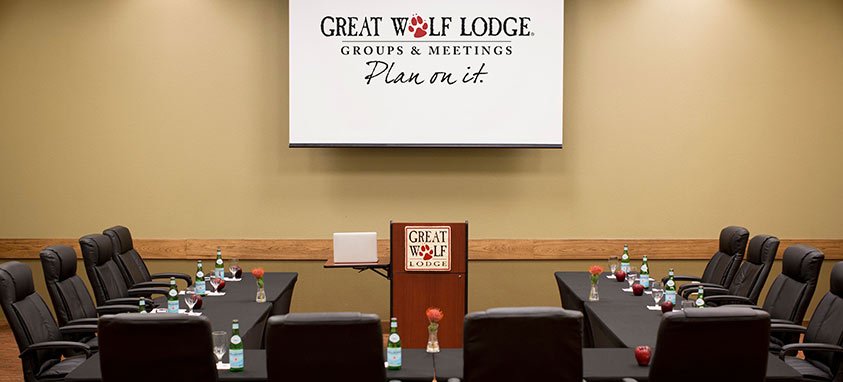 Great Wolf Lodge, New England
Great Wolf Resorts, Inc. purchased this property, then a CoCo Key Water Park, in September 2013, and immediately embarked on a $70 million expansion and renovation project.
The property, which opened in June 2014, sits on 45 acres of wooded land in Fitchburg, on Wachusset Mountain in north-central Massachusetts. Great Wolf Lodge, New England is a 55-minute drive northwest from Boston, and provides 406 guest rooms, in 13 configurations.
It features nine food and beverage outlets, five retail stores, two water parks and a 40,000-square-foot land park, which includes the two-story Howlin' Timbers Play Park.
The conference center offers 10,000 sq. ft. of flexible meeting space, including White Oak Ballroom, which has 6,000 sq. ft. of pillar-free space that can be divided into seven spaces and easily accommodates 400 seated attendees.
"Our brand is known for creating memories, and that's what New England strives to do when hosting events," Khabir says. "We believe our ability to provide personalized, exceptional service for our meetings and events is what truly sets us apart."
During the coming year, Great Wolf Resorts, Inc. plans to invest another $1 million in the property by enhancing the signature restaurant, Lodge Wood Fired Grill, to better serve leisure and group guests. "Also, our arrival experience will be elevated with distinctive landscaping and lighting, as Great Wolf is all about first impressions and sense of arrival," Khabir says.
Great Wolf Lodge, Southern California
Slated to open in Anaheim, California, in February 2016, this 12-acre lodge is located two miles from Anaheim Convention Center. The $300 million, 603-room property will offer enhanced food and beverage offerings, as well as the company's largest U.S. indoor-outdoor water park.
It will also feature Great Wolf's largest conference center, with 30,000 sq. ft. of flexible meeting space consisting of two ballrooms and several breakout rooms. The conference center will have built-in audiovisual equipment and computer-controlled lighting.
"This property will serve as an ambassador for our brand," Khabir says. "Our desirable location will provide both unique lodging opportunities in our oversized guest rooms plus a distinctive space for smaller groups not requiring the expansive nature of a convention center."
Forging Ahead
Great Wolf Resorts, Inc. has several additional new properties in the pipeline, but has not yet released their locations. The company also has a capital improvement plan that assures existing properties have state-of-the-art furniture, fixtures and technology.
Khabir says that Great Wolf's ongoing strategy to accommodate groups and meetings is threefold: The voice of meeting planners will continue to shape how it delivers the groups and meetings experience; it will continuously recruit and invest in its team of professionals delivering the Great Wolf Lodge Groups and Meetings experience; and it will enhance partnerships with industry leaders while collectively moving the groups and meeting industry back to pre-recession levels.