Hard Rock Hotel Riviera Maya
Hard Rock properties simplify the booking process
Planning trips for groups is very challenging, mainly because many details need to be carefully arranged, but a plethora of planners are finding that all-inclusive hotel packages make their job much easier.
Several hotel companies offer these packages, including the All-Inclusive Collection, which has several existing all-inclusive properties and three more set to open by 2018. The properties are owned and operated by RCD Hotels under licensing agreements from Hard Rock International. All are strictly all-inclusive except for Hard Rock Hotel Santo Domingo in the Dominican Republic, set to open in late 2017.
Kevin V. Edmunds, vice president of meeting and incentive sales for the All-Inclusive Collection, says that all-inclusives are ideal for groups because they facilitate easy budgeting.
"When we give you a rate, that's what you can expect…there are no upcharges or hidden costs," he says. "Therefore, the meeting planner has it all set up before the group arrives on property. We want to make it seamless for the planners, and make sure that what the group gets at an all-inclusive Hard Rock Hotel is an experience.
"We want people to immerse themselves in the music and not just have a trip, but also make lasting memories. Why do a corporate retreat if you are not going to get those types of results?"
Groups participating in all-inclusive packages receive access to all of the property's meeting space, function space, food (in restaurants or private meals), liquor and other beverages, cocktail receptions, coffee breaks, Wi-Fi, phone calls to the United States and Canada, taxes, tips and gratuities. Golf and spa activities also can be arranged.
All-Inclusive Properties
Hard Rock Hotel & Casino Punta Cana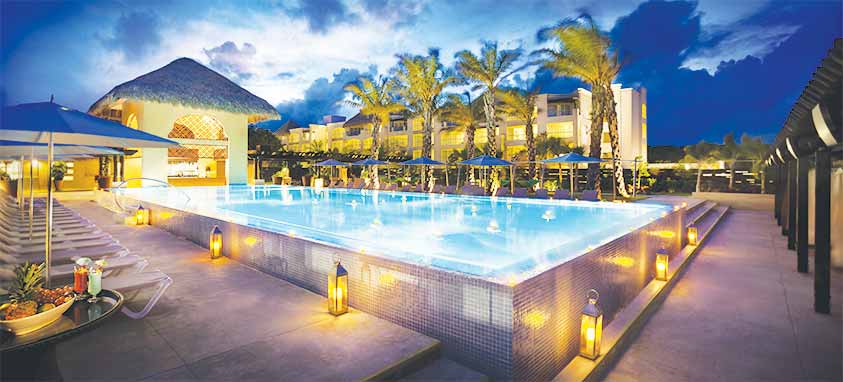 This 1,775-room property is situated on pristine sugar-white sands stretching 121 acres along Macao Beach in the Dominican Republic. Highlights include Hard Rock's branded Rock Star Suite and signature Rock Spa, as well as an 18-hole Jack Nicklaus-designed golf course, iconic music memorabilia and a Las Vegas-style casino. The hotel also features 65,000 sq. ft. of meeting space.
The All-Inclusive Collection is collaborating with Camp Woodward, a world-renowned leader in lifestyle and action sports, to launch Woodward Punta Cana. Scheduled to open this summer, it will offer plenty of team-building activities, including the first-ever indoor snowboarding and skiing experience in the Caribbean, as well as skateboarding, BMX, Parkour and hip-hop programs.
Hard Rock Hotel Cancun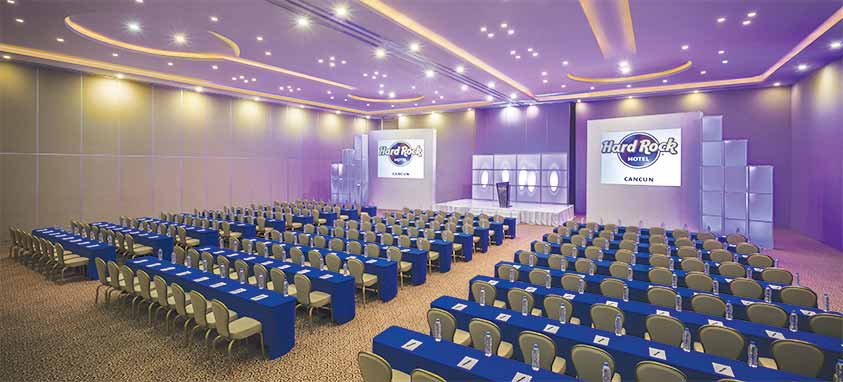 This 12-story beachfront hotel is accessed via a larger-than-life guitar-shaped driveway. The Mexico property features an illuminated staircase in the lobby and an extensive collection of rock memorabilia, including pieces from Paul McCartney, Melissa Etheridge and Shakira. The 601 guest rooms include ocean or lagoon views, and balconies. The hotel has a business center and 16,408 sq. ft. of meeting space.
Hard Rock Hotel Vallarta
Situated on the beautiful beaches of Bahiade Banderas in the heart of Riviera Nayarit—near Puerto Vallarta, Mexico—Hard Rock Hotel Vallarta combines traditional and modern design. The 348-room hotel features nearly 20,000 sq. ft. of meeting space; this includes the recently unveiled 12,900-square-foot Sanctuary Convention Center, the largest convention center ever built in Riviera Nayarit.
Hard Rock Hotel Riviera Maya
Located off the azure waters of the Caribbean Sea, this hotel provides 1,264 ultra-posh guest rooms with balconies, world-class shopping and the largest celebrity-branded Rock Star Suite in the Hard Rock International collection. The Mexico hotel features nine restaurants, an 18-hole golf course and 88,915 sq. ft. of state-of-the-art meeting and event space.
Additional features include the adults-only section, Heaven, that boasts a spa with 75 treatment rooms, four restaurants, three bars and lounges, a nightclub, and the Music Lab, which allows groups to create their own music.
Upcoming All-Inclusives
Hard Rock Hotel Santo Domingo (late 2017) will be located in the heart of the largest city in the Dominican Republic. It will feature 400 lavish guest rooms and suites, more than 33,000 sq. ft. of meeting space, a state-of the-art casino, a nightclub and world-class restaurants and bars, including a lounge and speakeasy.
Slated to open in 2018, Hard Rock Hotel Los Cabos in Mexico will be adjacent to a white sand beach with a private area where guests can ride horses along the dunes. The property will include 600 guest rooms and suites, as well as 54,000 sq. ft. of meeting space.
Hard Rock Hotel Riviera Cancun is scheduled to be unveiled in 2018 along the shores of the Caribbean Sea. The Mexico property will feature 1,800 oceanfront guest rooms. Plans call for an 8 million-gallon, lagoon-style swimming pool and more than 90,000 sq. ft. of meeting space.
Truly All-Inclusive Experiences
Edmunds says that the All-Inclusive Collection's packages vary from those offered by other hotel companies."We are a true all-inclusive," he says. "It starts with the function/meeting space. It doesn't matter if you do a meeting for two hours or 24 hours; it is included in the upfront rate provided. Imagine that you are having your welcome reception, and your group is having a great time. The clock hits 8 p.m., and you are supposed to shut it down at that time. There is no invoice to sign or check to write; just say that you want to keep the momentum going all night long, and keep rocking.
"That's what we're about—making sure that when we say it's all inclusive, you get all-inclusive."
---
Other Exciting All-Inclusive Collection Properties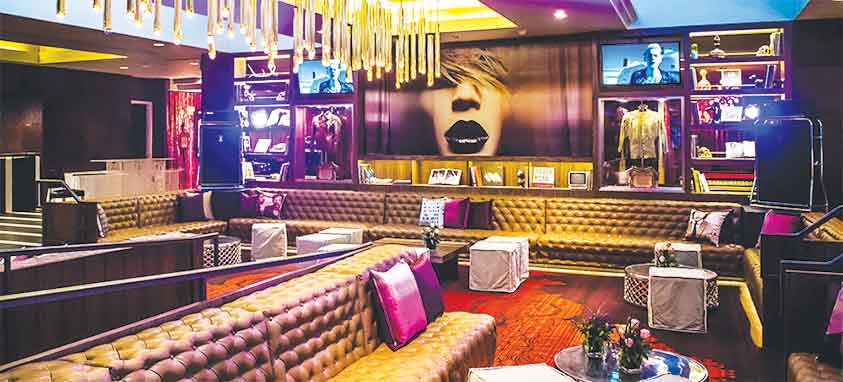 The location of Hard Rock Hotel San Diego is ideal: just steps from downtown and the famed nightlife of the Gaslamp Quarter, a block from Petco Park and across the street from San Diego Convention Center. This Hard Rock offers 420 guest rooms, including 159 suites and 17 Rock Star Suites, as well as premier dining offerings, such as the world-class Nobu restaurant. Groups can utilize 40,000 sq. ft. of meeting space.
The upscale Hard Rock Hotel Palm Springs (pictured), located in the California desert, is just minutes from Mount San Jacinto State Park and championship golf. The 163 guest rooms feature custom-designed furniture and a curated collection of contemporary artwork. The hotel offers 30,000 sq. ft. of meeting space.
Capturing the spirit of Las Vegas and adding a Hard Rock edge, the 1,506-room Hard Rock Hotel & Casino Las Vegas offers a 30,000-square-foot casino that features the latest in gaming technology. It also offers Tahitian-style pools and 80,000 sq. ft. of meeting space.
Hard Rock Hotel & Casino Lake Tahoe in Stateline, Nevada, offers a 539-room hotel, a 25,000-square-foot casino, several restaurants and bars, and an assortment of live entertainment. It also provides more than 14,300 sq. ft. of meeting and convention space.
Situated in the iconic Carbide & Carbon building, Hard Rock Hotel Chicago is located near downtown's Miracle Mile. Featuring Art Deco architecture, the sophisticated retreat has 381 guest rooms and 10,000 sq. ft. of meeting space.
Hard Rock Hotel Hartford, a 170-room property scheduled to open in fall 2018, will be situated at the intersection of M and Trumbull streets. The hotel will feature a lively rooftop pool and lounge that invite guest to enjoy the Downtown North and Hartford skylines, including the Capitol Dome. Meeting space will be available, but no details have been released.
Another new property, Hard Rock Hotel Atlanta, will be situated next to Mercedes-Benz Stadium, which this fall will become the new home of the Atlanta Falcons. The hotel, slated to open in spring 2018, will include a vibrant lobby lounge, a heated outdoor pool and a rooftop oasis where groups can enjoy cocktails and fine dining. The 220-room property will offer 10,600 sq. ft. of ballroom and banquet facility space.
Eden Roc Miami Beach Resort, which is owned and operated by RCD Hotels (and is not a Hard Rock hotel, but is part of the All-Inclusive Collection), blends tropical Miami style with decades of timeless glamor. Located on Collins Avenue, it offers 631 spacious guest rooms and suites, four pools, the iconic Lobby Bar and more than 70,000 sq. ft. of indoor and outdoor meeting space.