New hotel brands provide adventurous experiences for the young at heart
For many of us, trying to stay hip—or at least relevant—isn't easy. (Skinny jeans that now flare at the hem?) Actually, the same goes for our industry, especially hotels that host meetings, feed guests and sometimes provide a yoga mat.
We've moved beyond the staying-afloat years, but now the challenge for hoteliers is to keep up with the ever-changing industry, with its new demographics, rising expectations of travelers and planners, and differences in people's traveling preferences.
To meet that challenge, major hotel corporations have taken a hard look at their portfolios and discovered a critical missing niche: a hip brand that appeals to the youth-oriented market. As a result, they have been branching out to the point of reinvention, launching new lifestyle brands that are distinctly different from their core.
While the buzz for these new hotels may be "millennial," the reality is "mindset," a brand concept that goes beyond demographics. "It's more about being young at heart, having an adventuresome spirit, seeking out experiences and going about life with a sense of humor," says Raul Leal, CEO of Virgin Hotels.
The new marketplace has seen a proliferation of hotels with a strong sense of character, a local identity and a high level of connectivity, ranging in service level from select to four-star. They're adaptive re-uses of historic buildings, new builds and conversions. So, they offer exciting new options for small to midsize meetings. Here's a look at this new era for hotel brands, already online or coming soon.
AC Hotels by Marriott
Imported to the United States in November, this new Marriott brand is a joint venture with Spanish group AC Hotels, which already offers 70 contemporary, moderately priced hotels in Spain, Portugal, France, Italy, Turkey and Denmark. The brand made its debut with AC Hotel Bourbon/French Quarter Area in New Orleans in November, followed in 2015 by properties in Kansas City; Washington, D.C., at National Harbor; Miami Beach; and Chicago. More than 50 hotels are set to open within the next three years throughout the United States and Latin America.
Like their international counterparts, the U.S. hotels reflect a sophisticated, modern European style that "complements the culturally diverse flavors of our urban destinations," says Toni Stoeckl, vice president of lifestyle brands for Marriott International. Guest rooms are sleek and stylish, with complimentary Wi-Fi and flat-screens that allow you to connect to your own media. The AC Lounge offers drinks and small plates, and the AC Library has communal tables and ergonomic chairs. A European breakfast is included, while AC Store satisfies snack cravings 24/7. For meetings, Media Salons provide flexible, glass-enclosed workrooms with integrated technology.
The brand's target market is "creative, well-traveled, entrepreneurial spirits who are constantly on the go and who appreciate the oasis of a well-designed hotel that allows them to focus, be present and connect with others," Stoeckl says. "While AC Hotels is not a full-service hotel concept, our guests appreciate that they get only what they need, without paying for what they don't."
Hyatt Centric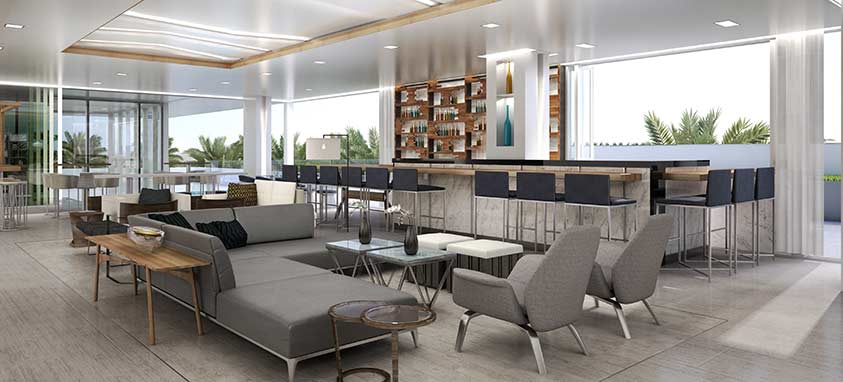 Hyatt Centric South Beach Miami
A new full-service lifestyle brand, Hyatt Centric has already made a splash with two openings this year: Hyatt Centric The Loop Chicago, within walking distance of the theater district and shopping, and Hyatt Centric South Beach Miami, located in the heart of the famed neighborhood. And there's more to come—15 new properties, in fact, by the end of the year, in desirable destinations such as New York City, Atlanta and Paris, as part of a global brand.
Both the Chicago and Miami hotels are adaptive reuse projects that, like subsequent hotels, feature unique designs that fit the hotel's surroundings. Along with clean lines and modern decor, Hyatt Centric hotels offer complimentary wireless Internet throughout the property; knock n' grab handcrafted food and cocktail kits delivered to guest rooms; an open-concept lounge; and a communal work/play/socialize space with residential-style furnishings, plus bar and food service.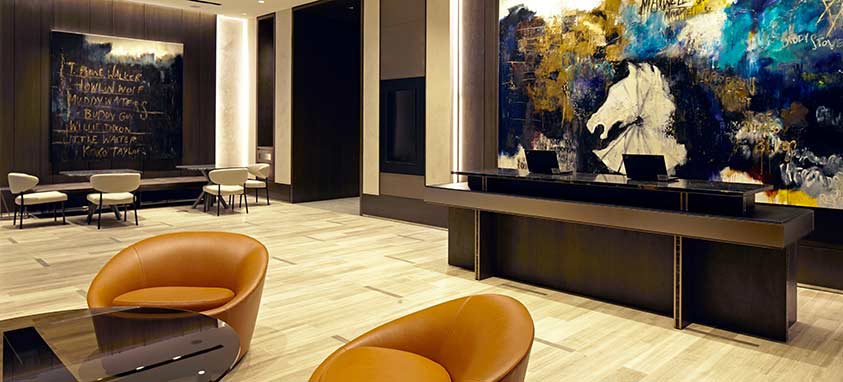 Hyatt Centric The Loop Chicago
In Chicago, guests enjoy a seasonal rooftop bar; and in South Beach, the third-floor rooftop deck pool is open year-round (as is the beach, across the street). The Chicago property will have 2,540 sq. ft. of meeting space, while the Miami hotel will contain 6,000 sq. ft.
The brand is not targeted to one demographic group, according to Kristine Rose, vice president of brands for Hyatt. These are guests who "live the life of what we call the 'modern explorer,' a savvy, multigenerational group of people who are curious, independent and looking for fun," she says. "These travelers want a cosmopolitan vibe without the 'scene.' Their expectations are simple but their standards high; they take pride in making smart decisions and, in return for their money, expect their hotel will deliver a fresh, modern, high-quality experience." Rose says the company is working on a small-meetings experience that will be launched this year.
Virgin Hotels
It's no surprise that, with the debut of Virgin Hotels Chicago, the Virgin brand is once again on the forefront of a trend—in its own inimitable way. "Virgin has always been known for challenging convention, for taking the mundane and turning it upside down, and coming to the aid of customers. We've done exactly that in the hotel space," Leal says.
And what spaces they are: a mix of renovations and new builds, each designed with its location in mind. In Chicago, the hotel is located in the historic Old Dearborn Bank Building in the heart of the Loop District, renovated to capture its Art Deco charm and revved up for current generations. The Commons Club, a dynamic space where guests can dine, drink, work and mingle, has the vibe of a private club (without the fees) and was once the original bank floor, capped with a coffered plaster ceiling. Then there's Lucy, the free mobile app that puts hotel services at your fingertips (think thermostat, room service, tunes, movies, on-the-town recommendations and more). The property also offers 2,300 sq. ft. of meeting space.
Next up is Virgin Hotels Nashville, scheduled to open in Tennessee in fall 2016. The hotel is located at 1 Music Row and will offer a live music venue plus a recording studio. New York City is on the horizon for 2017, with a corporate goal of building the Virgin hotel portfolio to 20 properties in the next 10 years.
"We've gotten pegged as a hotel for millennials, and while we welcome this demographic, we're not aiming for a particular age bracket, but rather a mindset," Leal says. And for the unconventional part, which he says separates this brand from others? "Our bread and butter is our pricing proposition. And everything is transparent." For instance, Wi-Fi without bandwidth restrictions is free, minibar offerings are modestly priced ($2 water, $1 bag of chips), and there's no fee for early check-in/out.
Starwood Tribute Portfolio
Starwood, already appealing to a different generation with its edgy Aloft hotels, took another step forward with the introduction of Tribute Portfolio, in response to a survey of SPG members that revealed they desire to stay independent, but still have the benefits that come with their SPG membership. According to Dave Marr, global brand leader for Tribute Portfolio and Sheraton Hotels & Resorts, the focus of Tribute Portfolio is on "great independent hotels in great places where our guests and customers have told us they want to be."
Regarding the "millennial" buzz, Marr says, "We realize that millennials are an important target for Tribute Portfolio. This demographic represents a significant portion of SPG members. But millennial or not, Tribute Portfolio is built for travelers who want unique and uncommon hotel experiences in key destinations."
This new brand will feature four-star properties in urban and resort locations—conversions, adaptive reuse of historic properties or new builds. The oceanfront Royal Palm South Beach in Miami already is open, and other operating hotels are expected to join the portfolio by the end of this year. It's anticipated that the brand will reach 100 hotels and resorts by 2020.
On the books for 2016 are a property in Nashville, with a renovation of the historically significant Noel Place Hotel in the Printers Alley area of downtown, and a new build in the Historic District of Savannah, Georgia. They'll be followed in 2017 by properties in Charleston, South Carolina, and Asheville, North Carolina.
Tryp by Wyndham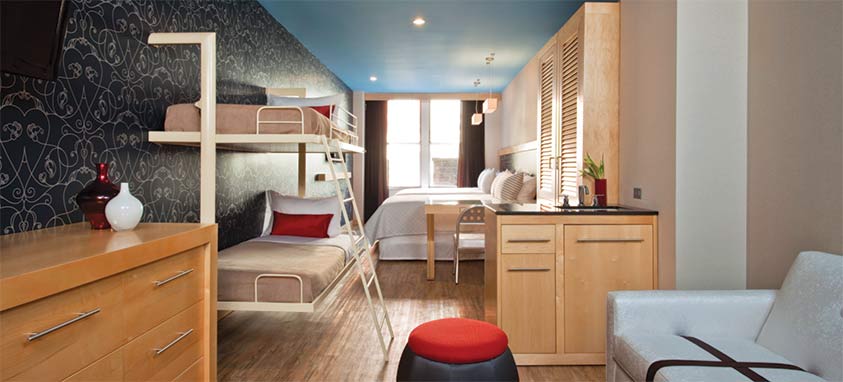 Tryp by Wyndham Times Square South, New York City
Five years ago, Wyndham Worldwide acquired Tryp hotels from Sol Melia Hotels & Resorts of Spain, which had a portfolio that included properties in numerous cosmopolitan cities throughout Europe and South America. Renamed Tryp by Wyndham and positioned as a "select-service, midmarket" brand, it has since made an initial foray into the United States, in Manhattan and Atlantic City. Sporting a definite urban vibe, with simple amenities and design (also free Wi-Fi), Tryp by Wyndham Times Square South is in the heart of the New York City midtown mix, while pared-down Tryp by Wyndham Atlantic City is within walking distance to casinos, the beach and boardwalk, and Boardwalk Hall.
Coming Attractions
Tommie, a Commune Hotel
You can file this news under "strange bedfellows": Commune, a marriage of luxury-oriented Thompson Hotels and playful Joie de Vivre, has come up with a new, value-conscious brand dubbed Tommie, featuring urban micro-lifestyle hotels that are unabashedly geared toward the youth market (or at least the open minded). Rooms are compact; there's a self-check-in system, but no minibar and no room service.
Its premier property, Tommie Hudson Square, debuts this October in the midst of Manhattan's publishing/TV/design neighborhood; a second Tommie hotel is scheduled to open in 2016 in the city's North of Madison Square Park (NoMad) District. Future locations are planned in domestic and international markets. (See Smart Meetings' May issue for an interview with Niki Leondakis, CEO of Commune Hotels & Resorts.)
Canopy by Hilton
When Hilton announced Canopy, a new lifestyle brand, last October, the concept was clear: less emphasis on high design and more on comfort and value. It's anticipated that no two Canopy hotels will be the same, but the approach will be to implement a straightforward simplicity of style, from common areas to guest rooms. Basic Wi-Fi, an artisanal breakfast and an evening tasting of local beers, wines or spirits are included.
Focusing on neighborhoods with great character—and connecting guests to the local community—the brand is currently developing new builds and conversion projects in 10 cities throughout the United States and one in London, each tailored to its particular location. Expected to be launched in early 2016 is a Canopy in the Washington, D.C., area, followed by hotels in Portland, Oregon's Pearl District and downtown Indianapolis. Among other planned locations are Miami's Brickell Financial District; San Diego's Gaslamp Quarter; Savannah's Historic District; and Charlotte, North Carolina's Uptown area.
Down the Road
Radisson Red
Entering the global marketplace in 2016 is Radisson Red, a new brand from Carlson Rezidor Hotel Group. On the calendar to debut next year are Radisson Red Shenyang Hunnan in Northeast China and Radisson Red Hotel V&A Waterfront in Cape Town, South Africa (the company hopes to announce the first Red in the Americas very soon). Carlson Rezidor's goal is to have 60 hotels worldwide by 2020, mainly in Europe, the Middle East, Africa and the Asia Pacific.
Radisson Red's design-rich hotels, both new development and conversions, will feature a holistic approach, providing guests with a total experience, according to Richard Flores, vice president of branding for Carlson Rezidor Hotel Group. A typical Red will have about 150 guest rooms and 1,250 sq. ft. of meeting space, although not in the traditional sense. Instead, he says, rooms will be multifunctional, flexible spaces that can be used to meet or to play.
"A majority of the hotels will index well against millennials," he says, but also appeal to a larger market, with the hotel's mobile app functioning as the primary resource for guests and common areas—lobby, restaurants, bars, etc.—without walls, to create an integrated, flowing social hive.
Best Western Vib
An unexpected entry on the lifestyle scene is Best Western's Vib (pronounced "vibe," as in vibrant). While the concept was revealed last year, the first two U.S. sites were recently announced: Vib Miami and Vib Chicago. Similar to other brands, the concept will reflect the local flavor of their locations, with chic, comfortable guest rooms; Vib will market itself as a modern, tech-friendly hotel brand.
Groundbreaking for the Miami hotel, to be located in the Miami Arts and Entertainment District, is expected to take place in November. Expected amenities are a Zen Zone on the mezzanine, gaming pods in the lobby and a grab-and-go food shop open 24/7. Chicago's Vib will be across from the upscale Midway Hotel complex. No timetable has been announced as yet for construction and opening, and no details about potential meeting space have been released.
A Time of Change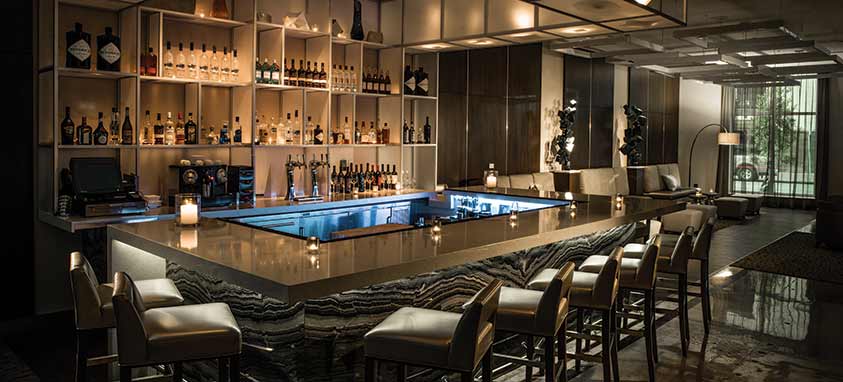 A few common threads are woven into this burgeoning industry trend. Major chains are expanding their portfolios with independent hotels, targeting both millennial and other adventuresome, tech-savvy guests—and selecting similar destinations (such as Miami, New York City, Chicago, Nashville and Charlotte). The next few years should prove to be quite interesting as the competition heats up.
---
Carolyn Koenig is the former editorial director of Smart Meetings and is a frequent contributor.
Another Take on Hip
Hip, as in hotels, comes in all sizes and flavors. These can be part of a portfolio or stand-alone properties. Here's a look at a few of them: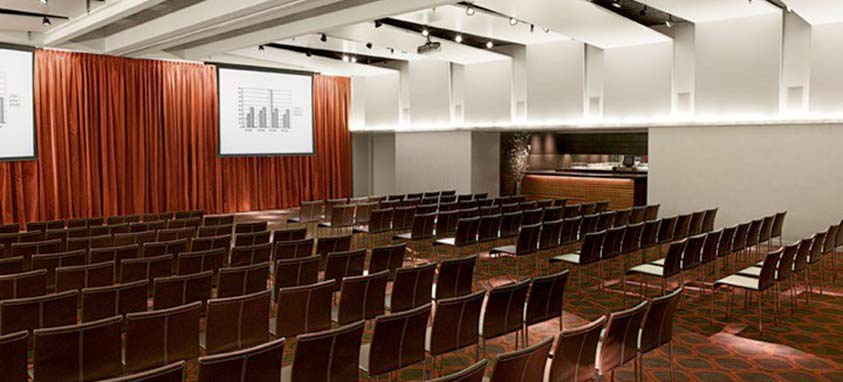 The James Hotels: A boutique luxury brand, The James Hotels has properties on Chicago's Magnificent Mile and in New York City's SoHo neighborhood, and one is slated to open in Los Angeles/West Hollywood in 2016. The hotels are designed to be "locally inspired, community focused and environmentally thoughtful." They're also art-centric, displaying works by local, national and international artists throughout the public spaces. The James Pocket Assistant app allows guests to check in, request services, tap into local insiders' guides and more. Offering complimentary Wi-Fi, The James Club, tailored to each location, is a modern, comfortable space to relax or to work. jameshotels.com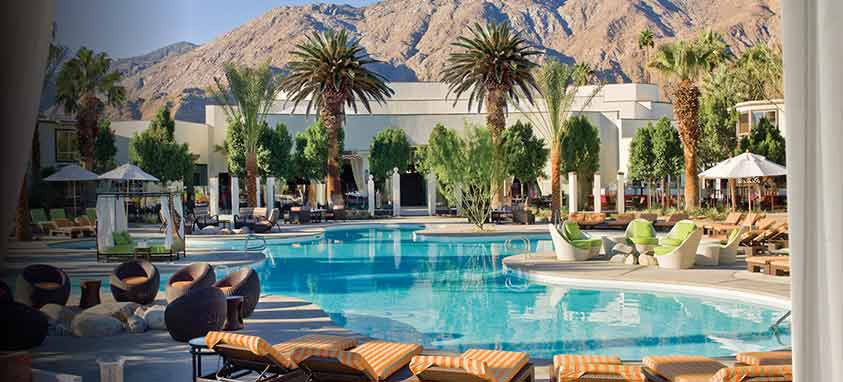 Riviera Palm Springs: Midcentury modern. Need we say more? Those fabulous, clean lines translate as well in 2015 as they did in 1959, burnished in the resort's overall retro contemporary style. It doesn't hurt to have a glam history that comes alive when you stay and meet here, accompanied by swanky restaurants and bars to dine and see and be seen in. Guest rooms come in king, queen and over-the-top opulent. By day, Bikini Pool is a serious tan-maker; by night, illuminated, it can become a white-hot cocktail reception. Meeting and event spaces include a 19,670-square-foot grand ballroom and Desert Conference Center, with two ballrooms and sectionals for smaller events. psriviera.com
The Valencia Hotel Group Collection: Responding to the desire for character-rich hotels and unique experiences, this collection meshes a contemporary European design ethic with local communities. The collection includes Hotel Valencia Riverwalk, San Antonio; Hotel Sorella Citycentre, Houston; Lone Star Court, Austin in Texas; Hotel Sorella Country Club Plaza, Kansas City in Missouri; and the recently renovated Hotel Valencia Santana Row, San Jose. Opening in autumn 2016 is Hotel Alessandra Houston, a new luxury brand as part of the downtown GreenStreet development. valenciagroup.com
W Austin: One of the city's most luxurious hotels, W Austin in Texas has a decidedly hip vibe. Attendees can enjoy kicking back with a handcrafted cocktail in the Living Room while grooving to a DJ mixing the best of Austin City Limits music. The hotel also features Trace Austin, a sleek, sophisticated restaurant offering flavors of Central Texas; signature treatments at Away Austin Spa; and private cabanas on the Wet pool deck. The property has 251 guest rooms and 10,500 sq. ft. of meeting space contained within seven creatively designed rooms. whotelaustin.com
Hip hotels accent the international meeting scene, with culinary curiosities, inspiring outdoor space and business-savvy guest rooms. Especially in Asia, where business travel is thriving, hotels are delivering creative amenities to set themselves apart from the competition.
For example, The Mira Hong Kong has a very popular outdoor lounge, Vibes, which is punctuated by a shisha bar and shisha master. (Shisha is flavored tobacco smoked through a hookah pipe.) The sleek garden-like setting is an unexpected hideaway juxtaposed with famous Nathan Road, where shoppers roam until late at night. A DJ plays music and tunes are compiled and posted to The Mira's SoundCloud program so guests can take a piece of the party with them.
Another very cool feature at the 492-room Mira is complimentary use of a smartphone with unlimited local and international calls to selected countries, 3G connectivity and one-touch access to a personal concierge who can be consulted onsite and offsite. The Mira's 10,781-square-foot ballroom, which can hold up to 800 for receptions, was designed by Colin Cowie, a celebrity event organizer. For a fine-dining experience, Whisk restaurant features European-inspired masterpieces by Bjoern Alexander Panek, who has worked under the likes of Thomas Keller at French Laundry in Napa Valley, California.
The Ritz-Carlton, Kyoto seamlessly blends Japan's rich culture with modern luxury to stand out as one of the top urban resorts in the country. Its scenic location on the banks of the Kamogawa River includes sweeping views of the Higashiyama Mountains. The 134-room property, which opened in 2014, features a ceramic-tiled indoor swimming pool with a Zen rock wall. There are five meeting/banquet spaces, with room for up to 250.
Blakes Hotel in London's Kensington neighborhood is considered the original luxury boutique hotel. Created in 1978 by world-renowned designer Anouska Hempel, it's a veritable museum with antiques from China, Japan, India, Egypt and Italy. Some might say this 47-room property is over the top, but most will be intrigued by its eclectic decorations. Meeting space includes the decadent yet comfy Chinese Room, which is dedicated to Gabrielle (Coco) Chanel and Marlene Dietrich. The Chinese Room, restaurant and bar are available for buyout and combine to hold 70.
Andaz Peninsula Papagayo Resort in Guanacaste, Costa Rica, is a magical tribute to its location on the country's northern Pacific Ocean coast. The 153-room resort offers 8,200 sq. ft. of open-air and indoor meeting space. Attendees enjoy views of Culebra Bay and the many outdoor adventures the region affords, including snorkeling.