The hosted buyer program is a key element of the IMEX trade show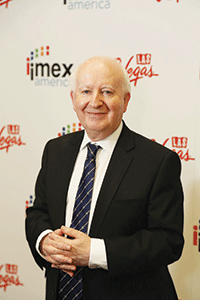 Ray Bloom, chairman and founder of IMEX Group, pioneered the hosted buyer concept in the 1980s and has been developing it ever since.
Some 300 exhibitors invite their key clients to come to IMEX America as hosted buyers. This year, IMEX America will welcome 10 new hosted buyer groups—Best Cities, Double Dutch, Event Mobi, WestJet, Roots MICE-USA/Canada, Event Experiences by Incentive Concepts, Incenta Rewards, Hosts Global, Site South America and Kenes.
The buyers need to meet qualifying criteria of regularly planning or commissioning large-scale events around the world and outside their home state. The purpose is to give qualified meeting and event planners the opportunity to do business with suppliers from around the world in a fun, efficient environment, as well as learn from leaders in the industry and network with peers.
Hosted Buyers receive:
Free economy-class flights from selected  destinations (excluding individual buyers not traveling with a hosted group who are on the IMEX America long-haul travel program) up to the IMEX banding limit
Expenses if travelling by car (up to an agreed amount)
Transfers in Las Vegas between airport/hotel/IMEX America if arriving on hosted buyer program dates
Accommodations in a four- or five-star hotel (room only) for the program dates
Access to the hosted buyer lounge (complimentary refreshments and Wi-Fi)
Free access to educational sessions
"The hosted buyer program is a key hallmark of IMEX events in Frankfurt and at IMEX America," says Carina Bauer, CEO of IMEX Group. "The idea is to create a platform with thousands of high-caliber buyers who are interested in doing business across the U.S. and around the world. We also, of course, heartily welcome and encourage buyer attendees who are not hosted to be a large part of the show, to meet with exhibitors, network and engage in learning sessions."
Bauer says that IMEX America is a great event for hosted buyers and buyer attendees because they get to meet and connect with destinations, services, hotels, tech partners, incentive players, DMCs and more from around North America and across the world, all in one convenient location.
"With the IMEX America scheduling system, hosted buyers are also able to choose and reach out to the people they want to meet and do business with, and create their own custom schedule," she says. "The free education is also of high value to buyers and lets them mix and mingle with peers, and exchange ideas with experts.
"Finally, the networking on the show floor and at events like Association Evening, MPI Rendezvous, the Shamrock Shootout golf event, the IMEX Run and more creates power networking opportunities in fun settings."