Omni Orlando Resort at ChampionsGate
Cozy up to another side of Greater Orlando
Experience Kissimmee and Omni Orlando Resort at ChampionsGate made Florida Encounter proud during the annual meetings and events trade show Nov. 30−Dec. 2. Often overshadowed by Orlando, one of the top meeting destinations in the world, next-door Kissimmee in Osceola County has its own personality and venues that are worth consideration for all kinds of events.
Since Kissimmee doesn't have a convention center, the local CVB relies on hotels and resorts to host meetings and bring in groups to experience the burgeoning destination. Besides the Omni, which is undergoing a massive $40 million expansion, Kissimmee meeting properties include Gaylord Palms Resort & Convention Center, Reunion Resort and Bohemian Hotel Celebration.
"Our resort product is second to none, with world-class spas, championship golf, expansive meeting facilities, superb dining and exceptional service," says Michelle Moore, CMP, director of sales for Experience Kissimmee. "Our resorts are just minutes away from the world-class attractions and endless offerings of Central Florida, as well as just 25 minutes from Orlando International Airport."
The 1,000-acre Omni at ChampionsGate is a meeting village, with two Greg Norman-designed golf courses, a spa, a fitness center, an outdoor basketball court and three pools, including a lazy river that is about "two margaritas" long. There's even bass fishing onsite, from the shore and kayaks. A new wave pool will be unique to Greater Orlando.
Most of Omni's convention space is separated from the guest rooms and lobby, creating distinct areas to work and play. The resort offers 128,000 sq. ft. of meetings and events space now, but will complete an expansion project next October, adding 50,000 sq. ft. indoors and 50,000 sq. ft. outdoors for a total of 228,000 sq. ft. The expansion also adds 93 guest rooms to increase the resort's total to 862.
"The Omni is one of the largest meeting resorts in our area, and is known for the stellar service and exceptional experiences in which Omni extends to groups and overnight guests worldwide," Moore says. "This level of hospitality is a direct reflection of the same type of guest service and care Experience Kissimmee and its team commits to each one of our attendees and visitors."
The Florida Encounter exhibition area was held in Omni's National Ballroom, which has 24,000 sq. ft. of event space. Destinations and hospitality providers from throughout the state formed 12 rows, with plenty of room to stroll down the aisles, network and take in the exhibits.
On opening night of Florida Encounter, Omni hosted a reception with Mexican, Asian and pasta food stations encircling its 30,000-square-foot lawn area just off the lobby. Other cool touches included a salad wall, live music and fireworks. The closing luncheon took place at Omni's 16,000-square-foot lawn area adjacent to National Ballroom.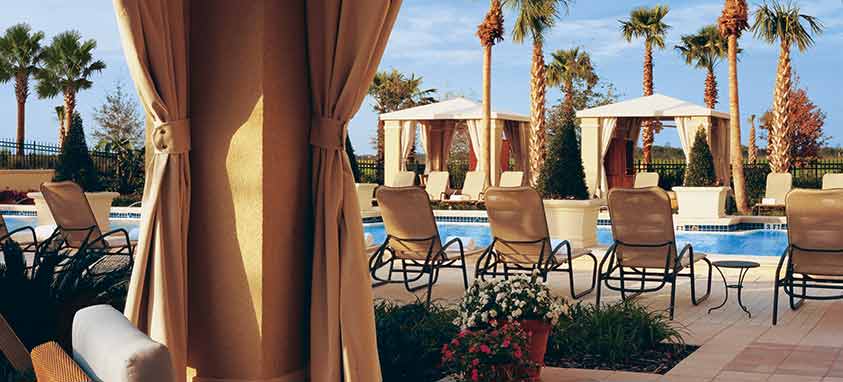 Pool cabanas
With 70 percent of its business coming from meetings and events, the resort is very capable of hosting major gatherings simultaneously. On the same level of its original meeting space but separated by a walkway, Osceola County Conference Center offers 46,000 sq. ft., including a 28,800-square-foot ballroom. The conference center was built in 2013 in partnership with Osceola County. The expansion currently underway will enhance the convention center with new breakout rooms.
Omni boasts seven restaurants, including David's Club, which features an elegant bar area and comfy leather seats positioned in front of a wall of TVs to appease sports fans. A patio provides space for after-dinner cigar smoking. Zen Restaurant specializes in Asian dishes, with an innovative sushi bar.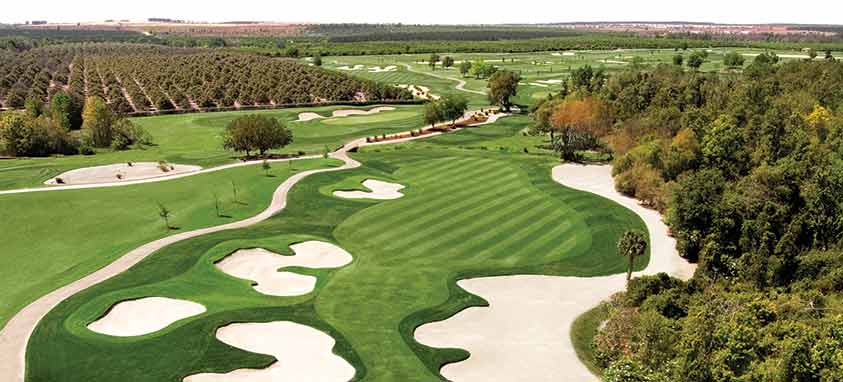 National Course
Moving outdoors, it's hard to overlook the importance of onsite golfing opportunities. The 18-hole International Course offers a link-style experience, while the 18-hole National Course features a traditional American design. The resort also features the world headquarters for David Ledbetter Golf Academy. There's a lighted, nine-hole par-3 course perfect for evening activities and tuning up your pitching and putting.
Located 25 minutes from Orlando International Airport (MCO), the resort is near the theme parks and provides complimentary shuttle transportation to Walt Disney World properties.
Kissimmee will welcome a new attraction in April when Island Grove Wine Company at Formosa Gardens opens about five minutes from Omni. The brainchild of developer George Chen, the sustainable estate winery will have a two-story plantation-style building with a tasting area, 25-seat restaurant and 3,000 sq. ft. of meeting space. Team building will include a cooking school, with fresh ingredients handpicked from the onsite botanical garden.

Mokara Spa
Chen has been working with state agriculture experts to help Florida develop new cash crops to replace the declining citrus industry. Blueberries grow very well in the state, for example, so the winery will feature berry wines in addition to vintages from around the world.
With only 30 wineries in the state of Florida, Chen believes Island Grove will provide new and different experiences for the throngs of people already meeting and visiting local theme parks in the region. It will also serve as a great introduction to sustainable growing practices and wines rarely seen in grocery stores or restaurants.
"We expect to grow these different plants in our botanical garden with sustainable, organic and permaculture methodologies," Chen says. "Biodynamics is a different way of looking at growing in nature and in harmony with nature. We want to be able to harvest from the botanical garden directly to the bistro and serve our guests."
Just as Florida Encounter decided to host its annual trade show in Kissimmee, it's time to consider the destination for your next meeting or event. As Kissimmee continues to step out of Orlando's shadow, it's poised to become an even bigger player in the meetings and events industry with expanded venues, unique experiences and warm, genuine hospitality.