Park Hyatt St. Kitts
Grass-roots efforts also enable planners to easily customize meetings
Two recently formed property alliances by Hyatt Hotels Corporation are facilitating multiple booking for planners and allowing them to easily customize their meetings and conventions.
Hyatt Convention Alliance, the result of a grass-roots effort by hotel managers to respond to the industry's evolving needs, allows planners to book several customized meetings in a single package at 10 convention hotels. The alliance was so successful that another grass-roots effort started by individual properties led to the formation of Hyatt Resort Alliance, which provides similar booking arrangements at 33 properties.
"Like the Convention Alliance, it was a very organic addition to our organization, built and nurtured as a grass-roots effort on the property level," says Jack Horne, senior vice president of sales and marketing for Hyatt Hotels Corporation. "While Hyatt has had some success through its 'More Meetings' efforts, we felt we wanted to approach the customer needs in a new and innovative way."
Several Hyatt resort hotels brought together customers from different segments and regions of the country to conduct "empathy" interviews and create advisory boards. The sessions spurred the hotels to develop a unit that could negotiate contracts together as one cohesive group and provide customized proposals to planners interested in multiple destinations. During the process, Hyatt's national events manager traveled to customers' meetings to participate and understand their goals.
"This truly established the partnership role that the hotels wanted, and they knew it could be a differentiator and set them apart," Horne says.
Hyatt Convention Alliance
Hyatt Regency Indian Wells Resort & Spa, California
This alliance, formed in May 2014, allows planners to book meetings seamlessly in several markets and over several years. Customers are paired with a Hyatt Convention Alliance on-property associate who submits pre- and post-convention information in the alliance's database. The associate assures that the group's information is turned over to the associate managing the group's next event. This procedure continues at all destinations that a group books.
"The Hyatt Convention Alliance combines the collective power and strategic experience of 10 of Hyatt's major convention hotels and is ever-evolving to respond to meeting planners' needs," Horne says. "From streamlined proposals or contracts to having a personalized event manager for the organization wherever they meet within Hyatt, the goal is to take a more thoughtful approach to making meetings easier."
Hyatt Convention Alliance consists of these U.S. properties, located in primary markets and cities: Hyatt Regency Atlanta, Hyatt Regency Chicago, Hyatt Regency Dallas, Hyatt Regency Denver at Colorado Convention Center, Hyatt Regency McCormick Place, Hyatt Regency New Orleans, Hyatt Regency O'Hare, Hyatt Regency Orlando, Grand Hyatt San Antonio and Manchester Grand Hyatt San Diego.
A key Convention Alliance property, Manchester Grand Hyatt San Diego is a luxury urban retreat that completed a multimillion-dollar renovation of its 1,628 guest rooms, meeting spaces and common areas during the past four years. Manchester is located in the heart of downtown between the San Diego Convention Center and the city's popular Seaport Village. The property has 316,000 sq. ft. of flexible meeting space, including 136,000 sq. ft. of dedicated indoor space. Seaport Ballroom provides 30,000 sq. ft.
The alliance has already received considerable customer praise, including the following from Jason Awad, assistant director of venue operations and event contracting at Sans.org, an information security firm.
"Hyatt Convention Alliance allows us to package five years of national meetings into one, and have them hosted on both the East and West coasts," Awad says. "We're thankful for HCA's strategic experience and offerings, and they made the contracting process turnkey. I have recommended and continue to recommend HCA to those in the meetings industry, as it will change the way you book meetings."
Hyatt Resort Alliance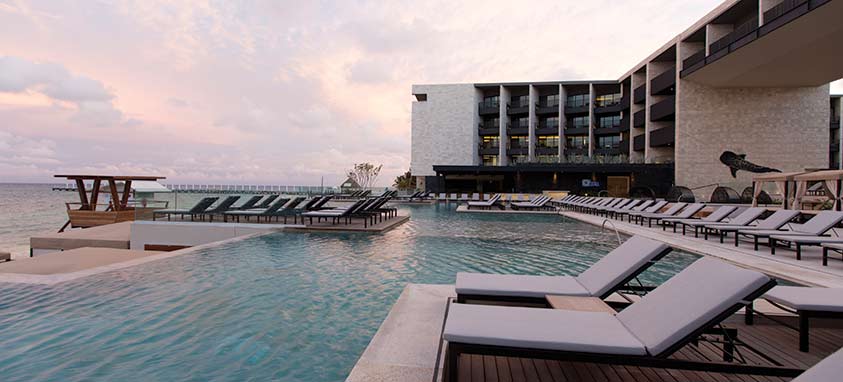 Grand Hyatt Playa del Carmen, Mexico
The Hyatt Resort Alliance is a group of resort properties working together to provide distinctive experiences for special events, group travel and leisure travel guests. Attendees, guests and clients can enjoy a broad spectrum of adventures, activities, spa treatments, gourmet dining and more. Alliance properties also offer plenty of modern meeting space.
Similar to the Convention Alliance, the Resort Alliance, which was created in May 2015, provides a seamless experience from resort to resort by offering a simplified booking process and easy transitions.
"For busy meeting planners, time is of the essence," Horne says. "Hyatt's Resort Alliance has the ability to provide an array of customized options to serve their groups with a consistency of benefits and services. Additionally, the properties of the Resort Alliance are able to share key aspects of a group with the next resort hotel, in order to ease the process and provide a very smooth experience.
"The goal of the Resort Alliance is to customize and execute the prearrival experience and carry it through the meeting experience, including the post-departure experience. This is accomplished by executing key touch points throughout the meeting by better understanding guest patterns and behaviors." The alliance consists of 16 properties in the United States, six in Mexico and 11 in Latin America. Three of the most outstanding properties are in the California-Nevada region.
The 530-room Hyatt Regency Indian Wells Resort & Spa, nestled among 45 acres of lush gardens in Southern California, has 88,000 sq. ft. of meeting space. An attractive Spanish-style property in Southern California, Hyatt Regency Huntington Beach Resort & Spa features 517 elegant guest rooms and more than 10,000 sq. ft. of meeting space.
Hyatt Regency Lake Tahoe Resort, Spa and Casino—located in Incline Village, Nevada, in the Sierra Nevada—is an AAA Four Diamond property that offers 442 guest rooms, outstanding year-round recreational activities and more than 50,000 sq. ft. of meeting space.
An Ongoing Effort
Horne says the alliances have been successful in meeting the needs of many meeting planners, and he expects the success to continue.
"Because the Hyatt Convention and Resort alliances were started from the property level versus a corporate top-down structure, there's a comfort for planners in knowing that the directors of sales and general managers are on board and invested in the efforts and partnerships," he says. "We think that from continued customer feedback and strategic events being held…positive change and growth will continue to occur."
---
Properties in the News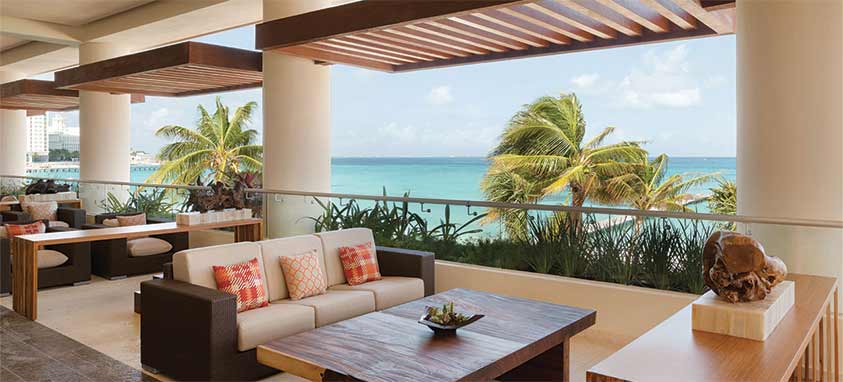 Several Hyatt Resort Alliance properties have opened or been renovated recently, with more to follow.
Located in the most vibrant, modern and innovative area of Playa del Carmen, Mexico, Grand Hyatt Playa del Carmen Resort features a popular spa, two restaurants and three bar/lounges. The resort, which opened in 2015, provides 15,000 sq. ft. of meeting space.
Hyatt Ziva Cancun (pictured) is an all-inclusive beachfront resort on the Punta Cancun strip, framed by the Caribbean Sea. The 547-suite property, which opened last year, includes 16,000 sq. ft. of meeting space.
Another all-inclusive property that opened in 2015, Hyatt Ziva Los Cabos, is perched on the tip of the Baja California Peninsula. It offers 591 guest rooms—including 34 swim-up suites—and 35,000 sq. ft. of meeting space.
Last year, Hyatt Regency Maui Resort & Spa in Hawaii celebrated its 35th anniversary by opening the island's only oceanfront spa, and renovating 31 suites, Swan Court dining room, Son'z Steakhouse, the hidden Grotto Bar and Sunset Terrace. The AAA Four Diamond resort features 806 guest rooms and more than 100,000 sq. ft. of indoor and outdoor meeting space.
Scheduled to open in the third quarter of 2016, Andaz Scottsdale Resort & Spa in Arizona overlooks Camelback Mountain. It features 201 guest rooms and 20,000 sq. ft. of meeting space.
Andaz Mayakoba Riviera Maya Resort, slated to open in the fourth quarter of 2016, will have 212 guest rooms, an 18-hole golf course designed by Greg Norman, a spa and a 6,458-square-foot ballroom.
Hyatt Regency Coconut Point Resort and Spa in Bonita Springs, Florida—28 miles from Fort Myers—will open a new waterslide and lazy river pool complex in the fourth quarter of this year. The property offers 454 guest rooms and 73,000 sq. ft. of meeting space.
In the second half of 2016, the 134-room Park Hyatt St. Kitts will debut on the Caribbean island. Set along the shores of Christophe Harbour's Banana Bay and overlooking The Narrows, it will feature a signature spa and 7,000 sq. ft. of meeting space.
Hyatt Key West Resort & Spa in Florida will undergo renovations this summer that will include guest rooms, the pool bar and spa. The resort, located on the Gulf of Mexico, features 118 guest rooms as well as waterfront dining and 2,349 sq. ft. of meeting space.