XDP rethinks events with the help of 2,000 co-creators
The American Society of Association Executives (ASAE) has been producing an annual spring conference since 1976—the year Laverne and Shirley was all the rage on television. Every year it was pretty much same-old. Or, as Don Neal of 360 Live Media consulting company in Washington, D.C., describes it, "They were on a path of better sameness." The tired format was impacting the organization's ability to deliver its message, so President and CEO John Graham decided it was time to be more relevant. He hired 360 Live Media to help redesign the event.
The challenge was to deliver an experience to impact attendees (they call them co-creators) on a physical, physiological, emotional and intellectual level, and it had to address content, commerce and community. Most of all, it had to be immersive and interactive. The result: a two-day Xperience Design Project Powered by ASAE (XDP) held in May that resembled a collaborative learning environment more than a traditional conference or trade show.
The event took some chances and tried some unconventional tactics. For one thing, all 2,000 co-creators were in one room, but on different tracks, interacting with personalized content from five speakers on a round stage via earbuds. The curriculum was designed to be cohesive and build on learned insights rather than a series of separate, disjointed presentations.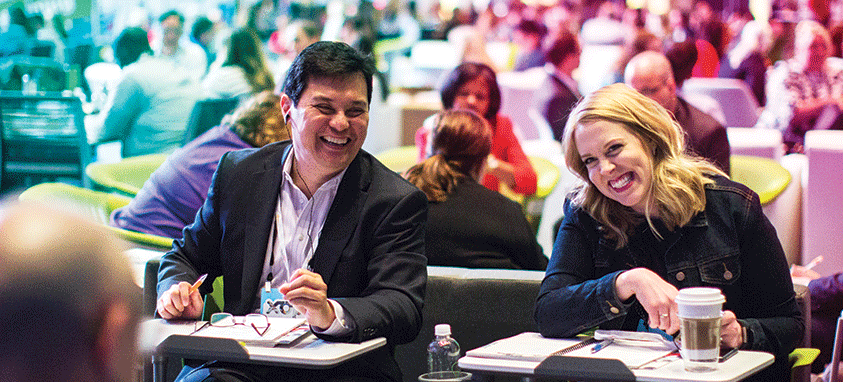 Neal offered takeaways that designers of events can incorporate in large and small ways.
1. Initiate small-group learning units. This is different from break-out sessions—pods of as few as 10 self-organize around a single topic for peer-to-peer exploration, learning from each other and working toward their own solutions rather than being told the answer in a PowerPoint from the front of the room.
2. Make it a feel-good meeting. The goal of an event is to have people leave feeling better, more empowered than when they arrived. The reality is that most people don't get enough sleep at conferences; they indulge in too much salt, sugar and alcohol, and their energy level reflects that. XDP included space in the schedule for relaxation and time to rest. Even the food and beverage was designed to maintain steady energy levels with small, frequent, healthy meals. "We limited brown food and added greens that taste good," Neal says.
3. Manage emotional expectations. Co-creators understood in advance the goals and the schedules, and what would be expected of them. "We created a navigational playbook that acted like a road map—disguised as a coloring book—that was given out at the beginning," Neal explains. This handout is one part resource guide, one part schedule and one part doodle-pad.
One thing not on the schedule is traditional networking. "Having to talk to strangers without context is stressful for a lot of people," Neal observes. The focus on learning allows everyone to relax and be emotionally available for informal interactions.
4. Bring the trade show into the meeting. Instead of a traditional exhibit floor with booths where people feel as if they are being pounced on as they walk down the aisles, partners are integrated into the learning environment, sitting at the table and adding value in a co-creation role.
To be truthful, a business exchange was set up the next day, but most people had already formed a relationship, and it felt less adversarial, Neal says.
5. Host rather than announce. Instead of hiring a master of ceremonies, bring in a teacher who participates in initial planning and can act as the glue to connect dots being drawn throughout the event. This person needs to be able to form an emotional connection with attendees and be invested in the outcome of the event.
Neal understands this is a lot to take in. He is currently working with ASAE and the rest of the partners to plan next year's event, in April at Gaylord National Resort and Convention Center. He has one last piece of advice for those considering mixing things up at their annual events. "You don't have to make all of these changes at once," he says. If you want to update an established annual meeting, try creating a three-year transition plan that modifies one or two things each year. Get feedback and then try something else the next year.