Nobu Fifty Seven, New York, New York
Nobu Matsuhisa elevates hospitality through authenticity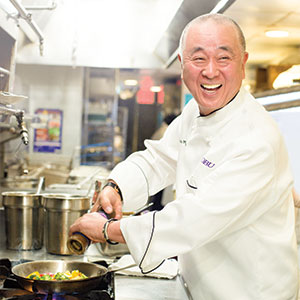 For 10 months a year, he travels. And from Athens to Kuala Lumpur, from Moscow to Dubai, from Budapest to Beijing, there will be a white chef's coat waiting. He slips it on, and over his heart, in simple black embroidery, is his name. Nobu Matsuhisa.
The man who has been called the culinary world's Madonna—because he's most widely known by his first name only—is almost constantly overseeing his worldwide empire of some 50 restaurants and seven hotels on five continents.
"Launching a restaurant is easy," he likes to say. "Find the location, spend $1 million to make it beautiful. But after the door is open, who makes it a happy place? Who's cooking? Who's dishwashing? Who's taking the reservation?"
That's where authenticity comes in. It's a word that has gained currency in the meetings and events world. Planners strive to deliver experiences that ring true, that convey a genuine sense of place—that are, in a word, real. For that reason, chef Nobu is a fascinating case study for how to replicate authenticity across the globe. Unlike other celebrity chefs who change up the themes and names of their multiple restaurants, every one of his serves sushi and other Japanese-style dishes, and is named either Nobu or Matsuhisa. And day after day, night after night, they all pull in the customers.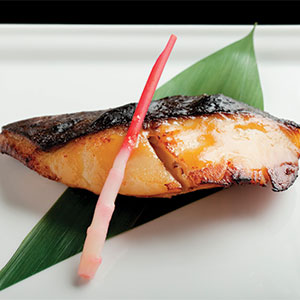 Nobu's secret sauce, in the estimation of the general manager of the very first Nobu Hotel, at Caesars Palace in Las Vegas, is the Japanese concept of kokoro. "There is no direct translation for kokoro," says Gigi Vega, now regional director and general manager of Nobu Hotel Shoreditch in the arty East End of London. We caught up with her a day after she had been with chef Nobu at a management meeting in Barcelona. "But when you say it, it means the heart, that genuine and passionate way of service delivery. This is at the very core at his restaurants, and now at the hotels, too."
Having kokoro, Vega says, imbues Nobu staff with another prized Japanese treasure, omotenashi. A loose translation of the word is "hospitality," but the Japanese insist it is actually much more nuanced in meaning. It encompasses the anticipation and fulfillment of a guest's needs—in advance, perhaps even before the guest realizes these needs. "Omoto" translates as "public face"—how you wish others to see you. "Nashi" means "nothing." Combining them becomes hospitality that is honest and has no pretense, no hiding. The all-encompassing nature of omotenashi is famously encapsulated in the poetic question from Japanese tea master Sen no Rikyu: "Though you wipe your hands and brush off the dust and dirt from the vessels, what is the use of all this fuss if the heart is still impure?"
"So, that is what Nobu is all about," Vega says. "Very giving. It's really what chef Nobu has learned from his experience."
The Hard Years
That experience has had its hard lessons. Nobuyuki "Nobu" Matsuhisa was born in 1949 in Saitama, Japan, not far from Tokyo. (In Japanese, nobu means both "trust" and to "prolong" or "stretch.") Those post-war years were difficult enough for the Japanese—a major section of Saitama was bombed out—but when Nobu was only seven years old, his father died in a traffic accident. His mother raised him and two older brothers.
After graduating from high school, he apprenticed at a sushi restaurant in Tokyo. For the first three years, he washed dishes and cleaned the fish. Only then did he learn to make sushi. He worked there for seven years.
A regular customer, a Peruvian of Japanese descent, persuaded him to partner with him in opening a small sushi restaurant in Lima. With many traditional Japanese ingredients un-
available, he had to learn to fuse Peruvian flavors into his food—a twist on traditional Japanese cuisine that has been a hallmark ever since.
The partnership frayed, however, and after a stint in Argentina, he made another bold move—to Alaska, where he opened his own restaurant. Within two months, it was destroyed by fire. Nobu fingered a sushi knife and seriously considered suicide.
Instead, in 1977, he resettled in Los Angeles. After working in a pair of Japanese restaurants, he opened the first Matsuhisa, on La Cienega Boulevard in Beverly Hills, in 1987. It had only 38 seats. The first few years, he lost money. But he was finally on his way to stardom.
"The first time Robert De Niro came to Matsuhisa was in 1988. Roland Jaffe, director of The Killing Fields, brought him," the chef recalls in Nobu: A Memoir, just released in an English edition. "Although the name Robert De Niro seemed familiar, I had no idea who he was." The actor particularly loved the dish most associated with Nobu—"Black Cod with Miso"—and invited the chef to join them for a drink. That signature preparation is still on his menus, 30 years later.
De Niro dropped in at Matsuhisa whenever he was in town, until eventually, he suggested they start a restaurant together in New York City. Nobu's previous partnership made him wary. But he agreed to come to New York and take a look. De Niro took him to see a property he had just purchased in Manhattan's Tribeca neighborhood. "At the time, Tribeca was a run-down warehouse district. De Niro's building was old. Water dripped from broken pipes, and rats scurried inside," Nobu writes.
Nobu was tempted. But he decided he was not ready. That space became famed Tribeca Grill. Four years later, De Niro called him at home and said, "So, Nobu, how about it?" At first, Nobu wasn't sure what he was talking about. "Then it suddenly hit me…his willingness to wait showed me I could trust him," he says.
Nobu ended up signing a partnership with De Niro, restaurateur Drew Nieporent and an investor, Meir Teper. A location was found near De Niro's home in Tribeca.
"I suspect that, in the beginning, De Niro didn't intend to make Nobu this big. Perhaps he just wanted to enjoy the taste of Matsuhisa in his own neighborhood," Nobu says.
The first restaurant named Nobu was triple the size of the Beverly Hills restaurant. Chef Nobu had to design the kitchen and its procedures completely differently. He brought two chefs back to Beverly Hills and spent six months training them. Among the other chefs he hired was an unknown named Masaharu Morimoto, who later went on to Iron Chef fame.
Nobu in Tribeca was a smash hit. Still, the chef stayed in New York for the first three months to oversee the kitchen, and then began to split his time between the East and West coasts. These days, in his roaming of the globe, when he talks to his chefs, he looks for the same passion that he brings to his role.
"We have Nobu's menu of signature dishes, which are all the same. But they also have the freedom to create special dishes for the country, the city, the culture, and we work together," he told an interviewer. "They show me. I taste."
In Moscow, his Nobu restaurant tops tuna tartare with caviar. At Matsuhisa Mykonos, which has an outdoor sushi bar, you'll find daily specials of Greek fish and seafood—and there's an annual Nobu Food Festival.
He says he's learned to be forgiving of mistakes. "When I was young, maybe sometimes I was loud," he says. "Now, I never am. Nobody is perfect—not even me—and people learn from the mistakes."
The Ever-Expanding Empire
Although the now-celebrity chef eventually opened new Matsuhisa restaurants on his own, the partnership with De Niro endured. And it expanded with the creation of Nobu Hospitality—co-owned by Nobu, De Niro and entrepreneur Jimmy Sweis—which began to open Nobu hotels in 2013.
Several Nobu restaurants are embedded in five-star hotels around the world. Nobu Monte Carlo is in Fairmont Monte Carlo, for instance, and Nobu Lanai is in Four Seasons Resort Lanai in Hawaii. Yet no other celebrity chef has become a hotel brand. "We were talking about that the other day," Vega says, referring to the meeting in Barcelona. She says De Niro and Nobu shared the story that they were increasingly being approached by luxury hotels to open restaurants. "And they said, very simply, 'We are going to open our own hotel rather than be in theirs.'"
Fifteen more Nobu hotels are currently in the pipeline, Vega says.
At her hotel in London, Vega says groups are challenging her staff to be "a little bit more creative." So, she has begun offering sushi chefs at meeting breaks for demonstrations of sushi-making and yoga breaks led by a yoga teacher from her spa.
For food and beverage, bento boxes have become all the rage. "We have a vegetarian bento, a sushi bento and a non-carb bento, with 'rice' made from cauliflower," Vega says. When Nobu visited London recently, he wanted to inspect the bento boxes personally. "And we definitely got feedback from him on what needed improving," she says, laughing.
It didn't surprise her. Whenever Nobu is in the house, he's talking to guests. He's totally involved.
"I'm not looking for Michelin stars. I just like to see customers enjoying dinner," he says. "People come up to me after their dinners to say thank you. I say, 'Thank you for coming.' I like to see customers with happy faces. 'Thank you' is my role."
That is perhaps the best example of kokoro delivering omotenashi.