L.A. is so big and soooooo spread out, it can be daunting to get your arms around, let alone do site inspections. Los Angeles Tourism & Convention Board (L.A. Tourism) knows this. That's why it recently launched Virtual Discovery L.A., a virtual reality travel platform that provides meeting professionals with immersive 360-degree viewing experiences of more than 50 only-in-L.A. venues and locations across Los Angeles. Now the organization has followed with Meet L.A., a free mobile app which allows users to view the virtual travel platform and more on their smartphones. We talked with Darren K. Green, senior vice president of sales for L.A. Tourism.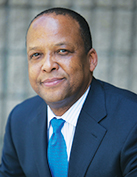 SM: Why did you make this considerable investment?
DG: Los Angeles is a city of creativity and innovation—we have the fastest- growing, high-tech segment in the U.S.—and it's critical that L.A. Tourism's offerings reflect that. Our key strategy is to create premier platforms that fit the interests and desires of all generations of the meeting community.
SM: Does any other destination have online tools this robust?
DG: A handful of destinations offer similar virtual reality videos, but nothing as robust as Virtual Discovery L.A. To our knowledge, there isn't a meetings destination app as comprehensive as Meet L.A. It reflects our cutting-edge website meetla.com and offers convenient access to all of its dynamic content, including up-to-date articles, videos and more.
SM: Please tell us a little more.
DG: For both tools, we wanted to feature the very best of Los Angeles and its premier offerings. We worked closely with our L.A. Tourism destination sales experts to identify content that truly reflect a planner's interests and desires. Users can also simulate routes on our expanding Metro light-rail system to explore the convenience of getting across the city with public transportation.
The greatest advantage of the Meet L.A. app is its multimedia features. Knowing that more than two-thirds of people now have a smartphone, we really wanted to heighten this aspect of the app. We're committed to updating content weekly to ensure planners can find the most up-to-date information and make informed decisions.
One of our main priorities was making sure it used minimal device storage. Because the Meet L.A. app is so small, we're hoping users will be more likely to download it and use it down the road. We also made sure to add a "share" feature so users can share content via email, text and social media.
SM: What's been the reaction so far?
DG: Simply phenomenal. Just hearing how planners can directly access some of the most popular L.A. destinations without needing to jump on a plane has proved to be an incredible benefit. Even if a planner is in the preliminary phase and is looking for ideas, Virtual Discovery L.A. allows them to navigate the endless possibilities with ease. The time it saves meeting planners is invaluable and the ability to present their findings to senior leadership from their screen is the ultimate benefit.
Further Reading: