Patio on oceanfront suite
The Confidante Miami Beach mixes business and pleasure
A 60-pound fish can nearly pull a grown man into the sea. How do I know that? Because I watched as one of our party of five on a deep-sea fishing outing—with Brad Cirino, director of sales for The Confidante Miami Beach—was yanked out of his swivel seat and almost into the Atlantic. Talk about a team-building moment! The rest of us rallied to his side, urging him to hang on and keep cranking his fishing reel.
It was a timeless Florida moment during a perfect visit to a best friend's beach house. That is exactly the vibe cast by The Confidante—warm, welcoming and unpretentious. Located on Collins Avenue between 40th and 41st streets in Miami's mid-beach neighborhood, it's part of the Unbound Collection by Hyatt.
Miami is such a grown-up city these days, an international business nexus that pulsates with its mashup of vibrant Latin temperament, edgy street art and Lifestyles of the Rich and Famous bling. All the more reason that The Confidante is an oasis for groups seeking an uncomplicated, just-right experience within easy striking distance of all that the city at large, the beach, and those warm, aquamarine waters have to offer.
Modern Amenities, Deep Historical Roots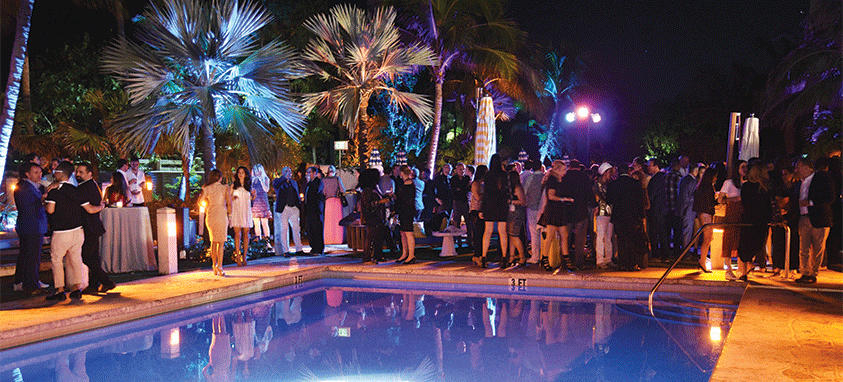 The Confidante is a three-towered property with origins dating to the 1950s, when its first 16-floor tower was the tallest modern building in Miami Beach. The 363 guest rooms feature bright colors and whimsical accents; premium rooms offer South Florida's first Plum Wine machines, created by a local tech entrepreneur to dispense a fresh, perfectly chilled glass of vino on demand.
Some 15,000 sq. ft. of indoor and outdoor flexible space can accommodate up to 1,000 guests, and includes a 2,000-square-foot ballroom with natural light and an adjoining terrace that overlooks the ocean. Between the hotel towers and the beach, a 1930s-style bungalow with a stone fireplace is ideal for an event that can feel like an off-property adventure. In September, the hotel completed a $3.5 million renovation of its meeting and event space, enhancing technology and adding design touches that complement the midcentury decor of the property.
The fishing excursion I took can accommodate up to five guests aboard Therapy IV Charters' 58-foot sport fishing boat. It concludes with a fish fileting demo dockside by a chef from the hotel's Southern-inspired Bird & Bone restaurant, where the catch can then be artfully prepared.
Miami's Pull, Allure of The Backyard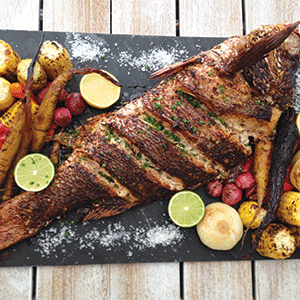 For off-site outings, don't miss a chance to visit the new Phillip and Patricia Frost Museum of Science in downtown Miami's Museum Park. It combines interactive science exhibits with an aquarium, rescue-bird sanctuary and a planetarium equipped with a 3-D 8K visual system that creates a nearly 360-degree view of whatever world you're suddenly immersed in. I watched Dynamic Earth, which explores the complex inner workings of Earth's climate system and is narrated by actor Liam Neeson. Other nearby excursions that groups will enjoy include the converted warehouses and street artists of Wynwood district, as well as the art galleries, installations, high-end designer boutiques and restaurants of Design district.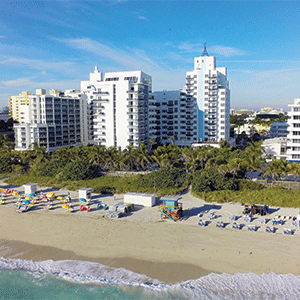 But what's the point of encamping at your best friend's beach house if not to hang? The Backyard at The Confidante is just the place—with lush surroundings by famed Miami landscape architect Raymond Jungles, two heated outdoor pools, colorful cabanas and cozy bungalows. Every Saturday, DJs set up to spin and guests groove with iced drinks or coffee concoctions made from local favorites Panther Coffee and Cafe Bustelo at the hotel's Cafecito Bar. This summer a selection of locally created Cielito Artisan Pops, with recommended cocktail pairings, will also be available poolside.
? Smart Tip
In Design district, try the updated Cuban classics at Gloria and Emilio's Estefan Kitchen; or for locally sourced and mostly healthy offerings, head for OTL, a cafe in an industrial-style space by Miami nightlife impresario Dave Grutman.