A sample agenda for a terrific tropical event at Baha Mar
Day 1
11 a.m.: Arrive at Nassau Lynden Pindling International Airport (NAS) to calypso band in the customs hall. As the gateway to the Bahamas, it offers 227 daily arrivals and departures to 38 cities nonstop.
English is the official language of the Bahamas—an archipelago 50 miles off the coast of Florida, home to 700 islands and 2,000 "cays," or coral reefs. Longtime residents speak the mother tongue with a twist that belies its complex history as a refuge from Europe and Africa, aided by a deep love of music and dance. It is the home of Junkanoo, an all-night street dancing festival fueled by goombay music and elaborate paper costumes, a tradition that lends itself to natural team building as they are activities that require every person to play a strategic role in the success of the final product.
SMART TIP: For more local flavor, consider holding a bush tea party at the historic Government House hosted by the Governor General's wife.
The 40-foot-tall, blue-tiled waterfalls lining the entrance to the much-anticipated Grand Hyatt Baha Mar Resort, which opened in April, leave no doubt about the grandeur and attention to detail that await beyond the glass doors. Whether your guests stay in the colonial-inspired east tower, the yacht-informed west tower with its water-evoking elevators (1,800 combined guest rooms) or the exotic Reserve (263 guest rooms, billed as a luxury hotel within a hotel), all feature large rooms with marbled bathrooms, balconies and beautiful views. By spring 2018, the resort complex will include the new SLS Baha Mar with 330 guest rooms and Rosewood Baha Mar with 238 guest rooms, suites and villas.
SMART TIP: Ask about access to one of the two grand clubs with its private boardroom, kitchen and premium balcony for watching the nightly synchronized water shows.
12:30 p.m.: Lunch al fresco of fresh conch ceviche with papaya, mango and jalapenos and a switcha (lemonade) is an amuse bouche of the local flavors and flair of the island that will be represented at the 40 restaurants, bars and lounges.
SMART TIP: Schedule an event under the pink ruffled umbrellas by El Jefe vintage Airstream for jalapeno margaritas and Mexicali sopas on the beach.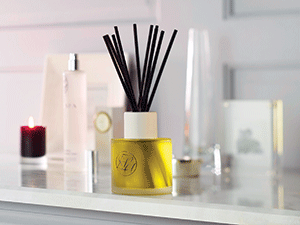 2 p.m.: Espa salon brings its European focus on education and healthy products wrapped in more of that attention to glittering details—a complimentary shot of refreshing soursop juice before every treatment, undulating mirrored walls, hundreds of illuminated acrylic butterflies and massively attentive service.
4 p.m.: A visit to Royal Blue Golf Club and Course, an 18-hole, 72-par, Jack Nicklaus Signature course rumored to have the best hamburgers on the island. The front nine holes are relatively flat, but the back nine is carved out of the forest with radical elevation changes and some surprises—including stunning views of the resort and ocean.
SMART TIP: Leave your clubs at home. The pros will conduct a personal fitting using some of the top clubs on the market—think PXG—and make sure your favorites are ready when you are.
6 p.m.: A Moroccan dinner under the silk-draped patio of the convention center shows off the creativity of spice-loving executive chef Brent Martin. The local art-filled conference center includes three open ballrooms and 16 breakout rooms. At the heart is a central kitchen for easy service from the back of the space. Catered meals can feed 10 to 2,000 with help from an on-site butcher and bakery. It is equipped with bandwidth capable of hosting mobile gaming so attendees can Instagram all they want.
Day 2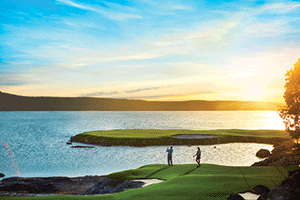 10 a.m.: Time to catch some sun. The resort features seven pools, each with its own personality, including the see-and-be-seen Fortune pool with a swim-up bar and Blue Hole pool with a 10-foot-tall cliff-jump. All are fronted by colorful striped cabanas—including four unique rainfall cabanas—that can be rented for the day with full food and drink services.
A few steps from the pool is 3,000 feet of sandy Cable Beach that acts as a jumping-in point for snorkeling (a new reef is already attracting sea life), paddleboarding, kayaking, fishing for snapper or just lounging on the lily pads (the name Baha Mar means shallow ocean) watching the fluffy clouds, massive cruise ships and rolling thunder go by. The truly adventurous can charter a boat to Pig Beach for swimming with swine. An even more appealing option for many might be the 24 beers on tap at The Swimming Pig Gastropub on the casino level.
SMART TIP: The island just visible from the beach is part of the resort and a perfect location for an intimate island experience for groups of up to 1,200 once it is complete sometime in 2018.
3 p.m.: Swimming with nurse sharks, green turtles and sting rays, showing that the friendliness of this former British colony (independence was granted a mere 42 years ago) is a way of life that transcends species.
SMART TIP: For more Bahamas' wildlife, schedule a group outing to Ardastra Gardens, Zoo and Conservation Centre, where the flamingos march in synchronized formation.
6 p.m.: Rum and cigar tasting at Churchill's, where the sommelier can share favorites from a collection of more than 40 local masterpieces. For rum enthusiasts, John Watling's Distillery downtown offers tours around the corner from Pirates of Nassau museum and Straw Market.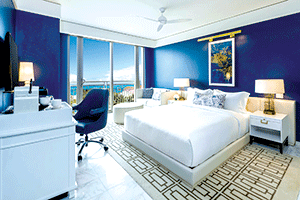 After dinner, the casino calls. It is the largest in the Bahamas and rivaled only by Las Vegas for gaming diversity. It includes 1,140 slots and 119 table games. More significantly, it is one of the few casinos that features walls of glass flooding the floor with light during the day and views of the flaming pool at night.
Sometime after 9 p.m.: End the night at Blue Note jazz lounge with craft cocktails. Once SLS opens, Bond nightclub will extend the fun far into the night.
Day 3
8 a.m.: After a little shopping at Bulgari and Tag Heuer, a farewell breakfast of croissants on the patio at Madeleine, where a passing storm only enhances the views of the lush greenery and curving flamingo pink roof of the convention center. Then into the town cars and off for the short drive to the airport.
SMART TIP: A local Bahamanian saying is "If you don't have a horse, ride a cow," a truism mammas tell their children when encouraging them to be resilient—and something event professionals know very well.
At A Glance: Grand Hyatt Baha Mar Resort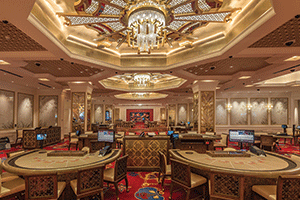 200,000 sq. ft. of indoor and outdoor event space
1,800 guest rooms (230 suites and residences)
100,000 sq. ft. of casino space
82,000 sq. ft. of convention space
30,000-square-foot Espa spa
50 species of sea life in the beach sanctuary
7 miles from Lynden Pindling International Airport in Nassau
Cashless (charge everything to the room)
Opened in April