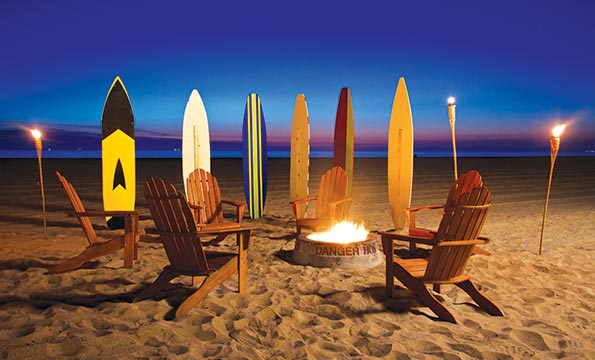 For anyone living and working in the East, Midwest or South of the United States right now, doesn't the idea of a meeting in sunny, warm Southern California sound like a great idea?
Surf City's premier beachfront meetings destination, Hyatt Regency Huntington Beach, is unveiling new and expanded surf-centric offerings for groups and meetings. Paired with the largest collection of function space on the Orange County coast—more than 110,000 sq. ft.—and being the only resort in the city with direct beach access, Hyatt Regency Huntington Beach is a planner's sun-soaked holy grail.
The Hyatt offers some great features for meetings, including:
Take the Boardroom to the Beach—move everything to the surf's edge. The hotel provides beach chairs, notepads, pens, surfboards and wetsuits (the water is brisk) and you provide the ideas.
Try team building on waves that have created champions, with small group surfboard and stand-up paddleboard instruction, complete with water safety session, wetsuit and all equipment.
Action video camera rental to capture sun-splashed meeting fun—people falling off surfboards—and a video lounge to show off not-to-be-forgotten moments.
Beach cruiser scavenger hunts along the Huntington Beach coastal strand and among the shops, restaurants and brew pubs of Main Street.
Sandcastle-building contests, with prizes for most elaborate and dunkings for the least elaborate (or lazy).
Beach bootcamp goes rogue with "Survivor–esque" competitions.
Sunrise yoga instruction on the beach shoreline to set the tone for a creative day.