Melia Cartagena de Indias, Colombia
Melia boasts more than 370 hotels in 43 countries
Melia Hotels International is wrapping up a year of major expansion that saw it open a new property virtually every two weeks and significantly extend the reach of its portfolio. "International expansion has always been and will remain a fundamental basis of our strength," said Gabriel Escarrer, chairman and founder of the company, at the company's general shareholders meeting in July. "Looking at the next 60 years, Melia is fully prepared to face the future as market leaders."
Melia, which began as a small company in Palma de la Mallorca, Spain, in 1956, now has more than 370 hotels in 43 countries. It includes premium brands Gran Melia Hotels & Resorts, ME by Melia and Paradisus by Melia; upscale brands Melia Hotels & Resorts and Innside by Melia; and midscale brands Sol Hotels & Resorts and Tryp by Wyndham.
Melia's success is partly due to its steady globalization and diversified business model, not only geographically, but also in its four types of operating systems: owning and managing; solely managing; leasing; and franchising properties.
John Iannini, CIS, CTC, vice president of group sales in America for Melia Hotels International, says it is advantageous to be an owner operator.
"Being an owner operator distinguishes us from our competition for many key hotels and resorts around the world," he says. "This allows us to determine price points, group flexibility, and overall terms and conditions."
The company's success also can be attributed to its innovative, progressive style, as can be seen in the following areas.
Meetings & Events
"We offer full-service meeting facilities to groups in our hotels," Iannini says. "Most rooms offer A/V capabilities for screens and projectors, allowing cost savings to the end user."
He says that Melia's guest experience management team helps its groups and conventions team to design one-of-a-kind break decor and entertainment, as well as provide Segways that move groups between a reception and dinner.
Melia properties have offered some very unique entertainment, from dueling electronic guitarists standing opposite each other on foyer rooftops in a courtyard, playing music in tandem, to a mime simply welcoming groups with a sign that points to check-in.
Each Melia brand has its own specialized meeting programs, such as RedGlove Meetings at Gran Melia Hotels & Resorts, Be Successful at Tryp by Wyndham and EcoTouch at Melia Hotels & Resorts.
EcoTouch is a new program for meetings and events that is a component of the company's commitment to environmental protection in its overall CSR strategy.
The new program calculates the carbon footprint of each event so that clients know how much greenhouse gas is emitted. All materials that are used—such as notebooks, flip charts, pens and markers—are recycled. Also, efficient use of natural resources is promoted, including using glass instead of plastic bottles, energy-saving lighting, computers and audiovisual equipment with an energy rating, and selective waste collection.
EcoTouch Meetings has been implemented in all Melia Hotels & Resorts properties in Spain and is under development in other countries.
Food & Beverage
The company recently created an ad hoc department to meet food and beverage challenges, and provide a more strategic long-term vision. F&B values are applied to each of Melia's brands as different gastronomic concepts are developed to differentiate the brands from each other and those of competitors.
Melia properties emphasize the use of sustainable products with traceability that can be verified at each stage to ensure quality and use of local produce. Creativity and innovation are also fundamental to the company's F&B strategy.
ME by Melia properties, for example, have a restaurant atop their buildings called The Rooftop that offers spectacular panoramic views and delicious tapas. The Melia Hotels & Resorts brand features The Market, a buffet restaurant that boasts Mediterranean cuisine at a show cooking station.
Health & Wellness
The Melia Hotels & Resorts brand features the Balance by Melia program, which is based on the Mediterranean diet and makes use of top-notch fitness facilities. Melia Hotels and Paradisus Resorts offer YHI Spa, providing treatments that nourish, revitalize, rejuvenate and relax the body.
Gran Melia Hotels and Resorts and ME by Melia collaborate with Clarins and Skin Inc., respectively, as specialist partners to supply guests with a luxurious spa experience. Sol Hotels & Resorts has designed a Body & Sol rejuvenation concept at its Sol Beach House properties, situated in idyllic beach settings.
MeliaRewards
The MeliaRewards program provides a wide range of benefits to more than 5 million of the company's most loyal customers. More than 1 million joined the program over the past year.
MeliaRewards was completely revised in 2015 to change its value proposition, increase customer satisfaction and confidence, and encourage repetition. The revision also adjusted the options for members to move up to higher program tiers based on the frequency of their visits, their spending or the points they earn.
The program now has four levels: MeliaRewards (start level), MeliaRewards Silver (two stays, five nights or 10,000 points), MeliaRewards Gold (15 stays, 30 nights or 60,000 points) and MeliaRewards Platinum (more than 30 stays, 50 nights or 150,000 points).
New US Properties Highlight Expansion
Melia opened its first properties in New York City and Miami this year, joining the company's other U.S. hotels in Orlando and Hollywood, California.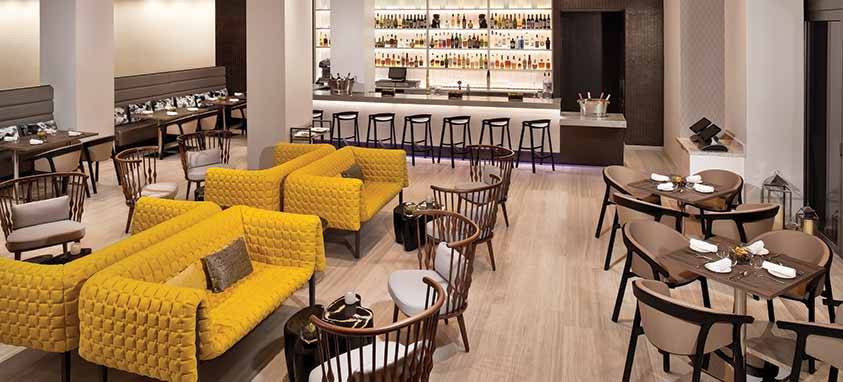 Bar at Innside New York NoMad rendering, New York City
The 313-room Innside New York NoMad opened in Manhattan near Times Square in March. It provides spacious guest rooms with floor-toceiling windows and unique vistas of the city skyline, outdoor terraces with gardens, Italian dining at Impero Caffe, a 24-hour gym, a business center and 1,162 sq. ft. of meeting space.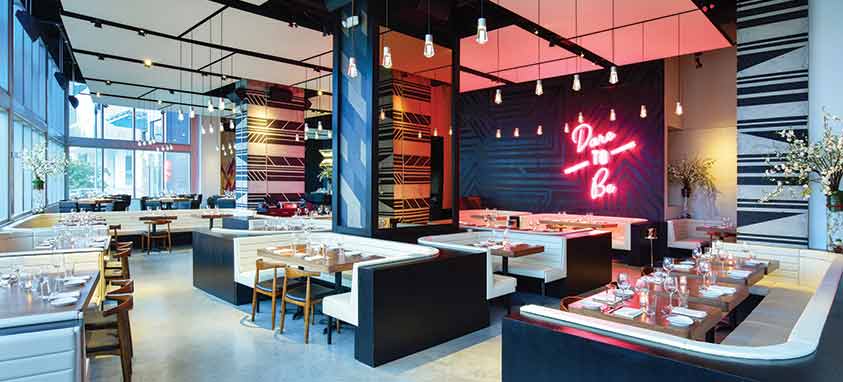 STK Rebel restaurant at ME Miami
ME Miami, with 129 guest rooms and more than 1,000 sq. ft. of meeting space, was unveiled in July in bustling downtown Miami near Adrienne Arsht Center, American Airlines Arena, Perez Art Museum and Miami World Center, the city's new epicenter. Guest rooms provide fabulous views of Biscane Bay and the city's skyline. Other highlights include a rooftop swimming pool, a spa, a gym and STK Rebel Restaurant.
Melia unveiled several other properties in new markets around the globe in 2016.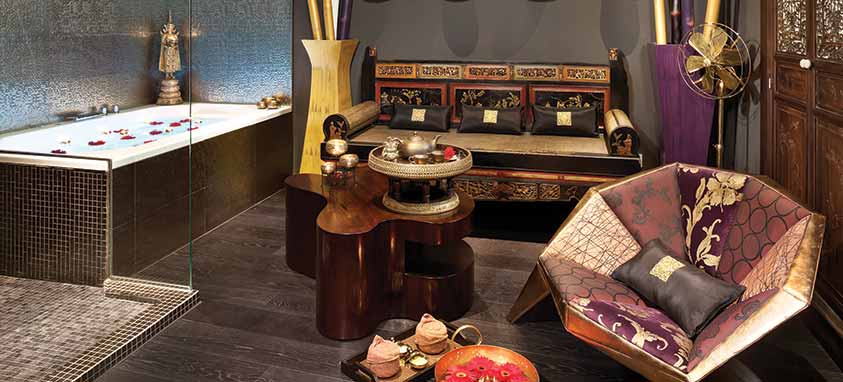 Thai Room Massage Suite at Gran Melia Palacio de los Duques Madrid
Melia Braco Village, located in Trelawny, overlooking the sea in Montego Bay, is the company's first property in Jamaica. It's a recently renovated small, intimate beachfront resort with two swimming pools overlooking the sea, five restaurants offering a wide variety of national and international cuisine, and a spa and wellness center. This all-inclusive property includes 266 guest rooms and two meeting spaces that together accommodate up to 100 people.
In August, the 180-room Gran Melia Palacios de los Duques opened in Madrid. It's a former palace built in the 19th century in a prime location in the Madrid of the Austrias, next to the Royal Palace, the Senate and the Opera Theatre. It offers 8,611 sq. ft. of meeting space, divided among nine rooms.
Sol Beach House Ibiza is located right on the seafront, near Santa Eulalia Bay, in Santa Eulalia del Rio, Spain. The adults-only resort features a chic yet laid-back style and breathtaking sea views, a buffet restaurant, a fully equipped gym, two pools and large sun terraces. The newly renovated meeting space accommodates up to 150.
Sol Beach House Mallorca, situated on the beach of Cala Blanca in Majorca, Spain, is also an adults-only property. It features spectacular sea views from most guest rooms, a magnificent outdoor pool set in gardens, terraces overlooking the sea, direct beach access, an activities program, live music in the evenings, a buffet with Mediterranean international cuisine and a modern pool bar and lounge bar overlooking the beach. The property has 180 guest rooms and two meeting spaces.
Later this year, the 305-room Paradisus Los Cabos in Mexico will open in San Jose del Cabo, Mexico. Situated on a private crescent cove beach, the luxury all inclusive resort will feature seven restaurants and a convention center with more than 13,500 sq. ft. of meeting space and 10 breakout rooms.
"Our new Paradisus Cabo will offer a 360-degree surround screen in our ballroom, featuring unique branding capabilities," says John Iannini, CIS, CTC, vice president of group sales in America for Melia Hotels International. "Singular or multiple messages can be displayed and a loop video can be played throughout the space."
Many interesting properties will open in the first quarter of 2017, including Melia Cartagena de Indias, the company's first property in Colombia. It will be located on the Caribbean Coast and offer 154 rooms, two restaurants, a bar, spa, a beach club and an undetermined amount of meeting space.
Situated in the Sao Conrado residential area, one of Rio de Janeiro´s more upscale neighborhoods, Gran Melia Nacional Rio will be situated in a historic, renovated building and offer 413 guest rooms, avant-garde cuisine, swimming pools, a spa and 129,168 sq. ft. of meeting space.