Mike Massari leads Caesars meetings industry expansion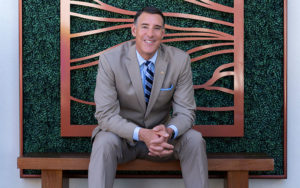 At 6-foot, 5-inches tall, Supplier of the Year Michael Massari is one of the "bigs"—as his basketball coach used to call him—in any room. But it is in his role as chief sales officer at Caesars Entertainment that he is having a truly oversized impact on the shape of the meetings industry. When the $375 million, 550,000-square-foot CAESARS FORUM conference center starts welcoming groups to Las Vegas in 2020, it will be a testament to his commitment to bringing people together.
The company's—and Massari's—mission to create spaces where real connections are made extends well beyond The Strip. Caesars currently operates 40 properties in 20 destinations and is developing nongaming properties, as well. In total, the company holds the keys to 42,000 guest rooms and 1.9 million sq. ft. of meeting space.
Let's get to know a little more about Massari and his vision of the role of the hospitality sector in uniting the world.
Big and Flexible
Massari characterizes the investment Caesars is making in The Forum as "transformational." It will include two of the largest pillarless ballrooms in the world, with access to a new, 100,000-square-foot outdoor plaza and the entire LINQ Promenade.
At the same time, he sees the development as a continuation of an expansion that started with reimagining Rio All Suite Las Vegas Hotel & Casino in the early 2000s, and the recently completed, $100 million renovation of Caesars Palace. "You can just do things in the largest ballroom ever built that you can't do in a smaller space," he says.
An even bigger bet for Massari and Caesars was the opening of 125,000 sq. ft. of meeting space at Harrah's Resort Atlantic City Waterfront Conference Center in New Jersey. Massari calls it a gamble that paid off. Caesars previously booked 10,000 room nights a year in the mercurial East Coast destination. Now the number is closer to 100,000. "We are signing a single group for January that is more than the business was in a whole year," he reports. Other big developments have followed in the area, making it an emerging meetings address.
"We are always trying to find places where we can do what we do really well, which is serve planners," Massari explains. The criteria for expanding into a new location includes easy access, a condensed area of industry and hotel rooms, and a unique destination experience. "We are really selective," he says. Massari envisions Caesars-branded properties in gateway destinations all over the world in the not-so-distant future.
Any planner knows that bigger isn't always the most important thing when it comes to event space. It has to be the right fit, or at least designed so it can easily be transformed into that Goldilocks space—not too large and not too small. That just-right status can be attained through air walls, a selection of meeting room options or simply creative brainstorming with a representative who knows what is available and understands a group's individual needs. Massari pioneered the idea of distributing the sales team so its members are closer to customers but still represent the entire event-space portfolio (rather than being property-specific).
"The distributed sales team lives in your neighborhood and goes to the same PCMA and MPI meetings," Massari points out. And since the operations team works hand-in-hand with the sales team, one point of contact is responsible for selling, serving and fulfilling a planner's dream. "It is one throat to choke if something goes wrong, from sales to audiovisual, food service to room setup," he jokes.
"We are also all about flexibility," Massari says. "We continue to evolve the notion of meeting space personalization, so our customers can do what they need to do to be successful."
Massari describes CAESARS FORUM as the most divisible ballroom ever built. That means options for planners—whether for a series of small meetings where everyone comes together to be fed or doing so in smaller groups.
Public Space
Massari's vision of the future of the industry harkens back to the beginning of time, when people first started coming together to solve shared problems. "This whole notion of assembly and public square is an important one," he says. "If history is an accurate predictor, 20, 30 or 40 years from now, meeting face-to-face will still be important. We just need to build the spaces to make that possible," he says.
The Forum was designed to ease the flow of traffic by locating meeting space on one floor so groups can get around easily. It will also include an indoor-outdoor connection from almost all spaces to add a fresh-air component. As a bonus, the natural Nevada light accentuates attendee moods and allows for solar-powered networking interactions.
Planners are responding to that vision. Massari says his team has already booked $100 million for the first four years of operation. "It is above expectations," he reports, almost embarrassed to be seen as bragging. In fact, during the entire interview, he was clear that credit for the strides the company is making to move into a new arena of influence belongs to the team. It's the team's ability to work hand-in-hand with planners that counts, he says, rather than a Herculean effort on his part.
"Our partnership goes beyond bricks and mortar, and thread count of the sheets," Massari says. "We spend as much time as possible understanding you and what you are trying to get done."
A Diverse Table
In a bid for gender equity, Caesars recently announced the goal of having half the company's leadership team be female by 2020. Massari reports that the meetings side of the business is already heavily female-driven—for a solid business reason.
"You need all types of players on a team to be successful. You need people with different backgrounds and points of view to get the best outcomes," he says.
Massari sees his role as making sure the meetings, conventions and events team has the right people on the court. "My job to make sure those people are in place, and have the tools, resources and motivation to be successful," he says. "I bring in good people and then help them do it."
His goal, he says, is to be as good at meetings—and everything else in his life, including chasing his kids around the yard—as possible. "I want to be the best, but more than that, I want to be better tomorrow than I am today as a leader, an executive, a husband, a dad and a man."