Hold your next meeting at a higher altitude
More event planners are finding that meetings held in the mountains are reaping unexpected benefits. For example, many are saying that such meetings generate increased camaraderie among attendees, along with additional opportunities for networking and impactful shared experiences.
Fresh air and memorable natural surroundings often lead to fresh thinking, and, as a result, exciting new ideas. In addition, many planners say meetings in the mountains can generate a more relaxed atmosphere, which often results in enhanced personal and working relationships when everyone gets back to work. The newness can often generate increased attendance.
"I find that meetings in the mountains are generally very productive," says Mona Meretsky, CSEP, president of Fort Lauderdale-based Comcor Event & Meeting Production. "[There is] the crisp mountain air; the beautiful colors; the experience of being surrounded by nature; and holding your meetings in a venue that's new, different and often spectacular.
"We find that the relaxing atmosphere helps attendees think outside the box…and that the shared experience can really generate new ideas. And we also find that it lends itself to networking and to establishing personal relationships that can often be very helpful back in the office."
That's why it's worth considering these 10 mountain destinations that provide a host of great meeting venues designed to relax and inspire.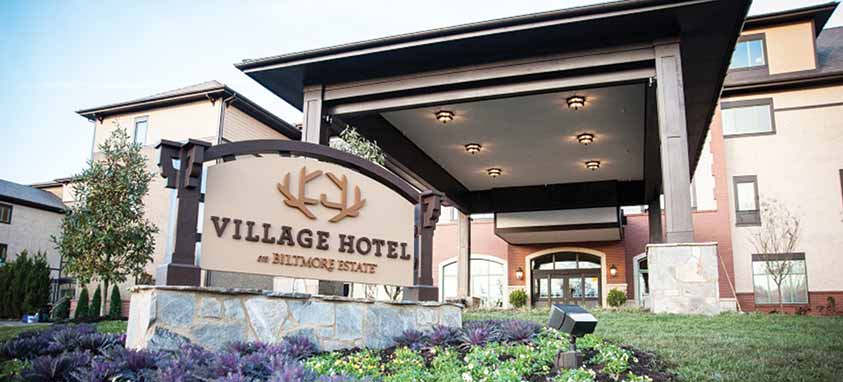 Village Hotel
1. Asheville, North Carolina
On George Vanderbilt's 19th-century estate in the Great Smoky Mountains, attendees can wander 8,000 acres of beautifully manicured grounds. They can choose between the Inn On Biltmore Estate, with 210 guest rooms and 4,264 sq. ft. of meeting space, or the new Village Hotel, with 209 guest rooms and a 350-square-foot meeting room. Your attendees can see the rooms where the Vanderbilts lived, as well as many of their art treasures. They can also enjoy amenities such as great restaurants and a plethora of recreational options.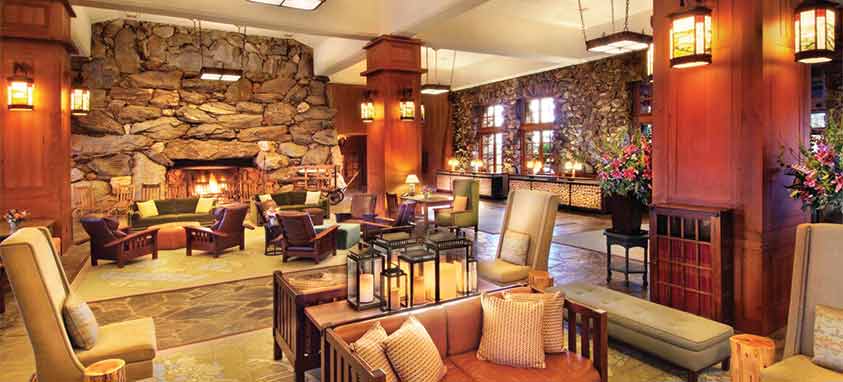 The Omni Grove Park Inn is another distinguished Asheville property, with 513 guest rooms, 55,000 sq. ft. of meeting space, a Donald Ross-designed championship golf course, a 43,000-square-foot underground spa, two retail promenades and 10 eateries.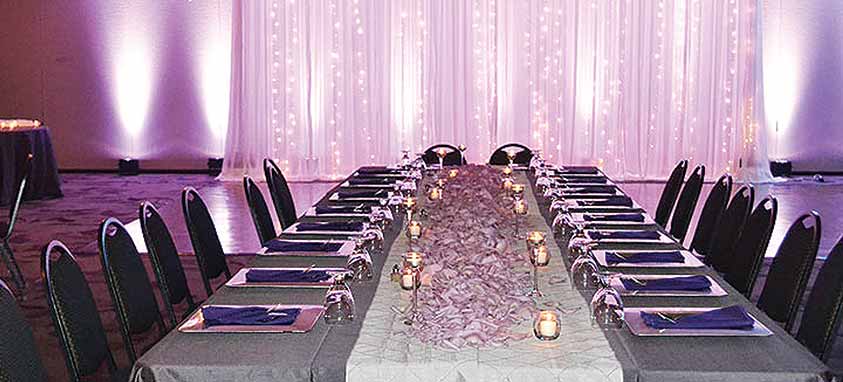 2. Billings, Montana
Billings is a gateway to Yellowstone National Park. In the heart of Big Sky Country, it has a vibrant cultural scene and a trail with six breweries and two distilleries.
The Big Horn Resort offers free breakfast, free Wi-Fi, free airport transportation and more than 13,000 sq. ft. of meeting space to accompany 108 guest rooms with kitchens. It's also close to Billings Logan International Airport (BIL).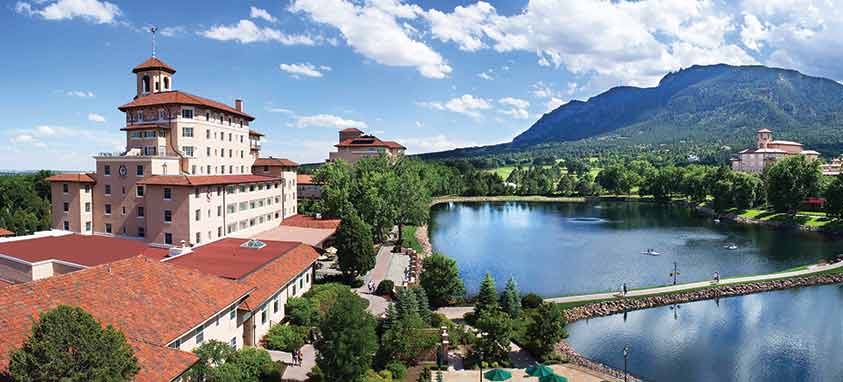 3. Colorado Springs, Colorado
The Broadmoor, one of America's great hotels, is celebrating its 100th birthday in 2018. Spencer Penrose, the man who built it, loved medieval Italian architecture, so he designed his palatial hotel in the American West with peach colors, towers and archways. Everything about the Broadmoor is impressive, from the three championship golf courses and world-class spa to three pools, Broadmoor Adventures program and 13 dining options. One of these options is The Penrose Room, the only Forbes Five Star, AAA Five Diamond restaurant in Colorado. The Broadmoor sits in the shadow of Pikes Peak and Cheyenne Mountain, and boasts 777 guest rooms and 185,000 sq. ft. of meeting space.
"The Broadmoor is a burst of fresh air, literally and figuratively," says Nancy Campbell, principal of NC Promotions, Inc., based in Scottsdale, Arizona, which handles production for all types of meetings. Campbell brought 75 attendees here for the LivaNova Cardiopulmonary Training Meeting last year.
"When our attendees left the meetings and went out into the fresh air, they were really energized," she says. "Their ideas flowed, and networking was enhanced because of this shared special experience. I can't think of a better place or a better setting in which to hold a meeting."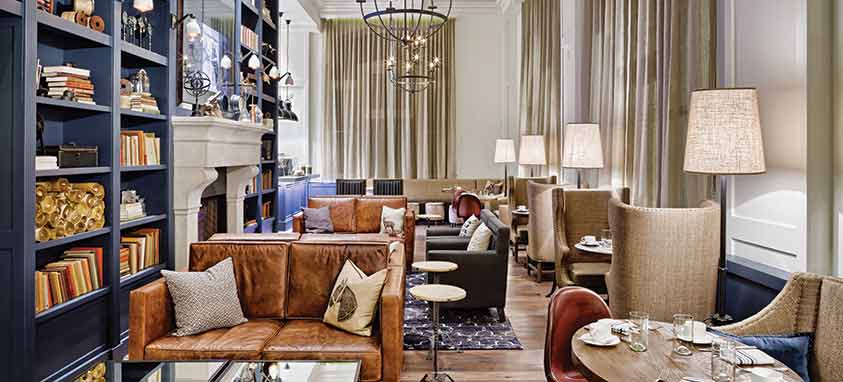 Hotel Teatro
4. Denver, Colorado
Located in the trendy Lower Downtown (LoDo) neighborhood of Denver, Hotel Teatro occupies a 1911 structure that was originally the Denver Tramway Building. This historic building is now outfitted in eclectic furnishings. With 110 guest rooms and 5,500 sq. ft. of meeting space, it also offers a 24-hour fitness facility and two popular restaurants.
The Ritz-Carlton, Denver is located nearby in the heart of downtown. The luxurious AAA Five Diamond property is close to the city's financial, theater and entertainment districts. It offers 202 guest rooms and suites and 13,000 sq. ft. of meeting space, plus an outdoor terrace that's ideal for receptions.
Retreat to the mountains at the nature-inspired Devil's Thumb Ranch Resort & Spa, located on more than 6,000 acres of pristine wilderness in Tabernash. Guests can enjoy seasonal activities, from skiing and ice skating to horseback riding and ziplining. The resort offers 48 guest rooms, 20,750 sq. ft. of event space and an 18,000-square-foot spa.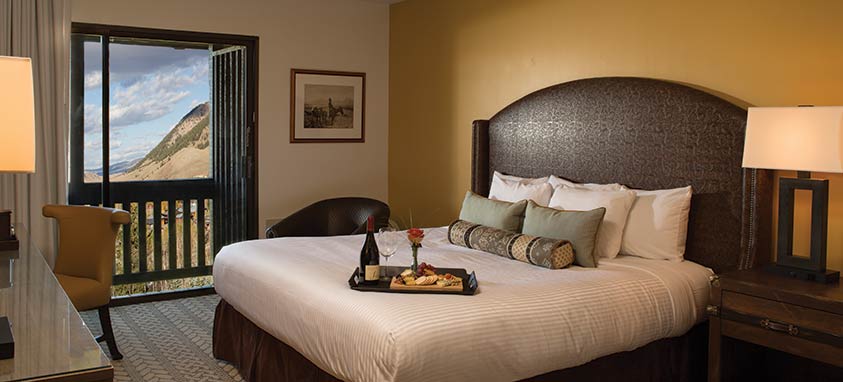 Snow King Hotel Jackson Hole
5. Jackson Hole, Wyoming
Nestled at the edge of the Bridger-Teton National Forest and at the base of Snow King Mountain, Snow King Hotel Jackson Hole offers 10,000 sq. ft. of meeting space and 203 guest rooms with a view. Amenities include a spa and the excellent Hayden's Post Restaurant & Bar.
The luxurious Hotel Terra Jackson Hole, named Wyoming's Best Hotel by Travel & Leisure, is perfect for smaller meetings, with 132 guest rooms and 5,000 sq. ft. of meeting space. The hotel is adjacent to the shops and restaurants of Teton Village.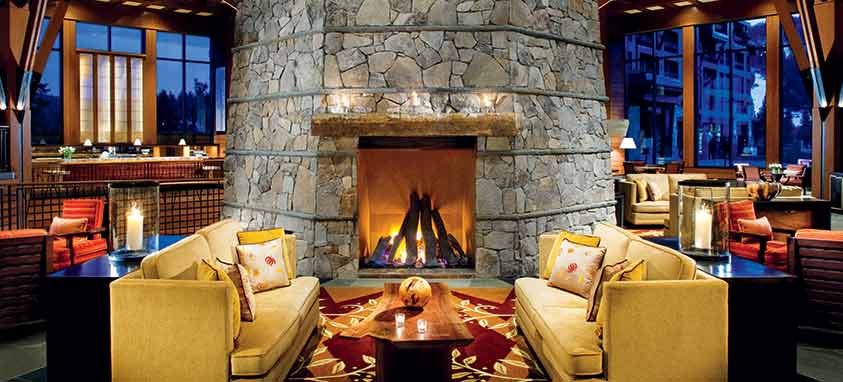 The Ritz-Carlton, Lake Tahoe
6. Lake Tahoe, California
The Ritz-Carlton, Lake Tahoe is an oasis of luxury in this outdoor playground. Situated in Northstar California, this Forbes Four Star, AAA Five Diamond resort is ski-in, ski-out, and its 169 guest rooms and suites feature fireplaces and floor-to-ceiling windows. There's a slope-side spa, elegant dining at Manzanita and 37,804 sq. ft. of indoor and outdoor function space.
Located in the historic lumber town of Truckee, Northstar California Resort began as a timber farm nearly 40 years ago. Vail Resorts has spent nearly $1 billion to create a luxury snow-sports experience, and it's money well-spent. Northstar boasts upscale shops, restaurants and nightlife at The Village; a dozen eateries ranging from Japanese to continental and local; 200 guest rooms; and 9,250 sq. ft. of meeting space.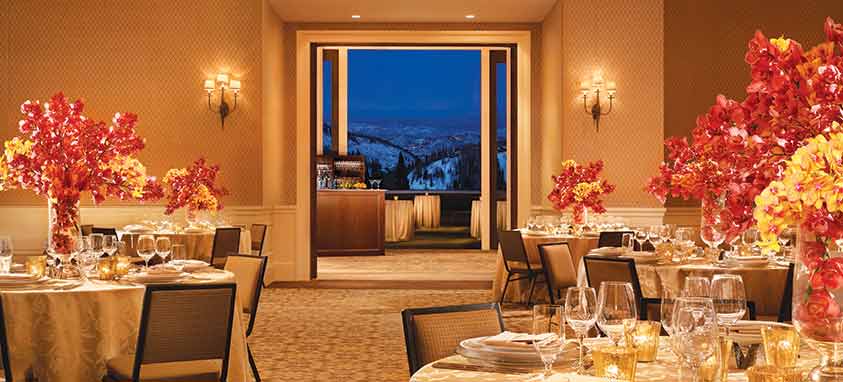 Montage Deer Valley
7. Park City, Utah
Stein Eriksen Lodge Deer Valley is a true mountain lodge with ambience inside and out. Known as one of the world's best ski hotels, it boasts a long list of amenities including advanced technology in the meeting spaces, Wi-Fi throughout, Utah's only Forbes Five Star spa, a Forbes Five Star rating year after year and many activities for groups, along with 24,000 sq. ft. of meeting space and 186 guest rooms.
In the dramatic shadow of Empire Mountain, Montage Deer Valley offers ski-in, ski-out access, the largest spa in Utah, five restaurants, a bowling alley, hiking, biking, golf and fly-fishing right outside your door, along with 220 guest rooms and 55,000 sq. ft. of meeting space.
Zermatt Utah is an authentic Swiss village resort located in Midway. With 480 plush guest rooms, an IACC-certified conference center and views of the Rocky Mountains, guests are in for a treat. There is 65,000 sq. ft. of conference, exhibition and performance space, including the 10,000-square-foot Bernese Event Center.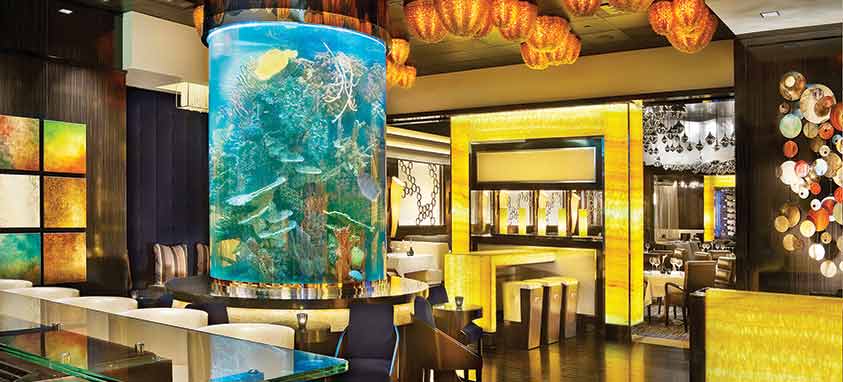 Atlantis Casino Resort Spa Reno
8. Reno, Nevada
Reno is a city of glittering lights. One of the brightest lights in the meeting scene is Atlantis Casino Resort Spa Reno, an AAA Four Diamond resort with 824 guest rooms and 50,000 sq. ft. of meeting space. At Atlantis, there's a constant parade of big-name entertainers. There are special guest rooms such as spa rooms and Jacuzzi suites. There's a casino, of course, plus 10 restaurants and bars and Forbes Four Star rated Spa Atlantis.
If you're looking to hold a smaller meeting that is easily accessible, Hyatt Place Reno-Tahoe Airport is an option to consider. The hotel features free Wi-Fi, a 24-hour fitness center, complimentary breakfast and two restaurants, along with 126 guest rooms and 1,800 sq. ft. of meeting space.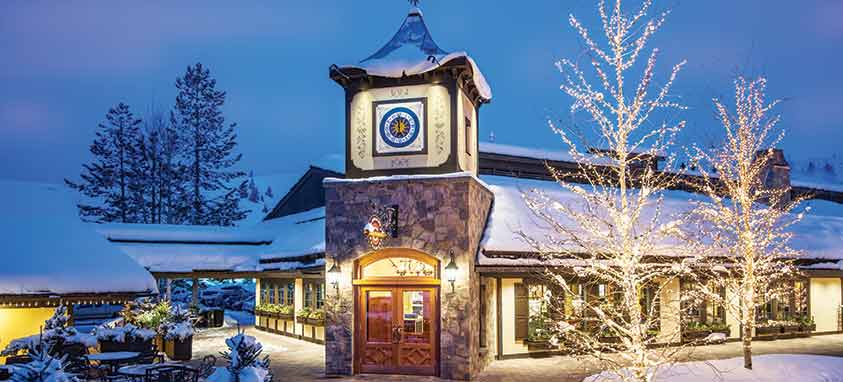 9. Sun Valley, Idaho
Sun Valley Resort just celebrated 80 years of welcoming kings, presidents, potentates and skiers from all over the world. The resort has 480 guest rooms, 26,000 sq. ft. of meeting space and the ambience of a classic ski-country lodge, along with amenities including a state-of-the-art fitness facility, a full-service spa, 20 dining spots and 12 retail shops.
The Whistler Conference Centre
10. Whistler, British Columbia, Canada
Sitting amid the impressive mountains and pristine forest of British Columbia, Whistler Blackcomb, one of the most iconic skiing destinations in the world, was recently acquired by Vail Resorts. This was the site of skiing events during the 2010 Vancouver Olympics. There are seven main lodging areas and more than 100 hotels, with more than 10,000 guest rooms and plenty of meeting space. The Whistler Conference Centre has more than 40,000 sq. ft. of meeting space. The biggest meeting hotel, Fairmont Chateau Whistler, has 550 guest rooms and 32,000 sq. ft. of meeting space.
---
Steve Winston is an award-winning writer who has traveled extensively and writes for national and international magazines.
---
Resorts that Combine Adventure & Meetings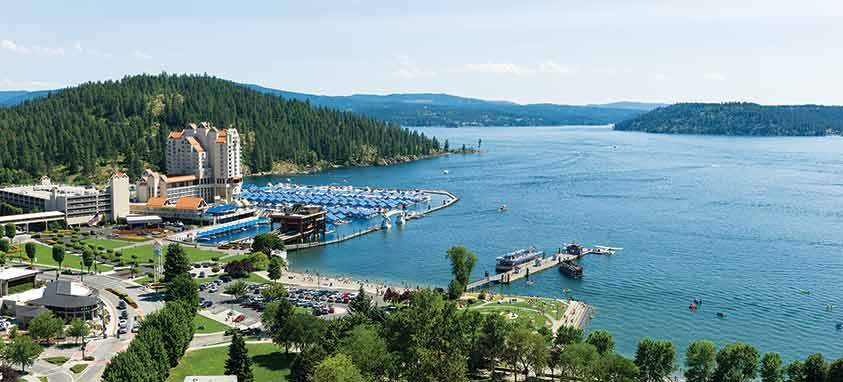 Coeur d'Alene Casino Resort Hotel (photography by Quicksilver Studios, Coeur d'Alene Idaho)
Coeur d'Alene Resort in Idaho is surrounded by mountains and tucked into the town of the same name. Outdoor adventures run the gamut, from kayaking and canoeing to playing golf on the world's only floating green. Meeting groups are well-served with 338 guest rooms and 32,000 sq. ft. of event space.
Down the Harrison Slough, Coeur d'Alene Casino Resort Hotel offers 100,000 sq. ft. of world-class gaming, six restaurants, an 18-hole championship golf and one of the largest spa's in the northwest. Owned by the Coeur d'Alene Tribe, the resort offers 300 guest rooms and a conference area with more than 40,000 sq. ft. of space.
Vail Resorts owns eight luxurious resorts in Colorado, California and Utah; this company has turned places such as Beaver Creek and Vail, Colorado, into European-style villages that have become international destinations. In Beaver Creek, Colorado, The Pines Lodge Beaver Creek Resort is located in a grove of aspen and pine, with 60 guest rooms, 2,534 sq. ft. of meeting space and some of the greatest skiing in North America.
In the historic town of Park City, Utah, Park City Mountain Resort has 343 guest rooms and 13,600 sq. ft. of event space, along with exciting runs and almost every type of winter recreation you can think of.
Rising 5,000 feet above California's Yosemite Valley, the iconic Half Dome is scaled by thousands of hikers seeking the ultimate adventure. Its just one of many rugged experiences available to visitors who stay at AAA Four Diamond Tenaya Lodge at Yosemite in Fishcamp. The rustic, elegant resort offers 302 guest rooms, suites and mountain cottages, and 10,680 sq. ft. of indoor and outdoor meeting space.
---
Unique Mountain Experiences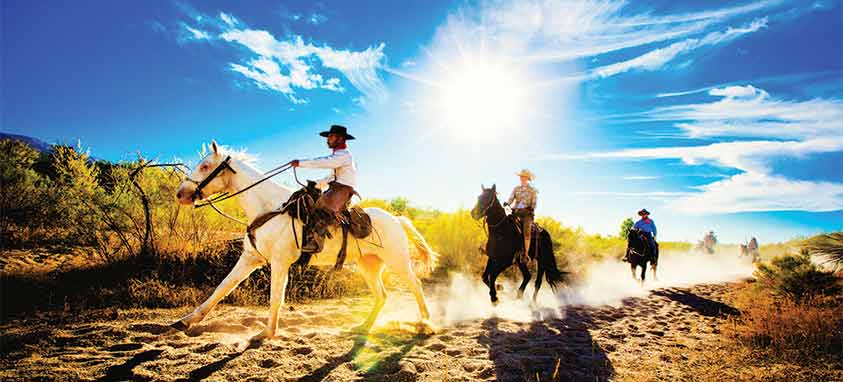 Tanque Verde Ranch, Tucson, Arizona
Thirty-three miles east of Missoula, Montana, in the town of Greenough, you'll find The Resort At Paws Up, which combines an authentic Western ranch experience with luxurious amenities. The 37,000 acres allow attendees to participate in ridin', ropin', ranchin', cattle drives and chuck-wagon meals. The 73 guest rooms range from luxury tents to timber cabins, along with a variety of event spaces accommodating up to 200 people.
Western Pleasure Guest Ranch sits in the Selkirk Mountains outside Sandpoint, Idaho. Attendees can go on wrangler-led horseback rides in virgin forests and dramatic trails. The Grand Lodge can accommodate 50 people for events, and there are four multiroom cabins and six Grand Lodge units
At Tanque Verde Ranch, outside of Tucson, Arizona, you can ride through high-desert trails and forests, and you can hike, bike, swim, fish, go on a Jeep adventure, practice yoga, participate in cattle penning and enjoy a chuck-wagon breakfast. The ranch has eight outdoor event spaces and eight meeting rooms totaling 12,348 sq. ft.
Kalahari Resorts & Conventions recently opened a location in Pennsylvania's Pocono Mountains. The African-themed water park will soon offer 200,000 sq. ft. of family-filled fun. And with a 65,000-square-foot convention center and 475 guest rooms and suites, the resort is perfect for business travelers and their families.
---
Winter Wonderland in Montana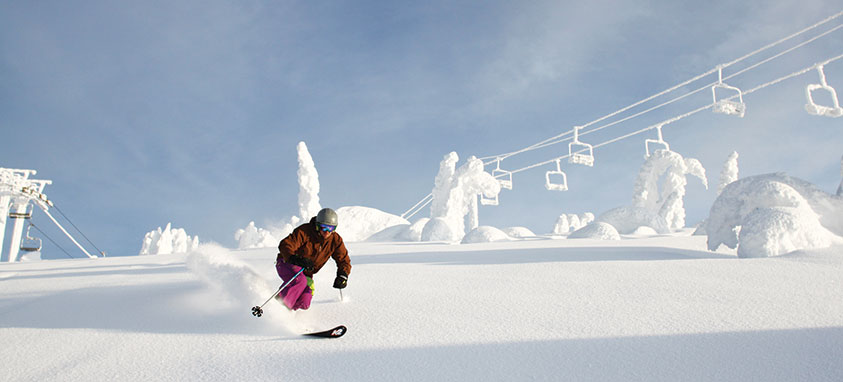 Whitefish Mountain Resort, Montana
Whoever decided winter is the time to batten down the hatches and snuggle up never spent a winter in Glacier County, Montana. Nestled between the Great Plains and the Rocky Mountains, Glacier County encompasses the Blackfeet reservation, Glacier National Park and Lewis & Clark National Forest. In other words, it's the perfect location for rugged, exhilarating outdoor adventures. So if your group is heading to the area for a meeting, retreat or offsite and you're not quite ready to hibernate, there are lots of great options to consider. Here are a few ways groups enjoy and explore the great outdoors.
1. Dog Sledding
Mush! If you really want to give your group a memorable experience, consider group tours via dog sled. Everything from guided half-day to weeklong adventures can be arranged. If you want to watch from the sidelines, Race to the Sky and the Lincoln-Seeley Lake Sled Dog Races are annual dog sledding events in Montana that take teams and their mushers across trails, through the backcountry and into local communities. Dog Sled Adventures and Winter Woods Dog Sled Tours, both located in Whitefish, offer tours
2. Sleigh Rides
Several area ranches offer sleigh rides through town under the stars, and they can pick groups up from most ski resorts on the mountain. Bundle up, grab a hot cocoa and head to Bar W Guest Ranch in Whitefish, Cripple Creek Horse Ranch in Trego or Double Arrow Lodge in Seeley Lake to start your horse-drawn sleigh adventure.
3. Snowmobiling
There are lots of rental companies ready and willing to accommodate group snowmobiling—for beginners, experts and everyone in between. Plus there are more than 2,000 miles of forest service roads that are closed to vehicles during winter snowfall, which means your group can explore freely through the back country.
4. Skiing, Snowboarding & Snowshoeing
Whether your group is looking for downhill ski adventures, cross-country excursions or snowboarding, Western Montana does it all. (With 300 plus inches of snowfall each year, how could they not?) Western Montana features six well-rounded, full-service downhill areas for skiing and snowboarding, and well-groomed trails perfect for cross-country skiing, skate-skiing and snowshoeing.
Plus with full-service resorts like Whitefish Mountain Resort right on Big Mountain, it's easy to hit fresh powder as soon as the meeting is finished.
–Loraine Burger