The Setting
Nepal, Mount Everest South Base Camp. Acrylic geodesic tents litter the rocky, snow-speckled terrain. At an altitude of 17,600 ft., even a Fortune 500 executive isn't thinking about the next product launch. This scene is the beginning of an extreme adventure known as a "flash expedition," led by guide Lukas Furtenbach. This "uncompromising" mountaineer escorts business leaders on three-week "rapid ascents" of some of the most challenging climbs in the world—Everest, Aconcagua and K2—based on the theory that perilous moments will sharpen minds, expand vision and get adventurers back to civilization in time to sherpa their best-ever product launch.
Furtenbach reports that hyper-challenging, elevated experiences are becoming increasingly popular with executive leaders who don't have to be in the office every day now that so many are working remotely. After all, even in the most remote location, Everest Link offers Wi-Fi service… for a price.
Executives come with high expectations and are often under high pressure. They are accustomed to (and expected to deliver) success. They are intrinsically motivated, enjoy being pushed and respond well to clear direction and high expectations. "We have to manage the wide range of personalities over the course of an expedition," said Furtenbach. "That's the biggest challenge of every journey."
Some clients are Type A personalities driven by ego and the need for independence. He finds ways to give them room to go in front, often by pairing them with a similarly aggressive Sherpa. Other clients are more cautious or like to be part of a team.
"We make it all work by recognizing them and knowing how to motivate them to live their full potential in the expedition. The objective shouldn't be to tamp down their intensity. Instead, we play to their strengths to ensure that what they bring is additive to the collective effort—not destructive of it," Furtenbach said.
Each day is broken down into clear milestones, and climbers are pushed to make them all on time. The climb is strict and metric-driven, critical strategies to make the summit on schedule.
Sounds an awful lot like the steps top meeting professionals use to personalize event experiences.
The Reward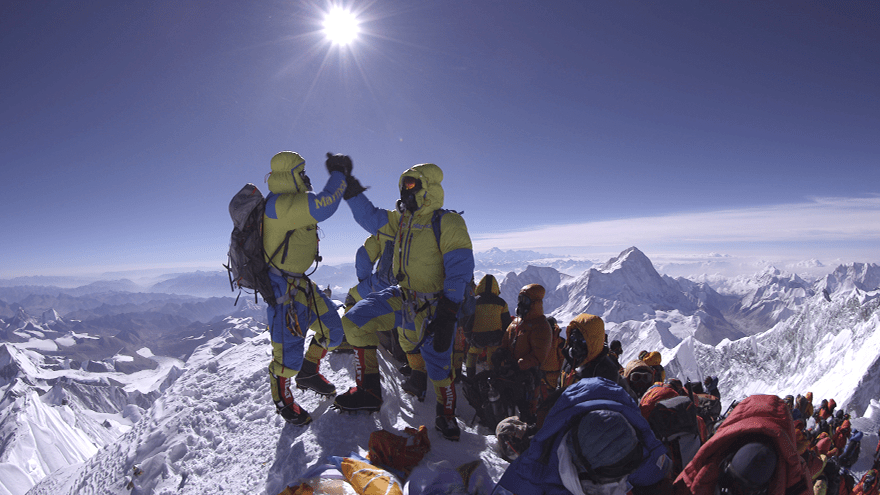 Lhakpa Sherpa, one of the top climbers in the world, described summiting Mount Everest to a Business Insider reporter as, "Feeling like a zombie who has stumbled into heaven. At the summit I truly feel on top of the world … a euphoria I cannot find anywhere else."
Furtenbach reports that every person changes after an Everest expedition. Type A personalities become humbler. Those who are more reserved get an ego boost. "What they learn most during an Everest expedition is humility and perseverance. Both characteristics are essential to reach goals both individually and in business," he said.
Some of the same exhilaration and transformation are available to groups at altitudes with higher oxygen levels, lower risk of death and better catering menus. Smart Meetings talked to more down-to-earth mountain destinations about some of the lofty goals they have helped realize and found that the call of the wild is a powerful force meeting professionals can use to move the discussion to a higher plane… if they structure the escape carefully.
Alpine Epiphanies
The Setting
Hyatt Regency Lake Tahoe Cottage Green Lawn. Jeffry Pine, White Fir and Quaking Aspen frame the view of shockingly blue alpine Lake Tahoe while snow-dusted Sierra Nevada Mountains stand at the ready. Rustic-chic, lodge-style cottages semi-circle a meadow of fire pits and benches. A group of entrepreneurs brought the general session to the lakeview outdoor venue with full audiovisual set-up and a stage in the middle of a snowfall! The presentation was followed by afternoons zip lining, hiking and bike riding.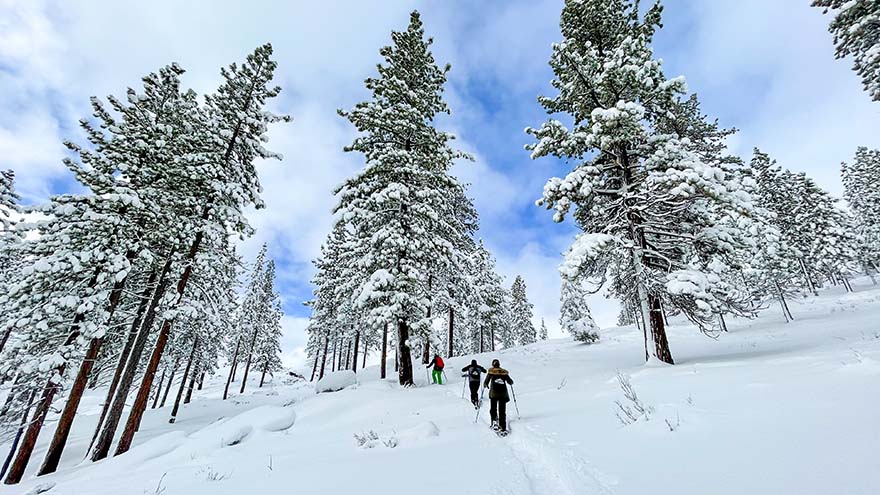 The Reward
"When we have clients that think outside the box and enjoy the adventures that Lake Tahoe has to offer year-round, the sky is the limit," said Ashlee Barton, Hyatt Regency Lake Tahoe area director of sales and marketing. The team has worked with this planner multiple times and they shared that attendees were "thrilled" with the overall success of the event. "Adding outdoor and adventurous elements to a meeting allows our team to work with many diverse types of businesses and helps us to fill our resort with great programs like this one," she said.
Glamcentive
The Setting
Grand Hyatt Vail, Colorado, adjacent to Chair 20 at legendary Vail Mountain. A lattice of pine slats encircles the snug Moet Imperial Yurt where guests sip Champagne under a canvas tapestry that warms the soul. Groups of up to 10 are treated to bottle sabering, house-made charcuterie, s'mores kits and access to private fire pits outside. Nearby at Cascade Village Square, a private ice-skating rink and ice bar warm up the winter nights.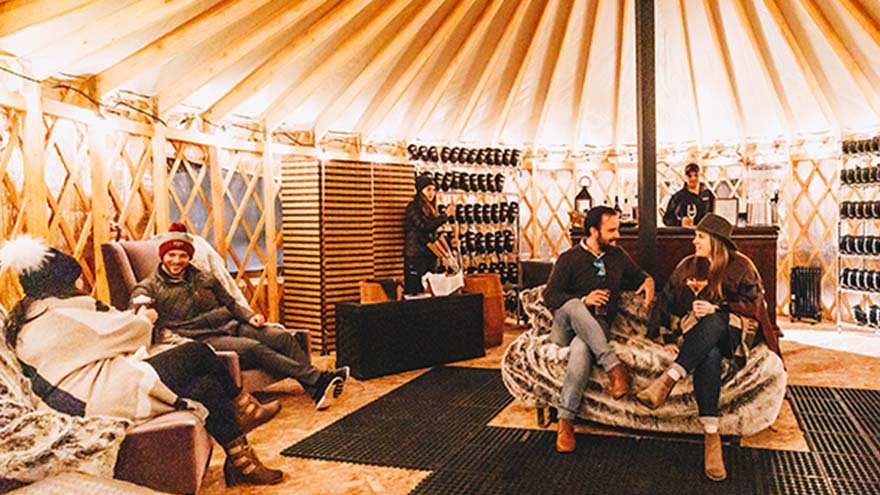 The Reward
Extreme luxury experiences are the white-glove way to say thank you. Danielle Boyles, director of sales and marketing at Grand Hyatt Vail, explains why going all out for top performers is more important now than ever. "Incentive travel creates new bonds and can restart company culture that has likely become disjointed after everyone has been working from home."
Read More: Mountain Resorts Shred New Heights for Meetings
Fresh Ideas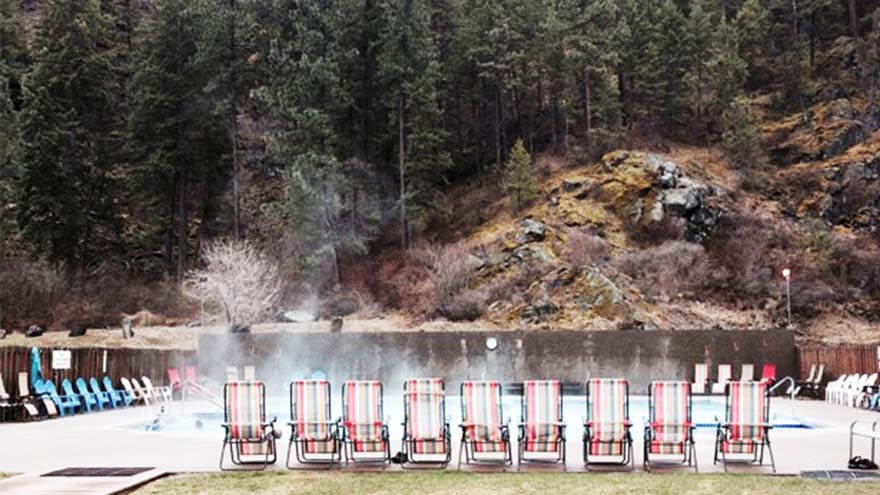 The Setting
Whitefish Mountain Resort is a European-style lodge atop Big Mountain in Montana, with breathtaking views of Glacier National Park and ropey chutes winding down the slopes of 3,000 acres of fresh air playground. At night, the dark-sky destination affords a light show that humbles the soul. An incentive group is fulfilling a bucket list, connecting, unwinding and giving back in an only-in-Montana setting. By including time for volunteer park cleanup activities in the agenda, meeting planners are cranking up the meaning-factor that allows people to feel part of something bigger than themselves.
The Reward
"Because of the environment—the nature and scenery that surrounds them—attendees are able to relax and be more productive in thoughts and ideas," said Debbie Picard, director of sales with Western Montana's Glacier Country. "Without the big-city sights and sounds to draw their attention and time, people usually stay and network at the self-contained mountain destination," she continued. This allows for an increase in networking, bonding and a better exchange of ideas that leaves your meeting attendees satisfied.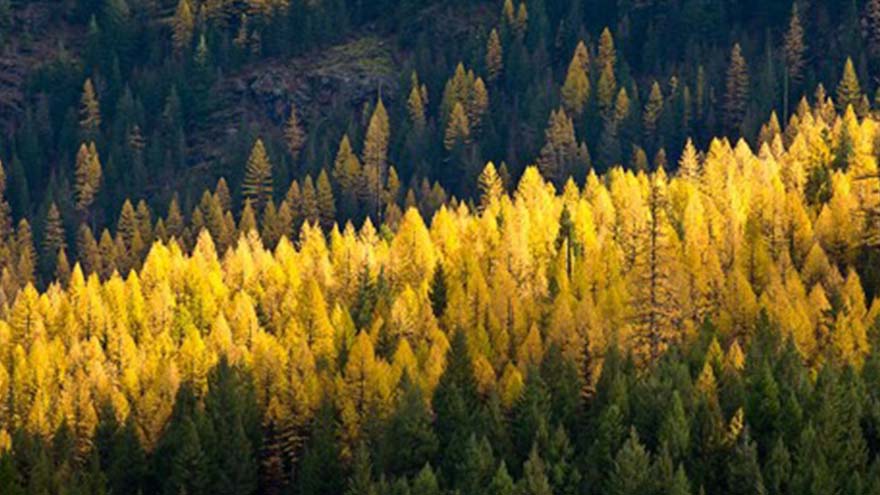 Rapid Bonding
The Setting
Boise's Payette River. Whitecapped rapids pound a roaring rhythm against massive boulders on all sides of a rocky gorge. The team is wedged in a construction-orange inflatable rubber raft, armed with paddles and suited with matching Type III life jackets. The half-day splash navigates class II to class III stretches of current. Team members learn and execute maneuvers that could smooth the journey—or leave everyone drenched by an errant wave.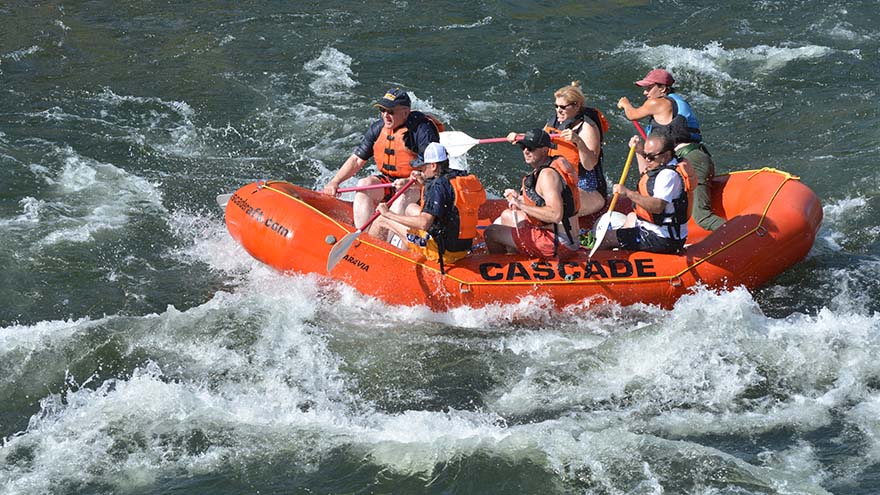 The Reward
Cascade River & Kayak certified instructors extol the thrill and joy of sharing an outdoor adventure as an experience that is "unforgettable" for all skill levels.
Valley High
The Setting
Mohonk Mountain House, a historic landmark anchored in an 1869 Victorian castle in the Hudson Valley 90 miles north of New York City. The snow-topped gabled rooflines, warm brick fireplaces and a dramatic seaplane landing were backdrops for an episode of the Showtime series "Billions." The U.S. attorney played by Paul Giamati pursues a hedge fund manager played by Damian Lewis to the fairy tale locale in New Paltz, New York. Drama ensues. The adventurous landscape isn't limited to actors. Recently, a group of 21 corporate executives stayed for two days and two nights to develop a strategic plan for next fiscal year, away from the disruptions of the office. They discussed the previous year, their perceived strengths and weaknesses and how they could improve.
The Rewards
"To be in a beautiful natural setting helped to maintain focus on the important topics and fostered strategic thinking and encouraged everyone to share their thoughts and opinions," explained Eric Domitrovits, Mohonk Mountain House director of sales, who works with meeting professionals each year to organize similar transformations. "They learned how each person has contributed to the success of the company and how each can continue to grow within the positions they hold and contribute toward another successful year."
Domitrovits reports that he has seen an increase in smaller corporate groups visiting, not with the purpose of doing work in meeting spaces, but rather bonding over private tomahawk throwing, campfires or archery classes. Company leadership is also encouraging families to come to enhance the overall bonding experience and provide a reward for a difficult year.
Essentials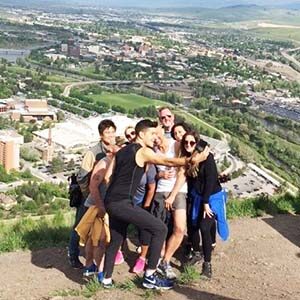 Lukas Furtenbach's flash expeditions require rigorous preparation, to enable his customers to achieve in three weeks what normally requires two months of acclimating on the mountain.
The adventure begins at home with acclimatization for the small groups committed to making the trek. For up to two months, participants sleep in hypoxic normobaric tents, which create a low-oxygen environment using a generator that replaces some of the oxygen in the bubble with nitrogen, getting the body used to an equivalent of the altitude where they'll be climbing.
During the three weeks at base camp, climbers perform physical exercises designed to take them beyond their previous limits. "We take notes on each client, so we know what their capability is. We also spend time observing them to understand their personalities and styles. This allows us to know how to motivate and push them the right way during the journey, without stepping too far," explained Furtenbach. "Knowing our clients individually before they start is critical to leading and coaching them through the journey."
Helicopters to the base camp, maximum oxygen support, medical monitoring via sensors and focused, tested routes make the distance from bottom to top more direct. Again, some lessons can be taken from this extreme example to make the journey from opening keynote to closing reception (at lower elevations) more effective.
Preparation
When the stakes are high, communication is essential. In the example of the general session held in a snowstorm, the key ingredient was preparing everyone for the experience. Ashlee Barton, Hyatt Regency Lake Tahoe area director of sales and marketing, explained that organizers told attendees to dress warmly as the programming was going to be outdoors. They probably would have been shocked if they had been ushered back into the ballroom when the first snowflake landed.
Fuel
No one likes to adventure on an empty stomach. When the Smart Meetings team tested the Boise whitewater experience, it was paired with marinated flank steak and chicken breast slow-cooked over a river-rock grill, served with a four-cheese Idaho potato tart, green beans tossed in an orange-sherry butter, and Walla Walla sweet onions slow-roasted with olive oil and a splash of balsamic vinegar. Boise Centre's 86,000 sq. ft. of meeting space is supported by an award-winning culinary team that specializes in fresh, healthy, beautiful fare.
Recovery
After extraordinary efforts, extreme care is appreciated. Debbie Picard, director of sales with Western Montana's Glacier Country, suggests pampering at spas fed by natural mineral water springs. Quinn's Hot Springs Resort in Paradise, Montana soothes corporate souls with soaking pools and certified massage therapists.
Back on Everest, Furtenbach focuses on the soft side—people's wishes and their fears—when they aren't climbing. After arriving at camp after a long day of scaling the mountain, people need support and a confidence boost. He uses simple rewards such as a good bottle of wine or a letter from family or friends. "It makes them happy, and they forget about the uncertainty ahead for a moment," he said. "These rewards can be important confidence builders to make our customers confident about the next day."