Among the highlights listed by the Convention Industry Council (CIC) in its 2014 Year in Review was the historic offering of the Certified Meeting Planner-Healthcare Subspecialty. CMP-HC is the first certification of its kind and reflects the meeting industry's response to the need for further education on a hot topic.
The meetings industry kicked into education overdrive when the national Open Payments program, as mandated by the Affordable Care Act, received final approval in 2013. The law requires transparency and in-depth reporting on payments and transfers of value made to teaching hospitals and physicians by manufacturers of drugs, devices and medical supplies. With the Centers for Medicare and Medicaid Services annually collecting data from manufacturers and health care providers, meeting professionals staging events for health care-related corporations have been tasked with accounting for everything from airline tickets and payments for speaking engagements to F&B for their medical clientele.
Reflecting the meeting industry's commitment to continuing education and its spirit of cooperation among key organizations, Meeting Professionals International (MPI) is also a huge resource to ensure its members and the broader community are prepared to adhere to the new health care reporting regulations. MPI offers the Healthcare Meeting Compliance Certificate (HMCC), which serves as a great way for planners and suppliers to obtain critical information on compliance regulations, laws and best practices.
Although the CMP-HC and HMCC are separate entities, they are certainly complementary. The HMCC certificate course helps planners prepare to take the CMP-HC exam and counts toward the continuing-education hours needed to qualify for the CMP-HC certification. Pat Schaumann, MPI's director of professional development for the health care sector, also serves on the CMP-HC governance board.
"It is cutting edge because not only do we keep all of our data current, based on government updates, but we also listen to our students and seriously study their feedback and evaluations to constantly improve our program," Schaumann says about the HMCC. "At MPI, we also stay current on international codes and regulations and we are adapting our study tools to meet the needs of global students."
To date, more than 300 have earned the HMCC, which far exceeds expectations. The CIC has certified 57 with its CMP-HC.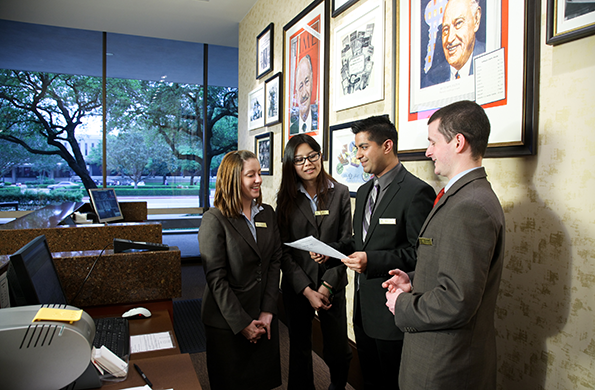 Hilton University of Houston teaching hotel
One of the most interesting trends among those pursuing the HMCC is the large number of hoteliers and convention and visitors bureau staff members who are participating. Nichole Beran, national sales manager for the Omaha Convention & Visitors Bureau, is among the most recent HMCC graduates.
"Medical and pharma meetings are important to Omaha and we wanted a broader understanding of health care regulatory topics to better serve our clients," Beran says. "MPI's HMCC course is really groundbreaking. MPI understands that not only is this certification beneficial for the medical meeting planners, but it's also an important educational tool for cities such as Omaha."
MPI regularly takes its four-hour certificate program on the road. For example, 19 meeting and event professionals earned the HMCC during IMEX America last fall in Las Vegas. This year, stops will include the third annual Global Pharmaceutical and Medical Meetings Summit at the Hyatt Regency Philadelphia at Penn's Landing. The course is scheduled for Feb. 9 and the summit takes place Feb. 10–12. The HMCC course is also being offered in San Francisco on Feb. 18, a day before the MPI Northern California chapter expo and convention at Moscone Center.
"We realized that holding classes in conjunction with industry conferences would make it easier and more convenient for the students to attend," Schaumann says. "And our conference hosts not only support the class, but attend as well. We have been fortunate to partner with ExL Pharma, World Congress, Pharma Forum, IMEX, HCEA and MPI chapter functions. They want to bring this value-add to their conference attendees and we appreciate their continued support."
MPI acquired HMCC last year from International Medical Meeting Professionals Association (IMMPA). The certificate is endorsed by the Saint Louis University Center for Workforce & Organization Development.
IACC and NYU Team Up
Another event industry organization and university that are collaborating on education opportunities are the International Association of Conference Centers (IACC) and NYU School of Professional Studies Tisch Center for Hospitality and Tourism, which launched the Certificate in International Conference Center Management in November.
The online, non-credit certificate program focuses on skills and training needed in the global meetings industry, and complements Tisch Center programs that are centered around hospitality, venue operations, restaurant operations and conference management. The six-course program is being offered for the first time this spring.
"The collaboration with NYU School of Professional Studies made so much sense to us as we scanned the marketplace for a provider to work with us on developing a conference center-specific program which could be offered on a global basis," says Peter Stewart, president of IACC. "Our relationship with the team at the Tisch Center goes back many years, and we value the opportunity to help them develop this program, which will be the first of its kind."
The required courses include foundations of conference center management and operations; human resource practices and techniques; financial and legal frameworks; and current issues in conference center operations. Electives include such topics as prospecting and sales strategies for conference centers and event venues; new technologies for meetings and conferences; and marketing and positioning strategies for meetings, events and conferences.
University Experiences
According to a study released by University of Central Florida's Rosen College of Hospitality Management last month, 73 percent of the 590 graduates it surveyed said their college education "was worth every penny."
No longer is the hospitality industry a trial-by-fire career that you casually fall into. Colleges and universities are taking the hospitality industry seriously, arming future planners and suppliers with cutting-edge education, internship experience and onsite training.
"With hospitality and tourism such a significant part of the economy at the regional, state and national levels, it is inconceivable not to have a highly experienced, academically rich and professionally relevant system of education," says Alan Fyall, professor of tourism and graduate program director at Rosen College. "Hospitality and tourism the world over is highly competitive. The quality of service and experience provided is critical in satisfying the needs, wants and expectations of customers."
Many members of the Rosen College faculty worked in the hospitality industry before pursuing academic careers. Students also benefits from international expertise, with faculty members coming from 20 countries.
For working professionals with very busy schedules, the college offers a master's degree program in hospitality and tourism management that can be pursued face-to-face and online. Graduate certificates in event management and destination marketing and management are also available online.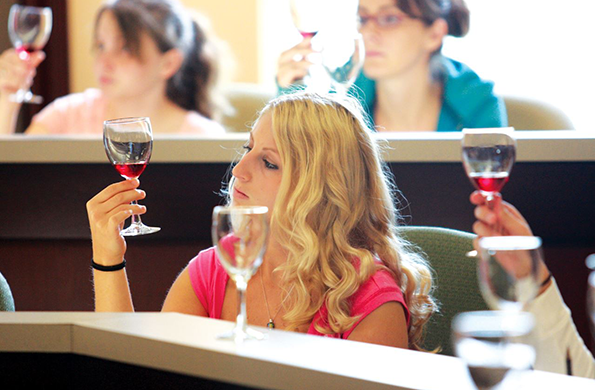 Anheuser-Busch Beer & Wine Lab, UCF's Rosen College of Hospitality Management, Orlando
Not surprisingly, many of the top university hospitality programs are located in major tourism and meeting markets. Rosen College, which features the largest purpose-built facility of its kind in the United States, is in Orlando. With plenty of opportunities for internships, professional mentors and site visits, Rosen College, named for hotelier Harris Rosen, is ideally set up to provide the ultimate in hospitality education.
"As is evident with the name of the college, local industries are also heavily supportive, with it being in their own interests to have a world-class educational and training provider on their doorstep," Fyall says. "There is an embedded culture of contemporary thinking with an insatiable appetite to serve the industry by supplying well-qualified, eager, motivated and highly professional leaders of the future."
One area that university programs have made a major impact in is technology education, according to Fyall. The exponential growth of technology and its centrality to hospitality and tourism products and services have created a demand and need for education in this area.
"The industry is arguably one of the leaders in the adoption and use of new technologies," Fyall says. "Thus, there rests a heavy responsibility on all educators to ensure students possess the necessary leadership, professional service and technological skills necessary to succeed in the global marketplace that is hospitality and tourism."
The Anheuser-Busch Beer & Wine Lab at Rosen College aims to improve industry beverage knowledge and service, blending education and entertainment. The space holds 50 for special events.
The University of Houston Conrad N. Hilton College of Hotel and Restaurant Management provides hands-on learning thanks to the on-campus Hilton University of Houston. The 86-room, upscale teaching hotel includes a student-run restaurant and a student-managed coffee house. Spec's Beverage & Food Appreciation Laboratory opened in October and is designed for sensory evaluations of food and other beverages. It holds 65 for private F&B demonstrations.
PCMA College Chapters
Professional Convention Management Association is helping to mentor future leaders through its college chapters. Here are the universities that have student chapters:
Ferris State University (Big Rapids, Michigan), Iowa State University (Ames), Indiana University–Purdue University Indianapolis, James Madison University (Harrisonburg, Virginia), Kansas State University (Manhattan), Kent State University (Kent, Ohio), Metropolitan State University of Denver, Penn State University (College Station, Pennsylvania), Purdue University (West Lafayette, Indiana), San Diego State University, St. Edward's University (Austin, Texas), University of Delaware (Newark) and University of New Hampshire (Durham).
Each year, select college students who are members of their schools' chapters are hosted during PCMA Convening Leaders, where they have access to mentors, seminars and networking. Other chapter benefits include virtual professional development and connections with strategic partners and suppliers for career-long relationships.
"Being a part of the PCMA chapter at San Diego State, I have gotten the chance to meet a lot of professionals and hear their experiences and lessons about the industry," says Jenny Lutz. "The chapter is a great benefit to our hospitality program, allowing students to obtain leadership experience."
---
Webcasts: A Whole New World
One of the most convenient ways to stay on top of industry trends, key topics and technology is by tuning in to webcasts. This form of media presentation is essentially broadcasting over the Internet, from a single source, to listeners and viewers anywhere in the world who have a connection to the Web.
For the second consecutive year, Smart Meetings has rounded up an impressive roster of industry experts for monthly webcasts, which are free to meeting professionals and suppliers. Presentations are available live and can also be accessed at one's leisure. Besides learning from the experts, planners can earn CMP credits and ask questions during presentations.
Carol McGury, executive vice president for event and education services at SmithBucklin, will be Smart Meetings' webcast presenter on Feb. 10, when she discusses meeting planning outside the United States and Canada. The session will cover issues such as customs, using local service providers, designing themes for specific destinations, legal and financial issues, and partnering with local tourism and convention bureaus.
Smart Meetings' March 10 webcast will feature Lisa Sommer Devlin, who will present on expert hotel contract negotiations. For further information, go to smartmeetings.com/webcasts.
---
Top Hospitality Programs
Here's a sampling of top universities that are educating the event and hospitality professionals of the future:
• Boston University
• Cornell University, Ithaca, New York
• Michigan State, East Lansing
• Penn State, College Station, Pennsylvania
• Purdue University, West Lafayette, Indiana
• San Jose State University, California
• University of Central Florida, Orlando
• University of Denver
• University of Houston
• University of Nevada, Las Vegas