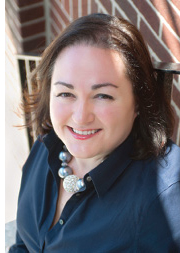 A day in the life of Agnes Canonica goes something like this: ship human-sized torsos to Argentina, negotiate "gringo" prices in Latin America and plan tight deadlines around foreign government delays. It's nothing the multicultural event planner can't handle.
Born and raised in France, Canonica also lived in Argentina and St. Martin before making the United States her home. Still in high school, she found her calling in travel as a tour guide and then as a hospitality organizer. Eventually she started her own incentive company and was traveling around the world.
Those formative years spent abroad have given Canonica a competitive edge when planning conferences in international destinations. "Being a polyglot and understanding different cultures very early on made me realize that I had a real…ability to customize experiences that I knew would be successful for a specific audience type," she says.
Now a general manager at MD Events, she brings more than 20 years of experience to the medical meetings arena. Canonica deftly navigates through the complex health care sector, which is held at a higher standard than many other industries. Medical and pharmaceutical meetings must comply with stringent reporting mandates in the United States and the European Union. Canonica must also learn new program terminology and plan within restrictions in different host countries.
---
---
"Health care [meetings] are very compliance driven, especially when it comes to the relationship between the health care professional and pharmaceutical company," she notes.
Trumping those obstacles comes from her strong suit in culture and travel. Canonica's ability to speak the local dialect has strengthened her supplier network and allowed her to tailor service to attendees from different countries. Today, she is a true expert in cross-border business and international meetings.
Of all the cities Canonica has visited, Buenos Aires holds a special place in her heart. It's a destination that reflects the flexible, open-minded attitude that is critical to her role. "No matter what the financial or political situation down there is, these people have a true sense of humor and are beyond resilient," she says. "Like they say, 'Es lo que hay' (it is what it is)."
To register for her Oct. 13 webinar on pharmaceutical and medical meetings click here.