New and renovated properties invigorate their destinations
Marriott Marquis San Francisco
There goes the neighborhood. Whenever convention centers and hotels are renovated or new properties emerge, the neighborhoods in which they reside are often injected with a measure of vibrancy and economic prosperity.
Whether projects are keeping up with growth in their cities or leading the way for urban development, expansions and renovations are changing the face and vibe of everything around them.
For example, the $500 million expansion underway at Moscone Center in San Francisco addresses the needs of planners for larger spaces while mirroring the enormous growth in the city's South of Market area. Nearby hotels, including Marriott Marquis San Francisco, are staying ahead of the game with multimillion-dollar renovations that are changing the meeting scenes and invigorating their neighborhoods.
"This has been something that has been years in the planning," says San Francisco Travel Association President and CEO Joe D'Alessandro of the Moscone expansion. "This is a huge economic driver for San Francisco."
Smart Meetings' comprehensive new and renovated report provides valuable updates about key meeting properties and reflects trends that are shaping neighborhoods throughout North America.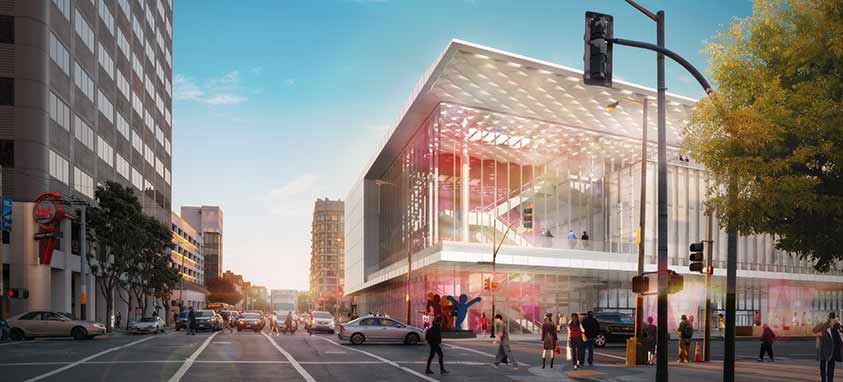 Moscone Center rendering, San Francisco 
During the groundbreaking for Moscone Center in May, D'Alessandro reinforced a trend that is becoming commonplace among meeting properties: asking planners what they want. "We worked closely with our partners to find out what they needed and they all needed something different," D'Alessandro says.
Two variables in this particular equation are safety and sustainability. The expansion calls for the creation of wider sidewalks, larger crosswalks between buildings and a new pedestrian bridge. Already LEED Gold certified for existing buildings, Moscone Center will maintain the highest level of sustainability for its newly expanded space, including the use of recycled steel, a rain collection system, rooftop solar panels and zero emissions.
When expansion is complete in 2018, Moscone will feature more than 500,000 sq. ft. of contiguous space for exhibitions, a new 50,000-square-foot ballroom, 108,000 sq. ft. of prefunction space and a 20,000-square-foot terrace.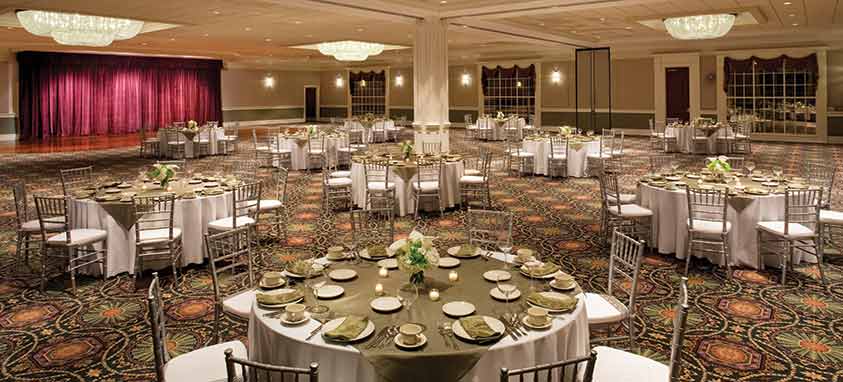 Sheraton Greensboro at Four Seasons, North Carolina
Sheraton Greensboro at Four Seasons and Joseph S. Koury Convention Center in North Carolina have been meeting the needs of their community for 45 years. The largest property of its kind between Washington, D.C., and Atlanta, the hotel-convention center complex completed a $30 million, 22-month renovation in April.
The project was specifically designed for the expected needs of guests over the next decade. It includes the complete renovation of more than 1,000 guest rooms, enhancement of common areas, the installation of energy-efficient lighting, heating and cooling systems, and the implementation of a property-wide recycling program. There's also 250,000 sq. ft. of event space.
New Builds
Tysons Corner, a key business center in Virginia just outside Washington, D.C., has a new meeting hotel thanks to the opening of Hyatt Regency Tysons Corner Center in April. It's the first new-build, full-service hotel in Tysons Corner in more than 20 years. In addition to 300 guest rooms, the Hyatt Regency offers 15,000 sq. ft. of meeting space, including a 7,000-square-foot ballroom. There are 14 breakout rooms.
The contemporary guest rooms seem like apartments thanks to nine-foot ceilings, floor-to-ceiling windows and a separate seating area. The new hotel restaurant, Barrel & Bushel, serves up regionally inspired food, the best local and craft beers available with 22 beer taps, more than 30 handpicked bourbons and handcrafted cocktails.
Hotel Van Zandtis opening this summer in Austin, Texas, and will pay tribute to historic figure Isaac Van Zandt, Republic of Texas ambassador to the United States, as well as his third great-grandson, Townes Van Zandt, an inspiring Texas musician. Located in the Rainey Street Historic District, Hotel Van Zandt will be filled with art, including installations of birds made out of vintage records and specially commissioned works in collaboration with the Van Zandt family. Townes Van Zandt's son, JT, will be contributing a special piece to the hotel.
The intention of the design is to capture local culture and fuse it with Texas history while evoking the edginess of Austin with sophisticated flair. It will offer 319 guest rooms and 41 suites, and 12,000 sq. ft. of event space that can accommodate up to 500 people. 
Pasea Hotel & Spa will open in early 2016 in Huntington Beach, California, steps from the Pacific Ocean and the city's iconic pier. It will offer 250 guest rooms and suites, a Balinese-inspired spa, and a rooftop deck and bar. Pasea will feature 34,600 sq. ft. of event space, including an 8,400-square-foot ballroom and a 14,600-square-foot event lawn.
Destination Properties
Sunriver Resort, located 15 miles south of Bend, Oregon, sits on 3,300 acres and serves as a key meeting and incentive destination. The resort is undergoing a $50 million, five-year renovation. Its four golf courses just got a $425,000 facelift.
"Within the natural beauty of central Oregon, Sunriver Resort inspires our guests to explore, discover and reflect," says Tom O'Shea, managing director. "From relaxing poolside to kicking back after a day of golf, or simply enjoying a meal with colleagues, there is a unique experience awaiting every guest."
Gaylord National Resort and Convention Center anchors the 300-acre National Harbor entertainment district in Maryland. It will debut the first phase of a $20 million renovation in the fall. The project calls for a new 16,000-square-foot ballroom that will open in 2016. The new building will be located on the banks of the Potomac River and will feature glass windows on three sides, offering spectacular views of the river, Woodrow Wilson Bridge and Old Town Alexandria.
"As National Harbor has grown, so too has the demand from our customers and the community for additional upscale event space for meetings and social functions," says Colin Reed, chairman and CEO of hotel owner Ryman Hospitality Properties. "With its close proximity to the water and impressive year-round views, we believe this ballroom and its surrounding areas will be the premier location for small and medium-sized events in National Harbor."
The existing Orchard Terrace open-air space will expand to 39,000 sq. ft. and will debut in September. The resort features 470,000 sq. ft. of meeting space and 2,000 guest rooms and suites.
The Westin South Coast Plaza, Costa Mesa Hotel in Southern California is connected by a footbridge to famous South Coast Plaza, which boasts 275 upscale boutiques and fine-dining restaurants. The neighborhood also is home to Samueli Theater, Segerstrom Center for the Arts, Renee & Henry Segerstrom Concert Hall and South Coast Repertory Theater. The Westin completed a renovation of its 393 guest rooms in May. It features 35,000 sq. ft. of versatile event space, including a 7,600-square-foot ballroom.
Kalahari Resorts & Conventions will debut a new $230 million property on July 1 in the Pocono Mountains of Pennsylvania. The resort will feature the state's largest indoor water park, an outdoor water park, a swim-up bar, a 30,000-square-foot entertainment center, a 100,000-square-foot convention center and nearly 1,000 guest rooms.
"There will be no indoor or outdoor attraction in the world that can compete with our Poconos resort," says Todd Nelson, owner of Kalahari Resorts & Conventions. "The resort will be the ultimate oasis for families, young couples, business travelers and anyone else who walks through our doors."
When visiting Newport, Rhode Island, there's no better base camp than Newport Marriott, which completed a $35 million renovation of its 320 guest rooms and suites in April. Located in the heart of the city's historic downtown, Marriott offers 24,400 sq. ft. of event space. Its 98-seat restaurant serves a dock-to-table seafood menu and harbor views.
Hilton Hawaiian Village Waikiki Beach Resort in Honolulu completed a $21 million renovation in April. The project included the refurbishment of 380 guest rooms in its 17-story Diamond Head Tower. The resort also boasts a refreshed lobby.
The Ritz-Carlton Lodge, Reynolds Plantation in Greensboro, Georgia, wrapped up a multimillion-dollar renovation in May. The AAA Five Diamond resort 75 miles from Atlanta enhanced 15,000 sq. ft. of meeting space and expanded the pool deck. There are 251 guest rooms and suites.
Rebranded Hotels
Scottsdale Resort & Conference Center, A Destination Hotel in Arizona will be rebranded as The Scottsdale Resort at McCormick Ranch, A Destination Hotel in September. The first phase of the renovation has a $9 million price tag and includes a new restaurant and bar, renovation of the main pool, the addition of outdoor and indoor event space, and updates of the 326 guest rooms. The resort currently features more than 80,000 sq. ft. of indoor and outdoor event space, including a 10,000-square-foot event lawn. The property will celebrate its 40th anniversary next year and undergo a second round of renovations in 2016.
"This property is situated in an upscale community, centrally located but just enough off the beaten path that it is a bit of a hidden gem," says Kevin Regan, senior vice president of operations, western region, for Destination Hotels.
DoubleTree by Hilton Largo/Washington, D.C., opened in April near FedEx Field in Maryland. The property formerly held a Radisson flag before its multimillion-dollar renovation. Largo has become a key area of the Capital Beltway, especially since the NFL's Washington Redskins play nearby. It offers 184 guest rooms and reception space for up to 200 people.
"The hotel's stunning transformation and upscale amenities position DoubleTree by Hilton Largo/Washington, D.C., to become the premier hotel destination both for guests visiting our beautiful city from all over the world, as well as our local community," says Joseph Galvan, general manager.
Anaheim Majestic Garden Hotel in Southern California became an independent property in May; it was formerly part of the Sheraton family. As part of a $6 million renovation that is underway, the 489-room hotel has already completed upgrades to the pool area and some guest rooms. Located across the street from Disneyland Resort, Majestic is an authorized Disney ticket seller. Hotel guests also can enjoy a game room, a fitness center and an outdoor pool.
Historic Properties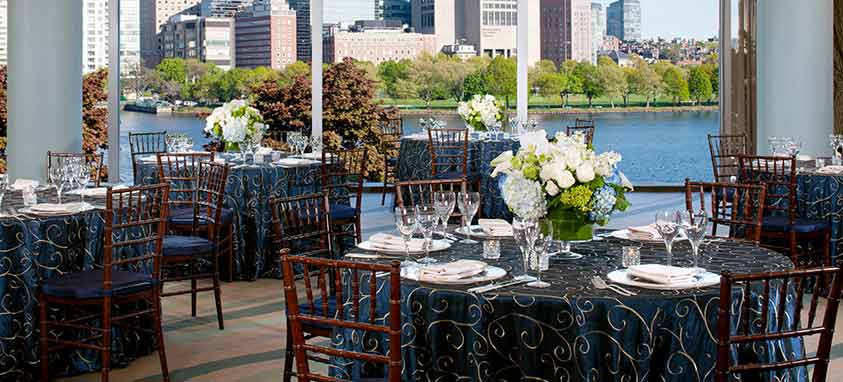 Royal Sonesta Boston
Washington Marriott Wardman Park dates to the 1920s, when it was built as condominiums. The goal of the multimillion-dollar renovation completed in May was to ensure that its 1,152 guest rooms and suites feature traditional and modern elements.
"Our design sought to bring back to life the glamour of a time and excitement when an invitation to Wardman Park meant a person had reached the pinnacle of society and life," says Kathy Chavez, project manager at the design firm Leo A. Daly.
With the largest hotel meeting space in Washington, D.C., it offers 195,000 sq. ft., including 95,000 sq. ft. of renovated exhibition space.
Sheraton Commander Hotel in Cambridge, Massachusetts, completed a multimillion-dollar renovation in May. The hotel's restaurant, which has a 100-year history, has been re-imagined into a chic neighborhood mainstay. Located in Harvard Square and overlooking Cambridge Common, the property's 176 guest rooms were upgraded. The club lounge and lobby also were renovated.
Hotel Burnham, A Kimpton Hotel in Chicago is located in the historic Reliance Building that dates to 1895. The property completed a $4.1 million renovation in the spring, including 122 newly refreshed guest rooms and updated event space for 40. The renovations coincide with the 120th anniversary of the famous building.
Water Views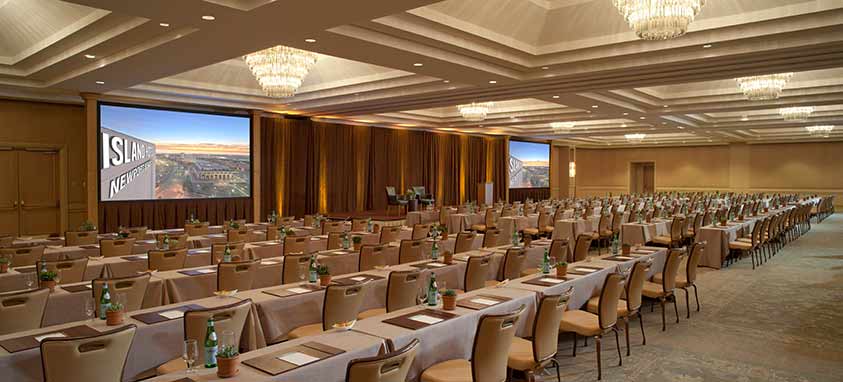 Island Hotel Newport Beach in California completed an 18-month project in the spring that has created a fresh coastal chic vibe. The 292 guest rooms, which offer Pacific Ocean views, feature up-to-the-minute technology, including complimentary Wi-Fi, 42-inch HDTVs with DVD/CD stereo systems, Bose 321 audio systems, custom lamps with charging connections and HD cable service. The 8,710-square-foot ballroom can seat up to 600.
Royal Sonesta Boston announced the completion of a $15 million renovation in May. There are 200 redesigned guest rooms, a new lobby and new waterfront meeting space. The event terrace overlooks the Charles River.
New York Marriott at Brooklyn Bridge unveiled the first part of a $43 million renovation in May. The complete makeover is both physical and experimental, designed to appeal to millennial travelers. The hotel partners with local businesses to provide an experience reflective of the borough, with offerings from Brooklyn Roasting Company, Brooklyn Winery, Ovenly pastries and Featherstone bagels. There is 44,542 sq. ft. of meeting space.
Airport Hotels
Hyatt Boston Harbor completed a $10 million renovation in May. It's on the edge of the harbor, steps from Logan International Airport (BOS). Inspired by Boston's waterfront, the newly designed 270 guest rooms and suites offer unparalleled skyline views. The 21,000 sq. ft. of event space includes two ballrooms and 5,000 sq. ft. of exhibition space.
"The guest rooms and suites are designed to accommodate the diverse and evolving needs of our guests, and allows travelers the opportunity for both connecting and relaxing while away from home," says Tom Blundell, general manager. "We are thrilled with our new product, which reflects the rich culture and history of our city."
Sheraton JFK Airport Hotel in Jamaica, New York, completed a top-to-bottom renovation in May that is part of the brand's efforts to enhance properties located in gateway cities. All 150 guest rooms now offer a touch of formality reminiscent of the Regency Period. Other renovations include the restaurant and lobby.
Building Blocks
New and renovated meeting hotels and venues serve as foundations for social exchanges and cultural reflections of the neighborhoods they call home. These properties are great for those living and working nearby, while also fulfilling a need for exciting, fresh designs that are perfect for meetings and events.
One of the buzz terms making the rounds in the hospitality industry these days is "lifestyle hotels." Hotels aren't just undergoing renovations; they are remaking themselves into properties that reflect a sense of place, and are tech-savvy, contemporary and inviting.
Hotel Irvine in Southern California is a great example of a property that is setting the tone for lifestyle hotels. Its makeover was part of the rebranding of Hyatt Regency Irvine in late 2014. Changes included adding a hip neighborhood-style market with locally sourced items to eat and drink; edgy new interiors designed for both business and pleasure, including bold pops of color, dramatic contemporary art and abstract accents; and interactive hubs with carefully designed pods equipped with multiple outlets, USB ports and easy laptop setup.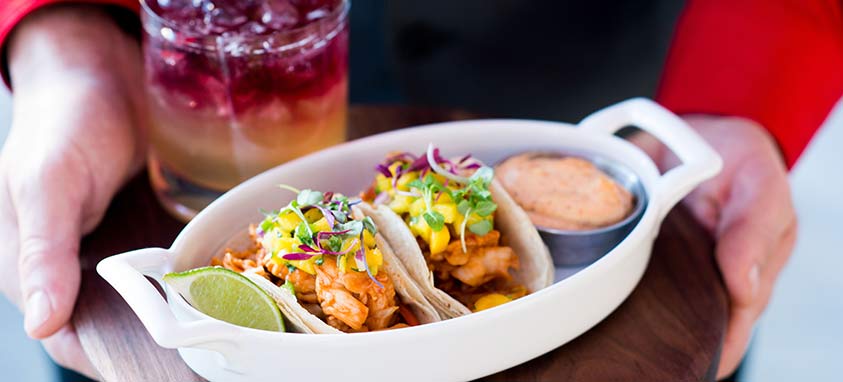 "In today's highly competitive market, it is critical for a hotel to stay relevant," says Ralph Grippo, president of Irvine Company Resort Properties. "That means remaining technologically ahead of the curve and looking for fresh and forward amenities and services for today's travelers. With this in mind, Irvine Company is continually reinvesting in our properties. We want to ensure that we stay at the top of our game."
Hotel Irvine offers 536 guest rooms and suites, and boasts 50,000 sq. ft. of event space, including a 14,000-square-foot ballroom and a 120-seat theater with a large-panel flat screen.
Associated Luxury Hotels International (ALHI) President Jim Schultenover says that the growing demand for lifestyle hotels and resorts in leisure travel has definitely spilled over into meetings and incentives. ALHI has seen an increase in business and RFPs as more companies and associations seek unique and experiential hotels and resorts for meetings and incentives.
"The demand is definitely up for unique, independent and genuine lifestyle hotels and resorts for meetings and incentive programs," Schultenover says. "Meeting professionals, incentive specialists and their attendees are seeking one-of-a-kind luxury hotels and resorts that are known for their individuality and high quality, and which are prized for their distinctiveness, authenticity, personality and personalization."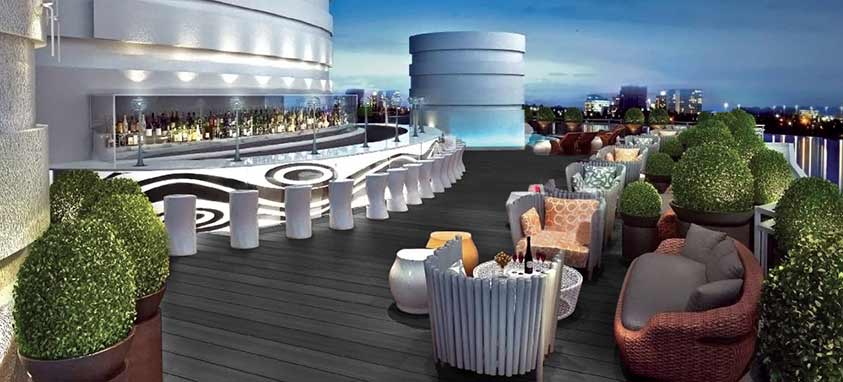 A new ALHI property, The Watergate Hotel in Washington, D.C., will wrap up a $125 million renovation in the fall. The 338-room hotel will debut a chic rooftop bar that will be great for receptions. Meeting space will expand to 27,000 sq. ft., including a new 7,000-square-foot ballroom with state-of-the-art technology, including wireless sound systems and high-definition video displays.
The hotel features an ideal location less than a 10-minute walk to the Georgetown Waterfront shops and dining, the John F. Kennedy Center for the Performing Arts, George Washington University, Foggy Bottom Metro Station, U.S. Department of State and National Mall.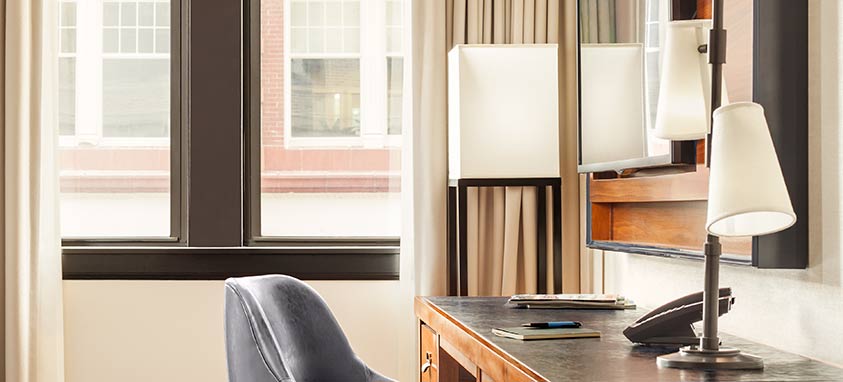 The Press Hotel became the first lifestyle boutique hotel in Portland, Maine, when it opened in May. This property helps immerse guests in coastal culture through the commissioned handiwork of local painters, sculptures, textile makers and woodworkers. The 110-room hotel is located in the historic Portland Press Herald building. It offers four event spaces.