Innovative advances are being implemented around the globe
Set up a time-lapse camera in just about any major airport and you'll see thousands of passengers racing through the lobbies and terminals. Switching to the video feed of the security checkpoint, you won't be surprised to see the movement come to an abrupt halt. Technology is helping travelers zip through, even without TSA PreCheck, Global Entry or Clear.
Improved Scanners
Keep liquids and laptops in your bag. Thanks to Analogic Corp.'s ConneCT scanner, you can kiss those trays goodbye and quickly proceed through the metal detector after dropping your zipped-up belongings on the conveyor belt.
In a hospital setting, X-rays are used to diagnose relatively easy medical issues, such as broken bones. More complicated conditions require more elaborate imaging, such as MRIs and CAT scans. ConneCT uses computed tomography, essentially a CAT scan for your carry-ons. Passengers don't have to remove items from bags and security officers don't have to sift through belongings to make sure a prohibited item wasn't hidden. ConneCT's 3-D image depicts a bag's contents better than earlier technologies.
"CT technology represents a significant leap in both imaging and automated threat detection, giving screeners the information they need to identify prohibited items and potential threats, and keep passengers safe," says Mark Laustra, Analogic's vice president of global business development and government relations. By July, it will have demonstration scanners at four airports—in the United States, Europe, Japan and elsewhere in the Asia-Pacific region.
Through the Gate in Seconds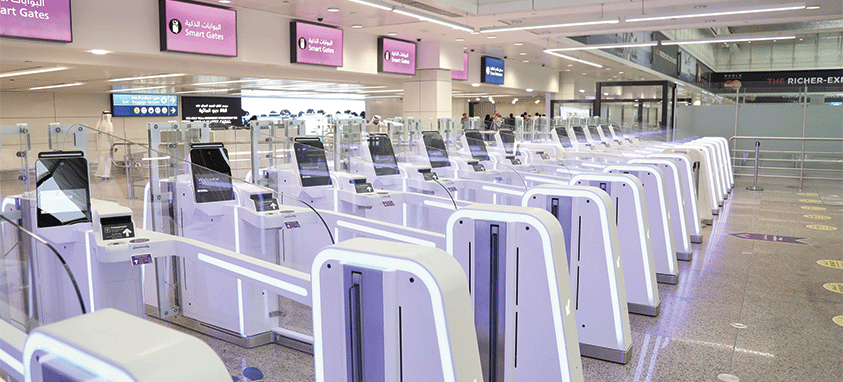 Set your stop watch! Dubai International Airport (DXB) says qualifying passengers can get through security and immigration in as few as 10–15 seconds using one of its 127 smart gates, which were designed by Vision-Box in partnership with Emaratech. It's like self-serve check-out at the grocery store, available for both departing and arriving passengers. Travelers complete the process in three quick steps: A reader analyzes your passport, then your fingerprint gets scanned and lastly, your eye's iris is scanned and facial imaging software works its magic.
"Dubai Airports [which manages both of Dubai's international airports] is always looking at opportunities for innovation that makes the journey smoother and more comfortable for our customers," says Michael Ibbitson, executive vice president of technology and infrastructure at Dubai Airports. "What's surprising is that only 17 percent of our passengers take advantage of the service."
United Arab Emirates citizens and residents, Gulf Cooperation Council nationals and passport holders from select visa-eligible countries can use smart gates. More than 5.5 million passengers used them last year.
Biometrics Are Where It's At
Just like the uniqueness of snowflakes, no two airline passengers are exactly alike. That is why carriers and more than 80 international airports are turning to biometric devices, such as Vision-Box. Biometrics aren't widespread quite yet, but it's only a matter of time.
With Vision-Box's Seamless Gateway, show your travel documents once, and the facial ID software recognizes your face until you're buckled in your seat and ready for takeoff. It's the first contact-free, face-biometrics gateway that recognizes passengers as they are moving, much like using a fast-pass transponder at a bridge's toll plaza.
In a partnership involving Vision-Box, Los Angeles World Airports Authority and U.S. Customs and Border Protection, Los Angeles International Airport (LAX) is the first U.S. airport to use this technology for boarding as part of the U.S. Biometric Exit trial program. In April, the Greater Orlando Aviation Authority (GOAA) Board voted to make Orlando International Airport (MCO) the first U.S. airport to fully deploy the program for arriving and departing international passengers.
"With a faster and more secure clearance process, airlines, airports and travelers will benefit from shorter processing times and standardized arrival procedures," says Phil Brown, CEO of GOAA. "Identity verification through biometric technology complements our long-term vision for safe, secure and seamless travel from curb to gate."
? Smart Tip: For those interested in registering for TSA PreCheck, Staples partnered with Idemia to install IdentoGo enrollment centers this summer at 50 locations of the office supply store, including Boston, Chicago, Dallas, Los Angeles, New York and Seattle.
Tag—You're It
One way to speed up the security-line process is to check luggage, but many passengers are concerned their belongings will be misplaced. Hi-tech luggage tags help to ensure a sense of accountability and keep you aware of your bag's whereabouts.
In January, Bagtag launched an electronic luggage label for passengers flying Lufthansa, Swiss and Austrian airlines. The device attaches to any piece of luggage. Use the airline's mobile app to check in and retrieve your boarding pass and luggage label. Bluetooth technology transfers the bag info to Bagtag, which digitally displays the information on an e-reader-type display screen. The company says its system will be more scan-friendly than paper tags, plus the reduced use of paper is good for the environment. Passengers can check in from anywhere with their Bagtag.
Last summer, Tumi released Tumi Global Locator, a wireless tracking device to keep dibs on luggage. Place the small box in your bag, and GPS tech allows you to make sure your suitcase is where it's supposed to be at all times. It's like tracking a package you've shipped with the post office or UPS. The device creates a history of where the bag has traveled and sends you updates on its whereabouts. It automatically goes into sleep mode while in the air and wakes up upon touchdown. While in your hotel, it will let you know if your bag has been moved.
According to Societe Internationale de Telecommunications Aeronatiques' 2018 Baggage Report, released in April, the baggage mishandling rate has dropped by 70 percent since 2007. International Air Transportation Association Resolution 753 goes into effect this year, which expands baggage-tracking initiatives.