The Westin Denver International Airport
Unique airport hotels are destinations themselves
Airport hotels are synonymous with delayed flights, drab architecture and down time wasted far from the appealing lights of downtown. But some airport hotels have quietly become downright fabulous. Getting off a plane and immediately checking into a hotel, with low transit times and all the amenities of a far-away venue, often is the one thing everyone has been craving in travel: escape.
The simple pleasures of a hot shower, a cold drink and a cozy bed become the ultimate luxury when they take place just moments after landing. Say goodbye to awkward cab rides, mind-numbing public transportation snafus and miles of traffic. Some of the latest lodgings provide additional time-savers, allowing guests to check in via smartphone so they can head straight for their rooms, or check in to return flights from the hotel.
Hats off to event planners who have been ahead of the curve. After wrangling attendees from multiple locations for years, they know that the most efficient place to meet is often within 5 miles of the airport. Now the hotels themselves are catching up. As Denver International Airport (DEN) CEO Kim Day says, "Passengers in general have increased their expectations of airports. They want better places to stay when they stay."
Five of the busiest airports in the country—Atlanta, Los Angeles, Chicago O'Hare, Dallas/Fort Worth and Denver—have raised their airport hotel game. Mid-size airports such as Nashville have sprouted a cottage industry of quirky lodgings to tempt travelers. These new airport hotels include architectural gems, top chefs, innovative activities to keep visitors happy and groups engaged, and maybe even a pet fish. Now boarding: These properties will make you rethink everything you ever thought you knew about terminal sleep.
? 
Denver International Airport
Ask frequent flyers to name an airport worth a special visit, and they blurt out the word "Denver!" even before the question finishes. Denver International Airport is widely praised as a stellar facility and a multiple award-winner, but at 25 miles from the city center, it's the most remote major airport in the United States.
Enter The Westin Denver International Airport. The Gensler-designed project features 519 rooms that had to be low enough to avoid aircraft, and narrow enough to skirt existing roads. The result is the inventive, wings-in-flight design that was lauded by Architectural Digest.
The property makes use of Starwood's popular SPG Keyless program, allowing preferred guests to check in remotely and unlock their room door with a Bluetooth-equipped smartphone. The Sky Lounge Bar provides spectacular runway views. Westin Workout offers sneaker and athletic gear rental for $5 for attendees who wish to break a sweat on a whim.
The Westin straddles the line between peaceful isolation and the desire to explore. Situated atop the RTD transit station, the light-rail line zooms groups into downtown Denver in just 35 stress-free minutes. The hotel has been open less than two years and received AAA Four Diamond status for both years of operation.
Restaurant Grill & Vine offers farm-to-table fare to rival anything in the city. The hotel offers 37,500 sq. ft. of attractive conference space, 15 meeting rooms, two ballrooms and an open-air plaza for arts and entertainment.
? O'Hare International Airport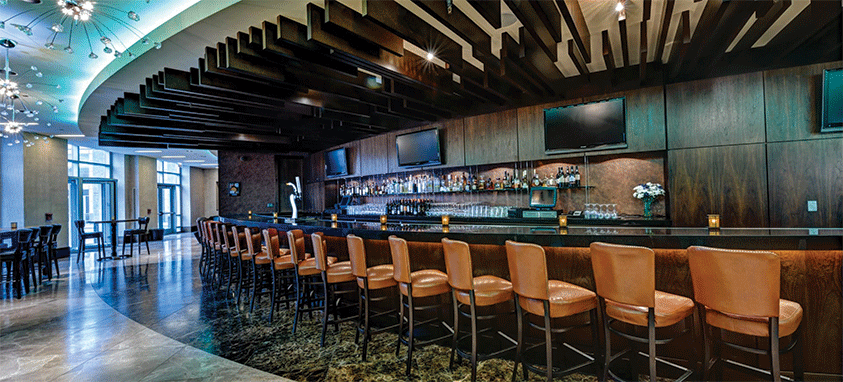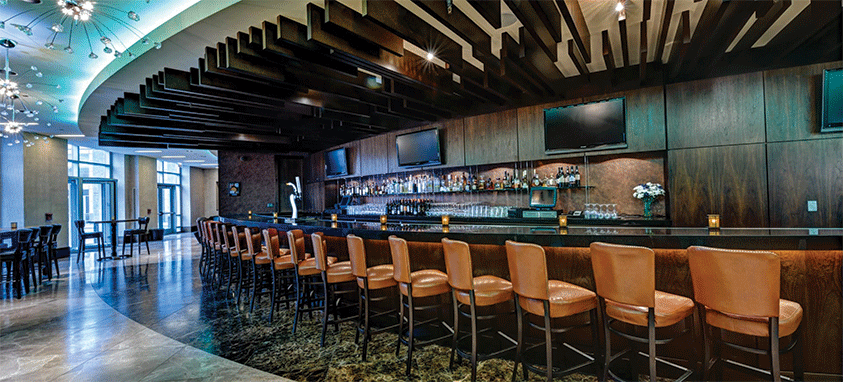 Located 17 miles north of the Loop, the time spent getting from O'Hare International Airport (ORD) to the city of Chicago can tax the weary traveler. Chicago is one of the world's great cities, but for groups with time constraints, why not bring the city to the airport? That's the mission of Loews Chicago O'Hare Hotel.
Feel like you're missing out by not making it to Chicago Art Institute? Loews O'Hare Art Gallery showcases rotating exhibits by local artists. Wish you were headed into town for a show? Loews offers live music and comedy on stage in the Montrose Room.
With 556 luxury rooms, 60 suites and 53,000 sq. ft. of meeting space, the hotel is equipped for groups of all sizes. Onsite restaurant The Ashburn takes design cues from Chicago's first air field and culinary influences from the leading gastropubs. An outpost of The Capital Grille provides a deluxe experience for those craving a Chicago steak fix.
Hilton Chicago O'Hare Airport hotel takes the aeronautical theme and elevates it with its Runway View rooms. The only hotel on O'Hare Airport grounds also provides 37,000 sq. ft. of meeting and event space, with 42 conference rooms and a 3,500-square-foot ballroom.
? Dallas/Fort Worth International Airport
While fellow passengers trudge onto their taxis and rides, what could be better than a rooftop saltwater pool with runway views? Located inside Terminal D at Dallas Fort Worth International Airport (DFW), Grand Hyatt DFW has a high-end spa that provides exotic options like wine body wraps and chocolate facials. The hotel offers 34,000 sq. ft. of convenient meeting space by Grapevine Convention Center.
Catch the return flight with the Hyatt Fast Board program. It offers guests the chance to check in for flights directly from the lobby of the hotel.
? Los Angeles International Airport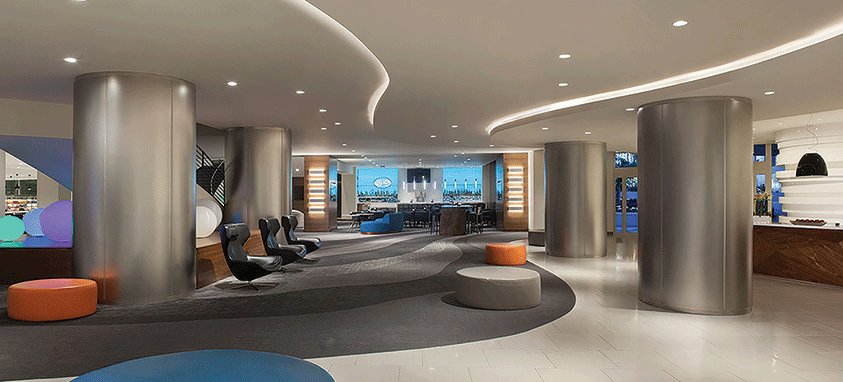 Los Angeles has always seemed like a natural for the airport hotel scene. The beach towns of Marina del Rey and Manhattan Beach—near Los Angeles International Airport (LAX)—beckon. The shops and restaurants of Venice's Abbot Kinney tempt. Precisely no one wants to drive on Interstate 405, at any hour of any day. Perhaps most vexing, there's always the nagging thought that there's an In-N-Out Burger right there, but who has the time when there are rides to catch and meetings to attend?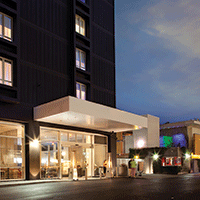 Custom Hotel removes the indecision caused by Los Angeles' vast spaces, allowing visitors to relax and enjoy the local neighborhood. The only boutique hotel near LAX features all the amenities one expects in La La Land: a pool with cabanas, fitness center and stylish retro bar in which to enjoy killer cocktails. The hotel includes multiple meeting spaces, from the pool area to the 12th-floor Stratosphere Executive Lounge, capable of hosting groups of 10 to 300. Perhaps best of all, that In-N-Out Burger is right around the corner.
For bigger groups seeking five-star accommodations, Hyatt Regency Los Angeles International Airport provides it, just a few short steps from Southwest's Terminal 1. The hotel contains 580 guest rooms and 23 suites, with 50,000 sq. ft. of meeting space. Unity LA and Open Market restaurants celebrate Los Angeles' ethnic neighborhoods with Asian and Latin dishes. A massive heated swimming pool is ringed by fire pits, perfect for those cool Tinsel Town nights.
Enjoy a night like the locals at Three Weavers Brewing Company in Inglewood or Front Page Jamaican Grille, the best Jamaican restaurant in town. Let others chase the party to the Valley or downtown. You stay in the 'hood and relax.
? Hartsfield-Jackson Atlanta International Airport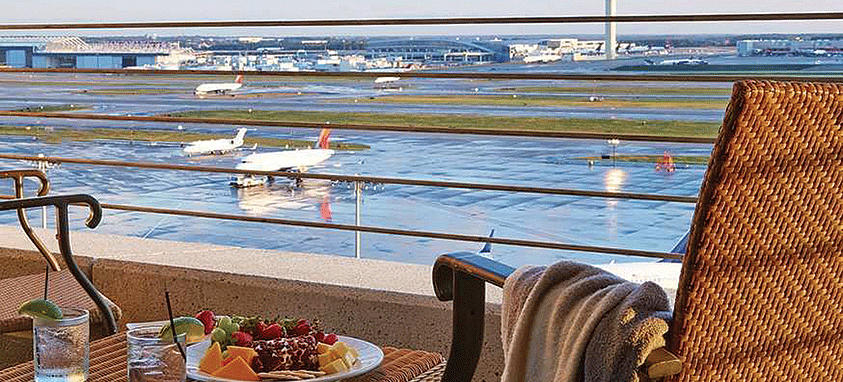 It's not that Renaissance Concourse Atlanta Airport Hotel is a new addition to Hartsfield-Jackson Atlanta International Airport (ATL), the world's busiest airport: It's been there in one form or another since 1992. But in the last six years (since Marriott took over management), the hotel has really—pardon the pun—taken off. The hotel is a plane spotter's delight, with six full floors on the airport side offering balcony viewing of the runways. The 387 soundproofed rooms provide peaceful rest, Concorde Grill provides sophisticated Southern cuisine and the revamped fitness facility allows for a modicum of wellness. The 34,149 sq. ft. of meeting space allocated across 35 rooms completes the picture for planners.
? Nashville International Airport
It's not actually an airport hotel, but Hotel Preston is just minutes away from Nashville International Airport (BNA). The hotel prides itself on creating "delightfully uncommon meeting spaces" for groups of up to 700 people.
The mantra extends to the pet-friendly hotel itself, which offers a delightfully uncommon array of activities for furry friends, and better yet, the chance to borrow a pet of your own. "At Hotel Preston we believe plotted, planned, cookie-cutter perfection is boring," says Kate Buska, director of communications. "Real memories are made when you embrace unexpected adventure—and sometimes that can be hidden in plain sight—maybe even right near the airport. We offer unique, fun amenities like the pet fish we deliver to our guests, our pillow menu and fantastic pet offerings."
The pillow menu is exactly what it sounds like, and it sounds divine. Guests are encouraged to order from a wide choice of fluffy miniature cushions on which to lay their weary heads.
The revamp underway will enhance current offerings, which include two places to eat and drink and, naturally in Nashville, live music. "The renovation we are working on is going to result in an uncommonly stylish airport hotel," Buska says. "Our rooms are light and bright, with clean lines and a modern aesthetic. Our aim is to give planners looking at Nashville a delightfully uncommon meeting option, conveniently located near BNA."
With that, airport hotels have officially progressed from drab to deluxe, to boutique, to hipster. So the next time you're in Nashville, don't call an Uber. Just call for your pet fish.
Creative International Airport Hotels
Airport hotels abroad have been quirky, interesting and useful for ages. Part of that stems from in-the-know travelers using them to expertly pivot into their new destination.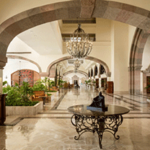 For hurried long weekenders wishing to maximize sun time, Marriott Puerto Vallarta Resort & Spa in Mexico is an underrated gem. Rather than ride-sharing to far-flung locales such as Sayulita or beyond, guests can walk to their hotel and be on the sand before tour buses leave the airport. Groups can take advantage of nearly 9,000 sq. ft. of indoor/outdoor meeting space across 13 different rooms.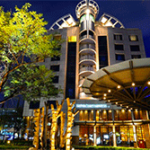 Hourly Japanese-style capsule hotels are expanding rapidly to places including London, Italy and Mumbai, but InterContinental O.R Tambo Airport in Johannesburg goes the other way. Walk from baggage claim to the front desk and check in to absolute luxury—for a few hours. Have a shower, take a nap, enjoy a great meal, then walk back to the airport for that connecting flight to Victoria Falls. You'll be glad you did.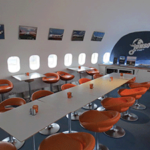 Head to Stockholm's Arlanda Airport for the most perfect airport hotel concept on the planet, Jumbostay Hotel, where travelers sleep inside an actual airplane. The retired Pan-Am Boeing 457 jumbo jet was transformed into a 33-room hotel, just 65 feet from the airport. The cockpit doubles as a luxury suite, and group buyouts are encouraged.
---
Natalie Compagno is an avid traveler who has written for HuffPost, TravelAge West, Yahoo Travel and more.