Wine has been produced for thousands of years and by many cultures—and yet the industry still comes down to one common element: the grape.
A 2003 report by archaeologists indicates a likelihood that grapes were mixed with rice to produce a fermented beverage in China in the early years of the seventh millennium B.C. The expansion of wine culture westward was likely thanks to Phoenicians, who spread outward from a base of city-states along the Lebanese and Israeli coast. The wines of Byblos were exported to Egypt during the third millennium B.C. and then throughout the Mediterranean.
Evidence includes two Phoenician shipwrecks from 750 B.C. discovered by Robert Ballard; its cargo of wine was still intact. As the first great traders in cherem (wine), the Phoenicians seem to have protected it from oxidation by using a layer of olive oil, followed by a seal of pinewood and resin, similar to retsina.
Today, wine grapes can be found growing on the sides of a volcano in Hawaii, in the frozen lands of Michigan, in valleys on Long Island, on mountains in Virginia, on rainy slopes in Oregon and in California from the Santa Barbara area to the lush Central Valley and world-renowned Napa/Sonoma Valleys.
While the making of wine has evolved over the centuries, more and more winemakers are turning back to the land and foregoing a lot of the chemical processes typically used to create the luscious red, white and pink beverages. Here are a few wineries that have made it their mission to take care of the land.
---
---
California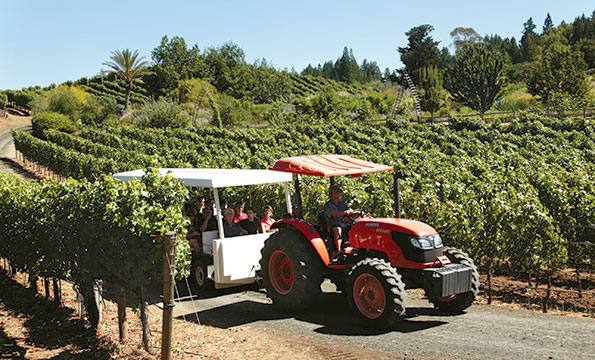 Benziger Family Winery in Glen Ellen, California, is a leader in biodiversity and green-growing certifications. The winery's third-party certified-sustainable vineyard program is one of the most comprehensive in the country. The winery is one of a handful of Demeter-Certified Biodynamic vineyards in North America.
Owner Mike Benziger decided it was time to go green in 1993. He convinced his siblings and other partners to take better stewardship of the land, heal it and save it for future generations. "We like to think our wines have character and conscience," he says. "This means that they're not only great in the glass; they're grown in a way that's good for the environment, too."
Every wine in the Benziger portfolio carries a third-party certification of green farming practices. Taking a tour of Benziger involves more than just gazing at vines in the brilliant Sonoma sun or the cool cave holding barrels of young wine. A tractor-tram tour takes visitors past winding paths of gardens, busy beehives, hundreds of olive trees and, of course, vines. An insectary helps keep the good bugs in and the bad bugs out.
"We actually don't have to fertilize a lot," says Carrie Duffield, purchasing manager for the winery. "We have sheep for weeding between the rows and putting out fertilizer.
"We were the first biodynamic vineyard in California. We have our own program, our partners…this is not a marketing thing. It is very important and it's best for all of us, the Earth and our children."
At a recent Unified Grape Wine Symposium in Sacramento, California, seminars not only touched on tastings, gatherings and other traditional topics, but also on wine trends. "The trend now is green," Duffield says. "The goal is for Sonoma wine growers to be 100 percent sustainable by 2019."
The Sonoma County Tourism Board website lists other wineries in the area that are focused on organic growing methods, in addition to meeting resources.
A visit to Benziger could end with an event in a cave or in a new event barn built for that purpose. The cave, a cool site in an area that can get very warm, can seat up to 130 guests. Chandeliers imported from Italy create a warm tone under dramatic, arched terra cotta walls. The cave is available for luncheons or dinners year-round.
The winery's terrace, surrounded by native landscaping, seats 250 under the shade of a giant oak tree. The barn seats groups of 20 to 100 and boasts solid birch floors, air conditioning, heating and specialty lighting. Educational and group activities, such as blind tastings and blending classes, are conducted there.
For team building, the classes at Benziger offer tasty benefits.The Tour, Blend & Taste experience begins with a biodynamic tour of the property. Guests are then split into their own winemaking teams, taking the idea from conception to glass. The experience is for 10 or more guests and lasts approximately 2 1/2 hours.
After an afternoon tasting wines in Sonoma, a stay at the Tuscan-inspired Meritage Resort and Spa in Napa Valley can get you in the right frame of mind for visiting nearby wineries the next day. The resort offers its own wine-tasting events and has some of the biggest meeting spaces in the valley, including a wine cave that can accommodate up to 200.
For a team-building experience in Napa, visit V. Sattui Winery, founded in 1885, which produces more than 60 highly rated wines. With extraordinary event spaces both indoors and out for groups ranging from 10 to 250, team building could take the form of hands-on wine tasting, tours or learning to pair cheese and V. Sattui's house-cured salumi with wine, ending with a picnic on the winery lawn.
Centrally located in the newly revitalized "West End" neighborhood, Andaz Napa provides an excellent downtown Napa location to explore and discover what the region has to offer. Andaz Napa, with 141 guest rooms, is just minutes from restaurants, galleries, shopping and 15 local tasting rooms.
In Central California, the Santa Ynez Valley is a flourishing wine spot. In an effort to promote wine tasting in that region, Hotel Corque in Solvang offers a midweek Exclusive Wine Lovers Tour that takes guests to various wineries, accompanied by an entry-level sommelier-qualified tour host.
Eugene, Oregon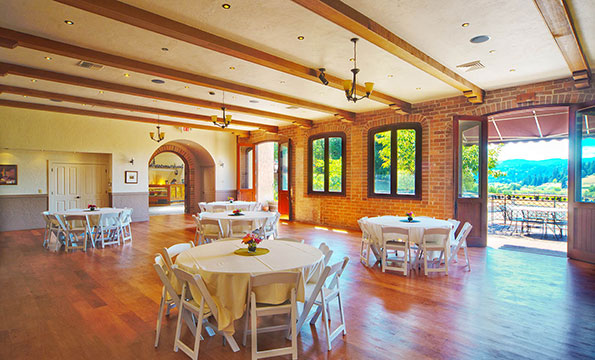 Silvan Ridge Winery, located outside of Eugene, Oregon, celebrated its 35th year in operation in 2014, and methods have changed during that time.
The winery produces two wines that are LIVE (Low Impact Viticulture and Enology), which refers to the practice of reducing the amount of raw materials (such as pesticides, fertilizer, water, chemicals, fuel, etc.) used in vineyard and winery production. They manage their vineyard organically, although they are not certified organic.
"We're a small vineyard; we only have five acres," says Angele Jaquette, direct sales manager. "For us, it is too expensive to be certified organic. We also contract with other vineyards to buy their grapes. We work with a LIVE certified grower in Grants Pass—we produce a malbec from that vineyard."
Jaquette says the vineyard has put conscious effort into green practices. "We've been doing it organically for about eight years and our vineyard has never been as good as it is now," she says. "We use a sort of compost tea on our vines; there are a lot of different things you can apply. We have found that going really simple has helped the vineyard."
The winery is in a part of Eugene that is prone to frosts, and sometimes "there is not a high yield, but we still manage high quality," Jacquette says.
Since the vineyard can be toured fairly quickly, groups can find some enjoyment in cozying up to the tasting bar.
"We just redid our event space, and it now has some great views of the mountains and vineyard," Jacquette says. The room, with about 1,800 sq. ft. of flexible space, can hold up to about 100 and has a big wall of windows and doors that open up to a patio on nice afternoons or evenings.
Northport, Michigan
Good Neighbor Organic Vineyard and Winery in Northport, Michigan, is the region's only certified organic winery. The business has been selling certified organic products since 2001 and producing organic wines since 2007. The winery offers four hand-crafted hard ciders and five estate wines.
Good Neighbor winemakers say the organic growers' objective is balance. They build and maintain the soil and biodiversity in a natural manner, contending that anything sprayed onto any crop will eventually end up in our bodies either directly or through the aquifer. They maintain the more natural the product, the less it will impact the environment.
What today is considered conventional farming rose with the creation of manmade products needed to increase yields to feed the world. What our forefathers did in the 1700s would today be called "organic" or "biodynamic."
Good Neighbor has found success with gewurztraminer, an aromatic grape variety that performs best in cooler climates. The winery also bottles a riesling, a white grape variety. Riesling wines are "terroir-expressive," meaning their character is clearly influenced by their place of origin.
Long Island, New York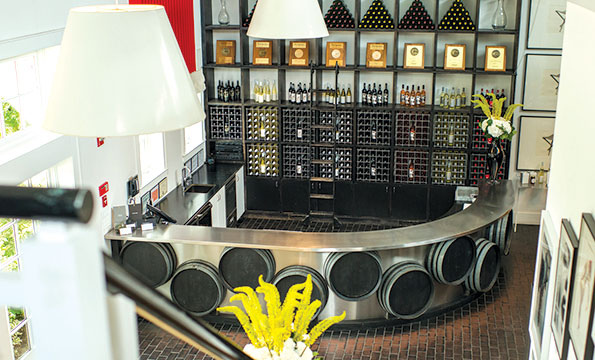 This region is producing a rising tide of excellent wines. The Long Island Convention and Visitors Bureau is a great source for wineries to visit.
Kip and Susan Bedell planted their first vines in Cutchogue, New York, in 1980, with Wine Spectator magazine eventually naming Kip Bedell "Mr. Merlot." The couple sold their winery in 2000 to Michael Lynne, who co-founded New Line Cinema.
Lynne continued the sustainability of the vineyard at Bedell Cellars, a tradition winemaker Richard Olsen-Harbich maintains. He is the only winemaker in eastern North America to use indigenous yeasts. He also helped found Long Island Sustainable Winegrowing, the first third-party certification program for vineyard sustainability on the East Coast.
Bedell Cellars is committed to sustainable farming. They have created hand-crafted wines in small batches for 34 years using methods that define the regional style—artistically blending grapes grown in its unique maritime terroir. The wines have achieved critical acclaim and were served at the 2013 U.S. presidential inauguration.
Bedell offers a warm tasting room, a covered terrace that can seat 200 and an event lawn.
Albemarle County, Virginia
Loving Cup Winery & Vineyard in North Garden, near Virginia's Blue Ridge Mountains, is one of a few certified organic wineries on the East Coast.
"Because we grow our grapes organically, we chose grape varieties that are fairly resistant to diseases [mildews, rots, etc.]," says winemaker/owner Karl Hambsch, adding that most of the world's fine wines are made from Vitis vinifera grapes, which include chardonnay, cabernet sauvignon and merlot. "These grapes are extremely susceptible to diseases, so we don't grow them."
He says the grapes he grows are hybrids—the pollen of one variety crossed with the flower of a second to create a third variety of grape. Hybrids have been produced by viticulturists at universities since the 1800s.
Hambsch's grapes are fairly new, and research has focused on overcoming the weaknesses of vinifera grapes, such as vulnerability to diseases and poor weather.
"We've been certified organic since 2012," Hambsch says. He earned his certificate after three years of demonstrating strict adherence to federal guidelines governing organic farming. The certification is renewed annually by the same process.
In some cases, wineries along the East Coast required chemicals to sustain their grapes
during frigid winters, but for Hambsch, that is not the case. "I'd like it to be colder," he says. "We're in that area of Virginia where we are prone to Pierce's Disease; single digit temperatures keep that away.
"Quality is what we are all chasing here. We decided before we even planted that we would grow all hybrids. The varieties we grow do a good job of fighting disease off on their own. The black rot matrix is the chink in the armor for organic growing. The variety has to do the heavy lifting of fighting it on its own. Summer rain and high humidity help."
After a busy day of wine tasting in Virginia, a small group making Loving Cup its last stop can end the day with a tour of the wine cellar, a quick lesson in pressing wine, and a delicious tasting.
From Sonoma to Long Island, more winemakers are taking care of the land, preserving it for wine- makers and drinkers for future generations.
---
Biodynamics
Biodynamics, the highest level of organic farming, was developed in the 1920s and views the vineyard as a single organism. With this approach, eliminating synthetic chemicals is just the beginning. Biodynamics goes further, encouraging biodiversity, a closed nutrient system, the use of homeopathic teas and a close personal connection to the land.
Benziger Family Winery in Glen Ellen, California (pictured), began using biodynamics at its home ranch on Sonoma Mountain in the mid-'90s. The winery uses its experiences and insight to mentor its own network of growers and anyone else interested in biodynamic farming.
Instead of bagged fertilizer, weed killer and pesticides, biodynamic growing relies on composting, natural predator-prey relationships, cover crops and animals that live on the land, to keep the vineyard healthy and balanced.
Organic grape growing avoids the use of synthetic chemicals and uses natural methods such as crop rotation, tillage and natural composts to maintain soil health, as well as natural methods to control weeds, insects and other pests. Many growers move from certified sustainable to certified organic as they see the effects in their vineyards, including the caliber of grapes they grow.
---
Battling Disease
Pierce's Disease is a plant pathogen that causes a gel-like substance to form in the xylem tissue of the vine, preventing water from being drawn through it. Leaves on vines with Pierce's Disease will turn yellow and brown, and eventually drop off the vine. The vines will usually die within five years.
Since 1998, California has mobilized $65.2 million in assistance in a statewide management program to research and combat the glassy-winged sharpshooter and the deadly Pierce's Disease it carries that threatens the state's $51 billion wine, table and raisin grape industry, and a host of other agricultural commodities.
California winegrowers have dealt with Pierce's Disease for more than a century. It decimated vineyards in the Los Angeles Basin in the 1880s, and again in the 1930s and 1940s. The glassy-winged sharpshooter has spread in Southern California and has already impacted 25 percent of Temecula Valley's 3,000 vineyard acres in Riverside County, resulting in an estimated $13 million in damage in that county alone.
Accidentally introduced in 1989 through nursery stock imported from the southern United States, the glassy-winged sharpshooter has spread Pierce's Disease with astonishing speed. It is voracious, an aggressive flyer, and feeds and breeds on at least 133 host plants.