Coachella Valley Music and Arts Festival, Indio (photo by (c) Goldenvoice)
Palm Springs' collaborative efforts boost events and meetings
Each January, a desert city with less than 50,000 residents almost bursts with excitement as some of the hottest and most talented stars in the film industry arrive for a magnificent awards gala.
This year, the Palm Springs International Film Festival Awards Gala included Tom Hanks, Nicole Kidman, Annette Bening, Janelle Monae, Ben Kingsley, Linda Linney, Pharrell Williams and Casey Affleck, among others. Held at Palm Springs Convention Center, it also attracted some 2,500 attendees, and the film festival, which ran Jan. 5–16, drew more than 150,000 people.
The film festival has become a major cultural event, realizing the vision of the late Sonny Bono, who as mayor of the city from 1988 to 1992 hoped that it would improve the city's attractiveness as a year-round travel destination.
Like so many other things in Palm Springs, the film festival is a collaborative effort involving many people in the community. It raised approximately $2.5 million this year for the Palm Springs International Film Society, which funds several film festivals throughout the year, and substantive educational and research programs.
And the festival's success is largely due to the contagious energy and joy that community members display at every turn.
"Palm Springs is the most collaborative destination that I have worked in over my career," says James Canfield of Palm Springs Convention Center & Bureau of Tourism. "Many of us in the industry, including hotel and restaurant owners; GMs, retailers, the city, our convention center; and tourism marketing and CVB officials meet every Wednesday for breakfast and are able to have real-time communication on issues and opportunities.
"There is a true commitment to the destination and the concept that the best way to succeed is by working together. A rising tide lifts all boats!"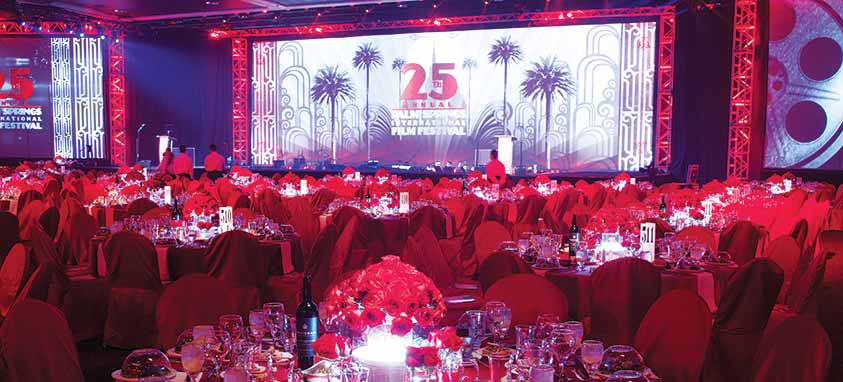 Palm Springs International Film Festival Awards Gala (photo by VisitPalmSprings.com)
A World-Class Events Destination
This unflagging team spirit makes Palm Springs an especially attractive meetings and events destination. Alluring features include warm weather, a scenic setting with mountain ranges on three sides and a host of enjoyable outdoor activities, including biking, golf, hiking, horseback riding, swimming and tennis.
"Also, our downtown has experienced a renaissance, with many new restaurants and retailers opening and expanding, as well as the creation of our uptown design district, which includes dozens of new retailers and restaurants," Canfield says. "Our new downtown development project, encompassing two hotels and mixed-use dining, retail, entertainment and residential components is opening in phases, with the first retailers already online and more to follow in the spring."
The city is the proud host of several prominent art, music and film festivals—and the famous Coachella Valley Music and Arts Festival is held in nearby Indio at Empire Polo Club each April.
Palm Springs is also a world-class meetings destination, featuring facilities including an 180,000-square-foot convention center with 410 guest rooms in the adjacent Renaissance Palm Springs Hotel. An additional 1,000 guest rooms are located within steps of the center.
"Planners can count on a citywide customer-service focus," Canfield says. "Our groups are the most important thing to us while they're here, and it shows. We can even offer one-stop contracting for all of the hotels. We like to say that when you bring your convention to Palm Springs, you don't just get a convention center, but an entire city."
The main venue used by large meeting groups is the convention center, which has increased its room night production from events by more than 50 percent since 2010.
"Our primary focus is on attracting meeting and convention groups that will generate room nights in the city," says Canfield, who was on the team that opened the center in 1987. "We are constantly upgrading the facilities to maintain our competitive advantage."
Most recently, the center's technology infrastructure was upgraded to include a 10-gig wireless network with high-density capabilities throughout the facilities to accommodate the largest, most data-intensive groups.
Exciting New Properties
During the past six years, Palm Springs has grown and improved dramatically as a meetings destination. More than $200 million has been invested in the hospitality industry, with all major hotels undergoing renovations. Several new hotels have opened, and people already are buzzing about two properties under construction—Andaz Palm Springs and Kimpton Rowan Palm Springs Hotel.
Kimpton Rowan Palm Springs Hotel is scheduled to open in late spring 2017, and includes 160 guest rooms and 5,000 sq. ft. of meeting space. It will be within a short walk of the convention center.
"The Kimpton is part of our new downtown development project," Canfield says. "It will be topped by a rooftop-level pool bar that will have some of the best views of Palm Springs."
Another downtown property, Andaz Palm Springs—a luxury lifestyle hotel with 150 guest rooms and 13 suites—will be located downtown, adjacent to the vibrant Uptown Design District. It will consist of a collection of small buildings and guest room bungalows surrounding two outdoor pools and garden areas.
Situated on an elevated patio terrace, the lodging units will offer panoramic views of the majestic San Jacinto Mountains and city. The property, which is slated to open in mid-2018, will provide 5,000 sq. ft. of outdoor meeting space and 2,300 sq. ft. of indoor space.
Another hotel with 150 guest rooms is being planned adjacent to the convention center. Ground-breaking is scheduled for mid-2017.
"We're very excited about the new hotels coming online," Canfield says.