Planners of medical and pharmaceutical meetings are getting significant help from hosts
There is probably no other niche in the meetings and exhibitions industry as complicated as medical and pharmaceutical. Not only do these meetings have all the challenges of other types of educational and networking programs, but the U.S. Open Payments legislation and the European Federation of Pharmaceutical Industries and Associations Code require planners to exercise discretion, track spending and report properly.
If that wasn't enough, there's also rapid change in the health-care industry worldwide, and the evolving needs and desires of professionals in the industry's ranks. For instance, a 2016 white paper commissioned by medical/pharma events firm Ashfield Meetings & Events, using survey results from nearly 240 physicians in 11 countries, found that doctors wanted to spend only two days at an educational conference. Not only does that preference for shorter meetings put pressure on event planners as they coordinate learning sessions, but it also affects their dealings with exhibitors who seek maximum attendee interaction and ROI from the events in which they participate.
"I have seen a big push by medical planners in the past two years to try to take events to cities where suppliers understand our specific issues in detail."
–Pat Schaumann, Maritz Travel
The good news for medical/pharma planners is that meetings-industry suppliers are making a concerted effort to better understand their specific challenges. In fact, the Healthcare Meeting Compliance Certificate (HMCC) program offered by Meeting Professionals International now sees about 20 percent of program participants coming from hotels, convention bureaus and other supplier organizations, according to program creator Pat Schaumann, senior director of health-care compliance for Maritz Travel.
"I have seen a big push by medical planners in the past two years to try to take events to cities where suppliers understand our specific issues in detail," she says. "We want to use hotels, venues and bureaus that know not just the potential violations and other complications associated with compliance, but also unique terminology related to our work.
"The fact that the HMCC program has been condensed to four hours and is offered not only through MPI, but also at IMEX America and Pharma Forum, means that suppliers who want medical-meetings business have plenty of learning opportunities."
Convention bureaus, in particular, understand the influence the health-care event certificate can have. "It is becoming more important to some medical planners that our people have their HMCC versus having their CMP designation," says Harriet Porter, vice president of convention services for Visit Anaheim.
Connecting with Local Assets for a Stronger Event
Another area where convention bureaus seeking medical/pharma meetings have developed greater aptitude is in their role as liaison between event planner and their region's medical community.
For instance, Philadelphia Convention & Visitors Bureau has a division called PHL Life Sciences that connects corporate and association leaders in life sciences from Pennsylvania, New Jersey and Delaware to the medical/pharma events that have confirmed or are considering Philadelphia as their host. This accomplishes two things.
"It shows planners that we are plugged into the seven medical schools, 22 nursing schools, dozens of colleges and research institutions, and the hospital systems and life sciences corporations in our area," says Bonnie Grant, executive director of PHL Life Sciences. "All of these can be deep sources of knowledge for the event's educational program."
Grant says those relationships also help the organization to drive awareness of the upcoming event and maximize attendance. This is important not only to planners, but also to medical-event exhibitors.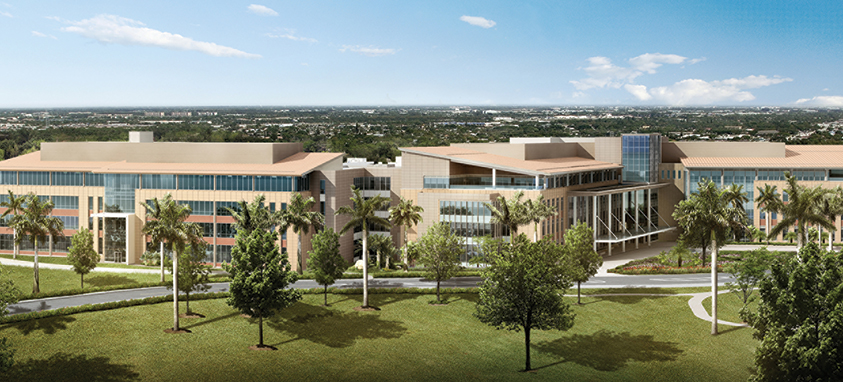 Miami Cancer Institute
In Miami, expansions of medical institutions have given the convention bureau opportunities to draw interest from a wider variety of medical/pharma groups. Sonia Fong, associate vice president of convention sales for Greater Miami Convention & Visitors Bureau, says the January 2017 opening of Miami Cancer Institute brought immediate interest even from groups not exclusively focused on cancer, such as the American Academy of Otolaryngology (ear, nose and throat surgeons).
Further, the Society of Brain Mapping & Therapeutics recently partnered with the College of Nursing and Health Sciences at Florida International University to create educational sessions for its conference; at the start of that event-planning process, Fong facilitated introductions between the leaders of the two entities.
"We consider our local medical institutions as essential partners in our work, and constantly maintain those relationships to benefit meetings," she says.
Clearly, nearby treatment and research facilities can change the game in destinations looking to host more medical/pharma meetings business. A prominent example is Huntington Convention Center of Cleveland, which adjoins the new $465 million Global Center for Health Innovation and has renowned Cleveland Clinic in its back yard.
Similarly, Cleveland Clinic Florida in Weston is a boon to Greater Fort Lauderdale Convention & Visitors Bureau. And Cleveland Clinic Lou Ruvo Center for Brain Health, in Las Vegas, a leader in research for Alzheimer's and Parkinson's diseases, has sparked medical/pharma meeting interest at stalwarts on The Strip such as Caesars Palace Las Vegas Hotel & Casino (where the Palace Tower is currently being completely redesigned) and off-The-Strip properties such as Green Valley Ranch Resort and Spa and Red Rock Casino Resort and Spa.
Historic Norfolk, Virginia, also is an excellent option for medical and pharmaceutical meetings. It features Sentara Norfolk General Hospital, a destination medical center in the Mid-Atlantic region. The city's downtown area boasts 1,200 guest rooms and 222,934 sq. ft. of meeting space, according to Norfolk Convention & Visitors Bureau.
New medical technology is also a driver. With robotics becoming central to medicine, the cutting-edge Nicholson Center for clinical and surgical training in Orlando has been accepting more tours from groups that are part of a larger meeting in town, according to Fred Shea, senior vice president of sales and services for Visit Orlando.
Delivering Attendee Value Through Experience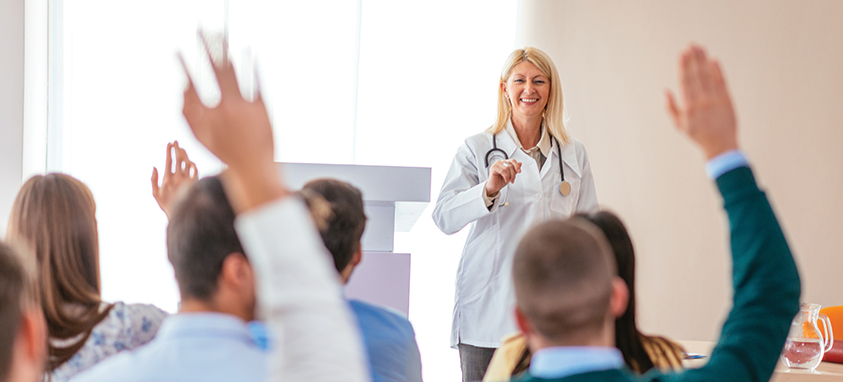 Compliance expert Schaumann sees a somewhat unbalanced focus in the medical/pharma meetings niche that must be corrected to keep in-person events desirable to health-care professionals (HCPs), whether they be physicians, nurses, researchers or corporate representatives.
She says that ever since the Open Payments program—which requires disclosure of gifts, payments and investments from device manufacturers and drug companies to medical providers—went into effect in mid-2013, it has seemed as if the declaration was made that there shall be no more fun at medical meetings.
The focus has been so much on compliance, she laments, that these events aren't what they used to be for HCPs—and that's a reason why physicians say they don't want to be away from their practices as long.
Fortunately, some host destinations are seeing a change in approach by medical/pharma planners, and so they are eager to assist planners not just with local medical-education connections but also with marketing how much fun the city can be.
"The atmosphere in the medical niche seems a bit less restrictive lately," Fong says. "Not long ago, they were unwilling to even have the word 'resort' in the name of the host property, and any element that was beyond a straight business purpose was kept quiet. But now we're actively assisting planners in promoting what might be of interest to attendees after show hours or on a pre- or post-event day."
As long as these offerings—related to food, culture, nature and other leisure elements—are not exclusively for conference attendees, there's no issue related to compliance. This is true even if a discount is involved, as in the case of a "restaurant month" or "spa month," which often take place in Miami and other cities.
"[The medical/pharma planners increasingly] want us to develop micro sites their attendees can click through from the event site to see the restaurant and other leisure options that are nearby," Shea says. "We'll also create blog content and post images, and use testimonials from other meeting groups."
His team is helping more exhibitors find the right venue for after-hours events held away from the convention center. In Anaheim, the convention bureau (Visit Anaheim) not only develops destination-focused content for ads used by an association to promote a conference, but it also sometimes agrees to buy its own ads in publications and other media the association thinks will help drive attendance.
"The atmosphere in the medical niche has seemed a bit less restrictive lately. … Now we're actively assisting planners in promoting what might be of interest to attendees after show hours or on a pre- or post-event day."
–Sonia Fong, Greater Miami Convention & Visitors Bureau
Other factors that improve the attendee experience and increase value are connected to an event's educational and networking components. In the 2016 medical-meetings research commissioned by Ashfield Meetings & Events, nearly 75 percent of physician respondents said they want greater input regarding a meeting's program, while 36 percent said they've never even been asked for such input.
"We have to pay attention to what HCPs say they want from the learning experience," Schaumann says. "If they're saying [they want] more interaction with session presenters and other attendees ahead of time, then we need to create online chat forums and surveys to facilitate that."
Anaheim's Porter says, "Even the older generation of HCPs is tired of being 'talked at' during events—they want to hear from each other. And they want to be polled on issues ahead of the event and during conference sessions."
But while this realization—combined with the growing sophistication of exhibitor presentations on the show floor—requires an ever-larger technological foundation for medical/pharma events, some low-tech possibilities can also help achieve the interaction HCPs want.
"I go to a good number of medical shows with poster sessions being presented by younger people, and that is quite effective at getting HCPs to gather around and ask questions of the presenter and each other," Porter says. "That's why the low-tech elements won't go away completely. And think about this: You don't have to be reliant on a speedy Wi-Fi connection to do them."
Schaumann notes that with exhibitors always clamoring for greater ROI from their event presence, it's more common for food-and-beverage stations to be set up on the show floor; in turn, exhibitors can set up in the conference wing's refreshment areas to interact with attendees.
"If a group is not going to do off-site social events, the social experience for attendees has to be within the framework of the event itself," she says. "This is one way to create that experience,"
Another tactic can enhance the social experience. More spaces can be set up as pods with soft furniture to promote informal, small-group interaction, and with extra power outlets so attendees can recharge mobile devices as they chat.
"Medical events often require a lot of breakout rooms," Porter says. "We recently expanded our center to accommodate that need, and health-care planners want more of those rooms set up in lounge style."
Schaumann ran a session on the future of health-care meetings at Meeting Professionals International's World Education Conference in Las Vegas in June.
"[But] there really is no way to predict the future in this area beyond trying to extrapolate on present trends—regulations or technology or some other element could be completely different in this niche a year from now," she says. With more than 1 million health-care-related meetings taking place worldwide in 2017, however, she says, "No destination or hotel should turn up their noses to learning whatever they have to in order to attract health-care meetings. It's really big business."
---
Recent Hotel Trend Benefits Medical/Pharma Meetings
A recent development ripe for use in marketing strategy for medical/pharma events is the boom in limited-service hotel rooms nationwide.
"My experience with scientists involved in the event-planning process is that they look for low room rates, because they're thinking of the researchers who are traveling on stipends," says Bonnie Grant, executive director of PHL Life Sciences in Philadelphia. "They try to get a variety of price points in the room block, and now that's easier for us to do."
Harriet Porter, vice president of convention services for Visit Anaheim, says exhibitors also like limited-service properties. "They often share the room with a colleague, and some like having a kitchenette—they want to relax after the show hours, but they also don't want to spend on room service," she says.
Fred Shea, senior vice president of sales and services for Visit Orlando. says, "Planners are definitely asking for more midscale hotel inventory in their room blocks. Some of the corporate groups will go to the Four Seasons and similar properties, but many other groups need a mix of accommodations." In cities that are very leisure-oriented, such as Anaheim and Orlando, many limited-service hotels are in the convention district, so shuttle service for those properties fits into the typical routes.
"And you won't see compression pricing for late-booking attendees, either," Shea says. Actually, in Anaheim—where four limited-service properties opened recently within the convention-center campus—the ability to walk to the center, combined with the generally pleasant weather year-round, is a strong draw for many groups, according to Porter.
Attendees also like the trend toward value-priced, casual food outlets. "We have Reading Terminal Market next to the convention center, offering lots of options at reasonable prices," Grant says. "The medical associations love that their attendees can continue networking as they walk to and from lunch, and that they have choices. It can also take a meal event off a planner's to-do list."
---
Rob Carey is a business journalist and principal of Meetings & Hospitality Insight, a content marketing firm for the group-business market.