At Dodger Stadium, Planning Opening Day Covers all the Bases—including Fan Safety
It was a balmy winter afternoon when Janet Marie Smith, senior vice president for planning and development for the Los Angeles Dodgers, looked out over the 58-year-old stadium and smiled. "Rain. If we don't have rain, we're good," she said.
The emerald field looked in perfect shape. The 56,000 seats looked ready to be filled. But the stands behind the outfield were crawling with workers in hardhats. This was Smith's baby. She was in charge of a $100 million renovation that promised to bring venerable Dodger Stadium completely into the 21st century of professional baseball.
Her day of reckoning, rain or shine, was only a month away. Or so she thought.
That day on her calendar circled in Dodger blue was one every planner can relate to. For all 30 teams of Major League Baseball, in fact, Mar. 26 was supposed to be the day that had been check-listed and strategized over for five months, since the final out of last year's World Series. Opening Day of a new season is the Super Bowl of baseball. In one afternoon, pomp and ceremony and 151 years of baseball tradition take center stage—and nothing can be left to chance.
No one knows what will happen on the field after the umpire yells, "Play ball!" But everything that happens in the stadiums, as well as all the events that lead up to the first pitch, has been plotted to the last detail. That's why baseball's Opening Day is a fascinating case study in how big events are planned—and how the best-laid plans may go awry.
A Storied Rivalry
Of all the major rivalries in baseball, none surpasses that of the Los Angeles Dodgers and San Francisco Giants. It traces back to when both teams were still based in neighboring boroughs of New York City. This year's Opening Day schedule was to pit these two heritage teams at Dodger Stadium in L.A.'s Chavez Ravine, just north of downtown. Opened in 1962, it's the third-oldest ballpark in the majors—and it's the world's largest.
Nothing to worry about except rain, right? What about security? For the first time, a new threat to fan safety loomed. Throughout baseball as Opening Day approached, COVID-19 was near the top of the worry list. Concern encompassed player safety, too, because many millions of dollars in payroll roamed each dugout and ballfield.
By mid-March, the global threat of novel coronavirus had already forced major changes to a host of sporting events—suspension of all NBA and NHL games, for example, and outright cancellation of NCAA's March Madness tournament. It wasn't just in the United States. In France, the government banned all indoor gatherings of more than 5,000 attendees. In Japan, the Tokyo Marathon, which usually draws 30,000 runners, was restricted to the 200 top contenders and fans were kept at a distance; and at Tokyo Dome, a 55,000-seat baseball stadium, professional games were played to an eerily empty house.
On Mar. 12, Major League Baseball announced that remaining spring training games would be cancelled and Opening Day would be postponed for "at least" two weeks. As you read this, you probably know if Opening Day around the nation was eventually played to the usual full houses, rousing national anthems and celebrities throwing out the ceremonial first pitch. Or, to stadiums where fans stayed away or were kept away.
Whatever happened, security and safety at America's stadiums were seldom more in the forefront.
Analytics of Stadium Security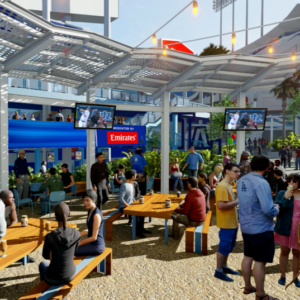 Baseball is a sport steeped in history and nostalgia, and those old enough to remember when the Dodgers and Giants played in New York also remember when confronting security meant trying to sneak past the ushers into the pricier seats. Yet, Major League Baseball has never had a live shooter incident or suffered a terrorist attack—unlike soccer, for instance. When terrorists infiltrated Stade de France near Paris in 2015, four spectators were killed during a match between the French national soccer team and Germany.
Nonetheless, the national pastime has not been without serious fan-safety issues, even at Dodger Stadium. On Opening Day in 2011, a San Francisco Giants fan was brutally beaten by a pair of Dodgers fans after the game. The victim was left permanently disabled from brain damage. The Dodger fans at fault were sentenced to prison terms.
As a result of that incident, security at Dodger Stadium was tightened. And in 2015, walk-through metal detectors were added at entry gates. MLB procedures also allow hand-held magnetometers.
Like concert venues and other places where thousands of people gather, MLB guidelines prohibit numerous items, including backpacks and large bags, weapons (regardless of permit), umbrellas, baseball bats, brooms, poles and sticks.
On Deck for Opening Day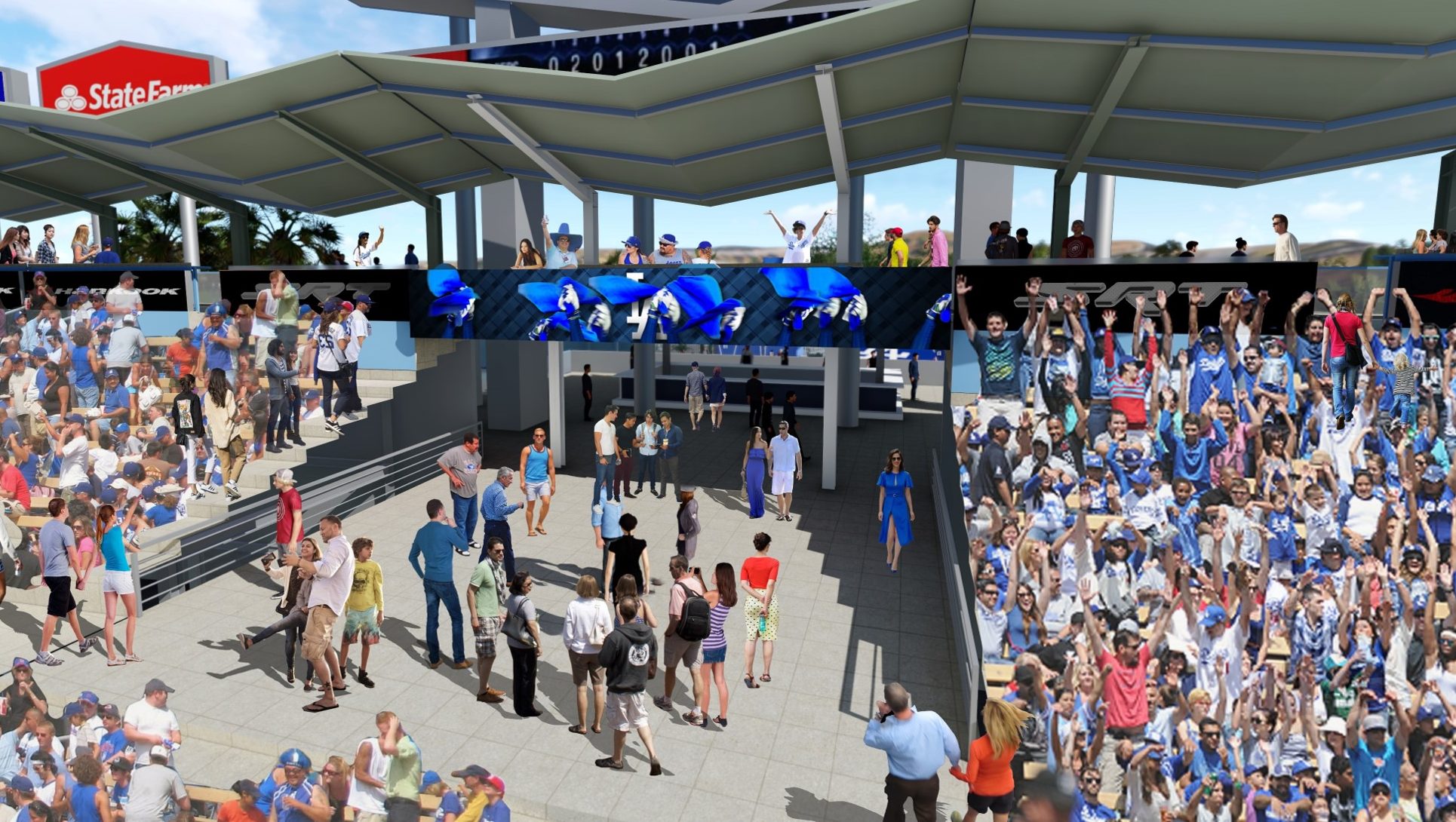 "It'll be my 13th Opening Day with the Dodgers, and it's always fascinating to me that when the final out of the season is recorded, you get a lot of text messages, even from people in sports, saying, 'I hope you enjoy the off-season,'" says Erik Braverman, senior vice president for marketing, communications and broadcasting for the Dodgers. "But that's when the work kicks into high gear for us. Literally, from the moment last season ended, we were already in meetings talking about 2020—from the flyover with the Air Force to the big flag in the pregame, to musical performances, to who throws out the first pitch and who sings the national anthem."
In a nod to this year's All-Star Game at Dodger Stadium, a new team slogan—"It's an L.A. thing"—and a fresh logo design with accents of gold and subtle stars were created for the new season's opening. Braverman and his staff intend to make it omnipresent inside the stadium and everywhere the team markets in the City of Angels and beyond.
Braverman says an Opening Day team of about 20 Dodger front-office personnel is involved in the creative and strategy planning. "It's almost like a symphony, where everybody plays their part and understands what they have to do," he says. During the weeks leading up to the game, social gatherings involving VIPs and the team's marketing partners typically fill the stadium's meeting and event spaces. Ticket requests get handled for the families of players, coaches and umpires. Media credentials are issued to the many journalists who won't ask to be back again until the All-Star Game.
"The fans, they have no idea," Braverman says. He compares the process to being an umpire, whose bad days are when fans remember a blown call and good days are when they're hardly noticed. "You just want fans to enjoy the game," he says.
Of course, the new wrinkle in planning for this year was the renovation. As Opening Day approached, more than 100 workers on two 10-hour shifts labored seven days a week to complete the project, which creates a new "front door" to Dodger Stadium, with 2 acres of food and entertainment offerings in the Centerfield Plaza and renovated pavilions as well as other spaces created in recognition of the reality that many of today's fans no longer want to sit in their purchased seats and pencil in a scorecard; instead, they want to experience the ballpark from different vantage points throughout the game.
"We're watching the game differently," is how the Dodgers' Smith puts it.
Among other improvements are a new Centerfield Bar with a viewing deck, shaded areas where fans can watch the game while enjoying food and beverages, "home run seats" with barstool-type seating and drink rails, and two indoor bars, open to all fans that have eye-level views to the relief-pitching bullpens. To improve fan flow, five new elevators and four escalators ring the stadium, and new bridges link pavilions to the main seating areas. Smith points out that many of the new spaces will be available for corporate events.
A Stadium Safety Expert Calls the Game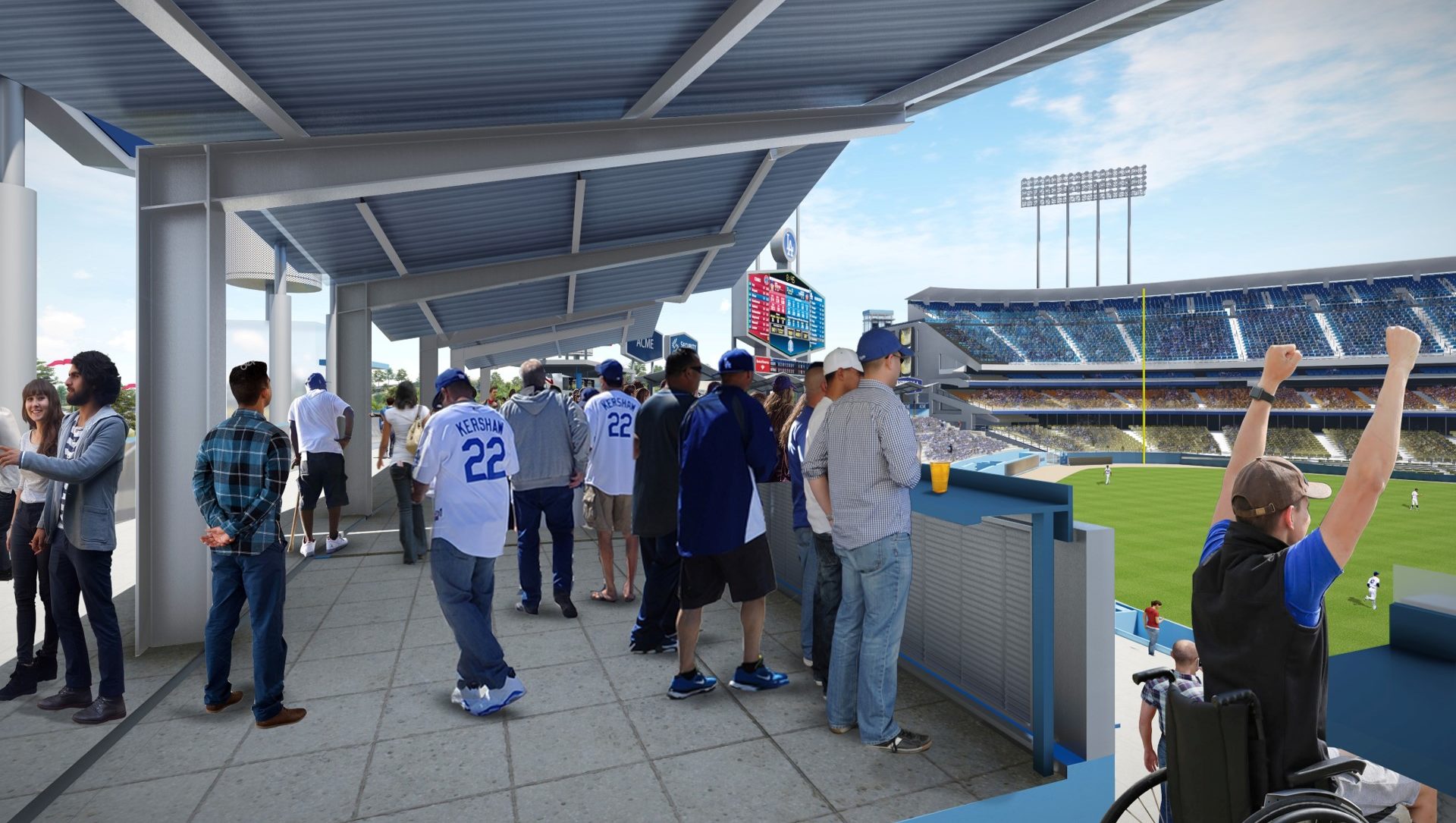 National Center for Spectator Sports Safety and Security (NCS4), located at The University of Southern Mississippi, calls itself "the world's leading academic research institution in addressing sports safety and security risks and threats." It is partially funded by grants from Department of Homeland Security. In addition to operating National Sport Security Laboratory, a fully outfitted research, training and operation center, NCS4 hosts forums around the country that address safety and security for marathons, intercollegiate athletics, professional sports and entertainment.
We put Lou Marciani, founder and director of NCS4, in our Opening Day "broadcast booth."
In terms of stadium safety and security, what keeps you up at night?
I'm thinking all the time, what's the next thing? It's probably explosives, which do the most damage in a short period of time. But I'm not sure it's going to be inside a stadium. We're looking at the convergence of entertainment and sports, whether it's a parade that's connected to a sporting event, or an esports situation, I look at all of that. It could be at a restaurant near the stadium. We just don't know.
How do you prepare for whatever might be coming?
We've come a long way since 9/11, and all of us in this industry have worked very hard to become more sophisticated in training and readiness. We look at all hazards. It could be a fight. A knifing. Whatever. It could be weather, evacuating a stadium or concert.
How does technology help?
Accumulating data thru smart video can be a big part of this, certainly. The two key words are "situational awareness." The more we know, the more we can respond effectively.
What do you advise stadium security personnel—and, for that matter, planners of big events in stadiums, concerts halls or other major venues?
When you are planning, you must do a risk analysis. Then you have to share it with the stakeholders involved, including local, state and federal authorities, as appropriate. Then put resources in place and train people to do what's needed. To validate the procedures and protocols, do a test, a simulation, and then tighten up the plan based on the gaps identified.
What else? Are there other ways to enhance the chance of preventing an incident or lessening its impact?
An important change that's taking place in this industry is giving attendees the opportunity to text stadium and arena command centers and say what they see. We're seeing a great response where this is being done. It alerts the command center, and then they immediately send out a message to the area supervisor. It could be a threat like a fight or worse, but it could also be a heart attack, a stroke, anything. So, it could save someone's life. I would advise planners to consider this option, as well.
Tech at Bat
One of the upgrades at Dodger Stadium that fans will be largely unaware of is new surveillance cameras. Although the organization is officially silent on the subject except to say that "security is a paramount priority," Smith confirmed that they were among the improvements being implemented. Somewhere in the bowels of the stadium, a security command center keeps close watch on game days. How sophisticated the Dodgers' video surveillance is remains a closely guarded secret.
Other MLB teams have been more open on the subject. Sam Kennedy, president and CEO of the Boston Red Sox, told a panel on smart venues in 2018, "Apart from the Yankees, probably the biggest threat to our business, the sports industry in general, would be some type of massive security breach or failure to execute."
In an article about that panel, which was hosted at Boston's Fenway Park, on the website SportTechie, he intoned, "As technology continues to evolve at an exponential pace, helping to enhance our lives and experiences, it also opens up the door for new threats—perhaps a cybersecurity breach or a drone strike," he said. "Although teams never know specifically where the next danger will come from, many are turning to cutting-edge technology to keep fans safe."
The Red Sox is among the professional sports teams implementing innovative security solutions. For one thing, the team is installing biometric scanners from the parent company of TSA Precheck to identify season ticket holders. The NFL's New York Jets is also testing this technology. Meanwhile, rival ID company Clear has signed a multiyear deal with Major League Baseball and Tickets.com, the fruits of which will presumably roll out in the near future.
Separately, Evolv Technology, which is backed by Bill Gates, "has built a system that plans to combine sensors, deep learning and facial recognition to completely transform venue security," according to SportTechie.
Camera systems and data analytics for surveilling venues promises not only to keep tabs on nearly every corner of a huge stadium, including the parking areas where fan fights typically break out and the potential for more dangerous attacks lurks, but also to warn security personnel of impending trouble.
"Sophisticated analytics tools enable venues to monitor activity without dedicating security personnel to the task," says BizTech, a website targeted to IT and business leaders. "Automated alerts can warn stadium staff of unauthorized access and spot out-of-place objects or suspicious people. By analyzing stadium situations in real time, staff can detect potential threats more quickly and respond before they develop into problems."
Stadiums are trying out facial recognition technology for crowd control and access, too. Madison Square Garden in New York City uses it "to identify fans entering the arena and help staff determine if they present a problem," according to BizTech, which also reports that NBA's Sacramento Kings and Dallas Mavericks use facial recognition to control entry to practice facilities and locker rooms.
Safe!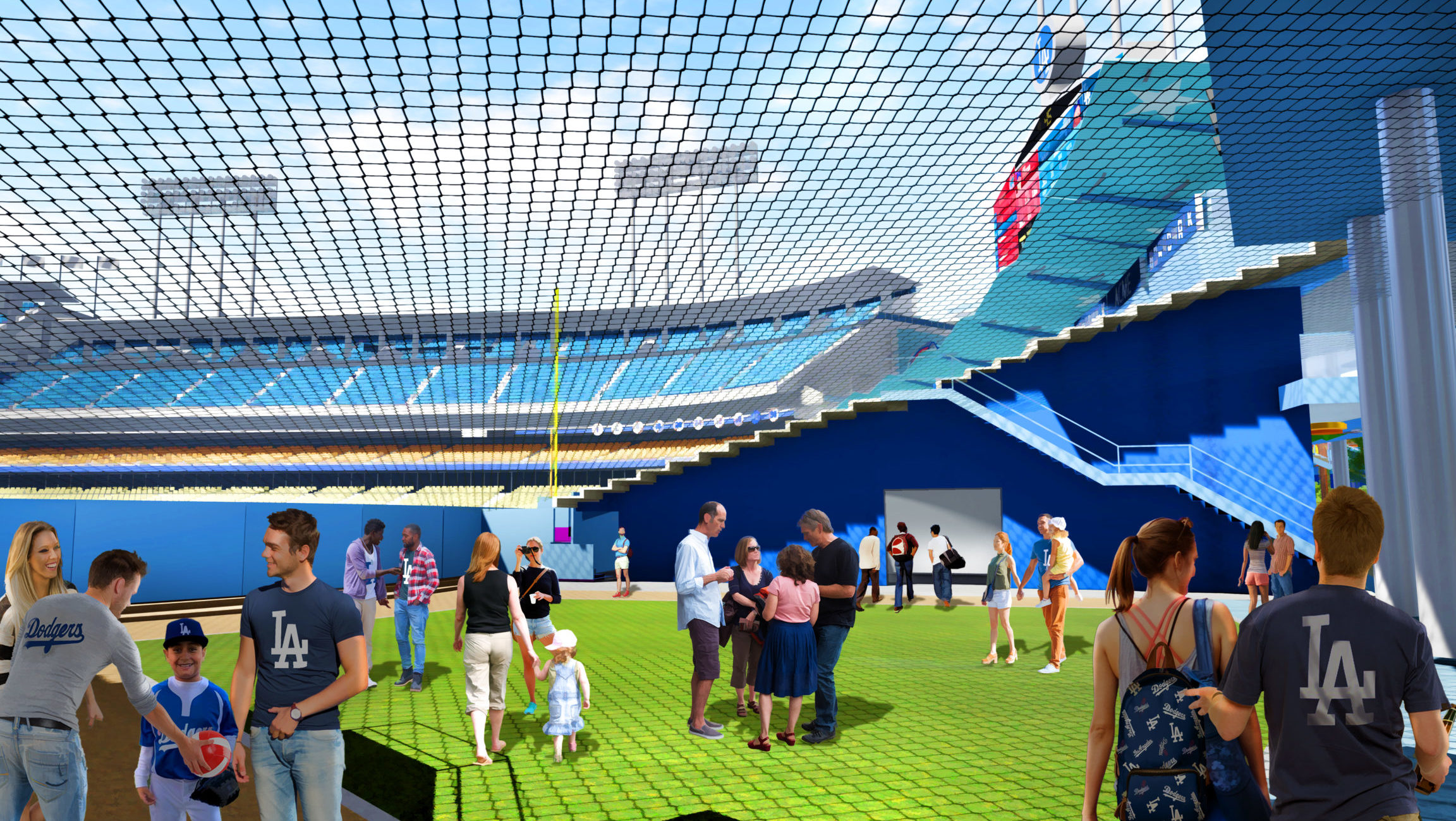 Like most who have played the game, baseball legend Joe DiMaggio loved Opening Day. "You look forward to it like a birthday party when you're a kid," he once remarked. "You think something wonderful is going to happen."
Mary Schmich, a baseball fan who also happens to be a Pulitzer Prize-winning Chicago Tribune writer, once observed, "Opening day. All you have to do is say the words and you feel the shutters thrown wide, the light pour in. In baseball, no other day is so pure with possibility."
In today's often-threatening world of viruses and violence, we all can breathe a little easier in the knowledge that, at Dodger Stadium and major league ballparks around the nation, a security team away from the bright light of Opening Day—and on every game day—works behind the scenes to keep fans safe.
For not only is Opening Day a case study in planning, it's also one of risk management for a ritual that has thrilled fans and players alike for a century and a half. In the words of Dodgers Hall of Fame broadcaster Vin Scully, "Good is not good when better is expected."
Dodger Pride
Even if you're not a big baseball fan, it's hard not to be impressed by a place that has hosted games of 10 World Series and, for the first time in 40 years, will host the Major League All-Star Game in mid-July. In 1965, Dodger ace Sandy Koufax threw a perfect game there (facing a minimum 27 batters and allowing none to reach first base).
It's also where Pope John Paul II led a massive Catholic Mass, and The Beatles and The Rolling Stones rocked full houses.
This season, new food offerings are debuting, including a vintage Dodger ice cream truck and a fire truck serving micheladas in the new Centerfield Plaza. Nonetheless, traditional ballpark options will continue to hit a home run—Los Angeles fans consume some 3 million "Dodger Dogs" each season.
Because meetings groups are eager to experience the iconic ballpark, events at Dodger Stadium typically boost attendance by as much as a half, according to Kristi Schaffter, manager of special events sales for the team. Event locations on nongame days include Stadium Club (250 reception, 160 seated) overlooking right field, Lexus Dugout Club (250 reception, 200 seated) behind home plate, Ketel One Baseline Clubs (150 reception, 100 seated in each) overlooking the third and first baselines, Emirates Lounge (50 reception) on the suite level and overlooking right field, Retired Numbers Plaza (600 reception, 400 seated) located outdoors with views to downtown, the field and the Hollywood Sign, and on-field experiences utilizing the warning tracks and baselines (150-500 reception, 100-400 seated).
New event spaces created in the renovation will also be available. At press time, Schaffter was awaiting their completion to add their capacities to her portfolio of options for planners.