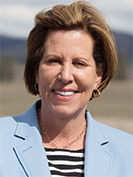 Kathleen Cochran is one of those admired bosses whose reputation precedes her. The general manager of The Resort at Paws Up in Greenough, Montana, has made an exemplary career out of transforming hotels and resorts into thriving pillars of the community. As a result, she's been named the Top Woman in Business for three years in a row by Pacific Coast Business Times and Women of the Year by Goleta Chamber of Commerce. However, her secret to success happens to be rather simple.
"Focus on the employees first, and ensure they are well cared for, treated with dignity and respect, and paid fairly," she says. "I have implemented many new initiatives that speak to just that—and the results have been an increased passion, drive and love for this work. That's been amazing."
Cochran spent more than 20 years as managing director of Loews Hotels, with stints at Hotel Del Coronado in San Diego and The Plaza Hotel in New York City. Perhaps the highlight of her career is four years resurrecting Bacara Resort & Spa in Goleta, California, during what she calls one of the greatest hotel turnarounds in history. Under her direction, the resort maintained its Forbes Four Star ranking, attracted top talent, launched numerous donation programs and garnered its highest revenue and occupancy rates.
"I am very proud of my accomplishments at Bacara—a true Santa Barbara gem that was misguided," Cochran says. "I discovered a truly amazing staff and wanted desperately to work in and be involved in the community."
Partnerships are a big part of connecting hospitality within the broader community, which is what Cochran is known for. While at Bacara, she spearheaded the Santa Barbara Food & Wine Weekend in partnership with the Julia Child Foundation. Cochran was also instrumental in leading an initiative to raise $750,000 for preservation and education of Silver Strand State Beach near Hotel del Coronado. She continues her outreach efforts at The Resort at Paws Up, which she joined in March. For Cochran, giving back to the community is at the core of hospitality.
"We're there for more than just guest numbers and catering within the resort walls," she says. "Giving back is a small part of that, and it instills value and pride in what we're doing. That starts at 'home,' within the business."
---
Smart Moves
David Powell
David Powell has joined San Francisco Travel Association as director of international meetings and incentive sales. Powell will be responsible for securing international meeting business for San Francisco from Canada, Europe, Asia, the Middle East and South America. His primary focus will be self-contained meetings. He will also help to identify citywide conventions and participate in joint sales efforts involving the travel trade with San Francisco Travel's Tourism division.
---

Terry Buchholz
L'Auberge Del Mar, A Destination Hotel, named Terry Buchholz general manager of the oceanfront resort, near San Diego. In his new position, Buchholz will oversee all day-to-day operations at the 121-room hotel, directing activities such as sales and marketing, food and beverage, and ongoing property repositioning. Most recently, he was area director of operations for Kimpton Hotels & Restaurants.
---
Thuy Tranthi Rieder
Rosewood Hotel Group appointed Thuy Tranthi Rieder as group vice president of sales and marketing of the international hotel management company. She has more than 20 years of experience in marketing, sales and general management. In her new position, she oversees branding, communications, sales, marketing and e-commerce strategy for the group, which manages three distinctive brands with a combined portfolio of 55 properties in 18 countries.