How understanding personas can lead to more wow moments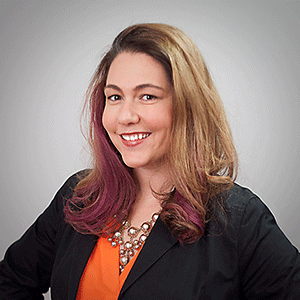 Hubb founder and CEO: Allie Magyar
AKA: Event Tech Maven
How She Got There: Her 20 years in the business started by accident when she organized a car show. She went on to be president and CEO of Dynamic Events, producing conferences for some of the biggest technology companies, including Microsoft's Ignite for 30,000 people. Magyar created Hubb in 2012 to help manage technology for planners.
What is the biggest challenge event professionals face today?
Events have always had business goals, but what has changed over the last couple of years is the clarification of measurable goals—the evolution of making events part of sales, using metrics to show how a lead moves through the pipeline. Events have cemented their role in creating brand loyalty as part of the overall marketing portfolio.
When I was first managing events, we were engaging person-to-person. No one had a smartphone. We didn't know a lot about learning styles or how to appeal to different personas. The evolution of technology has made it possible to understand your audience and people's different learning styles. We are now a lot more focused on exactly who is in the audience and their individual needs.
Technology allows planners to create networking elements that appeal to a wider variety of people. We can now create experiences that engage everyone.
What is the difference between a persona and a stereotype?
Data. The more information you have, the better you can really understand the audience in a deeper way than you would just by casually observing. Perceptions from past events are not as actionable as actual data points.
We can collect data in lots of ways—adding profile questions to registration, asking attendees to rank reasons for attending, watching how they vote with their feet on site. That helps the planner understand what is important and informs the quest to build on momentum from past events. Data is the secret to creating engagement.
How do you define engagement?
Engagement can look different to different audiences. It can be social interactions and connections, or how many sessions attended or labs interacted with. Once planners understand who attendees connect with on site and online, they can start setting up goals for that specific audience.
How do you make sure tech is an asset rather than a distraction for attendees?
The first rule is to make it easy. If there are five platforms, one for scheduling, one for building out calendars, another for evaluations—and they all have different logins and it isn't clear what to use when—tech becomes time-consuming and difficult. People will give up. A single tool can make it easy to carry data across all platforms so the experience is seamless for the attendee. Just provide the information they need without frustrating them.
How do you ensure technology is a planner's friend rather than a burden?
Understand the goals of the technology before you buy. Once you map out your audience experience journey and put yourself in the shoes of attendees, you can answer how they will use it and why. Then you will know what questions to ask. It can be a vicious cycle if you pick the wrong tech and can't measure whether it worked, and you have to keep doubling down without real feedback. Asking the right questions in advance based on the key performance indicators of the event can eliminate a lot of frustration.
What would you suggest planners do at their next meeting to make it more purposeful?
An audience-experience journey map based on personas can transform events. Knowing where to put your money is always difficult. Determining the highest-impact components based on specific experiences helps prioritize tight budgets. That enables you to create a surprise and delight moment that people will talk about after the event is over.
What is an example of a memorable wow moment?
At Microsoft Ignite, the goal was to create a sense of community. We built fun places where people could take photos and share. Each evening, we collected them and created an enormous collage out of the photos when people entered the lobby. When they came to the event the next day, they felt connected. It was humanizing.