Name: Jerry Cito
Title: Executive Vice President of Convention Development
Organization: NYC & Company
Is your new role part of a larger strategy to position New York City and beyond as a resource for new sectors?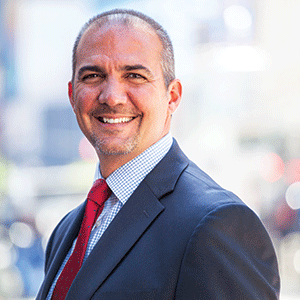 I will continue to oversee the organization's network of global sales representatives, including the New York City-based staff, as well as regional offices in Washington, D.C., and Los Angeles, plus dedicated global MICE representatives in the United Kingdom and China. In addition, I remain involved in executive strategy meetings with an internal advisory team to the CEO.
We've taken a fresh look at the best ways to position the city as the premier destination for meetings and events. We are accomplishing this by aligning with the city's Economic Development Corporation (EDC) in proactively targeting potential conferences whose industries fall within key sectors—tech, fashion, food manufacturing, retail, health care, industrial, sustainability—they've identified as either anchor or emerging hubs of commerce within the five boroughs.
Is this shift a result of trends that you are seeing in the types of groups already coming?
The evolving strategy relates strictly to our proactive outreach, as we look to leverage EDC intel and tap established and emerging sectors. As always, our team of experts continues to guide and assist planners and decision-makers who reach out to NYC & Company on how best to leverage resources. Our staff also reactively refers planners across all sectors to the best accommodations, venues and suppliers, based on their needs and budgets.
New York City is a destination where we emphasize that everyone is welcome, a message that is especially relevant this year as the first-ever U.S. WorldPride will be held here in June while we simultaneously celebrate the 50th anniversary of the Stonewall Uprising.
Where are groups coming from now and what industries do they represent?
On the East Coast, tech- and finance-related corporate events have an ever-growing foothold. A major conference [Global Summit] already booked by WeWork took place in 2018 with 4,500 people gathering at NY5000 and Hulu Theatre at Madison Square Garden. In May, Coindesk will again host the largest blockchain conference in the world, set to take place at New York Hilton Midtown.
Interestingly, it is evident that New York City is considered a serious contender in the tech space on the West Coast, as well—even with Silicon Valley right in their backyard—as we are seeing more and more of these groups booking a New York City convention. To name a couple, Oracle Industry Connect (OIC) took place at NY5000 [combined blocks in Hilton and Sheraton] in April of 2018 with 5,400 total rooms booked and Scrum Alliance is headed here May 9–14, 2020, with 2,680 total rooms booked at host hotel Marriott Marquis.
Domestically, we've seen an uptick in health-care and life sciences conventions choosing to #MakeItNYC. For example, the International Gynecologic Cancer Society's board has approved hosting their 2021 Annual Meeting in New York City, bringing a global audience of 3,500-plus attendees to the city.
Now that Hudson Yards is opening and the expansion for Javits Center is nearing completion, how will you better serve the conference world?
Convention attendees are in for a treat if they'll be in New York City in 2019 or beyond! With the opening of a brand-new neighborhood [Hudson Yards] on Manhattan's West Side came the debut of The Shops & Restaurants. Delegates of conventions held at Javits Center can easily pop over to enjoy more than 25 all-day culinary encounters and a variety of retail offerings.
Standout restaurants include Mercado Little Spain by Jose Andres and the Adria Brothers (who pioneered molecular gastronomy); Thomas Keller's Tak Room, dishing up live music and contemporary cuisine; and chef Costas Spiliadis' eatery, Estiatorio Milos, which specializes in fresh fish and Mediterranean cuisine.
Also on site at Hudson Yards, convention attendees will want to check out the new, climbable public sculpture, Vessel, by Thomas Heatherwick. Delegates should know that while it is free, they will need timed tickets to climb it and snap an Instagram picture atop its 154 flights of interconnecting steps.
Another major benefit for the conference world is The Shed, a brand-new cultural organization dedicated to commissioning interdisciplinary works and putting on programing across both visual and performing arts.
In early 2020, planners can anticipate the debut of Edge, which will be the tallest outdoor observation deck in the Western Hemisphere when it opens on the 100th floor of 30 Hudson Yards; of note, there will be an event space on the 101st floor, above the new attraction.