Grillin' and chillin'. It's that time of year. Not cooking over fire, of course, is but a blip on history's timeline, as burnt bone fragments found in the Wonderwerk cave in South Africa dating to at least 1 million years ago prove. That grill master is unknown, but do you realize what dancing flames and glowing embers mean to our evolution? Despite eating frequently, humans on a raw vegetarian diet are often persistently hungry—just like our cousins, the apes, who forage up to nine hours a day. Today's chefs have rediscovered the added flavor a wood fire imparts. Moreover, quickly grilling veggies and fruits over open flame retains nutrients and antioxidants lost in longer cooking.
Thick Colorado lamb chops slathered in garlicky chimichurri join a menu of prime beef cuts that come sizzling off the wood fire in the open kitchen at Tom Colicchio's Heritage Steak. Aromas of grilling meat and smoke waft into a private dining room that seats up to 28 guests and has the option of a flat-screen TV for videos or a PowerPoint during a meeting presentation.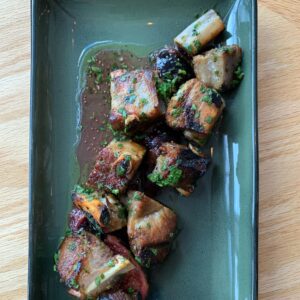 In a 1916 brick-clad landmark (designed by African-American architect William Sidney Pittman) with modern LEED-certified interiors, celebrated chef Graham Dodds, Texas born and bred, holds forth in the kitchen of Elm & Good. His seasonal, American tavern-inspired cooking spans grilled artichokes served with green goddess dressing and charred lemon to pork riblets with fig preserves and chimichurri.
At this AAA Four Diamond property just north of Kansas City, eight distinct dining experiences are headlined by The Journey: Wood-Fired Steaks, which goes beyond its name to offer meltingly juicy salmon licked by mesquite flame. The luxury property has more than 18,000 sq. ft. of meeting space complemented by 258 guest rooms and suites, as well as a full-service spa.
This "racino" adjoining Northfield Park harness racing track in suburban Cleveland has authentic Bernie Kosar (beloved quarterback for NFL's Cleveland Browns) memorabilia as the backdrop at Kosar's Wood-Fired Grill. Specialties of the house are "wet-aged" steaks and chops like The 19, a boneless, 16 oz. New York strip that pays homage to Kosar's jersey number.