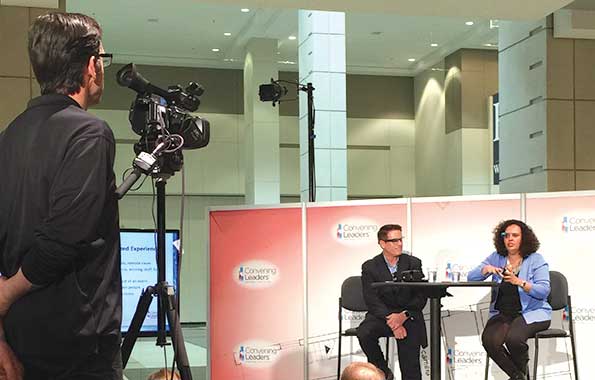 Hybrid Mash-Up Studio at PCMA's 2015 Convening Leaders conference
The Professional Convention Management Association "Convening Leaders" annual conference in January was a rousing success. It drew a record-setting 4,128 attendees to McCormick Place in Chicago and more than 1,000 online participants.
At a media briefing during the event, PCMA President and CEO Deborah Sexton spoke about "risks" that PCMA has taken with its conference over the years, many of which have resulted in what's considered standard conference programming today. "For example, the Learning Lounge came about three years ago because of a need to fill extra space at the arena of the MGM Grand in Las Vegas," she said. The Learning Lounge, with TED-style sessions, has become hugely successful among attendees for its educational content and networking opportunities.
Similarly, Sexton said, when PCMA tried a hybrid conference, many told her she "was destroying our industry"; hybrids are the norm now. And PCMA's popular daily e-newsletter, "News Junkie," while not directly tied to Convening Leaders, bucked conventional wisdom at the time, which held that people wanted less, not more, of an organization's presence in their inbox.
New Initiatives This Year
Risks at this year's conference, Sexton said, included a Hybrid Mash-Up Studio, with live broadcasts by a single camera on a simple set streaming to the virtual Convening Leaders audience throughout the conference. Also, the session "Five Speakers to Watch" was new, and featured speakers who had been vetted by industry experts delivering 15-minute segments on motivation and leadership.
After the conference, Sexton said both new initiatives seemed to work.
"More people used the Hybrid Mash-up Studio than ever imagined," she said. Since the majority of the studio's "walls" were acrylic and the camera was raised off the floor with a view of the larger conference area, viewers could not only see who was talking or presenting, but also what was going on in the background. "[Virtual participants] could see there is more to the event when you see all this networking," Sexton said. "They see that they're missing that face-to-face networking activity that is as critical as the learning."
Moreover, the studio was economical; the camera could be flipped around from its focus on the set to zero in on the Learning Lounge theater for various presentations on the other side.
Five Speakers to Watch was also well-received, Sexton said. "It had a two-fold purpose: to showcase new and affordable speakers with fees not exceeding $15,000, and to showcase speakers' bureaus—important members who play an important role in the overall success of events."
Evolution of the Learning Lounge
The crowded Learning Lounge, which contained the studio as well as color-coded subject areas such as Tech Central and Meeting & Experience Design, continued to evolve. A hub for educational content and networking, the lounge offered presentations, group discussions and hands-on activities.
This year the lounge was an integral part of the conference layout, near highly trafficked areas that led to general sessions and the lunch space. Sexton acknowledged that some of the smaller, more interactive sessions in the Learning Lounge were "oversold," and if adjacent to another popular session, it was difficult for people to hear. "Sound bleed—we're still working on it," she said. "But we've improved."
She also pointed out that the Educational Journey was new this year, and a risk. This was daylong, themed programming that began at a general conference session and carried over to a thought leader session, followed by industry-application and discussion sessions. Sexton said that while the audience for this may have been relatively small, the feedback was good.
Sexton also is assessing other aspects of the conference. PCMA removed programming from conference lunchtimes "because people like to network," but that may change. And she's mulling whether food stations work, and how long it takes people to get through buffet lines.
International Growth
Next year's Convening Leaders, in Vancouver, will pose a challenge with the time difference and the majority of attendees flying in from the East Coast and Chicago. Instead of 2 1/2 days, "we may extend to a full day, with a third reception, so people leave early the next morning instead of on the second day."
Sexton always tells suppliers that even if the conference ends in the morning, "the greatest percentage of professional members is in attendance then. They pay for it and they stay for it. You're making a mistake if you leave early because the audience is 80 percent professional members."
Planners make up about half of conference attendees, Sexton said. "Sixty to 70 percent of our membership comes to PCMA." (Members currently number about 6,500.) She said that Convening Leaders is attracting a growing global contingent—"not just suppliers, but qualified planners."
But "Convening Leaders is not about the numbers," Sexton said. "It's about education, engagement and the quality of attendees."