Absentees are causing major headaches for the meetings industry
While attending a recent, large industry event that lasted for several days, I was astounded by the number of meeting planner no-shows at all the evening "invitation only" parties. It was gut-wrenching that so much money was wasted on food, entertainment and gifts, and I was sad to see the vast number of name badges still sitting on the host table as I left. I feel horrible when this happens at an event and when it does, I try my hardest to eat and drink double so the host will not be hurt by the poor turnout.
These days, in addition to many hotel and CVB invitations, there are also plenty of hosted buyer events in our industry, so planners are being pulled and wooed in all sorts of directions, and make lots of commitments. I attend and hear about many events that have not delivered the attendance promised due to planner cancellations and no-shows—our own Smart Meetings events have suffered from this on occasion.
It is embarrassing and unbelievable to some professionals to be a part of an industry in which their colleagues appear to think nothing of canceling or failing to appear at an event they have committed to. Are meeting planners invited to so many events, with so many hotels eager to generate a relationship with them, that they can simply slough off these invites without consideration of all the effort that went into preparing for them?
Planners Should Know Better
Recently, I spent time with a hotel manager who said, "We have created these monsters." What he meant is that we have spent so much time inviting—as well as wining and dining—planners that they feel they don't need to keep their word after accepting an invitation. The ironic part is that professional planners know the heartache caused by no-shows after planning menus for a set number, confirming room lists for the RSVP count, and basing all expenses on the number of attendees that agreed to come. Attrition is such a huge problem that you would think planners would be the last to put others in the very situation they work so hard to avoid. Yet they do—and in my opinion, one of our industry's major chronic issues is that no one is screaming from the rooftops about it.
I've heard horror stories from hoteliers about planners not showing up after they've been provided with expensive boxes at baseball games, concert tickets, massages at spas and more. To be fair, there certainly are difficult instances when unexpected deaths or illnesses require a planner to cancel at the last minute. Unfortunately, the large number of avoidable no-shows is giving the legit ones a bad reputation.
RSVP Stands for Respect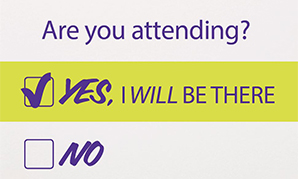 So this is what I propose: If you RSVP yes, keep your word and attend. Treat your invitations like gold and keep your commitments. RSVP stands for repondez s'il vous plait, French for please respond. The French make it sound so eloquent, but even the use of the term makes many in the industry cringe because of the problems now associated with it. In our industry, I suggest to say yes to an RSVP only if you intend to participate, and say no if you will not come. This clearly seems to be the proper etiquette, but it is simply not happening.
Hotels and CVBs also should take a closer look at the planners they invite. It might be good to create a black list of planners who make a habit of accepting invitations and then not attending. It's a drastic step, but this might help them to become more honest and reliable.
Oh, and by the way, this irresponsible group has missed so many amazing events from so many amazing vendors that I've gotten fat from eating all the delicious food that was purchased for them. I don't want to keep making up for their behavior. They need to stop it now, and do the right thing!
Defining RSVP
Here's some advice from The Emily Post Institute:
Changing a yes to a no is only acceptable on account of illness or injury, a death in the family or an unavoidable professional or business conflict. Call your hosts immediately.
Canceling because you have a "better" offer is a sure-fire way to get dropped from all the guest lists.
Being a "no show" is unacceptable.
Changing a no to a yes is only OK if it will not upset the host's arrangements.
Don't ask if you can bring a date or family member to an event. If they were invited, the invitation would have said so.
If an event coincides when you're hosting house guests, it's best to decline the invitation stating the reason. This gives your host the option to extend the invitation to your guests, or not.
Make sure to thank the host after the event, either by phone or a note.
---
Marin Bright is CEO and founder of Bright Business Media, LLC, which publishes Smart Meetings magazine. She was honored during Folio's 2015 Top Women in Media Awards as a corporate visionary. Her monthly leadership column appears online and in print.