Mi Tierra in San Antonio is not to be missed
Groups meeting in San Antonio have plenty of options for off-site activities, including strolling along the River Walk and enjoying its unique restaurants and shops, as well as visiting the Alamo and other historic missions, SeaWorld San Antonio, Six Flags Fiesta Texas and San Antonio Zoo.
But arguably the best place to experience the city's rich culture is El Mercado (Market Square), a three-block outdoor plaza lined with restaurants, shops and produce stands near downtown. El Mercado is the largest Mexican market in the United States and one of its top 10 outdoor markets, according to Frommer's.
More than 30 shops sell everything from hand-embroidered dresses to mythological statues, and the working artists, musicians, dancers and major cultural events embellish the rich and lively atmosphere. On festival days and weekends, in particular, groups often find themselves totally immersed—enjoying traditional Mexican culinary offerings while perusing shops as mariachi bands and colorfully outfitted dancers perform all around them.
Much More than a Restaurant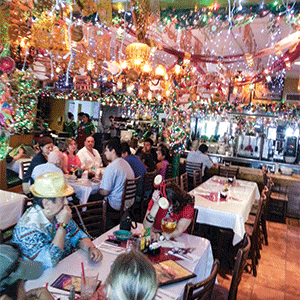 Within—and central to—the vibrant mix that is El Mercado is Mi Tierra Cafe y Panaderia, technically a 650-seat restaurant, bar, bakery and store, but in reality a living, breathing entity that welcomes everyone at all hours of the day. When I found out that I would be attending IAEE Expo! Expo! in San Antonio in November, I already could hear Mi Tierra calling my name.
Mi Tierra's roots date back to 1941, when Pedro and Cruz Cortez, a young married couple, purchased Jamaica No. 5, a small, three-table cafe at El Mercado, for $150. Jamaica No. 5 began attracting long waiting lines, and in 1951, the couple purchased a larger spot, Toyo Cafe, in El Mercado and renamed it Mi Tierra Cafe. The name was inspired by Mexican Revolution leader Emiliano Zapata's famous saying, "La tierra es para quien la trabaja." ("The land belongs to those who work it.") From day one, the owners kept their commitment to having it open all day, every day, to cater to the varying schedules of customers.
Nowadays, as soon as groups arrive, they get an inkling that Mi Tierra is not your ordinary Mexican restaurant. Candle-lit, home-style altars honoring past workers and Cortez family members greet visitors, reflecting the intimate connection between the owners and their employees, as well as the greater community.
Once inside, groups spot a bakery featuring dozens of Mexican specialties, including pan de muerto (bread of the dead, a sweet roll traditionally baked during the time leading up to Dia de los Muertos), bunuelos (deep-fried fritters), and roscas de reyes (a sweet round cake commemorating the Three Wise Men's visit to baby Jesus in Bethlehem).
Nearby are the elegant, but welcoming, Mariachi Bar and a shop selling an array of items, including T-shirts, aprons, caps, mariachi-music CDs, Dia de los Muertos candles and cinnamon-spiked chocolate. A few steps away is a captivating 70-foot-long mural that curves around two walls and features famous Latin-American leaders and celebrities, including Cesar Chavez, Carlos Santana and Eva Longoria.
Festive Dining, Mexican Style
The dining area is vast, lively and colorful, with Christmas lights and papeles picacos (decorated, perforated paper) strung across the ceiling year-round. Several mariachis separately stroll through the dining room, adding to the festive atmosphere. It's difficult to choose from among the vast array of tempting menu items. Cabrito (roast goat kid with a chili-based gravy) is the quintessential order, but classic Tex-Mex combination plates are also excellent.
Large parties can easily be accommodated at Mi Tierra. Reservations aren't taken for the main dining area, but three private rooms can seat 350, 50 and 30.
I know I'm not alone in saying that leaving Mi Tierra always brings mixed feelings. I'm sad to go, but la experiencia magnifica lingers forever.