Black Banks terrace at The Cloister
Sea Island Resort's exceptional customer service stands out
Sea Island Resort on the Georgia coast is famous for being the only resort in the world to win four Forbes Five Star awards for the past nine years, and for being the only U.S. resort to host a G-8 summit of world leaders. But those aren't the main things that groups are likely to remember about the place.
What stands out is something seemingly much simpler but actually quite difficult to master—stellar customer service.
"Our unique ability to apply our high standard of service to group guests sets us apart from most destinations," says David Furnish, director of sales and marketing at Sea Island. "During a conference at Sea Island, attendees receive our personalized Forbes Five Star service and experience creative group activities that only we can provide. From meeting space, banquet food and beverage, to team-building events, our goal is to exceed the expectations of the meeting planner and each attendee."
The resort's exceptional customer service was on display throughout a trip to the property involving Smart Meetings and other media in March. Managers and employees were highly attentive to the needs of each member of the group, and extended themselves well beyond the norm found at luxury properties.
For instance, at the resort's world-renowned Golf Performance Center, the group was greeted by Mike Shannon, one of the top putting instructors in the world. Rather than simply give a brief tour of the facility, Shannon sat the group down and went into considerable detail about how he studies golfers' swings, body posture, focus, emotional state and more to help them improve their putting. It was a fascinating presentation given by a man who has helped many world-class golfers—including Ray Floyd, Arnold Palmer, Jack Nicklaus, Payne Stewart and Tiger Woods—with their putting.
Seaside Course and The Lodge at Sea Island Terrace
"It's not that hard to master the mechanics of golfing, but everyone needs to find their own rhythm," Shannon said. "And it's important to have an ability to focus and have a feeling of serenity when putting. Some golfers have only one of them."
The day after we visited the center, we lunched at Georgian Room restaurant, where chef de cuisine Julian Scheibel came out to chat with us afterward. It's not unusual for the top chef to speak briefly with such groups or to wave at them from a distance, but Scheibel spent nearly an hour discussing and answering questions about the cuisine at the resort, general food and beverage trends, and a host of other topics.
Our group had similar experiences with other Sea Island staff during the visit, making the trip very memorable.
A Variety of Lodging Options
Sea Island—situated 88 miles south of Savannah and 80 miles north of Jacksonville, Florida—offers 390 guest rooms. It has been known for its exceptional service since the Cloister Hotel (now known as The Cloister Hotel on Sea Island) opened on the property in 1928.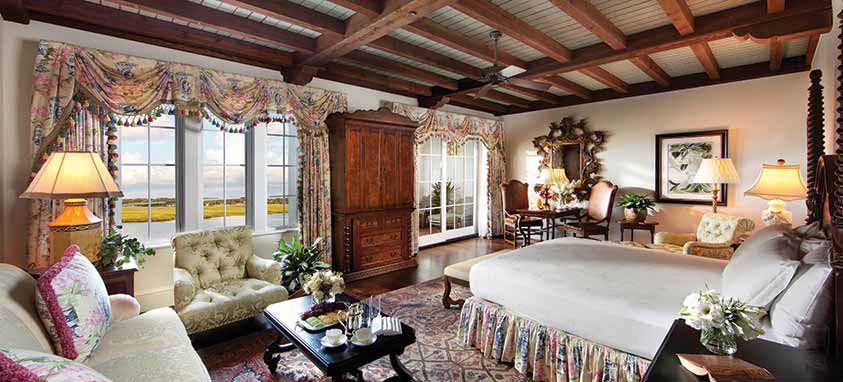 Riverview Room at The Cloister Hotel on Sea Island
The Cloister is a 265-room, Mediterranean-style oasis that features Old World elegance, terra cotta roofs, and sunlit garden patios. It recently added the Garden Wing, comprising 63 guest rooms as well as a stunning 5,000-square-foot ballroom, bringing the total indoor and outdoor meeting space to 87,000 sq. ft.
The resort's other lodging options include The Lodge at Sea Island, an English-style manor that offers 40 guest rooms featuring wood furnishings, exposed beams, marble baths with deep soaking tubs and rain-head showers. The Lodge features 24-hour butler service, and views of Plantation Golf Course and the Atlantic Ocean.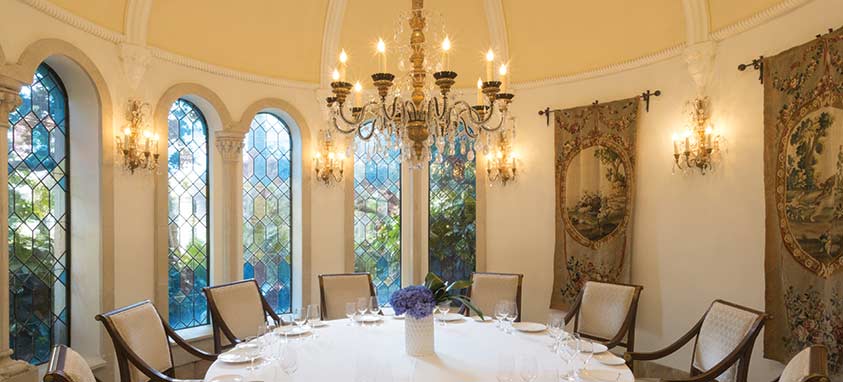 Private dining space in the Georgian Room at The Cloister
Both The Cloister Hotel and The Lodge at Sea Island—along with the Georgian Room and The Spa at Sea Island—won Forbes Five Star awards in 2017.
The Inn at Sea Island, situated on St. Simons Island, offers the same luxury as the other two properties. It's just a few minutes' drive from The Cloister Hotel and The Lodge at Sea Island, and has 85 guest rooms.
Also, Broadfield, a 5,800-acre sporting club and lodge, is located in a secluded area with expansive live oaks, fanning palmettos and towering pines. It features a full array of hunting activities to people at all levels. The lodge and guest house together can accommodate 18 people with double occupancy.
Exciting Activities
On a typical day, more than 50 activities are offered at Sea Island Resort. Among the most unforgettable options are equestrian rides along the beach and a marsh trail. Beach sports include sailing tours, paddleboarding lessons and kiteboarding. Nature activities range from birding excursions to wildlife and history bike tours, fish dissection and dock fishing, marsh habitat and wildlife walks, and eco tours.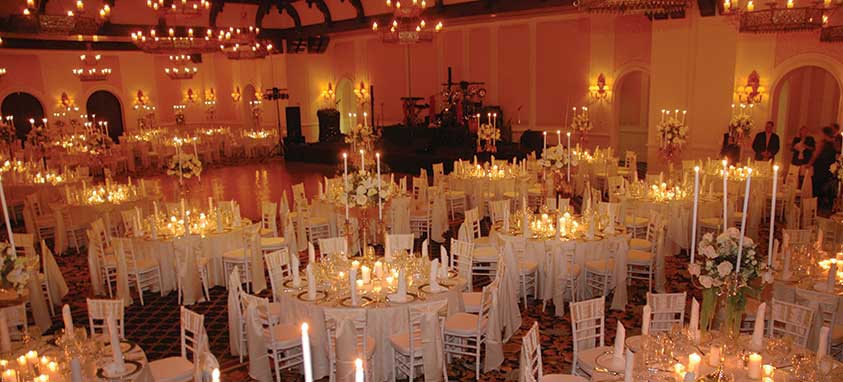 The Cloister Ballroom
Other activities include near-shore and offshore fishing trips, yacht cruises, and fishing and crabbing adventures. In addition to the hunting options available at Broadfield, Sea Island offers skeet, trap and five-stand lessons at the Shooting School.
Sea Island also features squash, tennis and a fitness center, but to many visitors, golf is king at the resort. Three championship courses are available, including Retreat Course and two courses that are used for the PGA Tour's annual RSM Classic—Seaside Course and Plantation Course. The Golf Performance Center, which is adjacent to two of the resort's golf courses, has 17 top instructors who help people of all skill levels with various aspects of their game.