As executive retreats evolve, host properties are refining their offerings for maximum impact
To those outside the meetings industry, it would surely seem more difficult to plan a 350-person business event at a city-center hotel than to coordinate a 35-person gathering at a small property in a quiet location.
But what most people don't consider is that smaller meetings generally have more senior, more discerning attendees—and that the stakes at these events are typically quite high for the host organization. Retreats are used to conduct strategic planning sessions focused on the next one to three years.
"There are [also] lots of mergers and acquisitions where two executive teams must use a retreat to hear each other's perspectives and goals, and to get to know each other personally—blending corporate cultures is very difficult and touchy," says Laura Manriquez, director of sales and marketing for Visit Santa Cruz County, which each year assists with a few hundred events run by Silicon Valley companies.
She adds that executive think-tanks at startup firms and household corporate names she works with are looking not just for out-of-the-box thinking, but also for "totally clean-sheet thinking" about their businesses.
Such lofty objectives require event sessions that drive robust interaction between the seasoned participants. Other sessions can offer perspective and lessons from people outside the host organization's industry, so that attendees can see business challenges from different angles.
Lastly, because building trust and camaraderie between attendees is just as important as the actual business discussions, the smaller, higher-end venues that host retreats will partner with planners to deliver unique, immersive and memorable local experiences to participants.
Using Nature for Learning and Bonding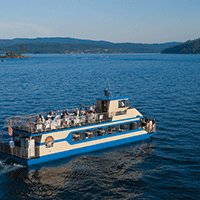 "Executive groups are always looking for something they have not done before, and that lends itself to ingraining the local environment and culture into their experience," says Todd Gillespie, director of sales and marketing for The Coeur d'Alene Resort in Idaho. "We speak with each planner and the top executives ahead of time to understand the makeup of the group, what they are trying to accomplish and what their people would respond to."
With many retreat-focused properties set far away from city centers, natural elements and perspectives are often used to spur participants to think differently. For instance, Gillespie's lakeside property has always taken meeting groups out on sunset cruise receptions with views of the mountains. But in the past few years, the resort has used the cruise to transport attendees to another nature experience that is as educational as it is entertaining.
Just 10 minutes across the lake is the sprawling home of the resort's owner, Duane Hagadone. Most of the 32,000-square-foot building is designed to entertain guests, with large windows and terraces overlooking the 300,000 plants and trees set around the property. During receptions there, a horticulturalist will speak to the group about how the home and gardens were designed to complement one another, and how the staff constantly adapts its approach to maintain the wide variety of plants not native to the area.
In addition to this event option, Gillespie knows the resort must offer more active team-building elements for executive groups as generations change. "We see them wanting to go paddleboarding, jet skiing and even ziplining, which were not done much in the past," he says.
One popular activity of late is a Hunger Games-themed archery competition conducted at a lakeside park. "The teams run and grab their arrows, go back to plan the battle and then try to execute the plan," Gillespie says.
In Santa Cruz, California, the popularity of yoga stretching instruction during breakfast or lunch is also indicative of a changing mindset among the newer generation of organizational leaders. "They understand that discussion and learning are better when your mind and body are in a good place," Manriquez says. "It's something they can take home and apply for long-term benefit."
Another sign of change is the rising demand for variety at each meal, particularly by using local ingredients. Santa Cruz and nearby Monterey are adjacent to what's known as "The Salad Bowl," an agricultural region with hundreds of farms as well as more than 70 wineries. Aside from using one of the many local farmers markets for an interesting reception or social event, executive groups can tour local farms and then have lunch or dinner there.
"The farm-to-table concept has become central to the culture of this area," Manriquez says. "The poultry and meat farms, the fruit and vegetable farms, and the orchards are all right alongside each other, and you'll hear about how each item is raised and grown as it's being served to attendees."
Naturally, the chefs at meeting properties in Santa Cruz and Monterey are strongly connected to local farmers, allowing them to customize each in-house meal to a group's specific desires, too.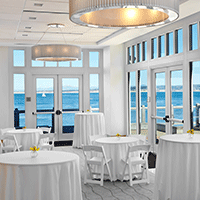 At the 208-room InterContinental The Clement Monterey, nature plays an important role in the meeting experience, even though the property is set right on Cannery Row, the quaint downtown district that author John Steinbeck made famous decades ago and where HBO now films its dramatic series, Big Little Lies.
"We're right next to the Monterey Bay Aquarium, so we get a lot of scientific and marine leadership events," says Catherine Faber, director of sales and marketing for the property since its 2008 opening. "But other executive teams are inspired by what they see and hear there, too."
For instance, groups of up to 30 people walk to the aquarium and take a behind-the-scenes tour to understand just how much coordination and effort takes place to maintain the exhibits and shows. "The aquarium is like a stage play," Faber says. "What you see on stage is incredible, but the expertise that goes into making it happen is mind-blowing, and a good business lesson."
As for team building, planners are partnering with Monterey-based guides to conduct scavenger hunts along historic Cannery Row. "The GPS-focused hunts are falling out of favor lately—[they're now] more of a hands-on exploration of the area led by an expert who provides clues," Faber says. And back on property, Faber's culinary team often leads Salsa Showdown, a competitive team-building event. "There's no cooking required, but participants have to use their palate and show some creativity with ingredients to assemble the perfect salsa," he says.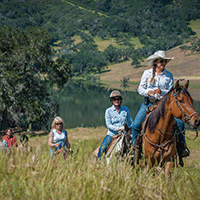 Taking food-prep team building one step farther is Alisal Guest Ranch in Solvang, California. Set in the foothills between the Pacific Coast and the inland mountains, the 73-room Western-themed property conducts BBQ Boot Camp, where participants learn the differences between various cuts of meat, plus how to spice them properly and how to match them with the right vegetables. Then, the competition begins: Participants must not only prepare the food, but also build the fire they use for cooking.
Going Animal
Especially at high-level retreats, the return on investment is boosted when participants are exposed to successful people from other businesses who share their experiences and lessons they've learned. Given that many venues hosting retreats are in rural or even remote places, those stories often come from people who work with animals.
At Devil's Thumb Ranch Resort & Spa in Tabernash, Colorado, 90 minutes from Denver, Senior Director of Sales Thad Carlson offers executive attendees an inside look at the cattle-raising program at the 6,000-acre ranch. Led by Garth Eichler—a veteran rancher who oversees the 155 head of cattle that supply the property's farm-to-table wagyu beef—the program features a tour of the barns and the grazing fields.
"Garth talks about the lifespan of the cows, how his team keeps them healthy and at the correct weight, and how they achieve proper marbling in the meat through the timely use of alfalfa feed and corn feed," Carlson says. "He also talks about the sustainability focus our owners have with the ranch. There's real application for how to run an operation from the ground up. For executive groups that are scattered across the country the rest of the year, this is a unique thing for them to experience together."
What's more, two reconstructed Civil War-era barns serve as upscale meeting and private-dining space, carrying the ranch theme all the way through for maximum effect.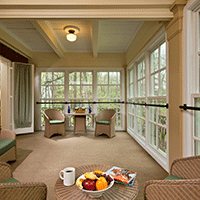 A different type of equine education is available in the Northeast. With the famed Saratoga Race Track set just 1 mile away, The Gideon Putnam Resort & Spa in Saratoga Springs, New York, adds value to small meetings by coordinating private tours of the track and stables that are led by thoroughbred trainers, who discuss the business of maintaining racehorses.
"The racing season is July and August, but for much of the year there's race training plus dressage and other horsemanship events, too," says Rob Sgarlata, director of sales and marketing for The Gideon Putnam. "There are lots of opportunities to hear from experts in that field while providing attendees with great local flavor."
For executive groups with a more adventurous profile, animal-based educational and entertainment opportunities can be more hands-on. At Alisal Guest Ranch, the Round-Up Adventure is a team-building activity where attendees assist in moving a herd of cattle while on horseback.
"Our wranglers interview participants to match them with the right horse for their ability, and then give basic instruction on directing the horse and the cattle," says Sherrie Fitzgerald, director of sales and marketing. The wranglers are ultimately in control of the herd. "[But] moving the cattle from pen to grazing pasture takes a lot of coordination from the participants," she says. "They have to communicate with their colleagues and decide quickly on who has control of which cattle and where they need to go."
During the two-hour event, participants see how the wranglers interact with each other while also receiving praise and constructive criticism for their own efforts, thereby exposing them to a leadership style from which they can learn. "It is very educational and fun at the same time," Fitzgerald says. "The cattle are rubbing up against your horse, and it gives you so much confidence when you have some success at moving them. We're getting great reviews from groups."
Flexibility Makes Small Meetings Happy
Because executive retreats are generally less formal in their session setups and more fluid in their discussion topics, they are ripe for spur-of-the-moment changes initiated by the participants. As a result, planners must make sure ahead of time that the host property is amenable to accommodating session relocations on short notice.
For example, Gideon Putnam Resort & Spa in upstate New York borders a huge state park forest, which inspires some small groups to move a session with no forewarning.
"We have floor-to-ceiling windows in some meeting spaces so attendees can enjoy panoramic views of nature—but when the weather is good, some groups will just pick up their chairs and go onto the patio or even the lawn," says Rob Sgarlata, director of sales and marketing. "If that's what they want, we'll round up our staff and help them move the meeting outdoors quickly."
At The Coeur d'Alene Resort in Idaho, the five-year-old Hagadone Event Center features 11,000 sq. ft. of meeting space, much of it with huge sliding-glass doors that allow groups to see the lake and mountains without any barrier. There's also a 6,000-square-foot tiled deck adjacent to the meeting space so that groups can move outside if the mood strikes them.
"When we get a good weather report, some planners ask to move a meal event or a meeting session out there," says Todd Gillespie, director of sales and marketing. "It heightens people's senses and spurs their creativity, so we'll adapt if the group wants to move."
---
Rob Carey is a business journalist and principal of Meetings & Hospitality Insight, a content marketing firm for the group-business market.