Innisbrook has it all, from multicourse meals to golf courses
I checked in at Innisbrook—A Salamander Golf & Spa Resort in the Tampa area for a FAM trip over an extended weekend in February, a great month to visit Florida, when most of the country is bundled up.
The guest rooms are apartment-style, because they are individually owned residences that are made available in a rental pool to meeting-goers and vacationers. Each room has a full kitchen with a tremendous pantry (I wish I had this much shelf space at home), a dining table and a living room, making it a great place not just for solo business travelers, but also for attendees who bring families along. Many guests, especially the winter snowbirds, stay for extended periods of time. The property is very big, so you need to take a shuttle to most places.
Even though you'll never run out of activities to do on property at Innisbrook, Clearwater is just a short drive away, and Clearwater Beach was named the best beach in the country and the seventh-best in the world by TripAdvisor, the only U.S. beach to make the list. An art festival takes place on the pier there every night.
Eat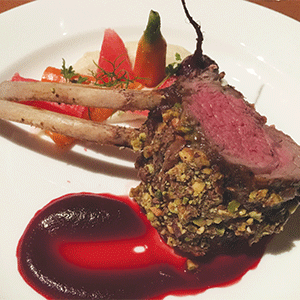 After a long day of travelling from San Francisco to Tampa, I arrived with a big appetite. Executive chef Thomas McKinney-Stehr wined and dined us with a multicourse dinner at the resort's Turnberry Pub. Each course contained one common ingredient—chocolate. He whipped up dark chocolate scallop ravioli with white chocolate truffle reduction and chocolate parmesan shavings, along with chocolate gnocchi, pistachio chocolate-crusted rack of lamb and more.
The following day at lunch, our group ordered onion rings as an appetizer to share. Market Salamander Grille's chef de cuisine, Caitlyn Durren, joined us table-side to explain her three-day process for preparing these colossal onion rings. They're so big that this normally finger-food fare requires a fork and knife to eat.
We went off-property to the nearby Dunedin neighborhood for dinner. St. Petersburg/Clearwater Area Convention & Visitors Bureau hosted us at Casa Tina, a Mexican restaurant where every day seems like Dia de Los Muertos (Day of the Dead). If you've seen Disney/Pixar's Coco, you'll feel like you crossed the bridge to the Land of Dead the moment you walk inside. We celebrated a belated National Margarita Day, and ended the night exploring Dunedin's craft brewery trail.
Dinner on our final night was held at Innisbrook's Packard's Steakhouse, and I don't think you could go wrong ordering anything off its menu. How many bites does it take to get to the bone of a lamb chop lollipop? I didn't count, but each bite was delicious, and I didn't want the last one to ever come.
Play
Innisbrook is home to four golf courses and the PGA Tour's annual Valspar Championship. I was put in the expert hands of Director of Instruction Dawn Mercer, for a clinic at one of its driving ranges. She said that if you have enough coordination to pick up a wine glass and bring it to your lips, you can swing a golf club and hit a ball. So, I put her theory to the test. It started off rocky once I began to swing—I dug up more grass than balls I hit—but after she tweaked my technique and stance, I definitely saw an improvement in the hour or so I hit and your guests will too.
Miniature golf is way more at my level. On the first night, the resort set up a glow-in-the-dark putt-putt course for us on the green, using glow necklaces and light-up golf balls. This is a fun group activity, and relatively easy and inexpensive for meeting professionals to re-create.
Love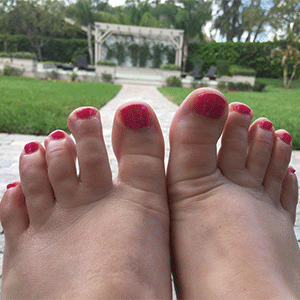 I feel much more in my element with a tennis racquet in my hand. Director of tennis Joe Mattingly can arrange group clinics that focus on stroke technique, match play, doubles and singles strategies and cardio. He can also lead fun team-building exercises on the tennis courts, including hitting a target with a Nerf ball, rolling a tennis ball along a tightly-held rope without it dropping and playing a volleyball-like game with racquets.
We had set aside time to show our tired bodies some love. I took my little piggies to Salamander Spa for a mani/pedi. Dreaming of spring just around the corner, I was thinking pink for my polish color selection. My wonderful nail tech, Alyssa, said that lots of meeting attendees drop in for treatments, including hair, makeup, facials and massages.
?SMART TIP: Pack sunscreen, bug spray and anti-itch cream. The sun and mosquitoes are out in full force in Tampa.