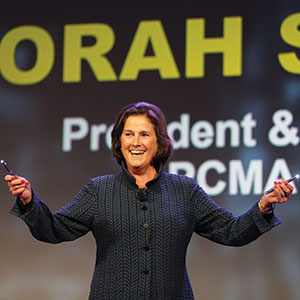 Deborah Sexton has always been a strategic list-maker. But the longtime, transformational president and CEO of PCMA didn't grow up thinking she wanted to be a meeting disrupter. When it came time to choose a career, she followed the lead of her inspirational father and made a list of things she was passionate about.
At the top of the list was seeing the world.
"At that time, there were not a lot of women in the hospitality industry, but also not a lot of women in anything other than teaching or nursing—and I knew that was not for me," she recalled with a chuckle.
That list led Sexton to enter the management training program at a now-gone airline. She soon shifted to the hotelier side, where the challenges were similar. When a bed or a seat isn't occupied, that opportunity is lost. She went on to open Hyatt Regency Chicago and rose to the role of president at CCTB (now Choose Chicago), which gave her a chance to spend quite a bit of time in McCormick Place, a building she first entered with her father when he attended a National Restaurant Association conference there.
Sexton was on the committee to bring the headquarters of Professional Convention Management Association (PCMA) to Chicago from Birmingham, Alabama, but was not overly active during the first few years the organization was in town—even though her offices were just down the hall. "Roy [B. Evans, Jr.] built a great organization, but the relocation had some challenges," she said. When David Kushner was leaving as CEO and the board approached her, she assumed they wanted suggestions for his replacement. She was prepared with a list of five people—most of them men.
She recalls the moment vividly. "At the end of the meeting, they said, 'How about you?' And I said, 'What about me?'"
An Aggressive Direction
After almost 13 years at the CVB, Sexton soon came to think of the PCMA job as a fascinating opportunity. "I understood the members because I was one of them, and I knew they needed someone to create a culture and build a strong team," she said.
At that time, PCMA was the smallest of the industry associations, with about 4,000 members (she later built that to a peak of 7,000). The annual meeting was a fraction of the 4,500 people Convening Leaders attracted to Nashville in 2018, the year she handed over her title to her chief operating officer, Sheriff Karamat.
From the beginning of her tenure, Sexton knew she wanted to focus on senior people in the industry. "This was a golden chance to go in an aggressive direction," she said.
One of the centerpieces of her approach was enabling the concept of meeting planner as a business-event strategist. "This is the evolution of where the industry is going," she said.
Her vision was of a world where the meeting professional is an integral member of the executive team—a strategist who can communicate the value of events by bringing people together to drive the conversation about innovation and outcomes.
"Too many CEOs felt event people were party planners, yet in many instances, the C-level didn't understand because we weren't telling them," she said. Her fear was that events teams would be taken over by marketing or operations and tumble a further layer away from the CEO—where they would not directly hear the business goals, and where it would be even more difficult to deliver better results.
Sexton saw that, while some PCMA members were afraid to enter the executive realm, others embraced the challenge and looked forward to being rewarded with massive promotions and increasing responsibility.
Birth of the BES
"Logistics do remain critical," she said. "But I wanted to serve the people who were open and ready to contribute at the highest levels."
To support those very people, she created the business event strategist concept. That required a hyper-focus on high levels of education and research that would show how members were making a difference. It also required taking chances on behalf of members to try innovative approaches.
"This industry is often risk-averse and takes an inordinate amount of time to make decisions. We threw that out and said we have to be out front to give our people the tools they need," she proclaimed, just as passionate now as she was 13 years ago.
Eating the Cannibals for Lunch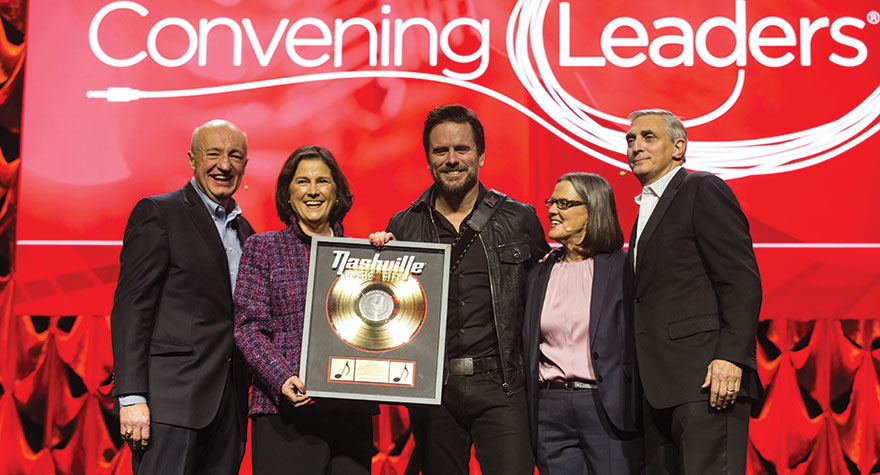 Some things have changed over the past 35 years, and some have not. "I love how the industry has evolved," she said, meaning today's opportunities that go in so many directions—technology, product development, hotels, contracting companies. Everyone can find a place.
"But we can't do things the same old way," she said, noting how far we've left behind the days when attendees wandered through trade shows for five days without a plan and would stop for leisurely chats with people in the booths. It was clear to her that she and everyone else in the events industry had to get creative.
Sexton surrounded herself with innovative minds and gave them permission to try things. "We started by asking, "What irritates people and how can we minimize that?" The next question: "What can we blow up?" Registration at the hotel instead of at the far end of the convention center? Why not? A Tech Central area that explained all the shiny new entries to the market? She began adding these new wrinkles to PCMA's annual conference.
"The more you create that kind of environment, the more people will want to try innovative approaches to their own events and see what happens," she said with obvious pride.
Importantly, Sexton was transparent with her members. "We knew we would not hit it out of the park every time, but we pledged to try, and then to communicate what we thought went wrong, to share that learning experience so the meeting professional doesn't have make the same mistake. That way we all learn," she said.
Convening Leaders became a sandbox of convention innovation.
One of the biggest risks was the introduction of the hybrid meeting. "Everyone was afraid virtual meetings would cannibalize the industry and do away with face-to-face meetings," she recalled. "I didn't believe it; meeting in person is too important," she said. But she knew the industry couldn't just ignore the new streaming technology that made virtual attendance possible. Her approach was to embrace it to enhance the conference. By bringing parts of the event to a broader audience who can't come this time, she expanded PCMA's brand and drove higher membership.
"Every organization CEO asked if I was nuts," she said. "Others were not that nice." Her response? "I said, 'We have to do this so our members can better understand.' We needed to show that there is room for both. I feel good about the risks we took and the example we set in the face of naysayers."
Accidental Mentor
In the end, the thing that attracted Sexton to the industry was the same reason she took a step back. After 13 years, PCMA was growing so quickly globally that the international travel was keeping her away from her husband too often and too long. She saw it as perfect timing. "PCMA was in a good place financially," she said. "We were well regarded as a leader in quality education, and I had built a strong team."
Longtime COO Sheriff Karamat stepped into the role as part of the succession plan she had developed (See "Living his Passion" in the January issue of Smart Meetings).
The transition to not being as productive every day has proven a challenge. Sexton is now consulting, championing "wisdom capture" on video —something she thinks could work well for associations.
When asked about her role as a mentor, she brushed the suggestion away. "When I retired, I received so many kind notes from people who said they saw me as a mentor. I just thought we had relationships we both valued. Helping people along the way is what we all should be doing. I was lucky enough that people listened to me and let me listen to them," Sexton said. She would love to see everyone in the industry working together. "We all need to listen more," she said.
The joy of building diverse teams is what she is most proud of. "I get excited seeing a team coming together and exceeding their own expectations. I love being part of that," she said.
She does worry that people in the industry feel too overstretched by dealing with everything from terrorism to coronavirus. "Being connected 24/7 is wearing people out," she said. She advises taking things off your plate that are no longer as effective and trying new things. "That is the only way to grow and learn. Otherwise you are just treading water."
Deborah's Words of Wisdom for Women in the Events Industry
Deborah Sexton is still making lists as a way to solve challenges. "This industry was made for women," she said. "I would like to see more female CEOs. There just aren't enough yet." Here is a checklist of her top tips for female (and male) meeting professionals.
You have one shot; you may not get as many breaks as a man, so make sure you give 100 percent
Nothing good happens after 10 p.m. (a woman's professional reputation is critical)
Take chances; don't be risk-averse
Step up to the executive table
Remind your manager what you have accomplished—and what you want to do even better next year
Be transparent about any limitations and how you will still be able to deliver
Back to the Smart Women in Meetings Awards 2020