Lobby at Hotel Chaco, Albuquerque, New Mexico
New and renovated properties are creatively addressing meeting groups' preferences
Each year, thousands of hotels, resorts and conference centers in the United States open or are renovated—and the numbers have been increasing due to the financial boom that continues in the hospitality industry.
Many of the openings and renovations signify landmark developments in the industry, and some involve the country's premier properties. They also are critically important to meetings and events, because they offer new, exciting options for planners and their groups.
Since meeting and events are providing an increasingly larger chunk of the hospitality industry's business, hotels, resorts and conference centers are devoting an unprecedented amount of time to making sure groups' needs are not only satisfied, but creatively and fully addressed. This has presented quite a challenge, since groups' preferences are constantly changing and more emphasis is being placed on accommodating the personal, specific predilections of each individual attendee.
Recently, several trends have emerged in the meetings industry, including attendee preferences for properties that offer socially friendly design, immersive hyper-local experiences, sustainability, cutting-edge food and beverage, expanded health and wellness offerings, and alternative meeting spaces. Many new and renovated venues have been enhancing their offerings in these areas, and some have done so in very original ways that have lured groups. Here's a glimpse at some of the most exciting efforts by suppliers.
Design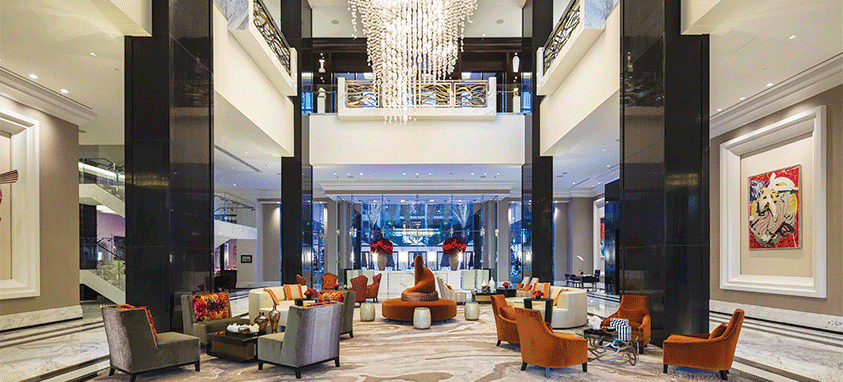 One of the most visually striking new properties is Post Oak at Uptown Houston, housed in a 38-story structure featuring 250 elegant guest rooms and living units. Situated in the Uptown and Galleria area, the Post Oak tower greets guests with a grand chandelier, museum-quality artwork and a plush living area. Greenery, mature oak trees and tranquil water fountains abound at this glamorous property, which blends high-end fashion, fine dining, sophisticated amenities and extensive meeting space, including a 16,000-square-foot ballroom.
Hotel Chaco, a new luxury property in Albuquerque, New Mexico, features unique room layouts, imaginative design and an intriguing collection of works by contemporary Native-American artists.
The resort was designed principally by Gensler, a world leader in sophisticated, luxury design that focuses on making the everyday places that people occupy more inspiring, resilient and impactful.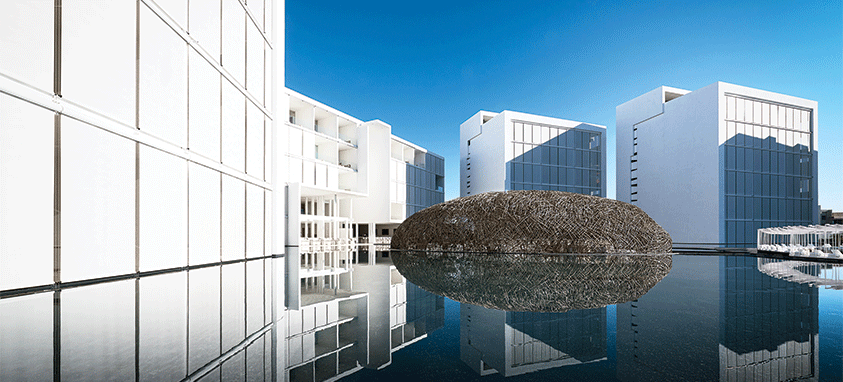 Mar Adentro was renovated and emerged as Viceroy Los Cabos in May in the heart of San Jose del Cabo, Mexico. It features a dreamscape design that embraces the natural beauty of water throughout the 194-room property, which now includes refreshed and vibrant lobby, exciting, new dining venues, a new beachfront pool and bar and a new state-of-the-art fitness center.
The transformation of the former headquarters of New Orleans' power and transportation company into the elegant NOPSI Hotel is one of the most imaginative re-designs in recent memory. The $50 million renovation of the nine-story historical landmark, constructed in 1927, includes 217 guest rooms, along with Public Service, a regionally inspired, upscale restaurant.
Other top features are Above the Grid, consisting of a rooftop pool and bar, and 14,000 sq. ft. of meeting space, including the industrially elegant Dryades Ballroom, with floor-to-ceiling arched windows.
Nobu Hotel Miami Beach, situated within Eden Roc Miami Beach Resort, merges modern Miami with an interpretation of chef Nobu Matsuhisa's signature style. Famed architect and designer David Rockwell drew from Japanese roots and the hotel's oceanfront location to evoke a contemporary Japanese beach house.
The hotel offers 206 guest rooms and suites with cerused, live-edge wood furniture, custom wall coverings, lantern-style lighting, and black and white photography of Japanese landscapes. The hotel has two restaurants—one featuring Matsuhisa's inventive Japanese-fusion cuisine and the other highlighting organic farm-to table dining—and access to the resort's 70,000 sq. ft. of meeting space.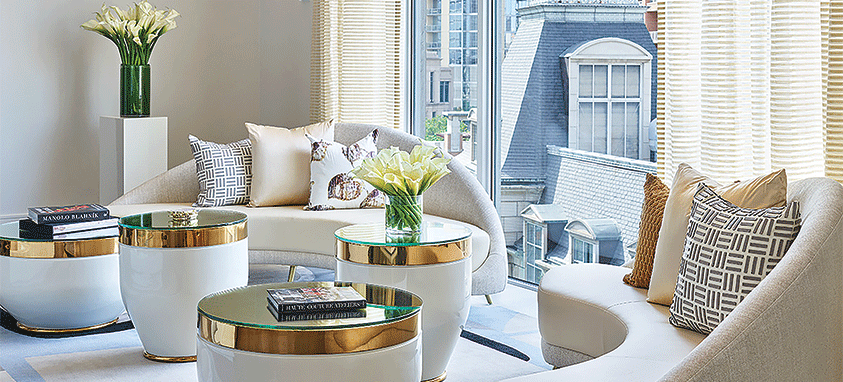 Hotel Crescent Court in Dallas has completed a $33 million renovation that modernized its lobby, 186 guest rooms, corridors and fitness center, while maintaining the property's signature elegance. The project also included a new, 22,000-square-foot luxury spa and fitness center, with natural elements such as water features and spiral root figures. Michelle Meredith and Associates led the design of the spa facility, which also includes a spa lounge with fresh-squeezed juices and champagne.
A much-anticipated newcomer to Waikiki Beach in Honolulu is the East Tower of The Ritz-Carlton Residences, an ultra-luxury condo hotel with 250 units ideal for stylish small group gatherings. Developed by Irongate, almost all units are ocean facing; they boast high-end appliances, marble countertops and oak flooring.
Hyper-Local Immersion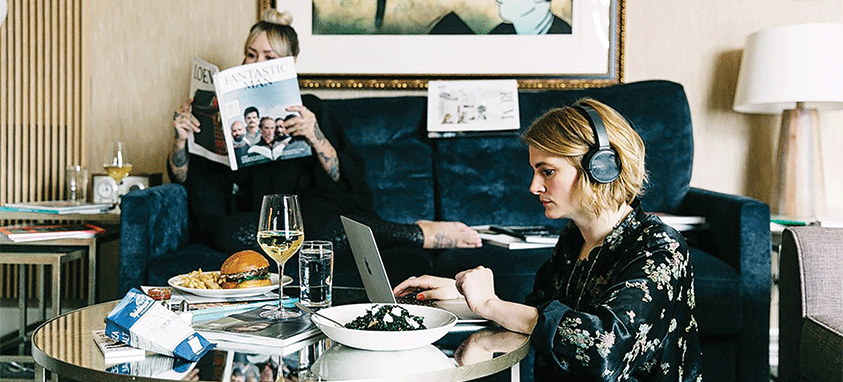 Conrad Fort Lauderdale Beach in Florida takes hyper-local to an exciting new level by offering a curated list of 1/3/5 experiences, consisting of one-, three-, and five-hour explorations of the local culture, art, food and adventure. Activities include visits to craft breweries, art walks, dining experiences and water excursions navigating the "Venice of America."
The new, luxury property, located on Fort Lauderdale's North Beach, also offers 290 all-suite accommodations, 10,000 sq. ft. of indoor meeting space and the 20,000-square-foot Sky Deck on the sixth floor.
Tulalip Resort Casino in Marysville, Washington, recently underwent a major renovation of its guest rooms, which now feature styling that pays homage to the rich, diverse history and culture of the Tulalip tribes. The rooms also now include refrigerators, LED reading lamps, no-fog mirrors and user-friendly technology, such as Bluetooth-enabled media hubs and instant-access, high-speed Wi-Fi.
One of the other highlights of the resort is the 14,000-square-foot T Spa, which offers native-inspired rituals and deep-tissue massages. The 360-room property has 30,000 sq. ft. of meeting space, including a 15,000-square-foot ballroom.
Located in downtown Portland, Oregon, the new, 205-room Dossier Hotel provides guests with a deep dive into the city's lifestyle. The property's Opal bar and restaurant serves the flavors of Oregon, with an emphasis on shareable plates and vegetarian options. All the guest rooms are filled with artwork—created by a diverse group of painters, illustrators and printmakers, all based in Portland—that celebrates the offbeat style of the city.
Hotel staff provides guests with access to authentic Portland experiences, including visits to Knot Springs, the city's social wellness club; information about up-and-coming artists and designers; and tips on the best local trails.
The new InterContinental Washington D.C.-The Wharf towers above the historic Washington channel and is part of the area's newest community: The Wharf, a mixed-use waterfront development. It features breathtaking views, 278 guest rooms and 17,000 sq. ft. of meeting space, divided among 11 rooms.
The hotel also features the Insider Collection, providing groups with opportunities to participate in experiences rooted in the destination that are carefully curated to energize them. The experiences are tailored for each group, and range from interactive team-building options to hearing stimulating local speakers and participating in CSR activities that benefit the surrounding community.
Argonaut Hotel, located on San Francisco's Fisherman's Wharf, recently spent a year implementing sustainability upgrades, including retrofitting its lighting to LED and installing water-saving systems. The property also includes motion-sensor panels in guest rooms and public spaces, Green Seal-certified cleaning products to boost recycling efforts, and low-VOC (volatile organic compound) carpets and pads, sealants, paints and adhesives.
The 252-room hotel is in historic Haslett Warehouse, built in 1907 of exposed brick and Douglas fir beams, and offers nearly 9,000 sq. ft. of space, including the largest ballroom on Fisherman's Wharf.
Gensler recently completed work on a $13 million makeover of Renaissance Phoenix Downtown Hotel that included several sustainable touches, including replacing the asphalt on the adjacent Adams and First streets, as well as Central Avenue, with greenery and brick pavers. Also, a large, color-changing LED glass feature serves as a beacon for the property across downtown Phoenix, and a palette of warm, natural materials in the new lobby and porte-cochere pay homage to experiences in the Sonoran Desert.
The hotel has 521 guest rooms and 51,085 sq. ft. of meeting space, including the 10,092-square-foot grand ballroom.
Mercedes-Benz Stadium in Atlanta, which opened in late August, became the first professional sports stadium to receive LEED Platinum certification after incorporating impressive sustainability features into the venue's design. The owners of the 71,000-seat stadium spent almost $1.6 billion to ensure that it would receive platinum status, LEED's highest level of certification.
The stadium also boasts more than 15 event rooms, offering fully customizable experiences, a dedicated event team and state-of-the-art technology.
The Westin Los Cabos Resort Villas and Spa in Mexico opened in June with a strong emphasis on sustainability, including energy and water conservation, waste minimization, environmentally responsible purchasing, enhanced indoor environmental quality, an on-property green team and sustainable meetings practices. The property offers 223 villas, six restaurants and a spa featuring native ingredients such as honey and sea crystals with marine extract.
Food and Beverage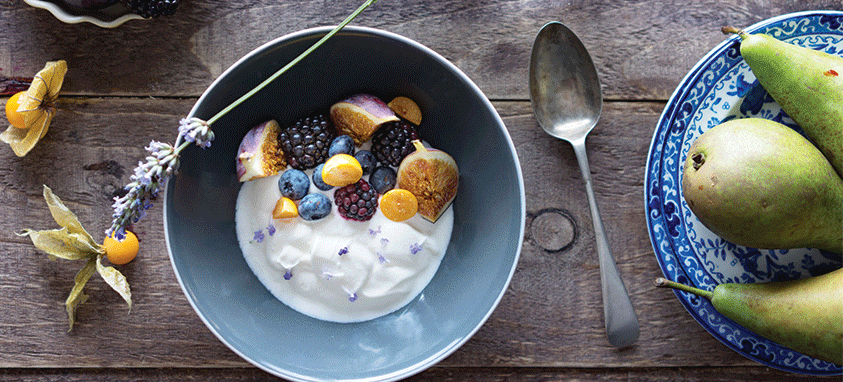 Hyatt Regency Schaumburg, an upscale hotel located in the heart of Schaumburg near Chicago, recently renovated all 468 guest rooms and more than 30,000 sq. ft. of indoor and outdoor meeting space, and added a new restaurant concept, Marketbowl, which is designed to satisfy the changing lifestyle of travelers. The casual restaurant features seasonally inspired, hand-crafted dishes enhanced by fresh herbs from the on-site garden.
Following a $46 million renovation, Hapuna Beach Prince Hotel in Kamuela, on Hawaii Island, emerged as The Westin Hapuna Beach Resort, the only Westin on the island. The 232 guest rooms have been redesigned, the lobby now includes a living-wall vertical garden and interactive check-in pods, and an adults-only pool with a poolside deck overlooking Hapuna Beach; four new restaurants have also been added.
Meridia, a Mediterranean-inspired restaurant at the hotel, features a display kitchen and expanded al fresco dining, with sweeping views of the beach. The cuisine uses locally sourced ingredients selected from the island's rich bounty. A charcuterie and crudo bar includes house-made artisanal breads.
Unico 200 870 Riviera Maya in Mexico, a new five-star property situated near a natural sandy beach, features five restaurants, including Cueva Siete (Cave Seven), which derives its inspiration from everything Yucatecan. The restaurant's regionally focused concept harnesses the mysticism and reverence of Mayan cultures in its dishes. Cueva Siete features rotating chefs: The first, Christian Bravo, is a former Top Chef Mexico contestant.
The property also has 448 guest rooms, five bars, three pools and a Mexican-contemporary convention center with 15,823 sq. ft. of meeting space.
In nearby Playa del Carmen, Melia Hotels International has brought the French-Basque cuisine of a seven star Michelin chef to Paradisus Playa del Carmen. Passion by Martin Berasategui joins a United Nations of flavors available at the resort, which offers more than a dozen dining choices.
The resort's 906 guest rooms encompass adults-only/all-inclusive and open-to-all/a la carte options. Meeting space tops 18,375 sq. ft.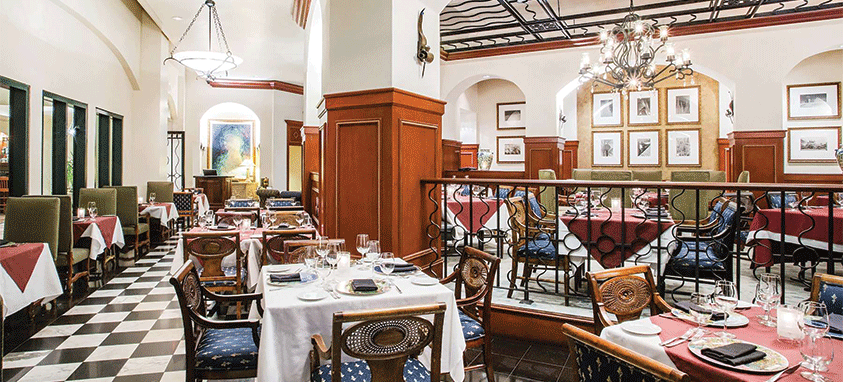 Wyndham Grand Rio Mar Puerto Rico Golf & Beach Resort in Rio Grande re-opened this spring after a multimillion-dollar renovation following Hurricane Maria last year. Rather than simply restore the property, Wyndham upgraded it. The project included renovating Marabella restaurant and Barista Cafe, and opening Caicu Rum Bar.
Caicu features hand-crafted, rum-based cocktails. It's an ideal spot for groups to wind down as they savor views of the beach and vibrant reefs. The resort offers 400 guest rooms and 34,214 sq. ft. of meeting space.
Health and Wellness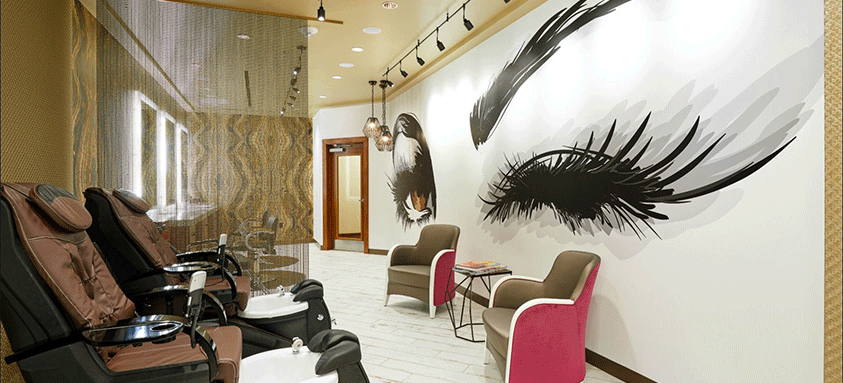 It's a major new property, located just east of the center of The Strip, but it's definitely not your typical Las Vegas hotel, because it has no gaming or smoking. It's all by design, for The Westin Las Vegas Hotel & Spa aims to prove that health and wellness have a place to stay in Vegas, too.
The 826 guest rooms feature a signature Westin Heavenly Bed, specially engineered to ensure comfortable, restorative sleep. Hibiscus Spa and Salon offers relaxing, rejuvenating treatment to help guests restore their equilibrium and relieve stress. The WestinWorkout Fitness Studio features state-of-the-art Lifestyle Fitness cardio machines, strength-training equipment and free weights. Guests can also participate in the hotel's RunWestin program, which offers guided group runs.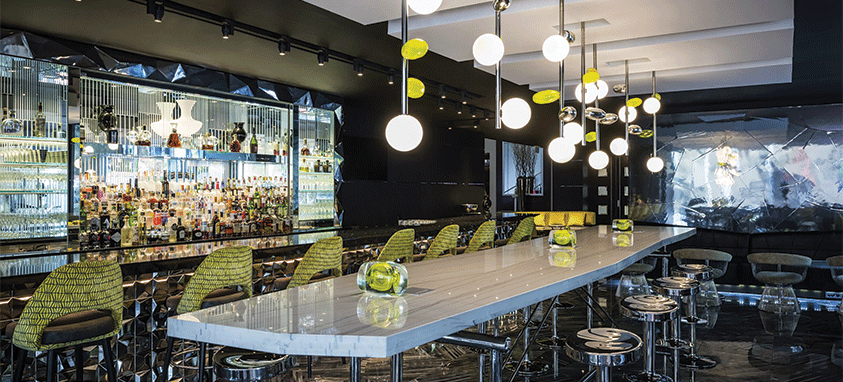 Sofitel Chicago Miracle Mile, centrally located in the heart of the Gold Coast Historic District, recently underwent an extensive renovation that included all 415 guest rooms, the stylish Le Bar lounge and SoFit Fitness Center.
On the wellness front, the fitness center doubled in size to 1,450 sq. ft. It now features cutting-edge equipment—including 12 cardio machines—as well as TechnoGym strengthening equipment, free weights and a fresh fruit and hydration station. The fitness center also installed an Arke core training station and a Batik Lite reaction training station to address current fitness trends toward enhancing core training and cognitive performance.
The 166-room Entourage sur-le-Lac Resort recently opened in Lac-Beauport (12 miles from Quebec City in Canada), on a stunning 5-acre site that has been a popular destination since 1879. Set on 375 feet of shoreline, the resort emphasizes wellness at every turn.
"The benefits of physical activity are widely known: When the body is healthy, your mindset is healthy," the resort states on its website. "This is why our meeting, convention and conference services are based on an active and healthy lifestyle: Sports and outdoor activities, combined with enriching seminars and workshops, will greatly enhance attendees' performance—both at work and at home."
Workout classes, yoga and hiking are among the wellness offerings. Also, Lilot Repere Gourmand Restaurant features creative and healthy dishes in a warm, casual atmosphere.
Meeting Space
Realizing that Monterey Conference Center's infrastructure was aging, inefficient and increasingly obsolete, the Central California city embarked on an ambitious, two-year, $60 million renovation project that was completed last year.
The conference center has been reimagined as a flexible, state-of-the-art venue featuring a 20,000-square-foot exhibit hall and a 10,000-square-foot ballroom, along with meeting rooms, prefunction space, an art gallery and administrative offices. Skylights and clerestory windows bring natural light deep into the building, accenting wooden beams, ceilings and other details. A large terrace, ideal for outdoor functions, overlooks Portola Hotel & Spa and offers stunning views of the Santa Lucia Mountains.
Recently renovated Fairmont The Queen Elizabeth, one of Montreal's most iconic landmarks, celebrated its 60th anniversary by completing a yearlong renovation. It features a brand-new design that blends contemporary decor with a vintage flair reminiscent of the city's golden past. The 950 guest rooms now boast bright interiors, luxurious Moment Spa offers a wide variety of treatments and Artisans urban market brings together a wide variety of local producers and artisans.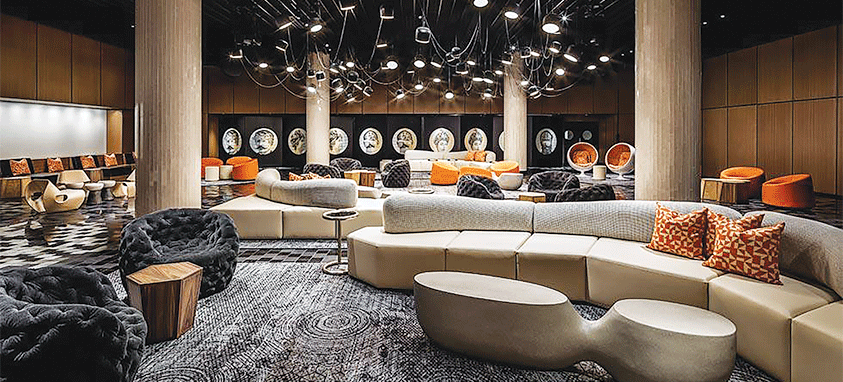 A new multipurpose venue, Agora, features dynamic programming, pop-up shops and more. The second and third floors of the hotel were divided into a series of meeting and work spaces suited to meet various needs; they range from areas designed for playful creativity to inspiring themed rooms for dynamic business meetings. Paired with innovative cuisine and cutting-edge technology, the meeting spaces help attendees connect and create together. The property now boasts 85,000 sq. ft. of meeting space.
Historic, 1,544-room Hilton Chicago, located on Michigan Avenue across from Grant Park, recently completed a $7 million renovation that enhanced the third-floor meeting spaces and Salon C in Stevens Meeting Center. It was part of an all-encompassing $150 million renovation and restoration initiative.
The third floor now includes seven meeting rooms that are ideal for organic networking at everything from small gatherings to medium-sized conferences accommodating up to 850 guests. The design features a cool color palette, inspired by Lake Michigan and incorporating shades of purple and blue in bold, geometric patterns. Grand Waldorf chandeliers and modern pendants adorn the renovated spaces, providing depth and classic sophistication.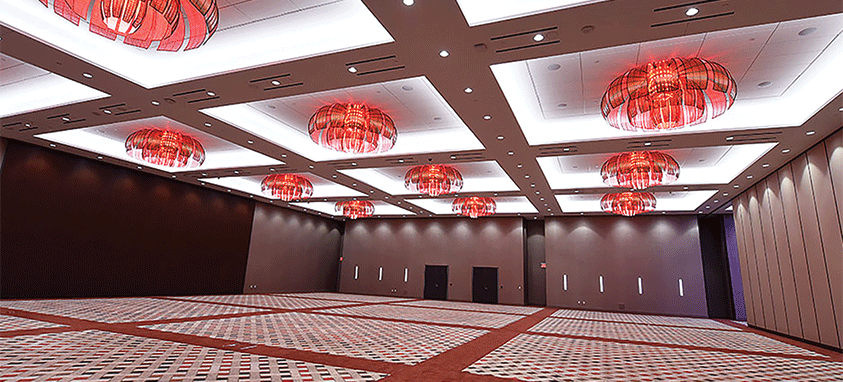 This spring, Mohegan Sun in Uncasville, Connecticut, introduced Earth Expo & Convention Center, with 125,000 sq. ft. of column-free meeting space, the 20,000-square-foot Earth Ballroom, 15 high-tech meeting rooms, an executive boardroom, a 3,500-square-foot wrap-around outdoor terrace and 20,000-square-foot area for entertainment or dining.
The convention center complements Mohegan Sun's Sky Convention Center, which includes the 38,000-square-foot Uncas Ballroom, 14,000 sq. ft. of prefunction space and 30 meeting rooms, accommodating up to 5,300 people.
In one of the most novel convention center developments, the city of Arlington, Texas, recently announced that it is planning to build a 100,000-square-foot esports stadium at Arlington Convention Center. Scheduled to open this fall, Esports Stadium Arlington will feature a major competition space, competitive gaming, retail and social spaces, VIP hospitality, a broadcast studio and a team training area.
"We are creating the most unique and technologically advanced space available for meetings and conventions in North Texas," said Ron Price, president and CEO of Arlington Convention & Visitors Bureau. "The production capabilities and technological innovations being introduced to the current facility are like nothing the market has seen before. Arlington's ability to deliver an elevated customer experience can only serve to expand the meeting and convention market for the city."
The new stadium will become the largest and most flexible esports stadium in the country and is expected to draw competitive players and fans from throughout the world. Arlington Convention Center will continue to host events, conferences and other gatherings.
Hitting All the Targets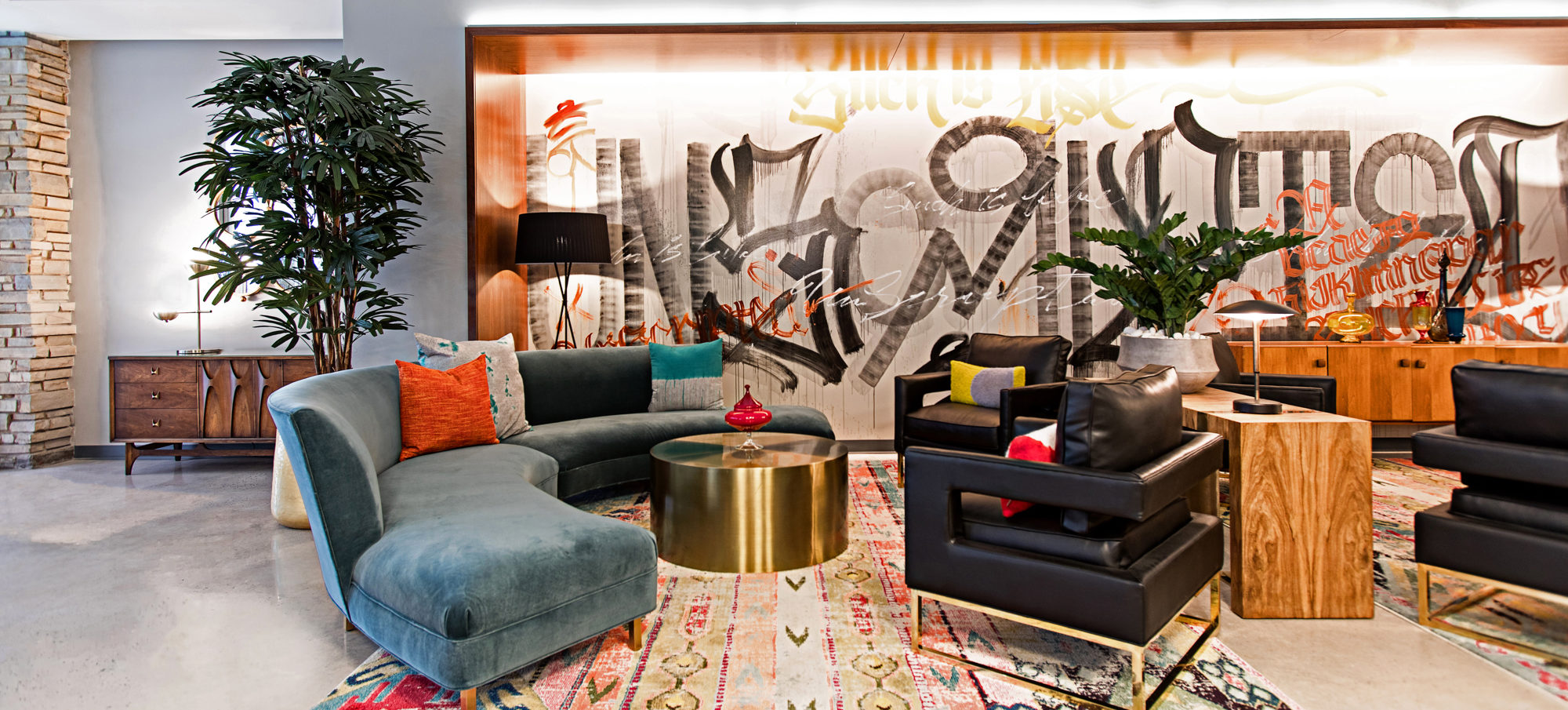 Most properties that we are featuring excel at satisfying one or two of the current trends, but three hotels, in particular, deserve special mention for creatively addressing all or most of them.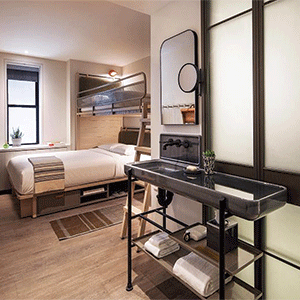 Moxy Times Square, which opened in New York City in September, features 612 cleverly designed, modestly priced bedrooms (pictured right) that can be customized—for example, the multipurpose furniture can be folded up and hung on an open peg wall. The boutique property includes a playful brasserie that updates the traditional seafood dining experience with sustainable local dishes, weekly cultural and fitness programs (including a sunrise yoga class on the roof), an indoor/outdoor hotel rooftop lounge, multiple bars and immersive social spaces for co-working and mingling. The more than 22,000 sq. ft. of event space includes three studios with flexible, multipurpose spaces that can be joined together and reconfigured with custom Yabu Pushelburg-designed furniture.
The 74 guest rooms at Unscripted Durham in North Carolina are filled with unexpected details and hidden surprises—they're full of character, just like the city of Durham. The Studio is a popular spot for socializing, drinking and getting inspired. It features specialized cocktails, shareable plates and a lounge area. The Patio, a rooftop pool, includes a full-service New Americano "Beach-stro" restaurant and lounge.
In Las Vegas, Monte Carlo transformed into Park MGM last year, largely to satisfy the new tastes of clients, including meeting groups. Combining innovative, nontraditional spaces, an outdoor terrace and flexible design, it fills a need in Las Vegas for small-group spaces while offering the ability to host up to 5,000 attendees in the adjacent Park Theater. Phase 2 includes creating the city's first Executive Meeting Center and Idea Studio—high-touch, high-tech meeting venues designed to maximize productivity for small groups.
The property also includes Stay Well Rooms and Meetings and cutting edge-restaurants such as Roy Choi, who became famous with his Korean- and Mexican-inspired Kogi BBQ food truck.