Luxury Suite at The Venetian, Las Vegas
Why you will learn to love multiple hotel brands under the same roof
A New Way to Hotel. That's the brand promise of AC Hotels by Marriott, born of the Spanish roots of its founder and president, Antonio Catalan, who grew up in his family hotel in Navarre. It speaks to stylish yet efficient design, a signature scent and evening tapas starring a bright red jamon slicer.
Sounds hip and chill, right? Perfect, perhaps, for that group of millennial tech execs craving experiences and an atmosphere apart from run-of-the-mill.
Few would describe Residence Inn by Marriott, the upscale extended stay brand, as hip and chill. Ditto for Springhill Suites by Marriott.
Yet, in January, all three brands—AC Hotel Nashville Downtown (209 guest rooms), Residence Inn by Marriott Nashville Downtown/Convention Center (136 rooms) and SpringHill Suites by Marriott Nashville Convention Center (125 rooms)—debuted in Nashville's SoBro district, across from Music City Convention Center—under one roof. The openings represented Marriott's first triple-branded property.
Last year, Hilton birthed its own Siamese triplets in Chicago, with Hampton Inn by Hilton Chicago McCormick Place (187 guest rooms), Hilton Garden Inn Chicago McCormick Place (184 rooms) and Home2Suites by Hilton Chicago McCormick Place (95 guest rooms), adjacent to Wintrust Arena and with direct access to the nation's largest convention center.
While triple-branded properties are new, so-called "two packs"—dual-branded properties—have become increasingly common in recent years, and scores more are on the way. All of which begs the questions: What's behind this burgeoning trend of a "hotel within a hotel," and what's in it for groups and planners?
A Brief History of Seeing Double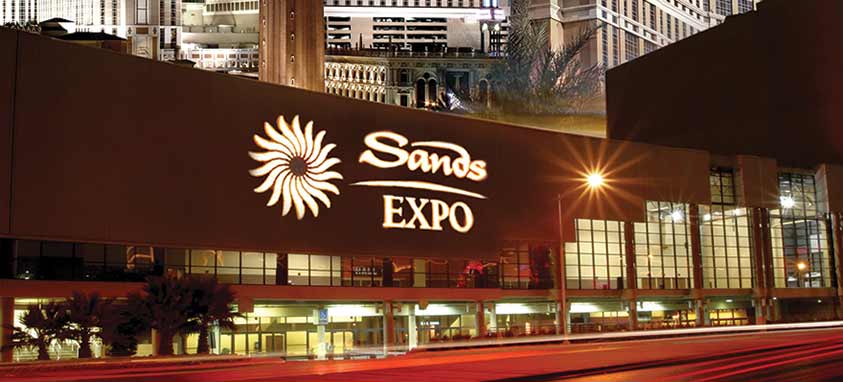 One of the earliest examples of combining two hotels at one location dates to 2007, when the 50 stories of The Palazzo at the Venetian Resort in Las Vegas was joined across the indoor Grand Canal to The Venetian Resort by Sands Corporation, which also operates the adjoining Sands Expo and Convention Center. The combined properties have more than 7,000 suites—more hotel rooms under one roof than anywhere else in the United States. They also offer more than 2.3 million sq. ft. of meeting space. The property is now being rebranded as one unified The Venetian Resort Las Vegas.
What this Las Vegas two-pack didn't have is two distinct personalities. The most dramatic example of this came in 2013, when 181-room Nobu Hotel opened as an oasis of calm within Caesars Palace in Las Vegas. The contrast proved so popular that it was repeated in 2016, when Nobu Hotel Miami Beach debuted within iconic Eden Roc Miami Beach, which dates to the mid-1950s. Occupying Eden Roc's original tower, Nobu's 206 guest rooms—with their Zen-like Asian aesthetic— dramatically play against the Miami Modern architectural style—the curvilinear lines of the lobby with its sunken circular bar and terrazzo flooring with fleur-de-lis accents—of Eden Roc. Together, these Miami properties offer more than 70,000 sq. ft. of indoor and outdoor event space.
Some of the earliest dual-branded properties were located near hospitals and military bases. They pioneered the common practice of pairing limited-service overnight and extended-stay options (with their kitchens and living areas) to serve the distinctly differing needs of guests. The Choice Hotels International property in Meridian, Mississippi, a Sleep Inn/Mainstay Suites, which opened in 2015, is an example; it's minutes away from an air national guard base.
"We want a brand for each price point and each occasion," Patrick Pacious, president and chief operating officer of Choice Hotels, commented to The New York Times about this prototype property.
An InterContinental Hotels Group (IHG) spokesperson echoed this sentiment, saying, "Typically, we partner an extended-stay property such as Candlewood Suites or Staybridge Suites with a limited or fullservice hotel, such as a Holiday Inn Express, Crowne Plaza or Holiday Inn. In essence, we can deliver more value to a greater number of people with diverse needs."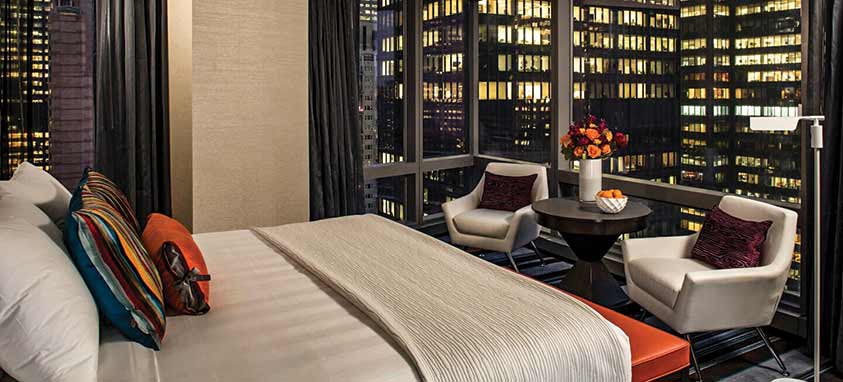 Marriott followed the overnight/extended stay model in 2014 when it opened the tallest hotel in North America, overlooking Central Park in New York City. Make that two hotels—with a combined 639 guest rooms. Floors six through 33 are Courtyard by Marriott Manhattan/Central Park. Residence Inn New York Manhattan/Central Park occupies floors 37 through 65. They share 5,521 sq. ft. of event space. "Either brand could have done fine on its own here," said Marriott CEO Arne Sorenson at the hotel's ribbon-cutting, "but this gives us the opportunity to tap into two distinct types of customer feeds."
One Plus One Can Equal Three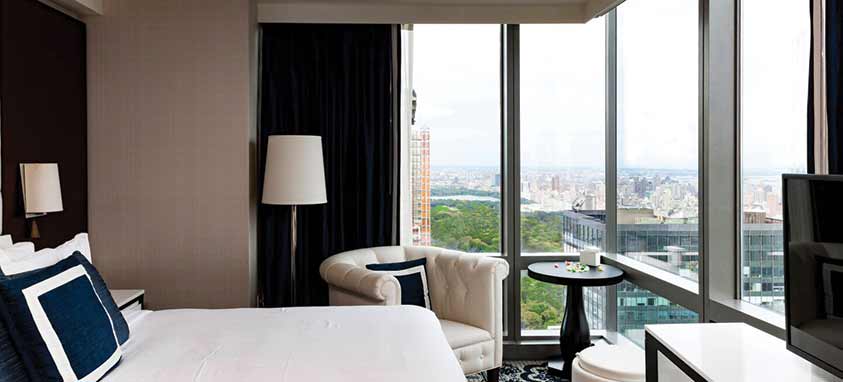 But there's another reason Marriott has opened 98 multibranded properties so far and has 144 in the pipeline globally, while Hilton has 85 dual-branded properties, with several more on the way. Pairing two or more brands often means that business and leisure guests can be lured by more features and amenities than any one brand typically offers on its own.
Marriott's new, $140 million, triple-branded hotel in Nashville has more than 9,000 sq. ft. of meeting space (including nearly 4,000 sq. ft. of dedicated space on the 21st floor, with 16-foot-high, floor-to-ceiling windows) and six dining outlets—shared by the AC hotel, Residence Inn and SpringHill Suites. North Point Hospitality, the property's Atlanta- based developer, proclaimed in a press release announcing the opening, "Thanks to the triple-brand formula, North Point created a property with best-in-class amenities that exceed what guests would find at a single-brand property.
"Guests, for instance, can enjoy resort-like amenities on the sixth floor that include an indoor/outdoor rooftop pool—complete with fire pits, cabanas and a wrap-around veranda with seating. On the property's 21st floor, guests can enjoy a cocktail in the rooftop bar that boasts breathtaking views of Nashville's downtown skyline."
In addition to meeting space, Marriott's two hotels overlooking Central Park share a fitness facility, retail space, a restaurant, a lounge and outdoor seating overlooking Broadway. The Sleep Inn/Mainstay Suites combo by Choice Hotels has a common lobby, community room, fitness center and laundry.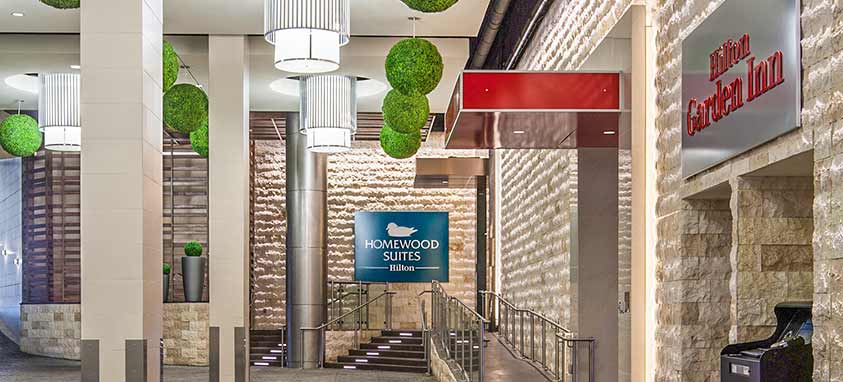 In general, public spaces, fitness centers and pools tend to be more impressive at combined hotels. Some brands retain proprietary perks, though. Take dual-branded Hilton Garden Inn Atlanta Midtown (136 guest rooms) and Homewood Suites by Hilton Atlanta Midtown (92 suites). They share a lobby, but have separate check-in desks and dining areas. Homewood Suites guests have key access to a room for free breakfast. Still, there are synergies. Communal areas have some 3,000 sq. ft. of event space and a business center, pool and fitness center.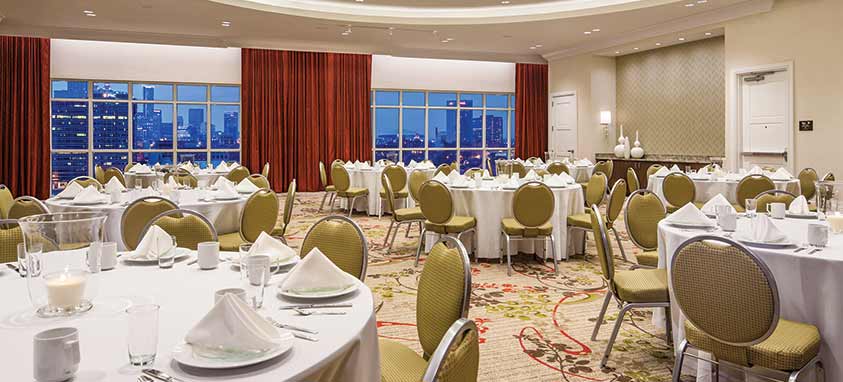 As multibranded properties continue to proliferate, will they extend to the upper reaches of luxury stays? They already have. In Los Angeles, a whopping 141,843 sq. ft. of meeting space is shared by the combined 878-room JW Marriott Los Angeles L.A. Live and 123-room The Ritz-Carlton, Los Angeles.
Their appeal in the city's downtown entertainment complex—and close to Los Angeles Convention Center—proved so strong that Marriott and a developer followed up with another twofer across the street, a 219-suite Residence Inn by Marriott Los Angeles L.A. Live and a 174-room Courtyard by Marriott Los Angeles L.A. Live. They share a front desk and all but the top two floors of the newly constructed building. They also double- downed on meeting and event space, including a 3,633-square-foot meeting room that is divisible by three.
Another prime example of luxury pairing: In 2017, Chicago-based White Lodging cut the ribbon on a dual-branded venture that houses 223-room AC Hotel by Marriott Downtown Denver with a property that is anything but a midlevel, extended-stay brand—the 272-room Le Meridien Denver Downtown; they share 12,050 sq. ft. of meeting space.
The Why of Cohabiting
The fundamental reason why so many multi-branded properties are being built, according to industry insiders, is that the era of the mega hotel has passed. "When was the last time you saw a new 800-room Marriott? That day is over," said Tom Engel, head of Boston-based hotel advisory and asset management firm T.R. Engel Group, in a Forbes interview. "They're white elephants."
Instead, some white elephants are being split in two. A 501-room Melia Hotel in downtown Atlanta, for example, was reflagged as the 360- room Crowne Plaza Atlanta Midtown and 102-room Staybridge Suites Atlanta Midtown, the first two-pack for IHG. There is more than 31,000 sq. ft. of meeting space.
The power of two hotels at one location can also discourage a competitor from opening up across the street, hotel industry experts say.
At the same time, for hoteliers, hotel developers and property managers, the dividends of doubling up are many. It starts with site acquisition, says the IHG spokesperson: "We found that some of our owners and developers were facing challenges sourcing smaller, reasonably priced sites that could be developed into a single limited-service or extendedstay hotel. Dual-branded or combo hotels were developed in order to maximize the site or space they were able to acquire."
At many two-packs, a single general manager oversees everything, saving an executive salary. Other staff roles are often dual, too. Housekeeping and most back-of-the-house functions, such as F&B and laundry, are combined. So are storage and employee facilities. And even if features and amenities such as parking lots, meeting space, pools and fitness centers are expanded to be shared, developers do not have the greater expense of building out twice as many of these. There are also marketing advantages. "It's an easy cross-sell opportunity if one hotel is sold out," says Jan Freitag, senior vice president for Lodging Insights at STR, the data benchmarking company. Indeed, these properties can attract diverse types of travelers, and a cross-sell is an opportunity to introduce a new brand to the guest base. Finally, industry insiders point out that the multiple-brand strategy is a reaction to travel aggregators, such as Airbnb and Expedia. These online services offer multiple choices in one location at a range of prices, amenities and service levels. Now, so can hotel companies.