Two years after Covid-19 upended both sports venues and the meetings industry, both are digging in and getting ready to play ball.
As Covid-19 rates dropped and vaccination rates rose, at press time, fans were prepared to celebrate the arrival of Super Bowl LVI at SoFi Stadium in Los Angeles where the NFL Rams played the Cincinnati Bengals.
SoFi is two years old, which means during Covid-19 it has only had one season with seats filled by NFL fans. During Superbowl Sunday, fans will need to mask for entry and show recent vaccination or negative test results.  The stadium is also favored, during Covid-19 by being in the warm, Southern California weather and by being open to the fresh air at both end zones.
In fact, the expansiveness of sports venues such as SoFi (which has a capacity of up to 5,000 and is situated in a 298-acre mixed use development including hotels and retail) is one major reason planners are eyeing them for their potential in both large and smaller meetings. Bigger is better whether you are planning a meeting for 50 or 500.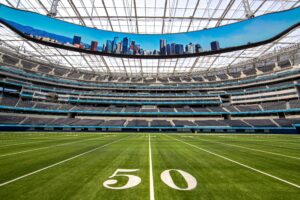 Mai Lim is a meeting planner who recently created a meeting at Los Angeles Memorial Coliseum. Lim, vice president of education for MPI, Southern California, as well as director of global sales for AHLI, held a "State of the Industry" event for MPI at the venue where the USC Trojans play college football.
"We had over a hundred registrations," says Lim.
"When we were planning, we wanted to make sure that we were outdoors with a huge space for distancing. The Peristyle can accommodate over 1,000; that's where we had our main event. Its size allowed us to set the area for social distancing.
"At the rooftop deck, we were outdoors, although covered, and open on both sides with ventilation and enough space to accommodate more than 100."
Lim says that "safety was number one in planning that event," and explains that on-site testing was brought in for all attendees prior to event access.
"LA Memorial Coliseum is a legendary venue," she says. "The first Superbowl was held there and the Superbowl is coming to Los Angeles, so why not do something historic?"
"The vibe in a stadium is very different from a walled room," says Lim. "You can see the sky. The energy it gives out is different from a standard meeting room. It's not a venue the people can just walk into any day."
She points out that doing an event in a sports stadium will give attendees and fans the opportunity to go behind the scenes and have access to areas not normally open to fans. Lim's attendees got a private tour of the stadium, something that gave them a heavy dose of team spirit during the event. Lim calls out the venue's massive signage ability as something the non-profit organization appreciated as a special way to boost its sponsorship base.
"The vibe in a stadium is very different from a walled room. You can see the sky. The energy it gives out is different from a standard meeting room. It's not a venue the people can just walk into any day."
Viva Las Vegas
While these football venues in Los Angeles have sports history, plus the reflected glamour of Tinseltown to set them off, Allegiant Stadium in Las Vegas offers the passion and energy of the NFL Vegas Raiders with the backdrop of all of Sin City behind it. The spanking new stadium became the home of the Raiders in 2020. It's also the home of UNLV Football.
Fully enclosed and able to host 65,000 fans at a time, Allegiant worked in conjunction with Caesars Entertainment to showcase their event capabilities to PCMA planners last year in their Credit One Club and Twitch Lounge.
"The planner feedback has been tremendous" said Reina Herschdofer, director of marketing, national meetings and events at Caesars in a press statement just after the event. "The food and beverage were top notch; creative presentations and flavorful. The experience enhanced the entire program."
F&B services at Allegiant are provided by Silver and Black, a Levy Restaurants brand that partners with Vegas restaurants and chefs to create stand out experiences, in line with those travelers expect from venues like Caesars.
Read More: Live Shows in Las Vegas Are Back and Beckoning
Allegiant also offers meeting planners the option of access to Raider's personalities and alumni, along with Raiderette experiences which Samantha Johnson, vice president of sales and marketing for the stadium says boost an "elevated" state of excitement for any event, creating a "game day" atmosphere that make this venue unique, even in Vegas.
"For over a hundred years, baseball stadiums were places where you'd go, settle down in your metal seat and just watch the game. Now baseball stadiums are entertainment centers," says Michael Alpiner, a self-avowed bleacher bum and journalist who has written about sports venues for Forbes and Business Traveler. "They have the latest restaurants, batting cages, bars, games and more. And importantly, during Covid-19, they have space."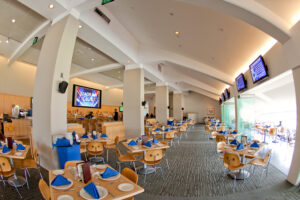 Alpiner cites Los Angeles' Dodger Stadium (the third oldest in the U.S. after Boston's Fenway Park and Chicago's Wrigley Field) built in 1962 as one of country's most inspiring "cathedrals" of the game.
"How can you not think of legendary names like Gil Hodges, Sandy Koufax, Roy Campanella when you think of Dodger Stadium," asks Alpiner. "These names and more have built the stadium's legend, inning by inning."
As the second largest capacity baseball stadium in the U.S. (at 56,000 it comes in just behind the Oakland A's Ring Central Coliseum at 56,782), having an event at Dodger Stadium is a little like playing a ball game in Iowa's Field of Dreams: you feel the ghosts of players past coming out of the corn to get in the game.
"There's so much history here that I don't think that's a feeling that can be replicated in other places," says Kristi Schaffter, manager, special event sales for the LA Dodgers. "It makes Dodger Stadium special, and people feel that when they have an event here."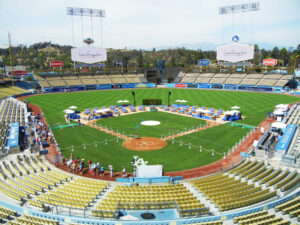 Schaffter says she's encouraged by the number of event and meeting inquiries that the sports stadium is getting for the second half of the year. "I think companies and organizations realize that you just can't duplicate the power of face-to-face meetings," she says, explaining that some of Dodger Stadium USPs are their alumni players who can come and do a meet and greet; or a rental in the Stadium Club on game days, or a cocktail reception or party on the warning track.
And then there's that special item of F&B that can't be had anywhere else. "In all the time I've been here, no one has ever not ordered a Dodgers Dog," says Schaffter. Citing the 10-inch pork wiener wrapped in a steamed bun, she says even when groups are ordering sushi, "You gotta have a Dodger Dog."
It's all part of the mystique of Dodger Stadium.
"The Dodgers have a love affair with the city of Los Angeles and people who come here feel that," Schaffter says.
"In all the time I've been here, no one has ever not ordered a Dodger Dog even if they are ordering sushi…you gotta have a Dodger Dog."
Arena Across the Pond: Old Trafford and Manchester United
One of the United Kingdom's most venerated sports arenas, Old Trafford, the largest football club stadium in the U.K., has been the home of Manchester United since 1910.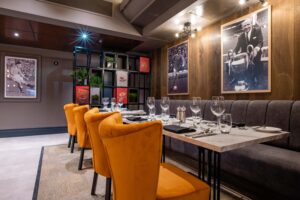 Currently, Old Trafford has more than 20 large suites, many with panoramic views of the pitch and 155 syndicate rooms.
The arena also has a large amount of open air, outdoor space.
Old Trafford's Manchester Suite is one of the largest purpose-built facilities in the Northwest of England with 1,390 sq. m. of space (14,961.84 sq. ft.)  and a capacity of 1,104. It is also one of the most high-profile of the suites inside the arena and the home of the Club's Player of the Year Awards.
Meeting at the Green Monster: Fenway Park
Dodger Stadium may have a lot of history under the belt but Fenway Park in Boston is the country's oldest existing ballpark, built in 1912.
"Think about it, that's the year the Titanic sank," says Ben Morse, premium sales account executive for the Boston Red Sox. Morse says every piece of Fenway's legendary build is like an "exhibit in a museum. I mean think of it. It's over 100 years old and baseball has been played here continuously since then."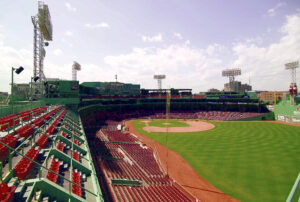 Morse says that Covid-19 and MLB rules has temporarily put field player interaction off the menu, but he hopes that some of the team's one-of-a-kind interactions will resume when the time is right.
"We put people up on the Green Monster and let them catch home runs during batting practice," he says. "You should see the giggles of the adults up there catching balls during special-event happy hours."
The Green Monster is a 37 ft., 2-inch-high green wall in left field that players have to scale with their hits in order to score a home run.
Morse says this amazing experience is still offered because it's not on-field interaction with the players. He hopes the experiences the Red Sox books with player interaction will come back this year but says that groups can currently book off-game events on the field and around the stadium (no player contact). Internal conference facilities within the stadium can also hold up to 300 guests at a time.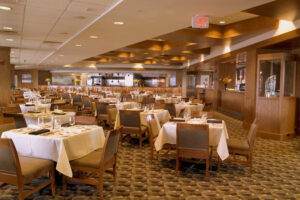 Morse says that for any private group, one of the coolest things is to just "head out to the wood and steel seats in the grandstands. They are quite a bit older that what you'd experience in the suites, but that's part of the uniqueness of Fenway, the mix of the modern and the old—the legend."
Fenway's roster of legends goes on with some of the most colorful names in baseball: Oilcan, Big Papi, Pudge and The Hitdog. Of course, then there's The Babe, but you might want to let hard feelings stay buried.
The Miracle Mets and Meetings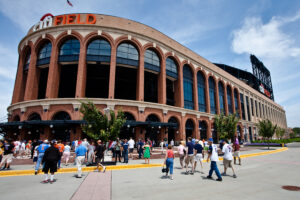 Not as old as the Red Sox, but just as legendary, Queens' New York Mets have been wow-ing fans since the 1968 miracle team that saw them win the World Series.
Once quartered in Shea Stadium, the Mets are now at Citi Field. The heart of ballpark is the 19,000-square-foot arena that can accommodate up to 40,000 people at a time.
Inside the stadium, more intimate venues include the Press Room where real Mets press conferences are held and the Hall of Fame Museum where you can relive the Miracle Mets and their 1969 and 1986 World Series wins.
Olympic Gold in Winter White
Least U.S. meeting planners think that baseball and football take pride of place in stadium venues, consider Salt Lake City's Winter Olympic venues.
Along with being home to the Vivint Arena and NBA Utah Jazz in the heart of the convention district (up to 20,000 people for general session), Salt Lake City is home to some unique sports venues that were used for opening and closing ceremonies of the 2002 Winter Olympics.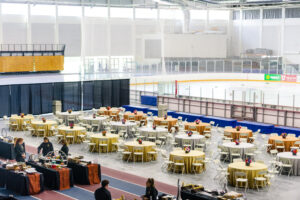 Mark White, Visit Salt Lake's senior vice president of sales and services points out that these venues are uniquely poised to give meeting planners all-weather experiences in and around sports venues built for winter Olympics training as well as the games themselves.
Read More: Escape to Heber Valley, Utah
The University of Utah Rice Eccles football stadium, for instance, is located at the farthest edge of the Rocky Mountains. The campus was used for the Olympics opening and closing ceremonies and seats 50,000 people with a heart-stopping backdrop of the mountains and the city. There are new-built areas in an end zone designed specially for meetings along with a massive Jumbotron for client and sponsor signage.
The Olympic Ice Oval, 15 minutes from the convention district, was used for short- and long-track speed skating and curling and is still used for training.
White points out that Derek Parra, an Olympic medalist, who won two Gold Medals in the 2002 Winter Olympics, is available to speak to groups at the Oval.
"His story is amazing," says White. "He was from inner-city LA and got a pair of inline skates. He became so good that the U.S. skating team invited him to come and train." White says Parra's motivational speeches are often the highlight of meeting planners' entire schedule.
Salt Lake City is also home to the Olympics Sports Park, 28 miles from downtown just outside of Park City where meetings participants can bobsled with athletes who do the actual driving. There is also a meeting venue at a lodge inside that overlooks pools where part of your meeting can include having an award-winning freestyle aerial athlete jump into the pool from an all-weather ski slide while fireworks shoot off in the distance.
"It's one of the great things about Salt Lake City being an all-weather venue," White says. We can access winter sports in the summer, too."
This article appears in the February/March 2022 issue.