Sports venues are offering more authentic experiences for attendees
Taking your group to a sports venue no longer is merely a hot dog and plastic chairs experience. Today's high-tech venues are often fueled with gourmet, healthy food options and Insta-worthy meeting spaces. Plus, they feature a built-in connection to the team and community that guests feel the minute they arrive.
From Elvis impersonators at T-Mobile Arena in Las Vegas to gumbo at Smoothie King Center in New Orleans, nothing says hyper-local like team spirit.
"The Smoothie King Center provides a customizable backdrop for various types of events, while also leveraging its location in one of the most unique and culturally authentic destinations in the country," says Robert Reso, vice president of convention sales for New Orleans & Company. "This makes it easy to incorporate hyper-local elements such as locally inspired cuisine—including gumbo, red beans and rice, po'boys and pralines—or bring in local musical and cultural acts such as the Grammy Award-winning Rebirth Brass Band of Mardi Gras."
Most franchises can partner with planners to even bring current stars or legendary icons to share inspirational stories or create memorable photo opportunities.
"The options of delivering connection between the team, its venue and a private event are endless,"says Kathryn S. Schloessman, president of Los Angeles Sports & Entertainment Commission.
So, rush to book your private, behind-the-scenes tours at AT&T Center in San Antonio and personal encounters with famous players at Petco Park in San Diego—and have similar experiences at venues across the country. After all, why let all that pricey real estate sit empty between games and rock concerts?
Here's a look at hyper-local experiences offered at some of the top sports venues.
Mercedes-Benz Stadium, Atlanta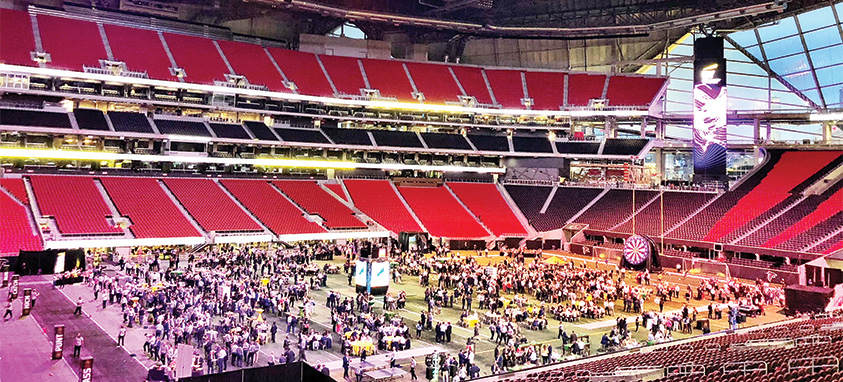 Why it's a great place for meetings: It's a modern stadium, home to the NFL's Atlanta Falcons and MLS' Atlanta United FC, that showcases the most recent technological advances while placing fan experiences at the forefront.
"The stadium is equipped to accommodate groups of all sizes and highlights Atlanta's personality through locally made art, a view of the city and food from popular Atlanta restaurants," says Mark Vaughan, executive vice president and chief sales officer for Atlanta Convention & Visitors Bureau.
More than 15 event spaces are available at the facility, which offers premium amenities and fully customizable experiences.
How it provides groups with a feel for the teams that play there: The stadium partnered with Savannah College of Art and Design (SCAD) to commission and curate world-class artwork and memorabilia. SCAD chose 54 locally and internationally acclaimed artists to create works focusing on football, soccer, and the history of Atlanta and Georgia.
How it gives groups a feel for the character of the city: Mercedes-Benz Stadium, along with concessions partner Levy Restaurants, polled more than 4,000 Falcons and United supporters to determine what types of food and restaurants to offer at the stadium.
"That data led to choosing the highest-rated restaurants and chefs in the city—as well as local favorites from all neighborhoods that include smaller locally and minority-owned restaurants—to be a part of the stadium hospitality experience," Vaughan says.
The foods are available to groups during private events.
Oriole Park at Camden Yards, Baltimore
Why it's a great place for meetings: This unique, downtown venue is one of the most iconic ballparks in Major League Baseball. Home of the Baltimore Orioles, it also features meeting rooms that have stunning views. A wide variety of indoor and outdoor spaces can be used for everything from an intimate gathering to a large group outing or banquet. Group tours can be arranged throughout the year, weather permitting. Tours visit the Orioles dugout, press levels, scoreboard control room, suite level, Orioles Legends Park and Eutaw Street, a festive area near the ballpark.
How it provides groups with a feel for the team that plays there: Many of the meeting spaces offer a view of the playing field, which is inspiring even on nongame days.
"We also offer private tours that showcase many behind-the-scenes areas within the ballpark, giving guests the opportunity to build a deeper connection and understanding of the ballpark's history, our team and former and current players," says Greg Bader, vice president of communications and marketing for the Orioles.
How it gives groups a feel for the character of the city: Catering is available for all events at the stadium, with menus showcasing Chesapeake Bay crab cakes, crab dip and other local favorites. Local vendors include Attman's Deli, Roseda Beef, Pizza John's, Stuggy's and Pinch Dumplings.
Events can be hosted inside historic B&O Warehouse, a Baltimore staple for more than a century that is adjacent to the stadium. Oriole Park is just steps from restaurants and bars, and a few blocks from Baltimore's famous inner harbor.
NRG Stadium, Houston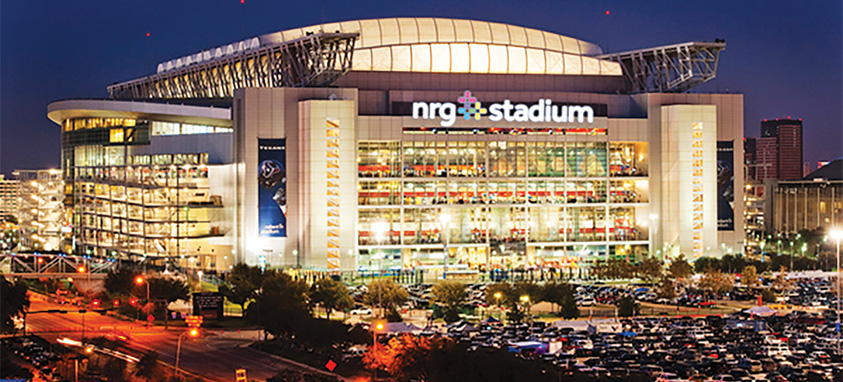 Why it's a great place for meetings: NRG Stadium is part of the 350-acre NRG Park, which includes Carruth Plaza, NRG Center, NRG Arena and the Astrodome. It is the only retractable-roof stadium that can be configured to utilize a 125,000-square-foot space for general sessions, catered functions, exhibits, concerts and more.
The stadium also features 196 suites, club-level meeting spaces for general sessions and catered functions, and four massive concourse levels for special events. The design of the stadium's roof provides a very flexible rigging configuration for major audio and visual presentations.
How it provides groups with a feel for the team that plays there: "Walking into NRG Stadium is an awesome feeling," says Judi Quesonova, CMP, CTA, vice president of client services for Visit Houston. "Not only do you get to stand on the same field as the [NFL's] Houston Texans: It's also the site of the Houston Livestock Show and Rodeo, the largest livestock show and rodeo in the world."
How it gives groups a feel for the character of the city: "Sitting beside the Astrodome—the first domed stadium and the beginning of Astroturf—the [stadium] lets you know we are a city of creativity and innovation," Quesonova says. "Anything is possible in Houston.
Groups can literally have a taste of Houston by enjoying catering menu items, such as a Texas Pecan Tart, Texas Beef Medallions and a Texas Charcuterie Board.
T-Mobile Arena, Las Vegas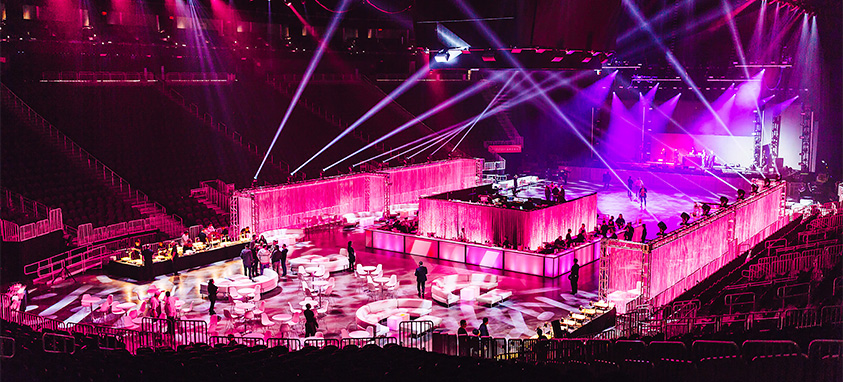 Why it's a great place for meetings: The arena, which debuted in 2016, can host groups of 10 to 20,000 in its eclectic set of lounges and nontraditional meeting spaces. From VIP to all-hands bowl seating, groups can supplement their usage of indoor areas by adding outdoor spaces. "We've held events for 30 people at center ice to 1,500 on the arena floor, to 18,000 for a general session—the building can truly accommodate it all," says Dan Quinn, vice president and general manager of T-Mobile Arena.
The arena's culinary partner, Levy Restaurants, can provide dining experiences that range from hot dogs and nachos to three-course, dual-plated entrees.
How it provides groups with a feel for the teams that play there: Tours provide groups with an in-depth look at the behind-the-scenes experiences of the NHL Las Vegas Golden Knights (VGK). Groups can visit locker rooms and view the "control room" where the games are called. Ultimate Fighting Championship (UFC) matches are also held there, and UFC and Golden Knights personnel can participate in a special performance or a meet and greet.
"We recently had an event where the VGK Knightline (drum line) led the guests' processional from the lobby to the arena floor," Quinn says. "Not many other venues have the opportunity to integrate that type of sports mentality into their event. In addition, clients have the ability to host a meeting that flows straight into a hockey game."
How it gives groups a feel for the character of the city: "Hosting with us gives groups the opportunity to add on as much Las Vegas zest as they want," Quinn says. This can include everything from Elvis impersonators to integrating the Las Vegas landscape into the architecture of meeting spaces so that guests experience the personality and character of the city from its core.
Dodger Stadium, Los Angeles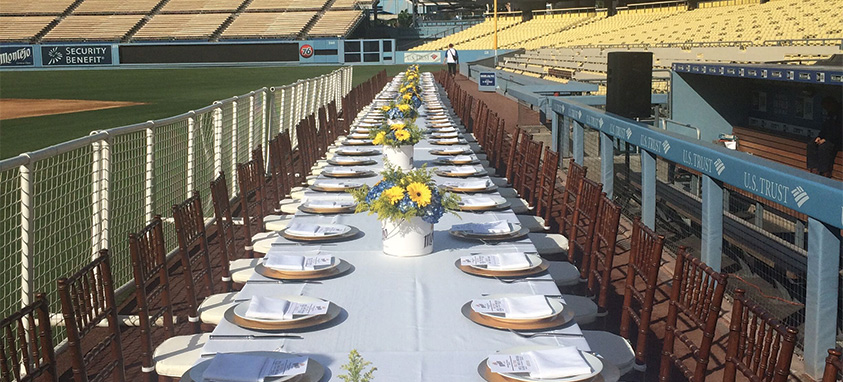 Why it's a great place for meetings: Carved into the hillside of Chavez Ravine, Dodger Stadium is the third-oldest MLB stadium. Located near downtown, it offers a fun and festive setting for intimate and large groups alike. On nongame days, special events can be held in the Stadium Club, Lexus Dugout Club, Hollywood Event Suite, Ketel One Baseline Clubs, the new Top of the Park and right and left field plazas, or even on the iconic field itself.
How it provides groups with a feel for the team that plays there: Attendees can immerse themselves in an exclusive Dodger experience, with unique memorabilia, a wall of Gold Glove awards and the 1981 and 1988 World Series trophies. Groups can also book receptions and private batting-cage experiences.
Behind-the-scenes tours enable groups to visit some of the most restricted and nonpublic areas, and view the stadium from a new perspective. Tours include a visit to the bullpen, weight room and batting cage, and a peek into the Dodger clubhouse.
How it gives groups a feel for the character of the city: "Dodger Stadium is synonymous with Los Angeles, a treasured destination that can host outdoor events all year long, thanks to L.A.'s perfect weather," says Kathryn S. Schloessman, president of Los Angeles Sports & Entertainment Commission. "With breathtaking views of both the San Gabriel Mountains and downtown Los Angeles, guests will be taken aback by the stadium's charm and beauty, much like the rest of Los Angeles."
Dodger Stadium vendors also serve up local craft beers, the famous Dodger Dog—pork or vegan— Mexican tortas, Hawaiian poke bowls, quinoa and chickpea salads.
U.S. Bank Stadium, Minneapolis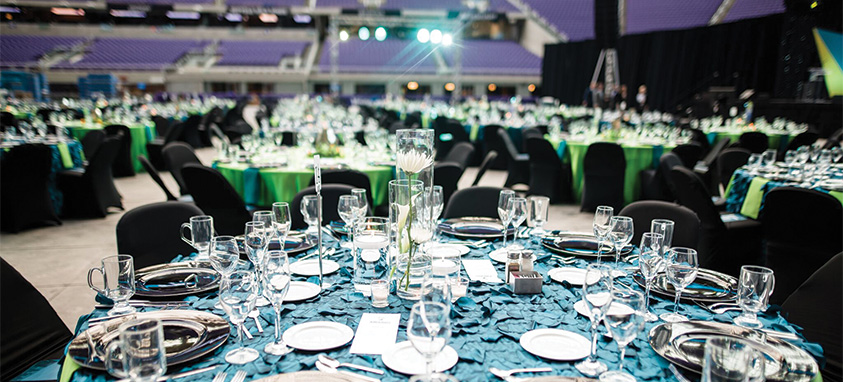 Why it's a great place for meetings: Situated in the heart of downtown Minneapolis, U.S. Bank Stadium offers a wide variety of luxury spaces for group gatherings. All club spaces have distinctive decor that accommodates all types of events, from corporate banquets and receptions to meetings. The stadium, which is home to the NFL's Minnesota Vikings, provides 65,000 seats and 136,600 sq. ft. on the stadium floor.
How it provides groups with a feel for the team that plays there: "Vikings memorabilia is throughout the stadium, honoring both current players and legends," says Kim Insley, public relations manager for Meet Minneapolis and Sports Minneapolis.
Special touches also give a nod to the state's high school football teams.
How it gives groups a feel for the character of the city: The stadium is intimately tied to Minneapolis: In fact, it's widely considered its crown jewel. Historic City Hall is just a stone's throw away, and the Mississippi River is a short walk from the stadium, which also leads to the historic Mill District.
"Spaces within the stadium reflect not just the city, but the state and its icons," Insley says. "Mystic Lake's Club Purple features the city's favorite color—both for the Vikings and favorite son Prince. At Delta Sky360 Club, you are right next to the field and adjacent to the Vikings' locker room. The Medtronic Club features gorgeous finishes with Minnesota roots, including custom installations from Minnesota company Cambria."
Local vendors at the stadium include Bibuta sushi, Be Grace Catering and Market Bar-B-Cue, a Minneapolis institution.
Smoothie King Center, New Orleans
Why it's a great place for meetings: This state-of-the-art center, home to the NBA's New Orleans Pelicans, is adjacent to Mercedes-Benz Superdome in the downtown area and just blocks from the French Quarter. The facility provides cutting-edge technology and tiered-level seating, enabling it to accommodate a wide variety of groups. They can use the entire 21,250 sq. ft. of column-free space or the venues' upper-bowl drape system for an intimate concert setting.
"Many clients also opt to use premium spaces in conjunction with use of the floor," says Reso at New Orleans & Company. "These VIP spaces are outfitted with high-end finishes and amenities; thus, they are a prime setting for corporate and association groups looking for a first-class event experience."
How it provides groups with a feel for the team that plays there: From signage at the entrance to the floor-to-ceiling graphics of NBA players, the iconic Pelican is displayed throughout the venue. The mascot—and team nickname—pays tribute to the fierce and resilient bird that is a beloved symbol of Louisiana and the Gulf Coast region.
How it gives groups a feel for the character of the city: "Without leaving the facility, guests can get a taste of the city with many of the food and beverage options featuring locally inspired cuisine, including Zatarain's, Crescent City Cuisine and Dixie BBQ concession stands, as well as Centerplate's exclusive catering menu," Reso says.
Also, given the compactness of the city, the center isn't far from any of New Orleans' diverse and engaging neighborhoods.
AT&T Center, San Antonio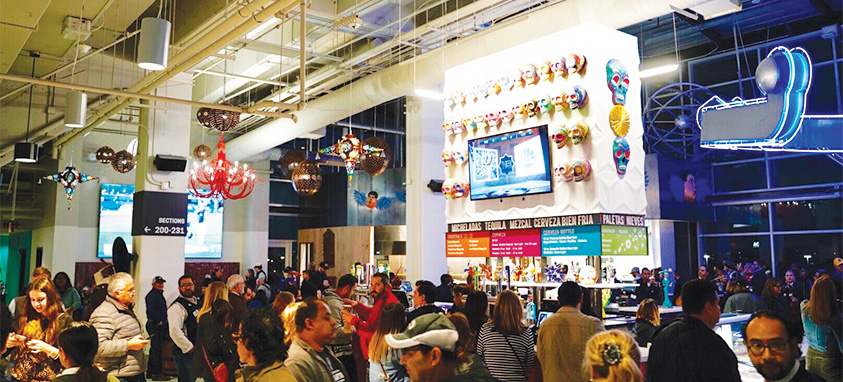 Why it's a great place for meetings: This arena hosts sporting events and live shows, and has many meeting, dining and hospitality spaces for groups of all sizes. Both business and casual events can be accommodated at the center, which offers indoor and outdoor areas, including conference rooms with advanced video and web-conferencing capabilities.
"Groups can also enjoy the premium atmosphere of Terrace Restaurant, the VIP vibe of Rock & Brews or the local flavor of chef Johnny Hernandez's newly opened La Gloria and Burgerteca outlets," says Casandra Matej, president and CEO of Visit San Antonio. "Each of these areas can be customized to fit any group's needs. If an outdoor oasis is more your style, the Bud Light Courthouse houses a stage with top-of-the-line lighting and sound, while a giant screen keeps you connected to any event."
How it provides groups with a feel for the teams that play there: The home of the AHL's San Antonio Rampage and five-time NBA champion San Antonio Spurs, AT&T Center provides meeting spaces that offer wall-to-wall views into the arena bowl, where Spurs championship banners and retired jerseys are displayed.
How it gives groups a feel for the character of the city: The AT&T Center was recently renovated to include food and beverage options that reflect San Antonio's flourishing culinary scene, including handcrafted margaritas and authentic tacos at La Gloria.
Tours of the center showcase more than 200 pieces of original art from more than 50 local and regional artists. "From paintings to art installations and wall-to-wall murals, each piece was curated to celebrate the vibrant arts culture of South Texas," Matej says.
Petco Park, San Diego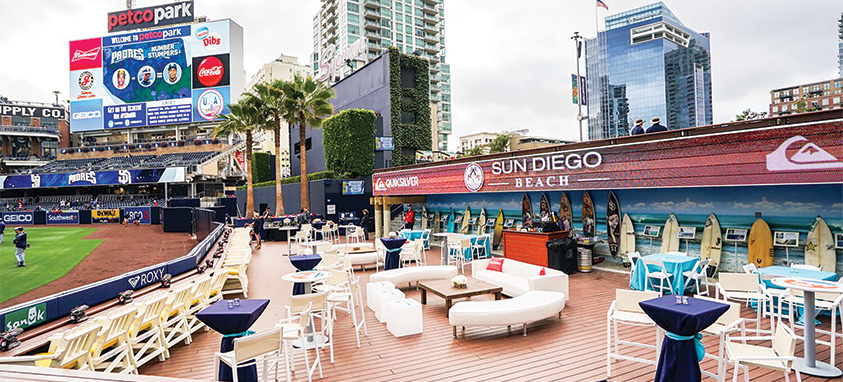 Why it's a great place for meetings: The home of MLB's San Diego Padres has a long history of hosting corporate events. Many private suites and meeting rooms are available, and the grandstands can accommodate a large crowd and utilize the gigantic jumbotron scoreboard—complemented by state-of-the-art, stadium-filling sound—to deliver and reinforce any message that a group desires.
How it provides groups with a feel for the team that plays there: "The abundant branding and signage throughout the stadium screams 'major league,'" says Nathan Kopp, sports sales manager for San Diego Tourism Authority.
Groups entering the park are immediately immersed in navy and white, along with players' banners, custom player artwork and Padres signage. During private events, stadium staff specializes in creating custom Padres and Petco Park experiences, including meet-and- greets with hall of fame players, interacting with the Padres mascot (The Friar), hitting in batting cages and playing a game on the field.
How it gives groups a feel for the character of the city: "The crown jewel of downtown San Diego, Petco Park serves up baseball California-style—complete with swaying palm trees and a sandy beach beyond center field," says Allie Asuncion, director of Petco Park events. "In addition to the aesthetics of the ballpark, our catering represents San Diego by showcasing local craft beers and menus highlighting locally grown ingredients."
Favorites include Phil's BBQ's pulled-pork sandwich, Cardiff Crack's nachos, Hodad's double bacon cheeseburger, Buona Forchetta's Neapolitan pizza and Baked Bear's build-your-own ice cream sandwich.
Levi's Stadium, Santa Clara, California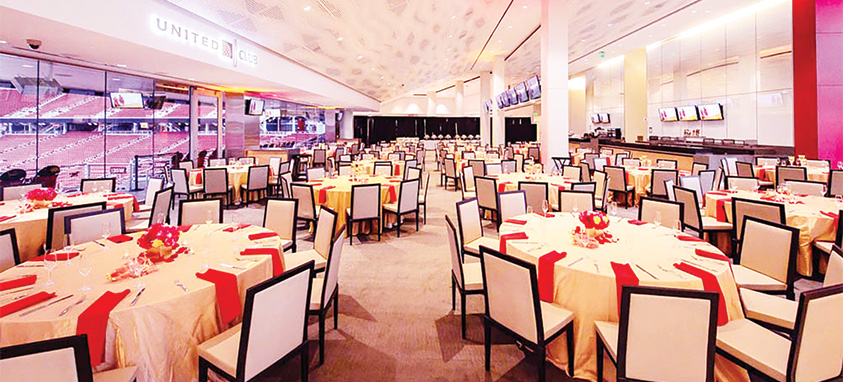 Why it's a great place for meetings: This stadium, 44 miles south of San Francisco and 4 miles from San Jose, is the home of the NFL's San Francisco 49ers. It provides more than 400,000 sq. ft. of event space, featuring premium amenities and fully customizable experiences. For each event, Levi's Stadium offers a base package that includes tables and chairs, table linens, static company/event logo on TVs in the event space, house sound and two microphones, and many food and beverage options.
How it provides groups with a feel for the team that plays there: In addition to the base package, the stadium features VIP tours and can include the 49ers Gold Rush Cheerleaders, alumni and current players, the team mascot (Sourdough Sam), Niner Noise and 49ers skills and drills.
Tours of the stadium are available, as well as opportunities to visit The 49ers Museum, a two-level, 20,000-square-foot space dedicated to showcasing the past, present and future of the 49ers organization.
How it gives groups a feel for the character of the city: The team played in San Francisco from 1946 to 2013, and then moved to Santa Clara but retained the name San Francisco 49ers. (The team's offices moved to Santa Clara in 1988.) Levi's Stadium balances a heavy emphasis on the facility's offerings with the team's heritage.
Foods include stadium staples such as hot dogs, hamburgers and pizza as well as Dungeness crab sandwiches and clam chowder. Healthy options, such as hummus, organic chicken sandwiches and vegan dogs, are available.
T-Mobile Park, Seattle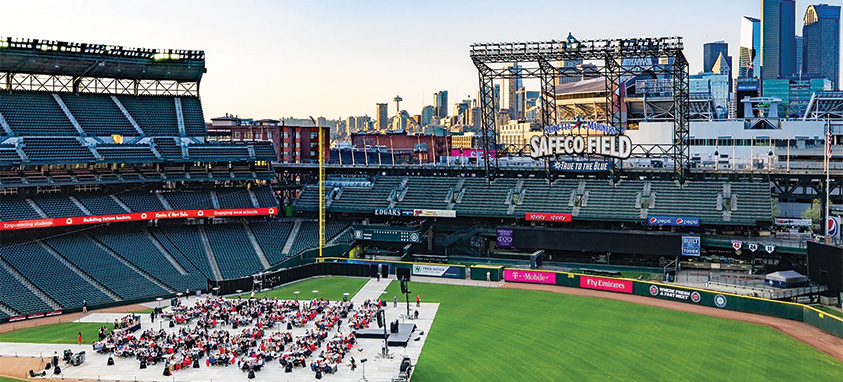 Why it's a great place for meetings: T-Mobile Park (formerly known as Safeco Field), which will be celebrating its 20th anniversary next year, is filled with Seattle history—particularly the MLB Mariners' history. Groups that attend special events or tours get a behind-the-scenes look at the facility. They can experience areas of the ballpark that are normally restricted to the public: They can check out the clubhouse, walk on the field, sit in the press box and much more.
How it provides groups with a feel for the team that plays there:The T-Mobile staff creates events for groups that connect them to the Mariners and the baseball theme. Many enhancements are available, including mascot (Mariner Moose) and player appearances as well as a speed-pitch batting cage and batting practice experiences.
"Guests feel a sense of the Seattle Mariners baseball team when they are here for a private event through event staff, as they are the same staff who work on game days," says Tom Norwalk, president and CEO of Visit Seattle. "The staff strives to make each and every guest feel welcome and special, whether it's talking about the team or providing exclusive tours of the ballpark."
How it gives groups a feel for the character of the city: T-Mobile works closely with notable Seattle chefs and restaurants—including Ethan Stowell Restaurants, Din Tai Fing, Jack's BBQ and Edgar's Cantina by Poquito's—to provide foods and beverages for games and events.
Also, T-Mobile is located in Seattle's historic Pioneer Square, a bustling neighborhood with a thriving culinary and bar scene, notable landmarks and a robust arts and culture community.
Nationals Park, Washington, D.C.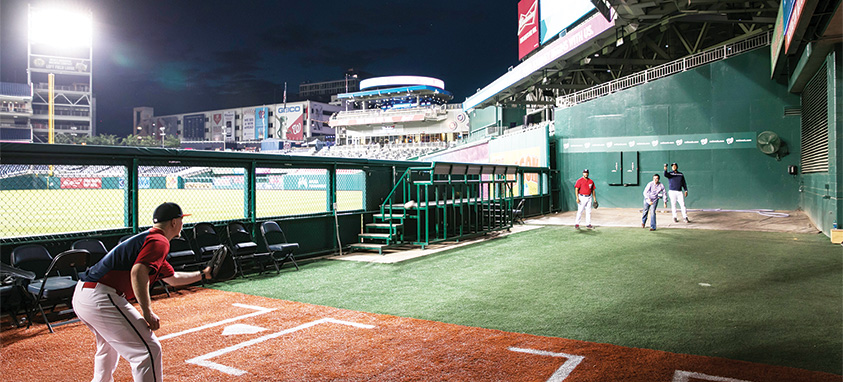 Why it's a great place for meetings: Home to MLB's Washington Nationals, the park is in Southeast Washington, along the fast-developing Capitol Riverfront and adjacent to the Navy Yard. The neighborhood is filled with waterfront dining and activities. It boasts wide-open spaces filled with natural light and plenty of enhancements to keep groups entertained. It can accommodate very large groups, making it an excellent off-site venue for a multiday convention.
How it provides groups with a feel for the team that plays there: "Nationals Park offers many options for planners to bring in the spirit of baseball, from ballpark tours to mascot attendance, to batting practice, speed pitching and use of the team's giant scoreboard," says Elliott L. Ferguson II, president and CEO of Destination DC.
Tours are available from April through November, and include visits to PNC Diamond Club, Delta Sky360 Club, a luxury suite, the press box, Shirley Povich Media Center, the Nationals dugout, and the visiting-team clubhouse (subject to availability). Participants can also throw a pitch in the Nationals bullpen.
How it gives groups a feel for the character of the city: "Our convention services team at Destination DC works with meeting planners to incorporate elements of the city that provide a local flavor during their events, whether that's taking advantage of locally sourced gifts, food, or craft coffee and cocktails," Ferguson says.
Some local favorites at the stadium are foods from Ben's Chili Bowl and District Donuts as well as local brews and cocktails from District Distilling Co. and Republic Restoratives.