Jonathan Tisch's emphasis on cultivating relationships has triggered Loews' success
Born: Atlantic City, New Jersey
Family: His wife, Lizzie, co-founded Suite 1521, an innovative shopping platform in New York City that showcases new and established fashion designer collections. Tisch has two sons from a previous marriage, and a stepdaughter.
Education: Tufts University, bachelor's degree in political science
Recreational activity: Exercising at a local SoulCycle six days each week
Even as a young child, Jonathan Tisch was immersed in the family's business, Loews Hotels, so some people were surprised when he veered into another career field after graduating from Tufts University in Medford, Massachusetts.
"I had served as an intern for WBZ, an NBC-TV station in Boston, during my senior year at Tufts, and later was hired as a cinematographer and editor," he says. "It helped me to learn a lot about the creative process."
Tisch produced public affairs, sports and children's shows, and was nominated for three local Emmy Awards. "I knew that I eventually would get back to working for Loews, but I wanted to do something else for a while," he says.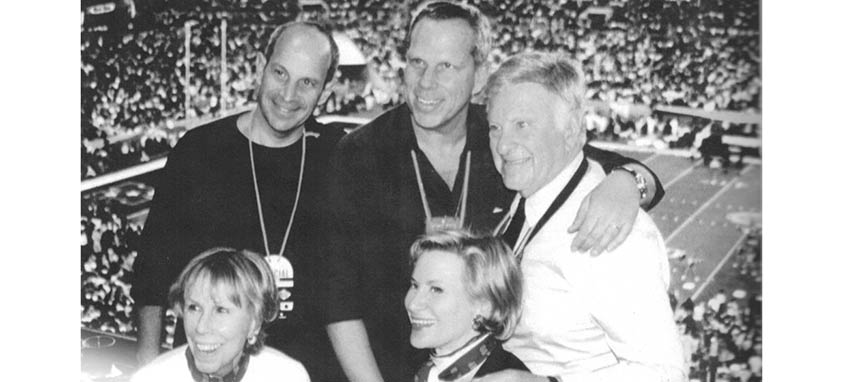 Vintage photo of Jonathan Tisch (second from left) with sister, Laurie; brother, Steve; mother, Joan; and father, Robert Preston
It turned out that Tisch's TV work enabled him to develop skills—including teamwork—that have proven vital to his subsequent career with Loews.
"I liken the editing I did to designing the look of properties in the hotel business, which is another part of the entertainment industry," he says. "Only with Loews, it's like putting on a TV show or movie seven days a week, 365 days a year."
Last year, Tisch, 63, again began serving as CEO of Loews Hotels & Co., a role he held from 1989 to 2012. He places a strong emphasis on cultivating partnerships, particularly by boosting guest services and enhancing the careers of staff members.
"We're only as good as the last experience we've had with guests," he says. "You can have a beautiful lobby and great F&B, but none of it means anything unless you offer the service that people are looking for. We need to not only meet—but also exceed—expectations.
"So, we've created an environment in which we expect a high level of service from our team members. They take their roles very seriously and are proud that they are involved with Loews. I'm extremely grateful for their work, and want to continue to offer opportunities to help enhance their careers."
Tisch plans to concentrate on improving technology, offering new food and beverage options, and renovating hotels. Loews added six hotels in the last five years, and now has 24 properties—23 in the United States and one in Canada. Another Canadian property, Bisha Hotel & Residences in Toronto, is scheduled to open in 2017 with 96 guest rooms and 2,300 sq. ft. of meeting space.
"We're a fairly small player in the industry, but have some uniquely distinct, very successful properties," Tisch says. He says that Loews is in a growth phase, and plans to have approximately 50 hotels by 2020.
Zeroing in on the Meetings Industry
Groups account for anywhere from 20 to 70 percent of business at a Loews property, depending on the location. Tisch estimates that overall, they comprise about 55 percent of the company's business.
"Early on, I learned the value of the meetings industry," Tisch says. "It's been extremely important to Loews Hotels, so I've focused on it. As we move forward, we are intent on finding the right destinations and right hotels for the meetings industry."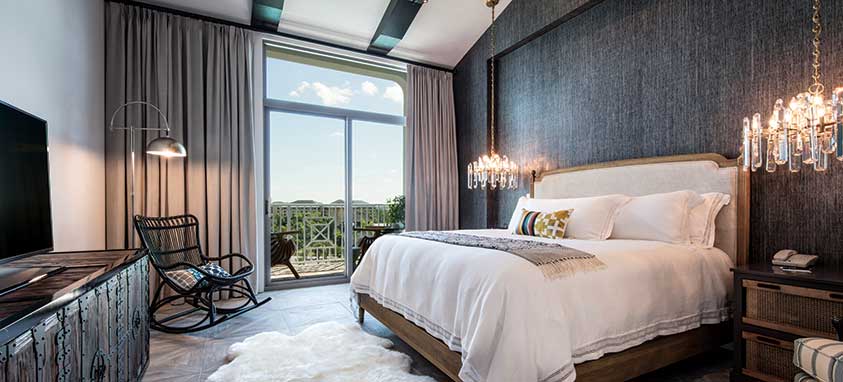 Loews Sapphire Falls at Universal Orlando Resort
Loews has four popular properties with meeting space at Universal Orlando Resort: Loews Royal Pacific Resort (1,000 guest rooms, 157,000 sq. ft. of meeting space), Loews Portofino Bay Hotel (750, 89,000), Hard Rock Hotel (650, 15,000) and Loews Sapphire Falls Resort (1,000, 126,000), which opened in July.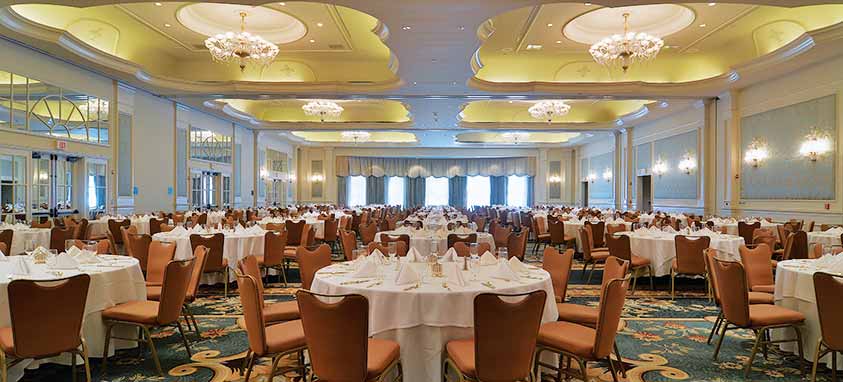 Loews Portofino Bay Hotel at Universal Orlando Resort
The complex also features another Loews property, Universal's Cabana Bay Beach Resort, with 2,200 guest rooms. A sixth property, Universal's Aventura Hotel, with 600 guest rooms, will be unveiled in August 2018.
The company has three brands—Loews Hotels & Resorts (upper-upscale category), Loews Regency, (luxury) and The OE Collection, which blends the luxury and lifestyle hotel segments while featuring an independent spirit and culturally attuned mind-set.
Tisch, along with cousins James Tisch and Andrew Tisch, form the leadership team of Loews Corporation, one of the largest diversified companies in the United States, with businesses in the hospitality, insurance and energy industries.
"Each of us has our areas of strength, and we complement each other," Tisch says. "We're very fortunate: We get along very well."
His strengths stem from his wide range of experiences with Loews, as well as his intimate understanding of the hotel business and destinations.
"To be successful in senior management, you need to know the business inside out," he says.
Tisch says that the blending of complementary strengths harkens back to the business relationship between his father, Robert Tisch, and his uncle, Laurance Tisch. His father, known as "Mr. Outside," was very involved with sales, operations and marketing, while his uncle, "Mr. Inside," had a sharp financial mind.
All in the Family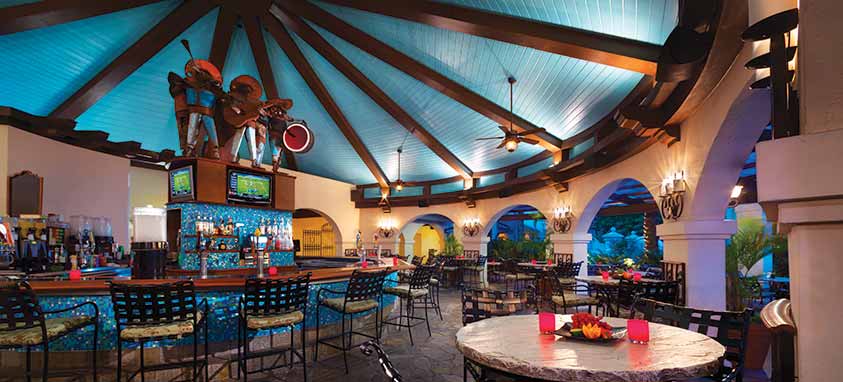 Hard Rock Hotel at Universal Orlando Resort
Loews' roots can be traced back to 1946, when Laurance Tisch persuaded his parents to invest $125,000 to buy a resort hotel in Lakewood, New Jersey. Robert Preston Tisch joined him shortly thereafter, and the brothers began to invest their profits to become more involved in the hotel business. In 1956, they built their first hotel, Americana Hotel in Bal Harbour, Florida, for $17 million in cash.
In 1960, the brothers purchased a controlling interest in Loew's Theatres, Inc., a nationwide chain of 102 movie theaters, which established the foundation of modern-day Loews (Loews sold the theater business in 1985). Laurance and Robert Preston Tisch diversified the business in the 1960s and 1970s by acquiring Lorillard (a tobacco company), CNA Financial and Bulova Watch Company.
Jonathan Tisch was saturated in the family business from the time he was a young boy.
"Growing up in a family in the lodging industry allowed me to see so much at a very young age," he says. This included an opportunity to greet President Dwight Eisenhower at the front door of the former Traymore Hotel in Atlantic City. Tisch had been told to salute Eisenhower because he was a general and then shake his hand, but he was so nervous he did both at the same time.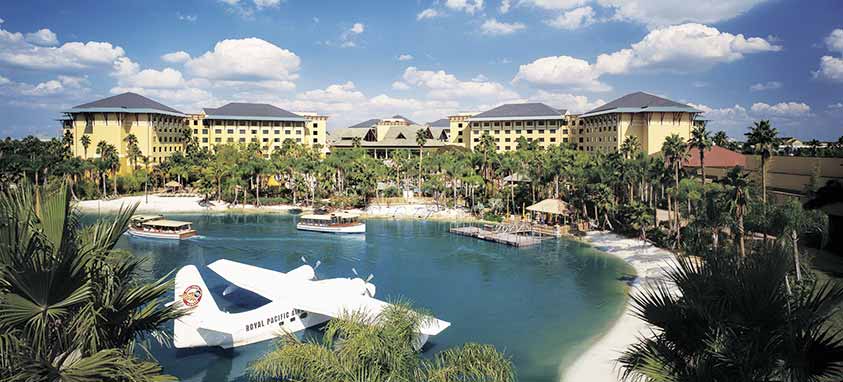 Loews Royal Pacific Resort at Universal Orlando Resort
When he was 15 years old, Tisch began working as a front-desk clerk at the former The Americana of New York, a property his family built on Seventh Avenue in New York City. He used his middle name, Mark, as his last name on his badge so that nobody knew he was a member of the Tisch family.
Tisch joined Loews as a sales representative in 1979 and became director of development in 1981. The following year, he was named vice president and in 1985 he was appointed executive vice president. Tisch became president of Loews Hotels in 1986 and three years later he was promoted to CEO. He has served as a member of Loews Corporation's board of directors since 1986.
During his tenure as CEO of Loews Hotels, Tisch has established the company as a leading luxury brand by placing a high value on partnerships. He initiated the Loews Hotels Good Neighbor Policy, which underscores the company's commitment to good corporate citizenship, social responsibility, and the health of the environment and communities.
In 1996, the policy received the U.S. President's Service Award—the highest honor given by the president of the United States for volunteerism and social responsibility—from President Bill Clinton.
Active Contributor
Jonathan Tisch and wife Lizzie at Tufts University, Medford, Massachusetts
Tisch's accomplishments with Loews are by no means his only significant contributions.
He has written three best-selling books—The Power of We: Succeeding Through Partnerships; Chocolates on the Pillow Aren't Enough: Reinventing the Customer Experience; and Citizen You: Doing Your Part to Change the World. Tisch also was the host of Beyond the Boardroom with Jonathan Tisch, an Emmy-nominated television series in which he interviewed many of America's leading CEOs and other business leaders.
Tisch founded and served as chairman of Travel Business Roundtable until 2008 and is chairman emeritus of its successor organization, the U.S. Travel Association. He also has been instrumental in maintaining and improving New York City's tourism industry by serving for nearly six years as chairman of NYC & Company, the official destination marketing organization for the city's five boroughs. And Tisch served as chairman of New York Rising, a task force dedicated to reviving tourism and the economy in the city after 9/11.
Given the extent and importance of his involvements with New York City, people have often suggested that he run for mayor.
"I'm flattered when people suggest it, but I'm committed to my work with Loews," he says.
He served as vice chairman of the Welfare to Work Partnership and works closely with Jonathan M. Tisch College of Civic Life at Tufts University, as well as Jonathan M. Tisch Center for Hospitality and Tourism at New York University.
A Dream Come True
Tisch also is co-owner and a member of the board of directors of the New York Giants football team. His father—who had grown up in Brooklyn in a family of modest means—was a longtime follower of the team, and purchased 50 percent of it in 1991.
"My father always had an interest in the NFL, and was a friend of [former Commissioner] Pete Rozelle," Tisch says. "When he had an opportunity to buy the Giants, it was a dream come true—and it's a reflection of why our country is so amazing."
Tisch regrets that his father didn't live to see the Giants win Super Bowls in 2008 and 2012 while owning the team, but is pleased that he was able to establish a strong partnership with the Mara family, which founded the team in 1925 and now co-owns it.
"I have incredible respect for the Mara family," Tisch says. "I learned a lot from them and our partnership has been a tremendous pleasure.
"I very much believe in partnerships: They've been important throughout my life, and it's how we operate our Loews hotels.