TV host and chef Anthony Bourdain has been virtually everywhere
Birthplace: New York City
Occupation: TV show host, chef, author, businessman
Favorite Restaurant: "A little place in Rome that serves fettuccini and polpette. I wish I was there now." (He didn't want to reveal the name.)
Favorite Hotels: "Chateau Marmont in Los Angeles is probably my favorite." Other top choices include Sofitel Legend Metropole Hanoi, Raffles Grand Hotel d'Angkor in Siem Reap, Cambodia, as well as old Colonial hotels, and properties run by The Ritz-Carlton, Four Seasons, Anantara and Raffles.
---
Anthony Bourdain has enjoyed some of the world's most lavish, exotic and bizarre foods—including the beating heart of a cobra—during his extensive travels, but don't expect to find any of them on his current list of favorites.
"Maybe I've become spoiled, but I'm now happiest eating a bowl of noodles in a Southeast Asian city or enjoying pasta in Italy," he says. "Like a lot of other chefs, the older I get, the more I appreciate simple foods, like street food."
Bourdain—the host of CNN's Anthony Bourdain: Parts Unknown—and other top international chefs, wine experts and spirits blenders gathered at The Ritz-Carlton Grand Cayman Jan. 12–15 for Cayman Cookout, a celebration of food, drink and the beauty of the Caribbean. They offered tastings, demonstrations and dinners to attendees. Bourdain has participated for nine years.
"There are nice people and terrific food, with enjoyable work and play," he says. "I've brought my daughter, Ariane, ever since she was born. It's a wonderful experience for her, and she likes being with the kids of (chefs) Jose Andres, Eric Ripert and others."
Bourdain says Ariane, 9, is "fearless" about trying new food and loves to cook with him. He had one of his most memorable culinary experiences when he was Ariane's age, aboard an oyster fisherman's boat in his father's native France.
"I ate an oyster for the first time," he says. "I wouldn't say that it immediately gave me the urge to become a chef, but looking back, it was the first time I thought about food as something important."
Troubled Youth
He grew up in Leonia, New Jersey, the son of Pierre Bourdain, a classical music industry executive for Columbia Records, and Gladys Bourdain (nee Sacksman), an editor for The New York Times.
"I had a very middle-class upbringing," Bourdain says. "My parents had a large library of books, and I became a voracious reader. I also became very interested in music and films."
After attending public schools through fourth grade, Bourdain switched to private schools. He also became increasingly disenchanted with the world.
"I was a very angry young man by the time I was 10 or 11," he says. "Maybe it was because of the way the country was going. I had read great books and experienced outstanding music and film, but found that real life was somewhat of a disappointment."
He turned to drugs, embracing hallucinogens and marijuana "wholly and completely" by the time he was 14, and later becoming addicted to heroin and cocaine. His profuse drug use eventually caught up with him, and in the 1980s he underwent five years of methadone treatment to overcome his heroin addiction.
"I took a look at the person in the mirror, and didn't like what I saw," he says. "Vanity saved me. I had just had enough."
Despite his drug issues, Bourdain was able to launch a culinary career. In the 1970s, he attended Vassar College in Poughkeepsie, New York, and worked as a dishwasher and busboy at seafood restaurants in Provincetown, Massachusetts. The jobs piqued his culinary interests, prompting him to drop out of Vassar and enroll at The Culinary Institute of America in Hyde Park, New York, from which he graduated in 1978.
He went on to run kitchens in New York City, including Supper Club, One Fifth Avenue and Sullivan's. In 1982, Bourdain became executive chef at Brasserie Les Halles, a French bistro-brasserie based in Manhattan, with additional locations in Tokyo, Miami and Washington, DC. He no longer works as a professional chef.
"I did it for 30 years, but now I can't handle it physically—it requires speed, timing and endurance," says Bourdain, 60. "I miss it a little bit. I still love cooking for my daughter and other people I care about."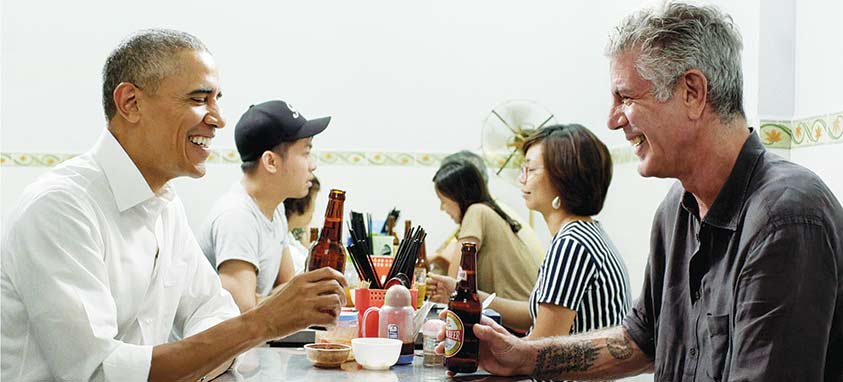 Former U.S. President Barack Obama and Anthony Bourdain share a meal at Bun Cha Huong Lien in Hanoi, Vietnam
Successful Author and TV Host
In 1999, Bourdain wrote a critically acclaimed article, "Don't Eat Before Reading This," for The New Yorker magazine. The expose of the New York City restaurant scene served as a catalyst for his highly successful book, Kitchen Confidential: Adventures in the Culinary Underbelly. The book, in turn, led to an invitation from the Food Network to host his own food and world-travel show, A Cook's Tour, beginning in 2002. The show ran until the following year, and included 35 episodes.
Bourdain has subsequently hosted three other shows: Anthony Bourdain: No Reservations and The Layover, both for the Travel Channel; and Anthony Bourdain: Parts Unknown, for CNN, which is still running. (Ottavia Busia, who is Ariane's mother and Bourdain's former wife, appeared in several episodes.) All of the shows focus on food, but in a very broad context that provides fascinating insights into the city, region or country that is featured.
"Very long ago, my shows stopped being just about the food," Bourdain says. "Food is the vehicle for me to tell stories and make little movies."
His shows have helped to better familiarize viewers with the world's countries and cultures, and thereby gain a greater appreciation of them. This has helped to break down barriers of misunderstanding, but he makes it clear that he isn't on a goodwill mission.
"I like visiting other cultures: Really, it's a selfish enterprise," Bourdain says. "I don't see myself as having a goal or being on a mission; I just try to tell stories in a powerful way."
Bourdain has covered a good portion of the world in his shows, but he hasn't been able to visit a few countries, including Syria, Yemen and Afghanistan, due to security issues.
He is fond of street food—ready-to-eat food sold by hawkers and vendors on streets and in other public places throughout the world. Bourdain particularly enjoys the imaginative culinary creations available in poor countries, where resources are meager.
"They're endearingly prepared by cooks with passion," he says. "You can taste it in the food, which is excellent."
A Busy, Diverse Life
Inspired by Singapore's famed open-air complexes that offer a diverse array of the nation's beloved street food, Bourdain is in the process of creating Bourdain's Market, which will contain as many as 100 different food stalls manned by vendors from around the world, as well as meat and fish counters and a sit-down restaurant.
It will cost some $60 million and be located on New York City's Pier 57, near Chelsea Market, in a structure that juts into the Hudson River at the end of West 15th Street. Built in 1952, the building will be renovated to also house a Google office. The 155,000-square-foot Bourdain Market is slated to open in 2019.
He continues to work on Anthony Bourdain: Parts Unknown episodes, and is writing another book—a personal account of his travels—to add to his prodigious output of cookbooks, crime novels and memoirs.
Bourdain also continues his Brazilian jiu-jitsu training. He took up the sport four years ago, and won a blue belt in 2015, followed by a gold medal in the IBJJF New York Spring International Open Championship in 2016.
"It's far and away the hardest thing I've done in my life," he says. "When I began, it was like my first day in the kitchen. There's an endless learning curve, and there's always someone better than you. But it's very satisfying to me."
Above all, he's totally committed to raising his daughter.
"She's the joy of my life," he says. "It's incredible that she's turned out as well as she has. I've managed to raise a healthy, smart, self-assured little girl. That gives me great peace and satisfaction."