Whether event planners are hosting conferences, meeting with clients, or conducting venue walk-throughs, the team at Aventri (formerly Etouches) knows you are forever on the go. To help you maintain your sanity, it created this curated list of planner essentials. Consider it your survival kit.
Related: Power Move: Aventri Acquires ITN International
To Keep You Connected
4G/LTE hotspot: Wi-Fi at conferences, hotels and airports can be spotty and slow. A 4G/LTE hotspot device will guarantee that you'll always have a Wi-Fi signal to answer important emails, make edits to your event website and more.
Power strip and/or extension cord: Technology has become integral to events. Whether it's you, your team or a sponsor that needs some juice for devices or is having trouble finding an outlet, power strips and extension cords will always save the day.
More: New Meeting Chairs Take Charge at Anaheim Marriott
Portable charging device: Smartphones and tablets are probably your go-to tools. That's why your devices dying at an inconvenient time can be a nightmare. To assure this doesn't happen, take a portable charging device or power pack with you. Never worry about running out of juice again!
To Help with the Logistics
Folding dolly: Instead of carrying heavy bags stuffed with event supplies, let a dolly do the heavy work. Just make sure you pick up the folding or collapsible kind so it's a snap to bring it with you on the go.
Parking passes or Uber: Parking at large events or conferences can be a nightmare. To protect yourself and your guests from parking frustration, buy parking passes ahead of time. If the venue doesn't offer parking passes and the parking isn't free, use ride-sharing apps as an alternative.
Digital pens: Digital pens, such as Moleskine's Smart Writing System, convert your written handwriting to digital data. All your notes, venue sketches and doodles will automatically be saved to your laptop or mobile device. You just have to write with the pen, and your notes will be safely in the cloud.
To Keep You Organized
Google Assistant: Ever wish you had another "you" to help you plan? Technology now available for Android and iOS devices can deliver that—almost. Google Assistant helps you manage tasks, set reminders, create shortcuts, send texts, get information about destinations or venues and more. Make it your new event planning sidekick.
Dropbox: Share hundreds of documents and files with your colleagues on the fly. You can download the app to your phone and configure it to automatically sync your photos to the cloud. Any files uploaded to Dropbox will be accessible from your computer, tablet and phone, so you can access the materials anywhere. This tool is a super easy way to access hundreds of files—all on your mobile device.
Slack: This instant communication service allows you to connect remotely with your entire team or company. You can also use the platform to communicate with your event's speakers, sponsors and VIP attendees.
To Keep You Prepared
Portable projector: These handheld devices can substitute for the venue's projector if something goes wrong, or can be used to project something off your phone, tablet or computer. It is always good to have a plan B.
Portable scanner: Not only is a scanner useful during events for collecting attendee information: You can use it while conducting venue inspections, looking at floor maps and filling out contracts.
To Fuel You
Travel beverage cup: Whatever your essential drink of choice during an event, having a heavy-duty travel mug or bottle will help you stay hydrated—and it is better for the environment than disposable.
Protein bars: Sometimes, you may not have time to eat a full meal. But keeping your energy up is important to maintain peak productivity. Stash a few protein bars in your bag as a healthier alternative to junk food. Some of our favorites are Quest and No Cow.
Preparing for The Worst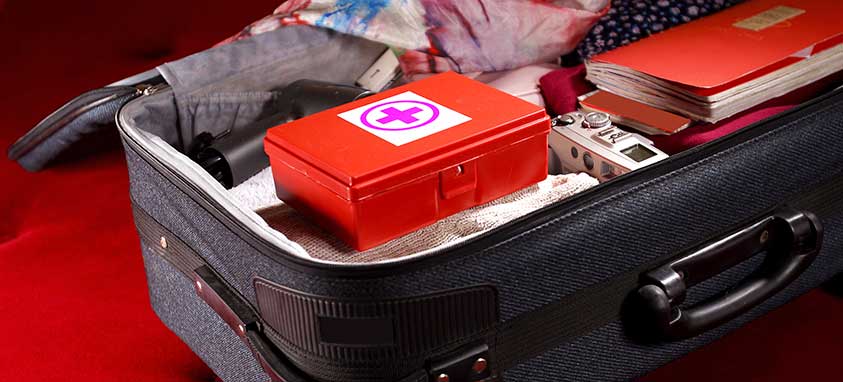 An Emergency Kit: While technology and tools may help you with the big stuff, emergency kits are essential for you to carry during your event, as you never know what you might need. Here are our emergency kit essentials.
1. Scissors
2. Pens
3. Pencils
4. Tape/thumbtacks
5. Measuring tape
6. Notebook/post-its
7. First-aid kit
8. Stain-removal pen
9. Ibuprofen
10. Printed master list