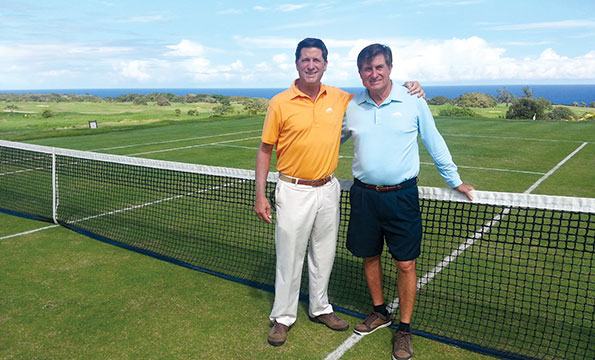 Upon arrival at the magnificent Royal Isabela, a private luxury golf course and resort community in Puerto Rico, I was greeted by a man who stretched out his hand and said, "Hi, I'm Charlie."
I soon found out that he is no ordinary Charlie; he's co-founder of Royal Isabela, as well as a Hall of Fame tennis player. During the course of the next couple of hours, I learned that Charlie Pasarell grew up in San Juan, played on the UCLA tennis team and then embarked on a tennis career filled with outstanding achievements, such as winning 18 singles titles. He was ranked the No. 11 player in world in 1966 and No. 1 in the United States in 1967, and reached the quarterfinals at Wimbledon in 1976.
Along with a group of other players, Pasarell founded the Association of Tennis Professionals in 1971 to give players a voice in the emerging professional game. He has remained active in the organization, serving on boards and until recently, as tournament director, managing partner and part owner of the BNP Paribas Open in Indian Wells, California.
Now, along with his brother, Stanley Pasarell, he's immersed in developing 2,000 acres of Puerto Rico's most beautiful land along the northern shore.
The property has an 18-hole golf course, designed by course architect David W. Pfaff, in collaboration with the Pasarell brothers. Virtually the entire course, much of which overlooks the ocean, was created from the existing land, and careful attention was paid to preserve the natural surroundings.
"We didn't build the course; nature did," Charlie Pasarell says. "Most of the Puerto Rico coastline is flat. We like this area, with both cliffs and flatland. It's Scotland in the Caribbean—but with great weather."
The course has earned high praise from the golf community. "It offers golfers different options on every shot," he says. "It is challenging, but it can be played by people on all levels."
Royal Isabela also has 20 casitas, hiking and biking trails, private beach access, fine dining and, of course, tennis courts. Groups staying in San Juan and other cities are able to use the golf course, and eventually lodging could be available for them.
"We're hoping to build a 15-room luxury site with meeting space," Pasarell says. "Our ambition is to create a brand."
More details can be found at royalisabela.com