Hot tips for creating big impact
When Team Beachbody, a fitness company, brought tens of thousands of attendees to Indianapolis for its 2018 Coach Summit, the event's planners flexed their muscle to shut down Monument Circle, an iconic historic site near downtown.
"They did a giant workout session, with around 20,000 people working out in a big traffic circle," says Leonard Hoops, president and CEO of Visit Indy, the city's convention and visitors bureau. "They looked at that monument and said, 'This is the perfect place for an epic visual workout session.' We hadn't seen that before."
"We love citywide meetings because our city is set up so well to host them and because attendees get such a great feel for Portland and what we're all about," says James Jessie, vice president of convention sales for Travel Portland in Oregon. "We work all year long to maintain close working relationship with hotels and with our maker community—with restaurants, breweries, wineries and distilleries. We keep up on all the latest so planners can tap into our knowledge.
"Our goal is to make hosting a meeting in Portland easy and fun. We want attendees to have the best possible experience so they'll want to keep coming back."
The term "citywide" is a bit of a misnomer, as most planners of large gatherings still prefer to cluster their activities as much as possible, usually in and around a city's downtown district. But regardless of how large your event (or where you go), some aspects of planning citywides never change. Smart Meetings reached out to tourism officials and planners from an array of cities for their tips about how planners can make the most of their largest gatherings. Do you have a smart tip? Join the conversation at #MeetSmart.
Smart Tip #1: Work With Local Partners
One of the great things about citywide meetings, in which the size of the event—and potential impact on the local community—can be so massive is that planners can dream up ideas on a grand scale. The trick is to work with local partners to create a unique experience that harnesses the efficiencies that come from bringing thousands of attendees to a single destination.
Smart Tip #2: Start Early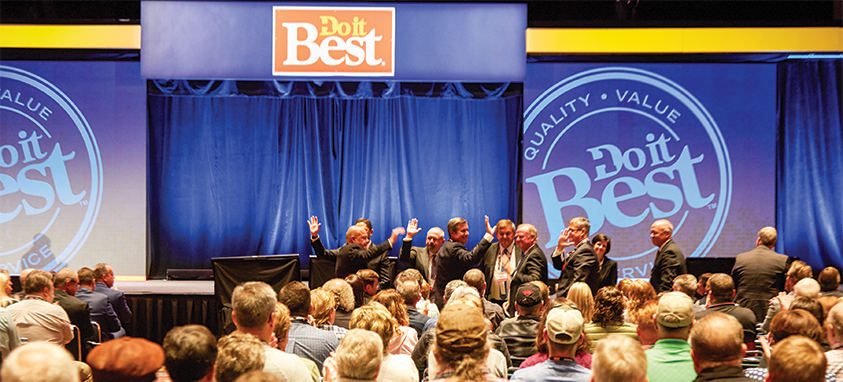 Some meeting planners are reluctant to bring their large meetings back to the same city year after year. But Do It Best Corp., a chain of co-op hardware stores, has held nearly all its twice-annual sales shows in Indianapolis for the past 43 years.
"In Indy, everything's right there," says Vince Slack, meeting and market planning manager for Do it Best. "You can park at the hotel the day you arrive and never have to leave. The availability of hotels, restaurants and entertainment venues is important. We don't have a desire to do our show out in the middle of nowhere. All the museums are right there, as well, including the zoo and the children's museum."
Attracting 8,000–10,000 attendees, Do it Best's event is held inside Indianapolis Convention Center, but attendees take advantage of a variety of local venues, including Indianapolis Motor Speedway (the "mecca of motor racing"), Bankers Life Fieldhouse (an arena), and Lucas Oil Stadium, which can be used for on-field corporate events when available. An indoor/outdoor venue, Lucas Oil Stadium is connected to the convention center—as well as to several downtown hotels.
"Since 1972, the whole downtown has been designed to hold meetings, conventions and major events," Hoops says. "Twelve hotels and Lucas Oil Stadium are all connected. You can walk from your hotel—and a lot of restaurants and shops—through a climate-connected skywalk to the convention center without having to go outdoors. Infrastructure-wise, no one does it as well as Indy."
When it comes to planning a citywide meeting, Slack recommends starting early and building strong relationships with a range of partners. For example, Do it Best's team has strong connections to the team at Visit Indy, and it also works with Convention Strategy Group, an attendance management firm, for added support with negotiating dates and rates.
"The importance of finding the right partners and developing those relationships can't be stressed enough, whether it's the AV or the in-house caterer," Slack says.
He also suggests that planners not rest on their laurels. Even though Do it Best has been returning to Indianapolis for decades, the company's planners keep aware of opportunities in other cities.
"We don't want to leave Indy, but we have to be as efficient and as smart as we can in the decisions we're making," Slack says. "We've been there a long time, but we would not be serving members if we didn't keep our eyes open." But so far, nothing else has measured up, he reports.
Smart Tip #3: Get Feedback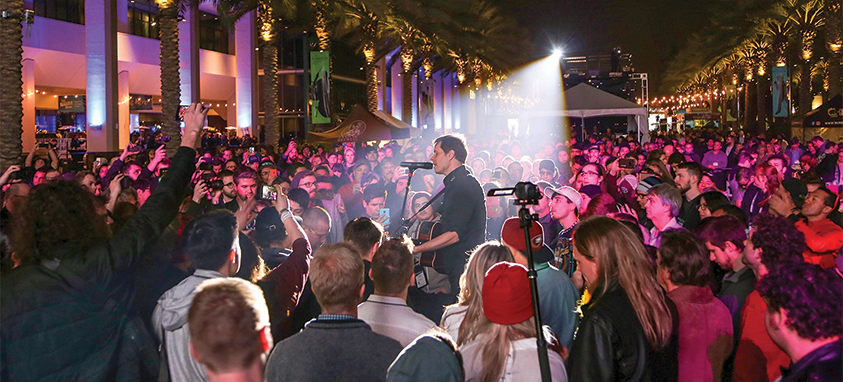 Best known as the home of Disneyland, Anaheim, California, has grown into a major meetings destination, as it offers the key benefits of the Southern California market, including international accessibility and world-famous sunshine. While the proximity of "Mickey's House" makes the destination family friendly, many of the roughly 35–45 citywides held there each year do not include events in or around the Magic Kingdom.
Consider the annual NAMM Show, the convention organized by the National Association of Music Merchants, which welcomes more than 100,000 attendees from around the world and has contracted with 50 hotels. "NAMM members stay both within Anaheim city limits and in neighboring cities," says Cindy Sample, director of trade show operations at NAMM. "Anaheim has been NAMM's home for 40 years, and attendees always look forward to returning to Southern California in January."
Given its size, NAMM takes advantage of the entire Anaheim convention campus, which comprises Anaheim Convention Center (ACC), the newly constructed ACC North building, Grand and Arena outdoor plazas, as well as the Marriott, Hilton and Sheraton hotels, which are used for live music performances, education sessions, exhibits and more.
"NAMM utilizes the outdoor space surrounding the convention center to create a festival-style feel with two live music stages, food trucks and stations, sponsored installations, networking areas and much more," Sample says.
An important key to the success of planning citywide meetings lies in creating opportunities for smaller communities to find each other within the context of the larger event.
"The size of our convention center allows organizers to design different experiences, and the layout of what we refer to as our 'campus' helps meeting organizers contain their attendees within that campus," says Junior Tauvaa, senior vice president of sales and services for Visit Anaheim. "When you have such a large event, you want experiences that connect all those people in unique areas or segments based on their interest, or based on the objective of their trip.
"You want to be able to make that event as intimate as possible and as user-friendly as possible for people to be able to connect with the people they want to connect with."
Another tip for improving a citywide each year lies in getting continual feedback from attendees about what's working—and what's not.
"NAMM listens and responds to the needs of our members/attendees, as well as stays on the pulse of the trade show and event industry, to continue to enhance the attendee experience," Sample says. "Along with this, deploying new features, keeping our members safe and creating a memorable experience for the audience is key." She encourages meeting planners to develop long-term plans with destination cities so that the surrounding businesses and communities can anticipate your return.
Also, when in Anaheim it's a good idea to at least offer clients some way to get a taste of the Disney magic, whether by organizing an off-site event or providing discounted tickets to attend the parks before or after your gathering.
Smart Tip #4: Include Locals in Fun
Pittsburgh is home to the NFL's Steelers, but don't make the mistake of thinking it's all about metal. "A lot of people think of Pittsburgh as Steel City—that it's very industrial—but you don't see smoke stacks and steel mills anymore," says Karl Pietrzak, vice president of convention sales for Visit Pittsburgh. "It's a clean and environmentally friendly city with lots of water and lots of green space."
A meeting is considered a "citywide" in Pittsburgh once it reaches 1,000 rooms on peak nights. The city hosts large meetings throughout the year, in part because of its relatively central location. "We're within 500 miles of more than 50 percent of the North American population," Pietrzak says. "That helps attendance at our meetings, and it's relatively affordable to fly here, compared to other cities."
As an example of how a citywide can integrate with the local community, Anthrocon, a gathering of more than 5,000 "furries" (people who dress up in animal costumes), has been held annually in Pittsburgh for more than a decade. A highlight of the event is the Furry Parade, when attendees (in costume, of course) march through the city streets to David L. Lawrence Convention Center. "The public is invited to come to cheer them on and take pictures," Pietrzak says.
Downtown Pittsburgh has been growing its convention infrastructure in recent years, which makes it well-suited to citywides. "We've had a bit of a building boom in the last five to 10 years, and we've doubled the number of hotels downtown," he says. "We're a very walkable, compact city. Our convention center is right downtown, and [attendees] can get to 10 to 15 hotels within a comfortable walk, as well as to restaurants and attractions."
Another general tip for planners organizing citywide meetings is to take advantage of their destination's convention and visitors bureau to help drum up excitement about their event.
"We're more than happy to come right into their office or board meeting and do a presentation to show them what is going on in Pittsburgh," Pietrzak says. "We have plenty of collateral, and we can do email blasts, microsites, web links and social media. We'll also do an attendance builder and send someone from the prior year's meeting to talk about Pittsburgh, show a video and set up a booth with information where people can make hotel reservations."
Smart Tip #5: Encourage Attendees to Live Like a Local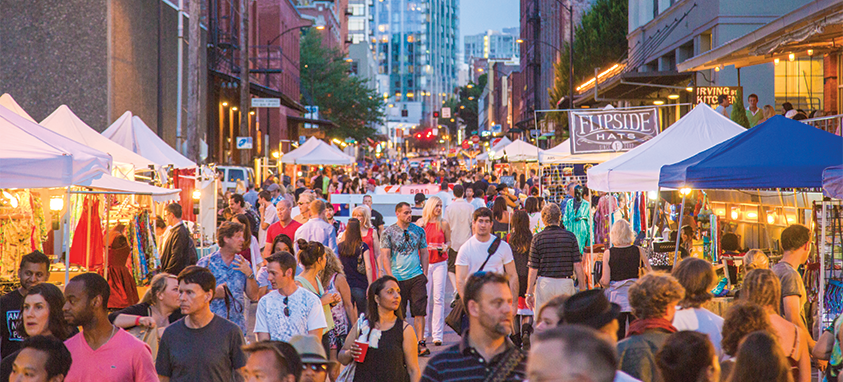 Combining the outdoorsy vibe of the Pacific Northwest with "green" progressivism and urban sophistication, Portland is an attractive option for citywide meetings. It has an outstanding public transportation system (with a light-rail that makes the downtown feel small and accessible), and as an added benefit, there is zero sales tax. Portland's convention planners consider a "citywide" to be 1,000 room nights on peak—though thanks to a new Hyatt convention center hotel, scheduled to open by late 2019, that figure will expand to 1,400 rooms on peak.
One of the most important keys to success for planning a citywide meeting is to work with local service managers, who can help identify and contact different venues, or, in a place like Portland, to help find ways to incorporate sustainability or create an only-in-Portland feel. Even venues such as Oregon Convention Center can bring to life Portland's signature offerings, such as farm-to-table catering.
"We're here to help meeting attendees engage with the things Portland is known for," says Travel Portland's James Jessie. "Our team is especially appreciated for helping planners create meetings that feel uniquely Portland. Venues that reflect Portland's character abound, from our natural surroundings and environmentally friendly ethos to our passion for craft beverages and love of food and ingredients, to our independent and progressive spirit and cravings for art, music and culture."
For those who want to do the research on their own, Travel Portland has a Venue Finder tool on its website. And the staff can help attendees "live like a local" by using rail, street car, bike share and electric scooters.
"Our service managers do everything from figuring out the correct venues for your event by reaching out to different venues to helping you incorporate sustainability, off-site entertainment and ways of incorporating authentic local experiences," Jessie says.
Tip #6: Stretch Your Budget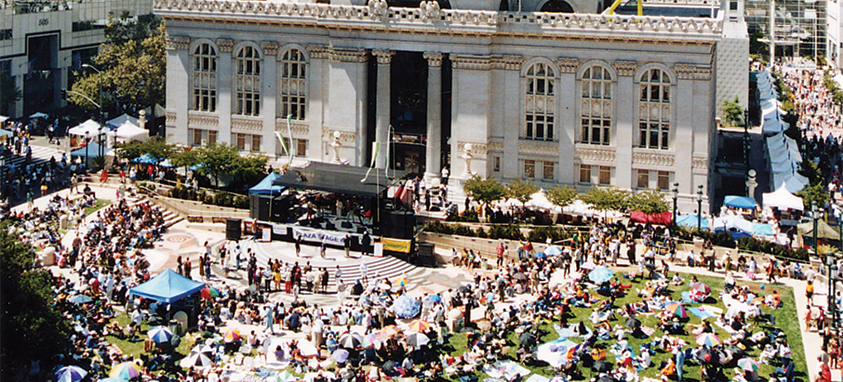 Oakland is an up-and-coming city in the thriving San Francisco Bay Area, but as a meetings destination, it is smaller than most people might realize: A "citywide" there is considered 650 rooms on peak. "That can be huge," says Rhanee Palma, vice president of sales and services for Visit Oakland. "You can take over a large city in Northern California for a smaller number of people. The benefit is that our whole city will be themed for your event."
When ComicCon came to Oakland, the CVB deployed ambassadors around the downtown area, and they sent out a notice to local merchants to be ready for the crowd. Some of the nearby shops even created special window displays and signage to welcome the comic and cosplay convention's quirky crowd.
"We definitely make it a coordinated effort," Palma says. "Visit Oakland has strong ties to the community, and our whole city likes to promote small businesses. We try to learn from the planner. Are there going to be dine-arounds? Will people have meals on their own? If so, we want to make sure the restaurants are completely staffed. We will recommend they provide special pricing for conference attendees and that their bars are fully stocked with preferred alcohol."
When Game Site, a tech company, brought its conference to Oakland, the city's tourism officials helped it set up a park in the middle of the street. "For something like that in San Francisco, it would cost $25,000, but here it would cost $5,000," Palma says. "There's more wiggle room in making your event interactive and creative, because of how much things cost here."
Whether you're planning a citywide in Oakland or any other city, keep in mind that these large gatherings are an opportunity to create a "community within a community," and to build connections between thousands of visitors and the local business community. Key to this is working with the local convention and visitors bureau as well as other destination management services providers to build bridges to the local scene.
For example, Palma recommends that planners find ways to work with local vendors whenever possible (for printing or buying giveaway items, for instance). "Look at doing something that will uplift the community," she says. "Using the local people will really be helpful for your entire conference to be successful. It can help get local buy-in so that all your attendees will feel more welcome."
Fish Syndrome
With any citywide, the first question is, how big should your pond be? Is it best to be a big fish in a small pond? Small fish in a big pond? Or, even, big fish in a big pond? The answer depends on many variables, including attendee expectations, room and meeting space availability and level of service.
Los Angeles is indisputably a big pond, with excellent meetings infrastructure and the wow factor. Los Angeles Tourism & Convention Board promotes the city's 1,018 hotels with 101,937 guest rooms, as well Los Angeles Convention Center, which offers 952,732 sq. ft. of meeting space. Little wonder that it attracts citywide groups as varied as WonderCon and Mary Kay Annual Leadership Conference.
Only 25 miles away, Long Beach is a smaller pond that is enjoying success with citywide groups that fit within its 5,000 hotel rooms.
"We're seeing more tech clientele lately," says Gregg Haniford, senior vice president of sales and services, at Long Beach Convention & Visitors Bureau. "Our new, edgier spaces are appealing to the millennial market."
Across the country, Greensboro, North Carolina, is also on the rise with citywide gatherings. Centrally located on the eastern seaboard, It boasts 10,000 guest rooms, 600 restaurants and attractions that range from agritourism and golf to history tours.
Greensboro Area Convention & Visitors Bureau assists planners in shaping itineraries.
Hyatt Convention Alliance is yet another planner resource, particularly if gatherings move to new, dynamic locations from year to year.
This Hyatt group boasts 10 meetings properties in nine key markets that can serve as the core of a citywide strategy. They range from 60,000 to 316,000 sq. ft. of functional event space—with four that directly connect to convention centers.