What you learned from the great virtual experiment and what comes next
The fully integrated hybrid future predicted in 2021 is probably not the predominant model for 2023. Producing an in-person and virtual event simultaneously where everyone feels engaged is just too hard, not to mention expensive. But that doesn't mean we are leaving behind all those hard-earned skills from the pandemic years. If we squint a little bit and play with the definition of hybrid, we can see variations on the theme at companies all over the world as pre-event Zoom orientations, recorded keynotes and 360 communities (see sidebar: Circle of Peers) pop up to leverage the energy of those fast-returning in-person events.
Some have said that we will know the new technology has reached maturity when we stop calling interactions "virtual" or "hybrid" or "in person" and just refer to the universe of ways to connect as events.
Others are promoting events that jump right to the 3D metaverse with-or-without goggles (see sidebar: Meta Meetings). "Phygital" seems to be the emerging trending term to describe the mash-up of physical and digital with avatar accessories sold as NFT value-adds to in-person ticket stubs.
Whatever you call it, you are doing a lot of planning and attending events again. We surveyed our audience of meeting experts and found that a whopping 95% of you are planning in-person meetings for 2023, up from 88% in 2022. More than half of respondents (55%) are planning virtual meetings, down from 63% last year, but still substantial. And 52% are labeling their events as hybrid, exactly the same percentage as last year, even if the experience has morphed.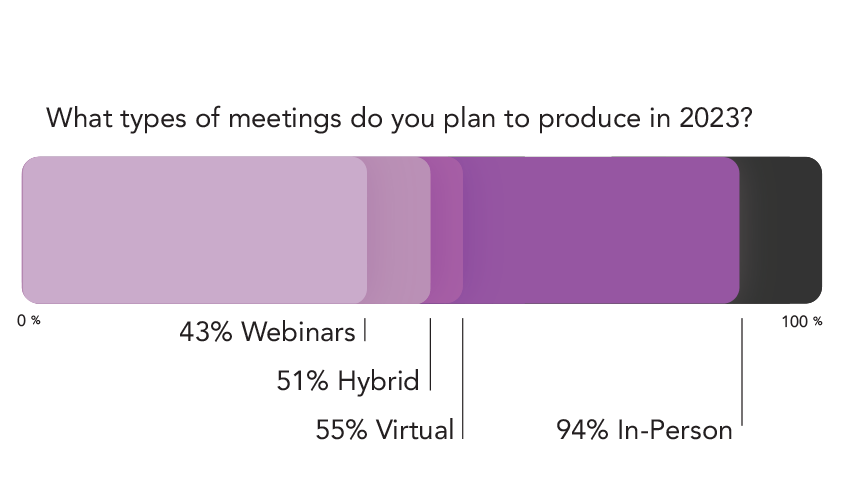 Let's look at some telling data points for where the balance is shifting. In January of this year, PCMA's Convening Leaders in Columbus, Ohio, brought 3,300 people together at Greater Columbus Convention Center. Only 109 streamed the keynotes remotely. Compare that to the experience during the pandemic years. In 2021, 3,500 people from 36 countries watched online through the Juno AI platform with a small group in Las Vegas at Caesars Forum and at watch parties around the world. The same event in January of 2022 brought 2,500 people back to Las Vegas in person and 600 tuned in remotely. The pattern is pretty clear even without a VR headset.
Pattie Kempka, senior director of national meetings and conferences with Memphis, Tennessee-based Ducks Unlimited, may have explained the evolution best when she said, "As virtual users become more accustomed to the nuances of the technology and the challenges it presents for true interaction, our expectations are leveled." Kempka is launching Runsignup for her registration platform this year and having her internal developers create an app and website interface for it, but for her larger events, she is getting away from the hybrid approach unless necessary.
The Bottom Line
The stickiness of virtual events is reflected in your budgets. Two out of five respondents to our survey (40%) said your event technology spend is staying the same in 2023 and more than half (52%) said event technology budgets are increasing marginally (36%) or substantially (16%). Only 9% said it was decreasing marginally and no one said it would be decreasing substantially.
Cost was the biggest concern about virtual events for Jorden Meyers, director of ministry services with Evangelical Covenant Church in Grand Rapids, Michigan. "I would love excellent support for our virtual events without a high price tag," he said.
Julianne Sweet, event operations manager with Farmington Hills, Michigan-based Equipment and Tool Institute, has added virtual event production as a new (expensive) line item to her event budget moving forward. "It was the best money spent," she said. In addition to handling the technology, they videotaped all sessions and created promotional clips.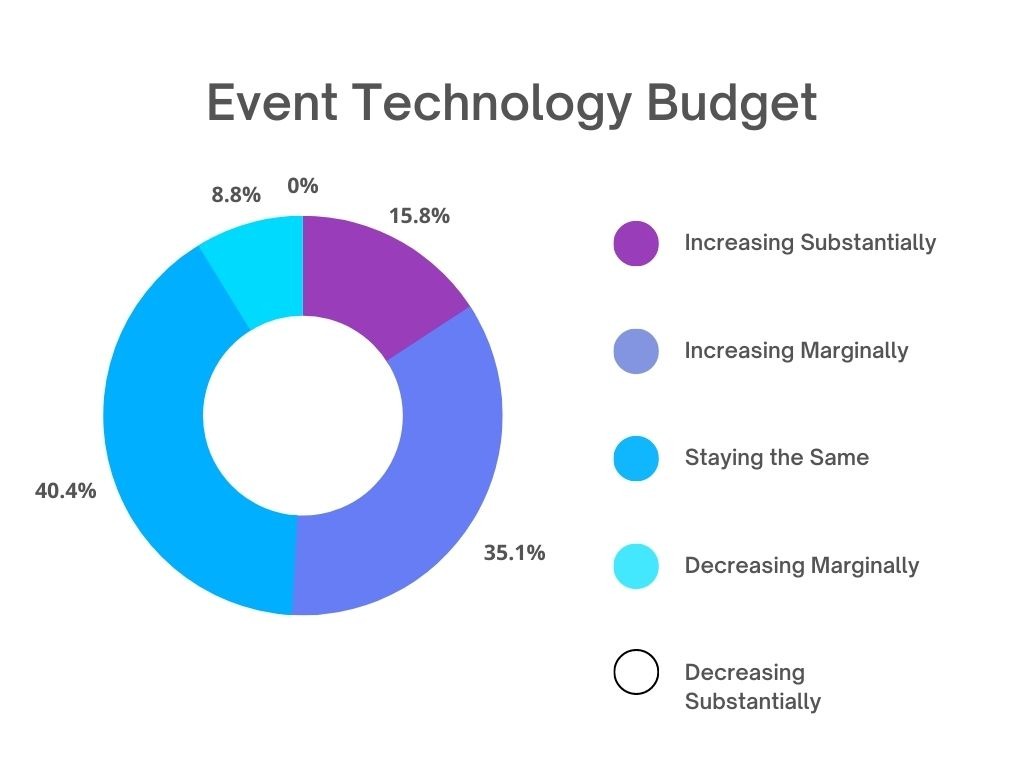 Easier Done?
You are getting more comfortable with the technology. A total of 30% said the challenges of producing a virtual event "are about the same level of difficulty as planning an in-person event" and 27% agreed with the statement that, "virtual events are getting easier." A savvy 13% said it was already easy. Another 16% still saw the job as challenging but categorized their approach as, "We can do hard things." Only 15% agreed with the statement, "This may be the hardest thing I have ever done."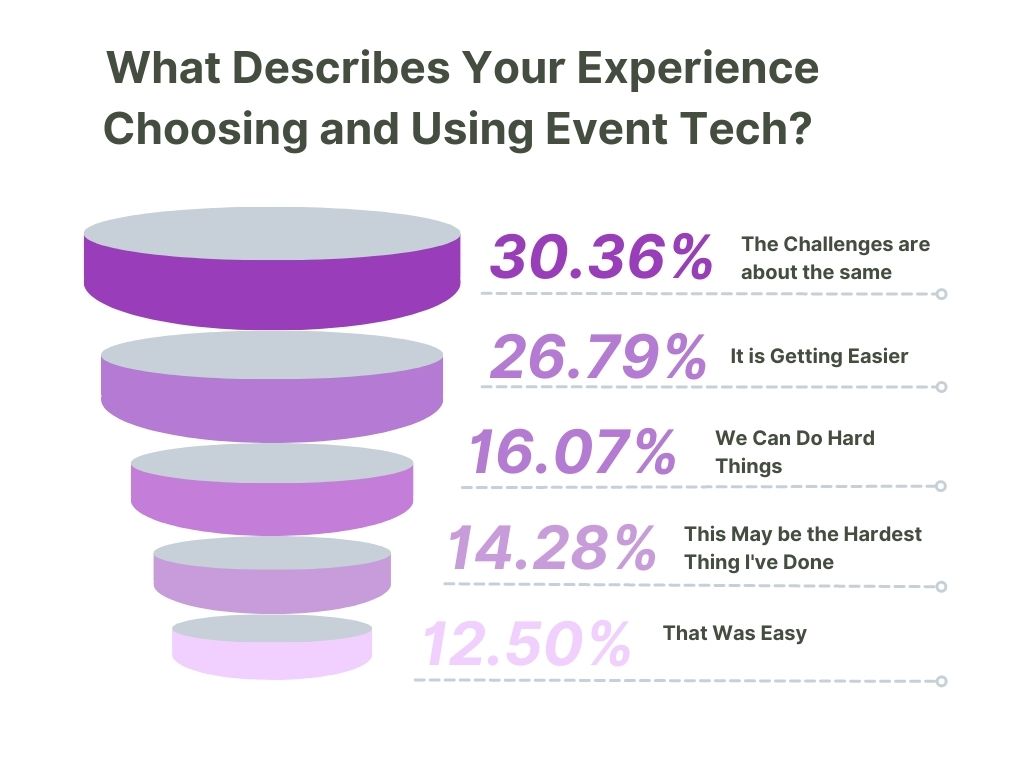 In fact, on a scale of 1-100 with 100 being completely confident that you could pull off a successful event, the average answer was 78, well within the range of an in-person event based on our previous polls.
Experience has its rewards. Chandra M. Champion, conference and events director for Washington, D.C.-based National WIC Association, said the trick was learning what questions to ask possible vendors. "It was a challenge in the beginning, but now it's much easier," she said.
Melanie Smith, director of event marketing at the Wilmington, Massachusetts medical company Tracelink, said the landscape of choices is thinning compared to 2020. "Now we are seeing some clear leaders in the event tech space, pricing is more stable and sensical and the industry as a whole is more experienced with event tech needs and core features."
Cindy Cheng, communication and event manager with UCSF Radiology and Biomedical Imaging in California, said in some ways virtual is easier to plan because it doesn't require "facility and food," but it only works for specific types of conferences. "In virtual, the tech responsibility not only lies on the technician but also on the moderators and speakers," she said.
Some were genuinely excited about the possibilities unlocked by the widespread adoption of digital events. "Technology has brought people together to make each of us feel less alone and secluded from the world," said Heidi Richards Mooney, founder of Women in Ecommerce in Fort Lauderdale, Florida. "I love learning new ways to do things and event technology has definitely leveled the playing field for anyone who wants to host events both digitally and in person. I look forward to what the future holds."
That positive outlook is even more impressive considering that only 15% of respondents said they hired a consultant or team member with the required digital skills. More than half (56%) said they learned to manage virtual events or tasked someone already on the team to do the work.
The Many Flavors of Virtual

Your mastery of the event technology toolkit is deep. Platforms employed by respondents include Bizzabo, Eventsquid, Cvent, EventMobi, Hopin, Certain, Touchpoint, Cadmium, Swapcard, CrowdCompass, Swoogo, 6Connex and other one-offs.
As Desiree Dolecki, director of conferences and events with the Association for Manufacturing Excellence in Rolling Meadows, Illinois, wisely said, "there is no one-size fits all approach." Look for more consolidation and bundling, but also more startups and spin-offs as bespoke needs arise.
The supermajority of respondents (82%) said they are using event registration and 60% are juggling event apps. But a majority of you are also managing streaming (66%) and features such as digital polling/Q&A/chat (57%). A majority (68%) are offering content on-demand post-event and 42% are using community engagement tools to make your events more interactive. Almost half (43%) are producing webinars. And 22% have taken the accessibility discovered over the last few years to the next level by offering translation features.
"The industry must adopt unconventional practices and a contemporary approach to make everyone truly belong."
Of course, data analytics has become more important than ever with 54% of you mining the feedback to measure effectiveness.
Susan Shaffette, CEO of Team Dynamics in Mandeville, Louisiana, has simply added event tech training to her permanent to-do list. "We have to stay abreast of all the current trends and use the best-available combinations of technology products to make the event successful."
Circle of Peers
You work hard to produce the most immersive, engaging event possible. Why let all that energy float away as soon as the last box is packed? That is what Will Curran, founder of Endless Events asked himself. He looked around and saw that people were "noised out" on social media and looking for people they could trust rather than tips from random blog writers. "Community Marketing feels similar to where content marketing was eight years ago," he said. When he wanted a safe place to ask questions and get real feedback, he built his own.
#EventProfs Community app started in June of 2022 and quickly grew to 900 members. An application process and a wait list helped make it feel special. A zero promotional policy ensured it didn't get spammy.
Curran is in the process of changing platforms from an event app to one built specifically for community engagement to deliver weekly digests of content and remind people to go back when others interact with their content, giving them that dopamine hit that social media platforms have mastered without resorting to endless strings of short-form content dumps.
"I used to think the idea of taking the energy of a 3-day conference and multiply it into 365 days of community was a myth, but it works if you have the right technology and think about it as a community management plan rather than just stacking another job on your event manager," he said.
"Everyone has a community," he said, whether it is on a platform like Reddit, Substack or TikTok. The opportunity is to have a space where you control the platform and the data.
Not ready to pull an Elon Musk and buy a massively money-losing social media company? Curran has some advice to swallowing the elephant one bite at a time. "Everything starts small. If not 2023, start planning for 2024," he said.
Next
As we look at what comes next, we asked you if you had one request for event technology developers. Carey Goryl, CEO of The Association for Advancing Physician and Provider Recruitment (AAPPR) in Okemos, Michigan, echoed what customers have said for decades. She wished the sales team and the implementation team could be in synch. "Sales should not overpromise."
Michele Shry, director of events, meetings and travel with Petco Health and Wellness Company, is looking for that elusive e-word: engagement. "Layering inclusion event elements into your baseline offering is critical and largely missing," she said. She gave the example of having to use multiple providers to translate registration from English to Spanish. "This becomes cumbersome to planners and detracts from the attendee being able to fully participate in the experience," she said.
Todd Moritz, vice president of technical solutions with Opus Agency, spoke up from Oregon City, Oregon. "Innovate!" he demanded. "As an industry, we need to keep building on the solid core infrastructure that's now proven and expected. We need to take that foundation and build upon it faster than we have been. Audiences need more from us to keep them engaged both in person and virtually, and we need to deliver. Fortune favors the bold, who will be the first to try new things and shake up the status quo?"
Rachel Russell, assistant director of field marketing with Los Angeles-based EY consulting services, was looking for a little customization so she can do things such as edit recordings and add content to pages to deliver personalized content. "So often, event planners are limited by the capabilities of the platform and unable to deliver a truly unique experience," she shared.
Justin Maddox, director of digital strategy with LEO Events in Nashville, Tennessee, was graphic in his response. "Producers need shells that can bend and twist and integrate much more easily."
The innovations aren't just for virtual events. Petro Shimonishi, a senior category manager with Panasonic Connect, shared that lessons learned from the last three years are allowing event managers to produce better overflow events, large-format video displays that zoom and track speakers and video libraries from past events. "It makes everyone feel like they are seated at the front of the room," she said. New technology developed for higher education can index topics so if you have a day-long meeting and need to refresh your memory, you can search and find just the clip you need. "People are becoming less forgiving of bad video and they have always hated bad audio," she said.
Glenna Fulks, chief connecting officer with Kite Meeting Management in Piqua, Ohio, cautioned against making the onboarding too complicated. She suggested using videos, animated figures, or AI to help guide attendees through the process of using virtual or hybrid technology.
Other requests included better certificate management and integration. Walt Galanty, president of AIM Meetings and Events in Alexandria, Virginia, said, simply, "Blow it up." That may have been a rhetorical comment.
Meta Meetings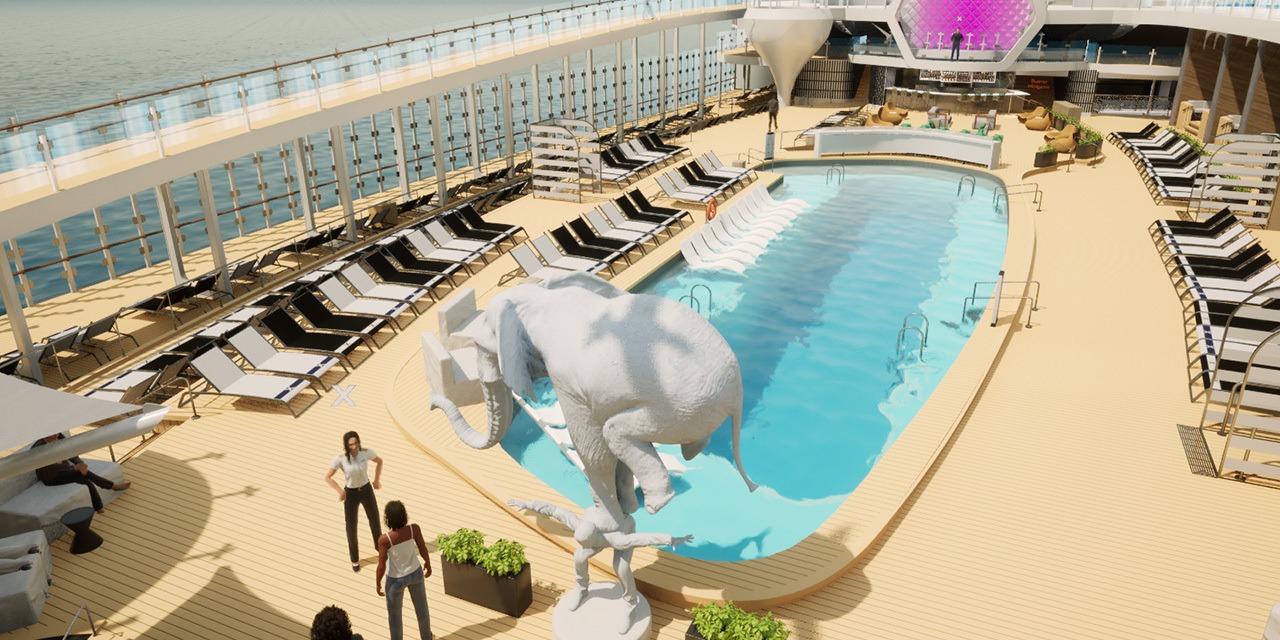 If the emerging world of Web3 is a blank stage limited only by the imagination of blockchain technologies, then your hospitality partners are the set designers stepping up to invest in elaborate backdrops that entice visitors to take real-world actions.
Celebrity Cruises announced earlier this year that they had launched a fully immersive virtual cruise ship experience in the metaverse called The Wonderverse. The platform operates described as a desktop video game featuring the brand's newest ship, Celebrity Beyond. The hyper-realistic experience gives visitors the choice of three avatars, including the ship's Captain Kate McCue and the ability to interact with other players via audio, video and chat. Up to 12 people can be hosted in the Magic Carpet, which doubles as a virtual meeting room.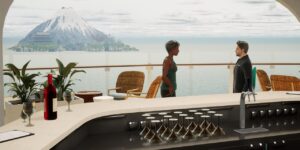 Marriott Bonvoy teamed up with digital artists to create Non-Fungible Tokens (NFTs) inspired by the company's Power of Travel campaign and debuted them in person at Art Basel Miami Beach.
Read More: How NFTs Could Increase Audience Engagement in 2023
Like Celebrity, Marriott's virtual investments have largely been marketing plays as they have invested in advertising on video game billboards to win over new audiences. Some campaigns have spilled over into mixed reality. A Moxy Hotels campaign in China enabled players to create a personalized avatar and scan AR codes at the property to unlock interactive experiences they can explore with their VR friends. And of course, everything from special drinks to augmented reality workouts, can be shared on social media.
Want to learn more? Lake Nona Wave Hotel in Orlando, Florida, recently debuted a metaverse library, offering guests access to books that delve into the future of the metaverse and augmented reality, technology, space, aviation and eVTOL. A metaverse manager facilitates on-site education, including recommended books for novices, podcasts and in-room documentaries.
Breaking Event Tech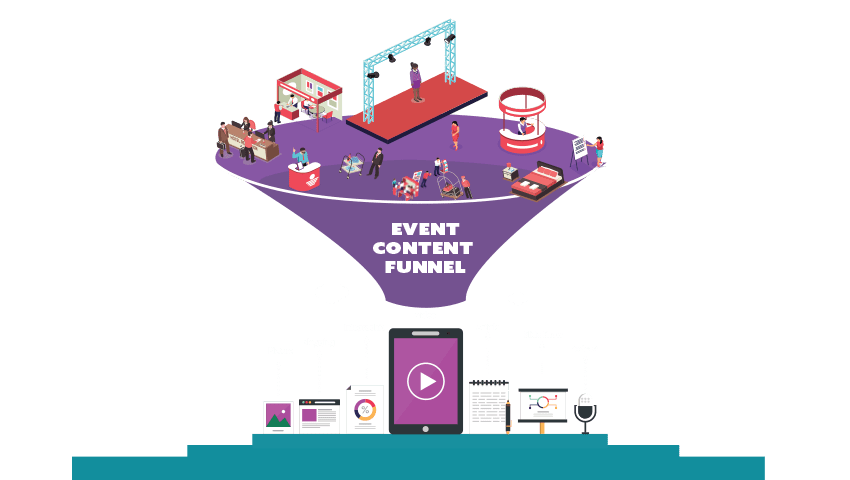 "Meeting professionals are more discerning, knowledgeable and resilient than ever," observed Anh Nguyen, founder of #EventProfsBreakShit, an event technology testing flash mob. In a February conversation from her home in Alberta, Canada, the principal of Spark Event Management and head of customer success at Twine added that a lot of meeting organizers are also just really burned out. "After all the cancelations and disappointments, that muscle is really worn out."
The adoption and integration of virtual and hybrid technologies have been a steep curve. When the pandemic started, most meeting professionals were new to virtual event platforms. The technologies that succeeded were the ones that were simple, end-to-end, and accessible in terms of pricing—Zoom, Hopin and Swapcard offered training, ease and convenience when everyone was overwhelmed. "As clients get savvier about virtual and hybrid events, the companies that are surviving the technology bubble burst are the ones that genuinely want to listen to meeting professionals about what they need and how to improve their platform," she said.
Today, meeting professionals know what questions to ask when evaluating a platform and it isn't about the capabilities, but whether the company is evolving to meet the changing needs. "We get flack for going back to what we did before in person, but partly that is because that is what attendees are asking for. They don't want you to introduce all the fancy stuff just because you learned it," Nguyen stated.
The traditional definition of hybrid serving content to in-person and virtual audiences simultaneously is a lot of work, resources, planning and financial investment, she observed. "Not everything has to happen in one 3-day period."
Turning content into media that can be consumed at different times in different formats is the smart way to maximize content. "It is a wasted opportunity to not spin out webinars and articles from an event. It's all just different touchpoints to connect with audiences. Think hybrid engagement rather than hybrid event," she said.
Post-Covid, tech companies don't hold all the power anymore. That makes this a great time to sit down and ask, "If a pandemic happened again, how do we design software intentionally so we aren't in a panic next time?"
This article appears in the March 2023 issue. You can subscribe to the magazine here.