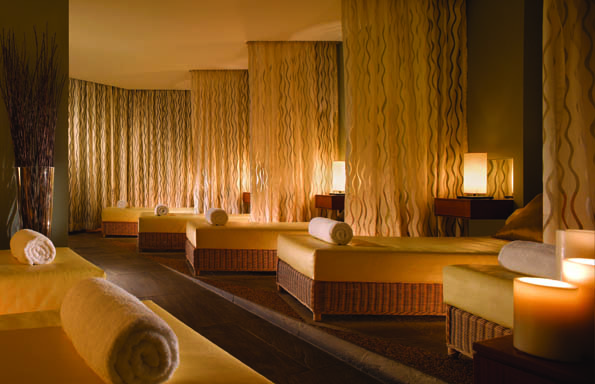 Fairmont Singapore Relaxation Lounge
Just a decade or so ago, health and wellness options at hotels and resorts generally were limited to just a few things, such as a modest fitness center, a pool, and one or two healthy menu items.
Then some hotels and resorts began adding more options, including yoga classes, more elaborate spas and additional healthy food choices. What began as a trend has rapidly accelerated during the past few years to the point where almost every day, a major hotel company or individual property adds a new health-and-wellness feature.
"Wellness is no longer a trend; it's a standard of living," says Bob Jacobs, vice president of brand management for Sheraton and Westin of North America. "It is becoming more mainstream by the day and is of increasing importance to affluent professionals around the world—many of them key decision-makers for the meetings business."
This strong emphasis on wellness in the meetings and hospitality industries parallels the rapidly increasing importance it has to people around the world.
"Nowadays, the general public is much more aware of its own role in creating and sustaining a healthy lifestyle, and changes are becoming apparent in all facets of life, including hospitality," says Ryan Crabbe, senior director of global wellness for Hilton Worldwide. "Whether it's having healthy options at the breakfast bar, locally sourced food items or group fitness classes, today's guests are looking for options that help them maintain their healthy lifestyle regimen while they're on the road."
There are a wide variety of wellness travelers, but many of them are young or middle-aged, well-educated and from developed, industrialized countries. A study by SRI International for the Global Spa and Wellness Summit in 2014 found that the typical wellness traveler spends 130 percent more than the average traveler. The study also discovered that wellness travel now represents 14 percent of world tourism and is expected to grow 9 percent annually through 2017.
Most hospitality companies have been creating and implementing health and wellness features, and we decided to focus on a few of the newest and most exciting.
Education
Many attendees who want to switch to a healthier lifestyle aren't sure where to begin. Some hotels and resorts offer help by providing experts to teach and guide them.
Taheima Wellness Resort & Spa in Puerto Vallarta, Mexico, offers a state-of-the-art fitness center; an array of spa treatment options; holistic practices including Labyrinth Meditation, Chi Gong and Temazcal; and more than 25 daily classes for body and mind such as yoga, Tai Chi, Pilates and pottery.
Taheima's innovative, ever-evolving Learning Center offers programs and services that teach attendees about such things as the benefits of antioxidants and how they boost the immune system, replacement of declining hormones and treatment of sleep disorders.
Regency Health Resort & Spa in Hollywood Beach, Florida, emphasizes education, offering daily lectures given by the property's wellness health director. It also has added some enjoyable, exciting and challenging new fitness classes to its already diverse schedule.
The new classes include Introduction to Pilates, Exercise Class in the Ocean, Comprehensive Health Care, Vitamin Class, Dance Class, Tai Chi on the Beach, Yoga on the Beach and Basic Training, which consists of fast-paced walking in the sand to a light jog for cardio endurance, abs development, coordination exercises and strength training to "wake up" dormant muscles.
Meditation & Yoga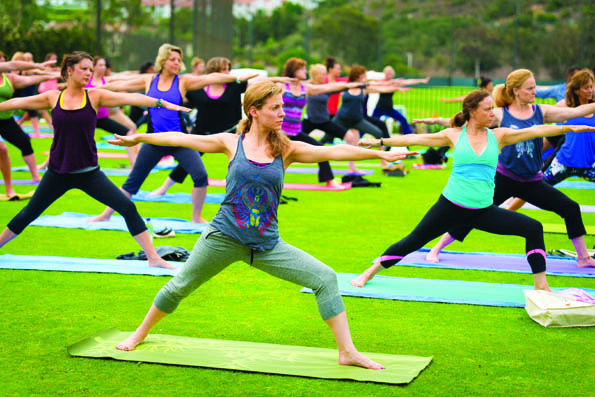 Yoga at Omni La Costa Resort & Spa, California
Since April 2013, Kimpton Hotels & Restaurants has been equipping all of its guest rooms with a complimentary yoga mat. Twelve hotels took this a step further by offering yoga classes at no charge. One Kimpton property, Sky Hotel in Aspen, hosts a Saturday morning "Thug Yoga" class that combines downward dog with hip-hop music for a high-energy class on the pool deck.
Omni Hotels & Resorts recently announced it has hooked up with Oprah Winfrey and Deepak Chopra's "21-Day Meditation Experience: Energy of Attraction, Manifesting Your Best Life," in which hundreds of thousands of people around the world meditate daily to create peace, focus and reduce stress. Omni has used social media to encourage past, present and future guests to participate.
Design
Westin Hotels & Resorts, among the health and wellness leaders in the hospitality industry, launched its Well-being Movement last year. One of the features of the platform is to create guest rooms based on biophilic principles, which purport that the integration of nature into design results in a wide range of health benefits, including lower blood pressure, enhanced mental stamina and elevated moods. The brand's design team developed a portfolio of fractal patterns and colorful beauty in nature to enhance guest rooms.
The new guest rooms also emphasize sustainability by using eco-friendly materials such as LED lighting, recyclable carpet pads and low-flow plumbing. New and vibrant vertical gardens improve the indoor air quality for guests.
"Westin was one of the first hotel brands to use design to bring to life its well-being platform in three dimensions," Jacobs says. "Westin's focus on design continues to be a hallmark of the brand, and another way to promote and reinforce wellness."
Food & Beverage
Hilton Worldwide has been rapidly making changes aimed at promoting a healthier lifestyle. "As a result of a three-year, corporate-led initiative, the company is increasing its efforts to give chefs the resources they needed to create farm-to-fork dishes using ingredients from their community," Crabbe says. Local produce currently makes up 10 percent of Hilton Worldwide's food-sourcing strategy, but it had hoped to triple that amount by the end of 2014.
Last year, Kimpton Hotels & Restaurants rolled out a new juicing program at all of its properties featuring 16-ounce drinks that come in three nutritious blends: Being Green, a nutrient-rich mixture of cucumber, celery, spinach, kale and lemon; Beets Me, an energizing elixir of red beets, carrots, ginger and cilantro; and Local Only, a cocktail of local farm produce that incorporates the host chef's personal touch.
Some Kimpton properties—including Canary Hotel in Santa Barbara and Topaz Hotel in Washington, D.C.—have taken the juicing program a step further by incorporating juice into their health and wellness packages.
Exercise
Four Seasons Hotel George V, Paris, morning run
Many Four Seasons Hotels and Resorts around the world have begun offering complimentary scenic jogging, walking or hiking tours for guests.
Four Seasons Hotel Washington, DC, offers a three- to six-mile run on Tuesdays—led by Hotel Manager Rolf Lippuner and other Four Seasons management staff—that takes participants by many of the city's key monuments, including the White House, Lincoln Memorial and Arlington Cemetery. Four Seasons Hotel George V in Paris offers a 5.5-mile run every Tuesday at sunrise. The path passes by the Louvre, River Seine and other spectacular landmarks.
In 2012, Fairmont Hotels & Resorts bolstered its popular Fairmont Fit program by adding new fitness gear, running shoes and other sports apparel from Reebok. The apparel is delivered free to visiting members of the Fairmont President's Club, the brand's complimentary guest-recognition program, and is free for platinum and premium members.
"Fairmont Fit continues to be incredibly popular with our guests and globally, and in a recent survey of some of our loyalty members, a high percentage said that 'athletic' was an adjective they felt accurately described them," says Andrew Gibson, vice president of spa and wellness for FRHI Hotels & Resorts, the parent company of Fairmont Hotels & Resorts.
FRHI also is working with leading fitness equipment suppliers to design a new approach to fitness for Fairmont Singapore and Swissotel The Stamford in Singapore. These properties will offer more functional training, and interactive floors and walls that combine agility, balance, reaction time, aerobics and enjoyment into one workout.
Spas
In July, JW Marriott Hotels & Resorts unveiled Spa by JW, which offers an intuitive experience that is luxurious yet purposeful, and uses traditional and nontraditional treatments and products designed to calm, nourish, invigorate and renew.
"After conducting extensive research over an 18-month period, we discovered that even though spas are important to our guests, they were being underutilized," says Mitzi Gaskins, vice president and global manager of the brand. "Many travelers found hotel spas to be intimidating while others just didn't feel like they had the time for a visit. In response, we created a global brand-wide spa concept that is luxurious, yet purposeful."
In response to travelers' growing appetite for wellness products, Hilton Worldwide is launching a signature edition to its Eforea spas in 2015. Journey Enhancements will enable guests to experience one of three luxurious mini treatments, either by themselves or in addition to their existing therapies.
Looking Ahead
All of the hotel executives who were contacted for this story said that they feel health and wellness will continue to become a larger part of the hospitality scene. The remarks of Mike DeFrino, chief operating officer for Kimpton, reflect the general sentiment.
"Hospitality is about creating a home away from home for travelers, and as our guests become more health conscious, they want wellness options on the road," he says. "The days of the standard hotel gym with a treadmill and a few ancient free weights are long gone. There is no reason why guests shouldn't feel their best while on the road, and it's only a matter of time before it becomes the norm, rather than the exception."
---
At the Forefront of Change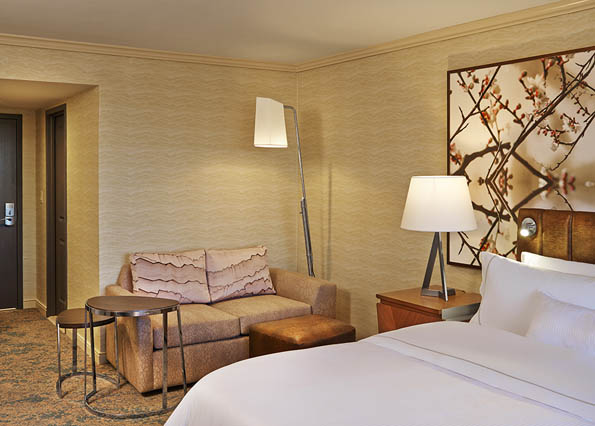 Westin Custom-Designed Room
Michael Dominguez has seen many changes in the hospitality industry during his 31-year career while serving in roles including chairman of the board of directors at Meeting Professionals International, vice president of global sales at Loews Hotels and senior vice president of corporate sales for MGM Resorts International, his current post.
One of the recent major changes he has witnessed is the boom in health and wellness. Since 2012, he has been at the forefront of MGM's partnership with Delos to implement the Stay Well program, including Stay Well Meetings, at MGM Grand Resort & Casino in Las Vegas.
Dominguez says that because Stay Well Meetings is multi-faceted, it can be customized for each group. "We intend to convert additional convention center space at MGM Grand so we can offer the experience to larger groups," he says.
Other MGM properties in Las Vegas also offer wellness features, including healthy dining options and fitness programs such as Indoor Hike at Aria Resort & Casino, Bellagio Boot Camp at Bellagio Las Vegas and Yoga Among the Dolphins at Mirage Hotel and Casino.
Like some of the other MGM staff members, Dominguez has also incorporated wellness practices into his own life. For example, he switched to blue light bulbs in his home because a blue hue, tint or tone is known to increase alertness—and he has begun meditating.
"I met Deepak Chopra this year at the WEC (World Education Congress, an annual MPI event) and then did his 21-day Meditation Challenge," he says. "I now try to meditate before or after each workday. It helps me to clear my mind and get focused."
---
Delos Provides Cutting-Edge Wellness Features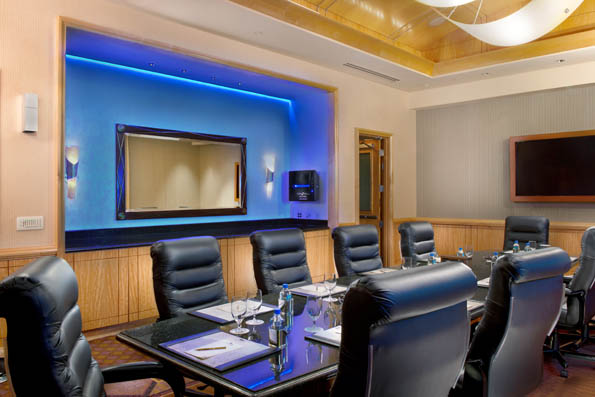 Delos Provides Cutting-Edge Wellness Features
The enormous growth of health and wellness, which now accounts for $439 billion (14 percent) of world tourism expenditures, convinced Paul Scialla, founder and CEO of Delos, to develop the Stay Well program, a pioneer in creating healthy indoor environments by integrating medical science and technology.
"Health and wellness now play a role in almost every decision we make, and we see a huge opportunity to combine the fastest-growing asset class, wellness, with the world's largest asset class, real estate," Scialla says.
Stay Well outfits hotel rooms, among other structures, with features designed to enhance the quality of air, light and water and to promote better sleep, comfort, mental acuity, nutrition and overall health.
In 2012, Delos partnered with MGM Grand Hotel & Casino in Las Vegas to transform some hotels rooms on its 14th floor into Stay Well rooms. Early last year, the rest of the rooms on the floor were changed into Stay Well rooms and last summer, the hotel expanded its Stay Well program to include Stay Well Meetings rooms (pictured), which consist of dozens of healthy features including an advanced air purification system, a hydration station, circadian lighting, hypoallergenic cleaning products, ergonomic elements, virtual biophilia, aromatherapy and healthy menu options.
The meetings feature also contains a specific component, Wellness Moment Programming, which provides short mental and physical activities designed to engage the body and mind. These include guided meditations, physical activity breaks, brain teasers and other mental exercises, and intervals throughout the day to disconnect with technology.
Scialla says that Delos is exploring opportunities to expand the Stay Well program to additional properties within the MGM Resorts International portfolio, and has been approached by non-gaming partners to incorporate the program into their properties.
---
Wellness Additions for InterContinental, Trump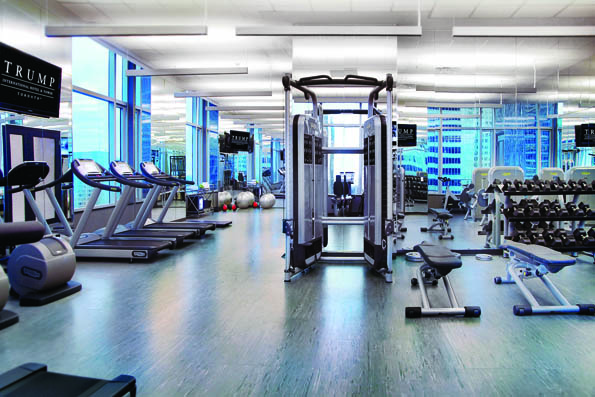 Wellness Additions for InterContinental, Trump
Two of the main health-and-wellness developments last year involved major hotel companies—one that unveiled a new, wellness-centered brand and one that implemented a health and wellness program.
In June, InterContinental Hotels Group (IHG) opened its first property in the Even Hotels brand, which is designed for business and leisure travelers who maintain a healthy and active lifestyle and are looking for a complete wellness experience at a mainstream price point.
"IHG launched its newest brand, Even Hotels, to meet the large and growing demand for a hotel brand to help wellness-minded travelers keep their balance on the road and provide solutions of all aspects of travelers' wellness needs," says Adam Glickman, head of Even Hotels and director of Brand Experience and Lifestyle Brands for IHG. "The brand was 'born well'—created with wellness at its core—with an emphasis on four components; eating well, resting easy, keeping active and accomplishing more.
"We're looking at insights learned from Even Hotels and applying them where appropriate across our portfolio."
Even properties feature plenty of wellness offerings, including an athletic studio, an in-room training zone and group exercise classes; a premium sleep system, topped by natural eucalyptus fiber bedding; healthy eating options; and comfortable, calming work spaces.
Also in June, Trump Hotel Collection announced it was implementing the Trump Wellness program, which is designed to promote health and wellness on several fronts. Implementation of the program has brought many changes, including: at least one-third of the culinary options now consist of health foods; workout equipment such as yoga mats, stretch mats and weights are available to guests for use in their rooms; and each hotel provides maps of local running paths.